I might bethe only person eating a stew when it´s 32ºC / 90ºF outside. This happens when you participate in
Sunday Supper
and the theme is stick-to-your-bones food. Thanks for modern comforts likethe air conditioning. Today ourhost is Susan from
The Girl in the Little Red Kitchen
and the list of recipesis absolutely soul warming.
Was itworth it? Totally. This lentil and chorizo stew is my favorite way to beatthe cold. It came together through the last few years, tweaking this and that until Ifound the right combination of spice, vegetables, type of chorizo, bacon,amount of tomato and lentils. It was originally given to me by a new friend, after eating it at her house. Greedy me would´ve taken the leftovers home, but since it was my first time at her house, I politely asked for the recipe.
This is a very traditional dish here, and assuch, there are endless variations, everyone has their favorite and every househas the perfect recipe. Today you´ll have to settle for mine.
It allstarted years ago. First because I simply love lentils, and second because Ihave an on again, off again iron defficiency (anemia, though I´m not trying togive you a medical explanation of it) which compells me to eat meat and thingslike lentils, spinach, blood sausage. It´s the way to keep the levels normaland avoid that slump bordering depression that happens when your blood doesn´thave enough iron. If you ever experienced this you´re nodding and if youhaven´t you´re lucky and go on with your life.
Make this stew simply becauseit´s amazing and soul filling.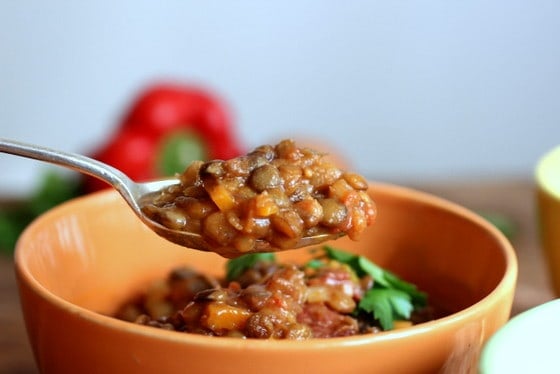 A goodlentil stew has to have what we here call red sausage, which is spanish sausagein many countries. It has peppers and pork, and a very particular flavor. Of courseany kind of sausage you like a lot will work I guess, but I don´t know since Idon´t even bother making this recipe if I don´t find red sausage.
That said,the rest is very simple, things like carrots, onion, canned tomatoes, smokedpaprika, and a few more things.
Back when Iwas growing up, lentils were prepared in the course of two days, needing tosoak them in water for at least half a day before boiling them. You can stilldo that today, but I use the ones that are done in an hour and taste great. Theycook together with the rest of the ingredients which include broth, so theflavor is deepened and they keep their bite.
As for anystew they are always better the next day, or even the next. I like to take itfurther by cooking it until it´s just done, until the lentils are almost aldente. I then leave the whole thing to cool until the next day, when I cook itagain for half an hour or more, depending on how I want the lentils. Thatovernight rest deepens the flavor like only time can. The become friends andexchange subtleties until the flavor becomes almost one. This is especiallyimportant with the chorizo and the bacon. They will loose some of their fatslowly and it will become part of the juices. Simply wonderful.
So that youget a last picture, I sat down to eat and was managing fine until halfwaythrough, then it was a matter or turning on the a/c a bit higher and my hair upin a messy ponytail if I wanted to finish my bowl. See how much I love mySunday Supper group? Can´t say I´m not a team player now. Whatever comes updown the road, let´s just say I have one to collect, just saying. Am I being dramatic or is it the heat?
LENTIL AND CHORIZO STEW
Makes 6 to 8 servings
Ingredients
3 Tbscanola oil
1 mediumonion, finely chopped
½ small redpepper, seeded and finely chopped
½ cupchopped celery stalks
1 mediumcarrot, peeled and finely chopped
About 4cups veal broth
2 cupslentils
1 ½ cupscanned tomatoes, chopped with juice
4 oz. bacon, coarsely chopped
4 oz. red or spanish chorizo, coarselychopped
1 Tbssmoked paprika
Salt andfreshly ground black pepper
Choppedparsley, for garnish
Directions
In a largepot with lid, heat oil and sweat onion, pepper and celery. Don´t brown. Addsalt and pepper, carrots and 2 cups broth, and cook, partially covered for 10minutes over low heat.
Add 1 morecup broth, lentils and tomatoes and cook, covered, for 30 minutes.
While thisis cooking, in a small skillet cook chorizo and bacon for 2 or 3 minutes, untilthey are a bit brown and have released some fat. Add them to the pot togetherwith the paprika and another cup of broth. Keep on cooking everything for thethirty minutes specified before.
Check tosee if the lentils are cooked. Add more broth if necessary, check seasoningsand cook more time if the lentils need it.
Laddle intobowls, sprinkle with chopped parsley and serve.
We have over 50 contributors thisweek, bringing you their best warm you up dishes. We have everything from stews, soups, main entrees and even some hotdrinks and desserts.
Just look atthe list below that is coming to the #SundaySupper table this week!
Join on us onTwitter throughout the day during #SundaySupper. In the evening we willmeet at 7pm EST for our weekly #SundaySupper live chat.
We'd also love to feature yourSunday Supper Soul Warming Recipes on our
#SundaySupper Pinterestboard
andshare them with all of our followers, too.