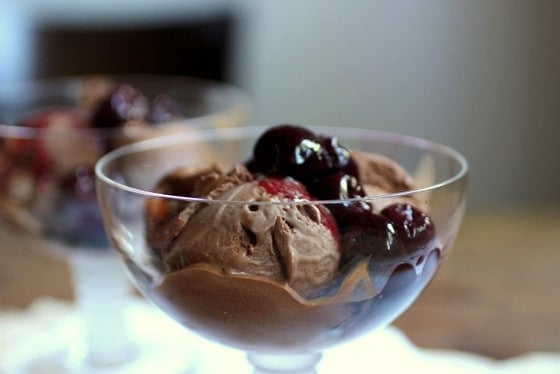 I was dyingto make this chocolate ice cream with cherry sauce, a combination I findirresistible. And the frozen cream here deserves the word velvet; thoughcheesy, it's self-explanatory.
We'rehaving a heart celebration at the
Sunday Supper table
hosted by the lovelyJen of
Juanita's Cocina
, since I guess it's no mystery that the sweetest day ofthe year is almost here.
I willforever have mixed feelings about commercial celebration days. I love birthdaysand new year, because, well it is alandmark, another year in your lifehas passed or a new year is beginningwith all the potential it always brings. It´s sort of a rhetorical party inmy opinion, you will be a year older and a new year will start whether you like it or not, as a bonus you also get to cheer that a crappy year is over if thatsuits you.
Othercelebrations I'm ambivalent about, and valentine's day is one of them. Why?It's not because of the chocolate or love wishes from those I care about, orgetting to be thankful for the persons that make up my close circle, of coursenot that would be ridiculous, but looking back in my well of experience, I findthat romantically speaking, the best moments or dates happened withoutplanning. As is usually the case in most aspects of life.
Like thetime we were at a terribly boring wedding we had to go to due to businessthings, and after we ate, chatted with the father of the bride, our host, hiswife, some random unknown persons at our table and spent the mandatory halfhour on the dance floor, we silently left and ended up stopping, over-attiredof course, at a bar on our way home, drinking cocktails, having the best timewith a short haired bartender who told great stories and other clients whokept congratulating us for 'whatever we were celebrating' due to our suit andlong dress. We got home when the sun was already up and forever held thatunexpected outing as one of the best.
Anothertime, while on vacation, realizing the night was amazing with a semi-full moon,perfect temperature and a slight breeze, we prepared some bread, antipasti andwine on a tray and ate a very late dinner outside, stretched out on our deckchairs, our feet covered with a cotton blanket and had one of those interestingand perfect conversations that only happen with your spouse (my ex now) whenyou least expect it. And we woke up in the morning, with the birds chirping andthe sun coming out.
So that'swhy I don´t like to plan too much on days like these. What if I'm notparticularly liking my other half that day? What if we got into one of thosearguments and are having a couple of let's-not-step-into-each-others-shadow kind of days?
But thefood on valentine's day is great. Fantastic. The kind you want to have anexcuse to make, always. We're talking about chocolate, berries, cakes,souffles, that perfect savoury dish that is your favourite but don't get to eatmuch. Any celebration that let's you indulge in your perfect food is a goodone.
So I didmake what is at the moment my favourite chocolate ice cream, with fresh cherrysauce that is one of my most anticipated fruits. I can never tire of eatingfresh cherries. Ever.
I found outwhile attempting many chocolate cake and brownie recipes, that one of the best ways toachieve a deep, semisweet chocolate flavor is to mix melted dark chocolate andunsweetened cocoa powder. But then I like dark chocolate directly from thepackage and it's light years away from whatever my second choice is, which I don'tcare to find out really. Dark, semisweet chocolate always wins.
This is a very old fashioned ice cream made with yolks and cream. The chocolate cream, once it's very cold and ready to be put in the ice cream maker, is simply luscious, so creamy and unctuous you'd want to eat it like that.
CHOCOLATE VELVET ICE CREAM
made exactly as written in
Gourmet
, august 1997
See recipe at epicurious.com
Fresh Cherry Sauce with Cassis
Ingredients
1 pound (450g) fresh cherries, pitted
2 Tbs lightbrown sugar
1 or 2 Tbscassis liqueur (optional)
1 or 2 Tbswater
Directions
Put cherriesin a saucepan, add the sugar and cook, stirring constantly, for 2 minutes. Addcassis and 1 or 2 Tbs water. If you'renot using the liqueur, increase water by 2 tablespoons. Let cook for about5 minutes, until cherries soften a bit and the sauce is syrup-y.
Keeprefrigerated.
We have prepared fantastic recipes today:
#SundaySupper Valentine's Day Breakfasts, Apps & Main Dishes:
#SundaySupper Valentine's Day Sweet Eats:
#SundaySupper Valentine's Day Drinks:
#SundaySupper Valentine's Day Tablescape: A Romantic Table For Two Please from An Appealing Plan
Linked to: