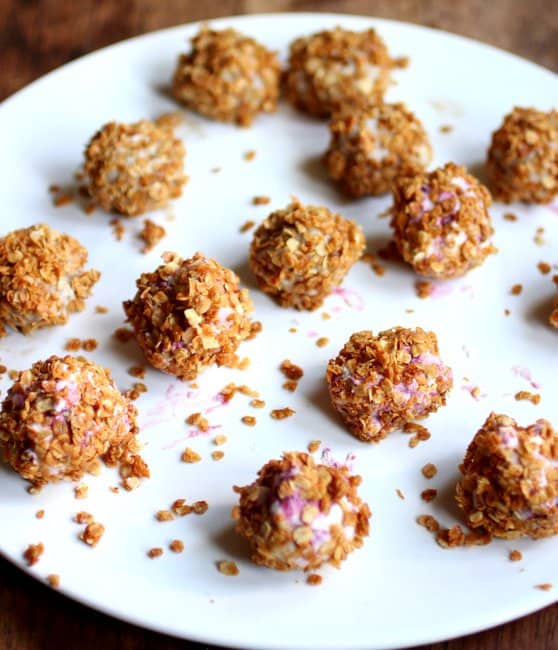 It's timefor those last truckloads of fresh summer fruit. Did you enjoy the berries,peaches, corn on the husk, and other goodies the sunny season brought you? In myopinion you can never have too many summer fruit recipes; you just can't. For this or that reason, they're all good, all worth filing, the same way you don't
need
another
pair of boots
or
set of white bowls
, yet you buy them anyway. And we can argue extensively about those bowls. So, may I tempt you with a
peach blackberry brown betty
or some
caramelized apricots and blueberries with brown sugar ice cream
? Well then, how about your favorite ice cream, made into small truffles all covered in crunchy granola? That way you can have ice cream for breakfast – certainly you can argue that it has wholesome granola surrounding it, and we all know that's breakfast territory.
There weretwo days, both the first of the month, when you could count on the city beingquiet, deserted with all shops closed – all pre big supermarket chains, malls,shopping centers and eating brunch out became the norm – and they were thefirst day of the year and may 1st, our labor day here. Nowadays,double pay has a lot of food places opened, trying to allure us, workers also,to spend our day outside, celebrating. Well, in my case it all depends on theweather, sunny I want to go out, not sunny I want to be in my kitchen baking.
Too bad I don't get to make that choice tomorrow, but go to work like on anyother regular, non-holiday Monday. But I canmake the choice to have ice cream for breakfast. All covered in granola, haveyour ice cream and eat it too, early in the day.
This can be labeled a non-recipe recipe, which is a complicated way of saying it's just an idea, or that I just had small amounts of different ice creams in my freezer, felt self-conscious about my non-stop ice cream eating patterns of the last few days, was about to make some granola for
a friend
, and started playing around with both ingredients. And bingo, ice cream granola truffles are born, never to leave my freezer again. Do you really have to ask why? I'll tell you then. First of all, no more leftover couple-of-tablespoons of ice cream; second, if you have a batch ready in the freezer you have instant dessert on a whim; third, they're freaking awesome, awesome, awesome.
ICE CREAM GRANOLA TRUFFLES
I find thatthe best granola for these truffles is made with the smallest oats you canfind, finely shredded coconut and no additives (like nuts or dried fruits). It'sthe best way to get the granola to adhere well to the ice cream balls.
This workswith creamy ice creams, not sorbets. The granola freezes very well, so you canhave a batch in the freezer at all times.
Makes about 30 truffles
Ingredients
1 cup plaingranola **
Directions
Scoopportions of ice cream, I use a melon baller, and quickly form them into littleballs with your palms. Put them on parchment paper or aluminum foil, or abaking tray and freeze the plain truffles again for 3 or 4 hours, or until theyare solid hard. You can keep them frozen for weeks before coating them with thegranola, but make sure you put them inside a covered container, separated inrows with parchment paper.
Put thecold granola on a plate, wooden board or shallow bowl, and roll the ice creamball in it, making sure they are well coated. You might need to adhere it withyour hands.
Eatimmediately.
** followthe
granola recipe here
, using only oats, coconut, honey and oil. You can add a spice if you like, but I find they overpower the flavor of the ice cream.
Look at the mind blowing list of labor day recipe ideas we have for you; told you this party was awesome!
Refreshing Drinks
Amazing Appetizers and Sides
Enviously Good Entreés
Delicious Desserts
Join the #SundaySupper conversation on twitter each Sunday. We tweet throughout the day and share recipes from all over the world.Our weekly chat starts at 7:00 pm EST. Follow the #SundaySupper hashtag and remember to include it in your tweets to join in the chat.Check out our #SundaySupper Pinterest board for more fabulous recipes and food photos.Would you like to join the Sunday Supper Movement? It's easy. You can sign up by clicking here → Sunday Supper Movement.Modify message