Once again,I'm playing with the ingredients in the original recipe, but sharing my oldversion, one I've been making for e-
vah
. Rubbing garlic, rosemary and salt hasbeen my easy way of adding extra flavor to steak without a lot of work. Or time. As with the
floating island
, where mygeneration's old recipe was the same as Dorie's, so I just went and baked it thesame way I had for decades, in a tube pan with a pool of caramel and dulce deleche, the veal chops we're supposed to be making today for our
FFWD group
, translated into theserosemary garlic steaks, cooked in butter with a splash of white wine at theend. A little reduction, and voilà, lunch is served.
About thatsteak. Now, most of you probably know I live in Argentina, where meat is ournational food. Barbecue has become the number one choice here, a blue ribbonflaunted by pizza and
milanesas
(extra thin slices of meat, breaded and fried)in the past. But our grilling would be considered plain for most of you, nomarinades, rubs or additions of any kind, except for salt and pepper. The fatin the meat does the flavor trick, and making a great piece of barbecued meatis no beginner's luck, no matter how much
chimichurri or salsa
you pileafterwards. The meat here is very fresh, no fourteen or twenty one days waitingfor it to age, something that to this day, I don't understand really. Why wait?Slap that piece of red on the grill or skillet and eat it! Make mine medium rare please.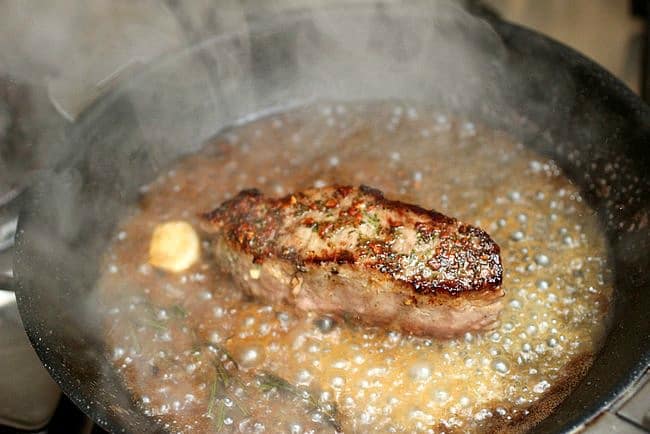 Today Iused rump steak, my favorite cut. Lean but flavorful.
It just needs a few tipsand there's no way you can have a bad steak. Here are mine:
1. Always have the meat at room temperature. Thatway it'll be more tender. If it's frozen, defrost it overnight in the fridge. Theless change in temperature while defrosting, the better.
2. Add salt right before it goes into the skillet.If you want to infuse some garlic and rosemary, rub them on the steaks, leavethem at room tº for twenty minutes, and salt them at the last moment.
3. A steak should be two or three fingers (1.5 to 2 inches) thick ifyou want it medium rare with a good crust.5. Make sure the skillet or steak iron griddle is preheated.
4. Sear the steak on both sides over high heat, but finish it over medium/low, unless youlike it very rare inside, almost raw.It will become flushed, as we sayhere, which means the outside is too dark before the inside gets a chance tocook properly. That is, unless you like overcooked, thin steaks.
5. Always let it rest for 5 minutes after youremove it from the heat source. The juices go to the outer part of the meatpiece while cooking, and resting redistributes them.
6. Never pierce or cut a steak to check for doneness. To test them, lightly press them down with a fork or kitchen tongs. The more it gives, or the flabbier it feels, the more rare it's still is. When it's very cooked, the meat will hardly yield when you press it.
Did you know that the area below your thumb (yes, in your hand!) is quite accurate when testing steaks?
Now, lightly join the tips of your thumb and index finger (you will form a circle) and press that area below the thumb; that is rare steak. If you join the middle finger and thumb it get's a little tighter; that's medium rare. The ring finger is cooked and the pinky is very cooked.
ROSEMARY GARLIC BUTTER STEAKS
Serves 4
Ingredients
4 rumpsteaks (1 to 1.5-inches thick), room tº
2 or 3garlic cloves
2 Tbsfresh rosemary leaves
3 Tbsbutter
1 Tbsolive oil
Salt andpepperA splash of white or red wine
Directions
Mincegarlic and rosemary. Add 1 teaspoon salt (or to taste) and mince it a littlelonger. You can also do this with a mortar and pestle. Rub the paste over bothsides of each steak.
Heat askillet over medium/high heat and melt butter. Add oil to prevent it from burning toomuch. Add steaks, season them with pepper and cook 1 or 2 minutes on each side. Turn it over, cook it 2 or 3 more minutes and add the wine (you can add extra garlic and rosemary now too to the skillet). It will steam furiously. Cook the steak 2 or 3 additional minutes for medium rare, removesteaks and let rest for 5 minutes.
Meanwhile, cook the wine until reduced and a kind of sauce if formed. Slice the steaks and serve them withthe sauce.