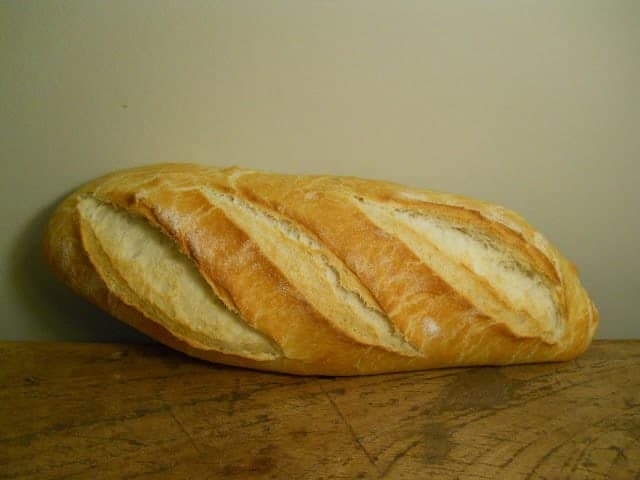 I found myself buying huge amounts of semolina. And then I found my kitchen with bags of semolina lying around.
Semolina breads are a favorite. I use them for everything, mainly bruschettas. A piece of toasted bread topped with almost anything is a good lunch or snack. I had planned to bake, very often, bread that is 100% semolina. I did a few times. But it dries out very quickly. It was hard for me to keep up, with the eating I mean. So the compromise was to find a bread that had semolina and bread flour. I found it, and it's perfect with oh-so-many dishes. Everything turned out well; except for my pounds of semolina. I look at the bag and really don't see it decreasing much. Optical tricks I suppose.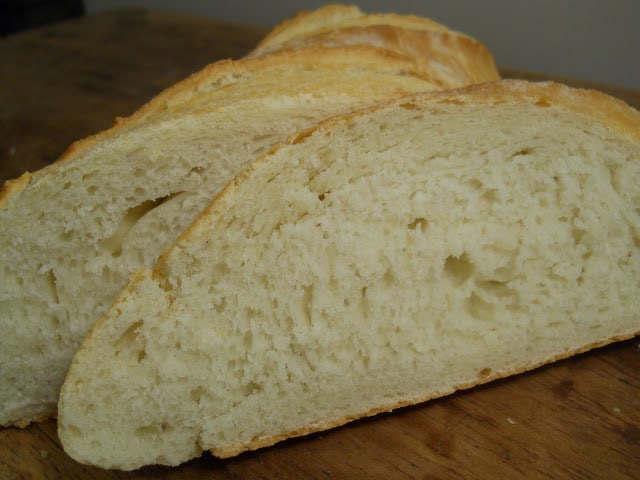 Semolina is a very fine textured flour made from durum wheat used mainly to make dried pasta. It has a nutty undertone and gives bread a golden hue that's very welcomed. It has a thin, crisp, crackling crust unlike any other. It makes the best croutons.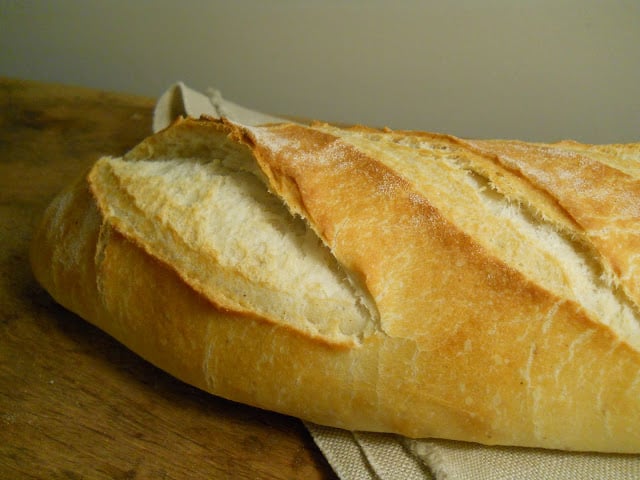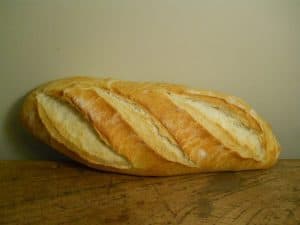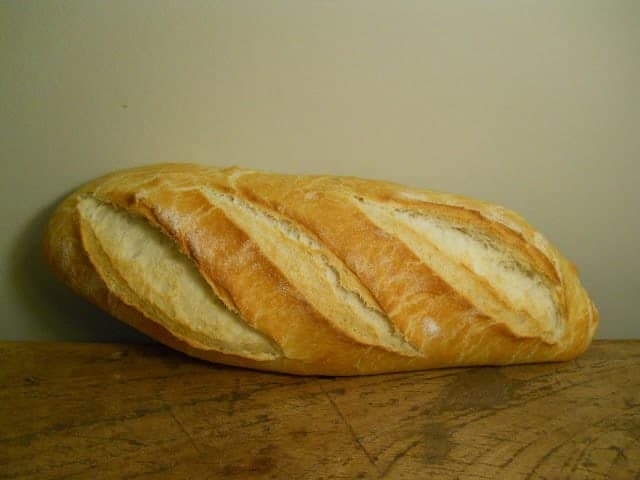 Print
Semolina Bread
Yield 1 loaf
The pan used to bake the bread should be dusted with cornmeal or flour. To aid in shaping your loaf check this site
Ingredients
Sponge:
1 cup warm tap water
1 teaspoon active dry yeast
1 ½ cups (210g) unbleached all-purpose flour
Dough:
All the sponge, above
½ cup (70g) unbleached all-purpose flour
¾ cup (120g) semolina flour
2 teaspoons salt
2 Tbs. olive oil
Instructions
To make the sponge, place the warm water in a mixing bowl and whisk in the yeast.
Stir in the flour and cover the bowl with plastic wrap. Set the sponge aside to rise at room tº until the sponge doubles, about 1 hour. I do this directly in the bowl of the standing mixer and then add the dough ingredients.
For the dough, stir the sponge to deflate and add the flour, semolina, salt and oil.
Adjust the bowl in your stand mixer and knead on low speed with the dough hook for about 5 minutes, to form smooth, elastic, and slightly sticky dough. Alternatively, turn the dough out onto a lightly floured work surface and knead by hand for about 5 minutes.
Transfer the dough to an oiled bowl. Turn the dough so all the sides are oiled. Cover the bowl with plastic wrap and let rise until doubled, about 1 hour.
Turn the risen dough out on the floured work surface.
Press with the palms of your hands to deflate.
Shape the dough into an oval and place tucked side down on the prepared pan and cover with oiled plastic wrap.
Allow to rise until doubled in volume, about 1 hour.
About 20 minutes before baking, turn the oven to 400ºF / 200ºC.
Hold a razor blade at about a 30º angle to the loaf, and slash 3 lines.
Bake the loaf for about 35 minutes, until well risen, golden brown and the bottom sounds hollow when tapped.
Cool on a rack and wait until completely cooled to cut.