I've been making this maple walnut pound cake for years, decades really, and it's still my favorite of its kind.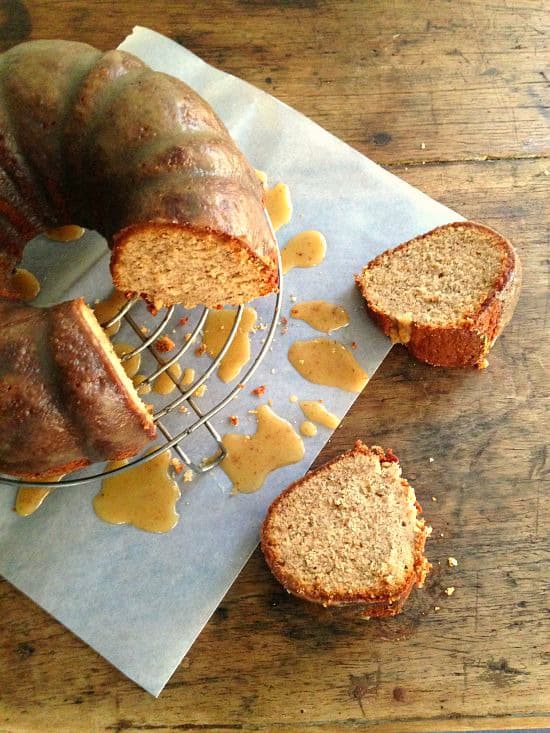 There are two kinds of people. Those who make lists and those who don't. I belong to the last group. I can make a list. Or many lists. It's the follow-through I'm incapable of. And the fact that I never know where I put the list. So, when it comes to recipes, I put little marks in books and magazines.
Then spend three days going through every magazine I own, looking for an unmarked recipe I made years ago that I just have to take another look at because, suddenly, I feel it will be perfect to bake right now, like with this maple walnut cake. So much for the hours spent putting colored bits of paper everywhere.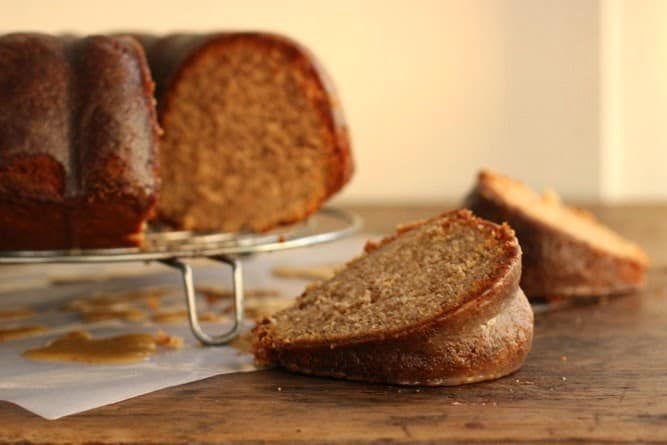 I did find the recipe and it is a good one.
Maple syrup is not well known here. It sometimes makes an appearance in high-end supermarkets or specialty stores, but there's no certain availability. So, when I get my hands on a few bottles of the stuff I don't use them thoughtlessly. It's one of those flavors that's next to impossible to duplicate easily.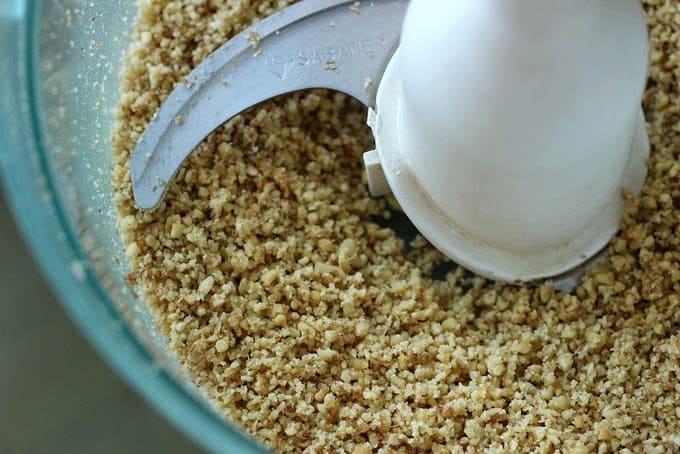 Substituting it is fine in terms of texture, but that deep, smoky, not too sweet, characteristic flavor would be missing.
And I don't want a walnut Bundt. I want a maple walnut Bundt.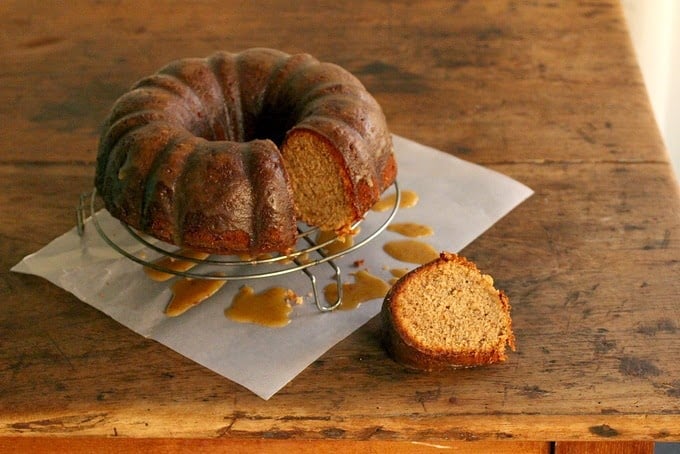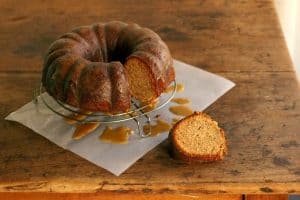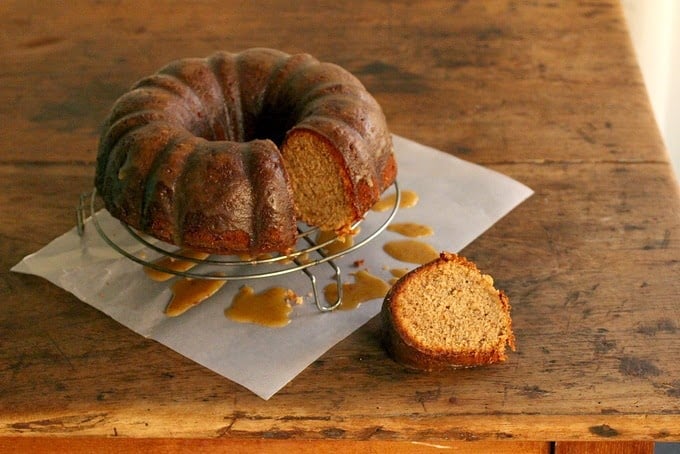 Print
Maple Walnut Pound Cake
Ingredients
For cake:
1 ¾  cups (215g) coarsely chopped walnuts, toasted
2 ¼  cups (315g) cake flour
1 teaspoon baking powder
½ teaspoon salt
1 ¼ cups (280g) unsalted butter, room tº
1 ¼ cups (250g) sugar
5 large eggs
½ cup pure maple syrup
¾ teaspoon maple flavoring (optional)
½ teaspoon vanilla extract
For glaze:
¼ cup (65g) unsalted butter
2 Tbs pure maple syrup
6 Tbs powdered sugar, sifted
Walnut halves for decoration (optional)
Instructions
For cake:
Preheat oven to 350ºF/180ºC. Butter and flour 12-cup Bundt pan.
Finely ground walnuts in processor.
Sift flour, baking powder and salt into medium bowl
Using electric mixer, beat butter and sugar in large bowl until light and fluffy.
Add eggs 1 at a time, beating well after each addition.
Beat in maple syrup, maple flavoring (if using) and vanilla extract (batter may look curdled).
Mix in dry ingredients. Fold in ground walnuts.
Pour batter into prepared pan. Bake cake until top is golden and tester inserted near center comes out clean, about 1 hour.
Transfer pan to rack; cool cake 10 minutes. Turn cake out onto rack and cool completely.
For glaze:
Melt butter with maple syrup and cream in heavy small saucepan. Remove from heat.
Add powdered sugar and whisk until smooth.
Cool glaze until slightly thickened, about 15 minutes.
Drizzle glaze over pound cake. Arrange walnut halves decoratively if using.
Let cake stand 15 minutes until glaze sets.
Courses Baking
barely adapted from Bon Appétit, November 1995