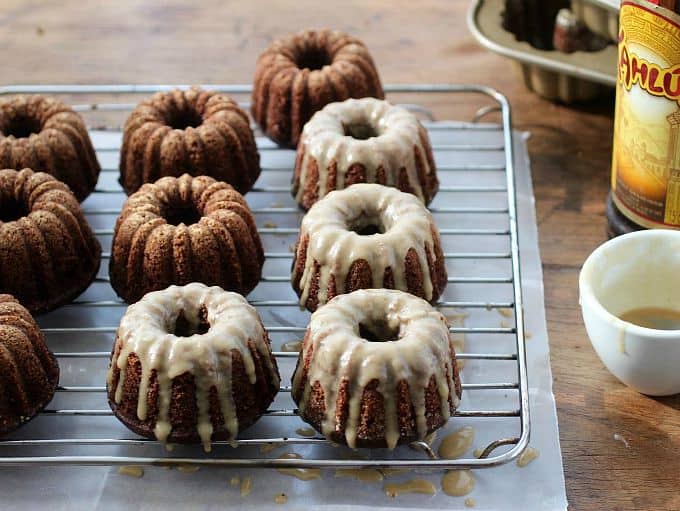 I came back from a trip last year, carrying all sorts of cake pans and utensils.
I used to travel with a lot of luggage because I packed a ridiculous amount of clothes and accessories. After a few trips, where half the suitcases came back untouched, I started packing with a color theme. I would take clothes that all matched the same two pairs of shoes and one handbag that I had decided to take.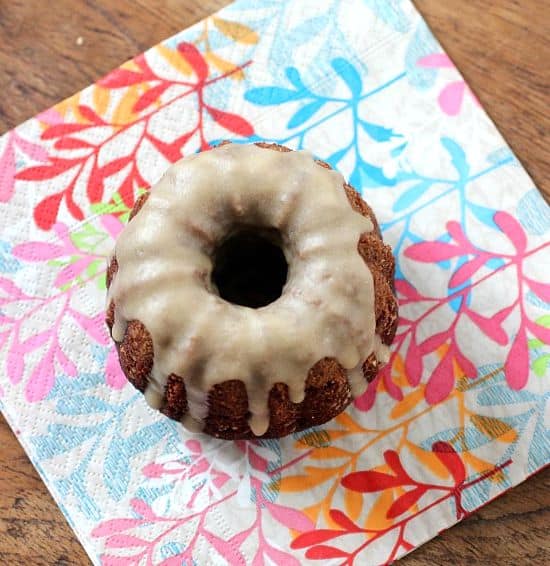 Now, I pack as few clothes as I can, so I can come back with books, magazines, baking supplies, things for my house. On the other hand, I hardly buy any clothes or bags or shoes. Not anymore.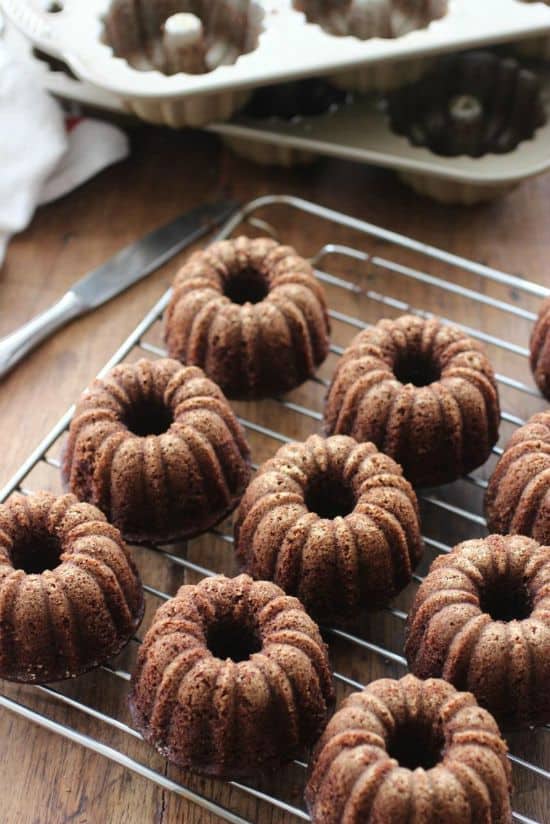 Now, it's all about my hobbies. Since my jobs evolved from things I love to do, like cooking and textiles, there's always the excuse to buy things, as samples really.
That's what I tell myself. I had the cutest mini bundts (is that the way to say it?) and set out to make the cutest little cakes. My first  attempts failed miserably. The cakes refused to come out in one piece. Twice.
So I bought a little book that had only Bundt cake recipes. Big, medium and small. Success at last. Many times over. With easy recipes like these I make them all the time. There's something about a glazed mini bundt that just appeals to me every time.  I wonder if it will ever stop? Probably not.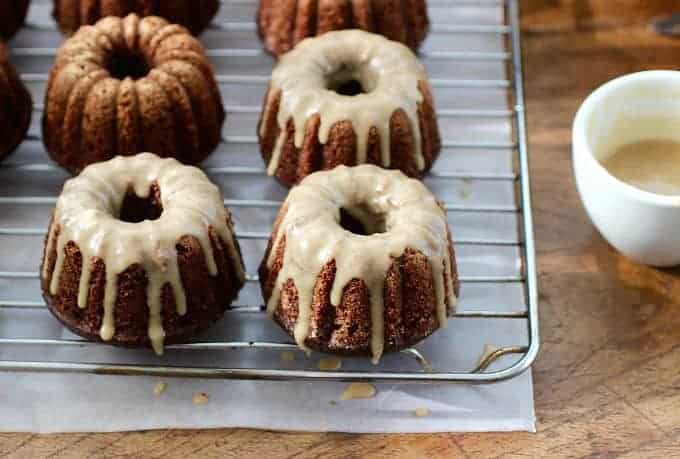 And if the glaze 
and cake have my absolute favorite coffee liqueur in it the appeal grows 
exponentially. So do my thighs.
By the way, these cakes are much fudgier the next day, or the next even. They stay ridiculously moist for many days. Even when left uncovered.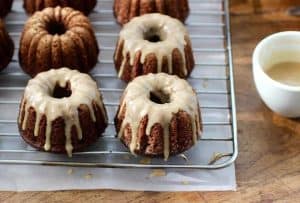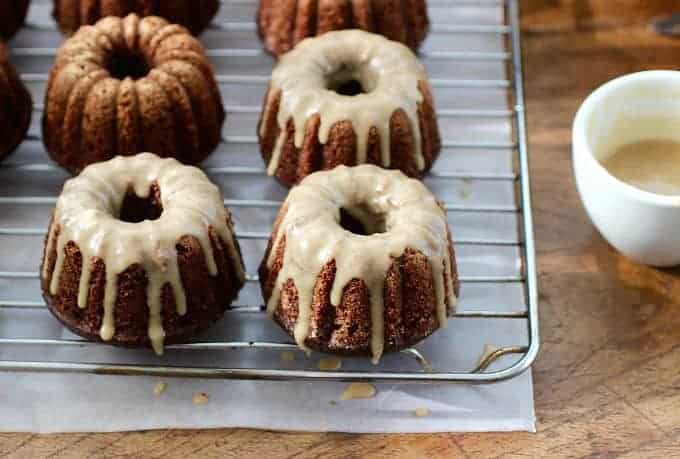 Print
CHOCOLATE COFFEE CAKE WITH KAHUA GLAZE
Yield 12 mini cakes
You can use any kind of liqueur here. For the glaze I like less sugar and more liqueur, because, in this case, I want as much Kahlua flavor as I can. But youcan do a simple ganache with dark or white chocolate.
Ingredients
For the cake:
1 ¾ cups (350g) sugar
2 cups (300g) all purpose flour
¾ cup (100g) cocoa powder
1 ¼ teaspoon baking powder
1 ¼ teaspoon baking soda
¾ teaspoon salt
2 eggs, room tº
1 cup milk
½ cup vegetable oil
2 teaspoons vanilla extract
½ cup drip coffee, very hot
½ cup Kahlua or other coffee liqueur
For the glaze:
1 cup confectioners' sugar
1 or 2 Tbs Kahlua or other coffee liqueur
Instructions
For the cake:
Preheat oven to 350ºF /180ºC.
Butter and flour or spray well with cooking spray, 12 mini bundt molds.
Sift together sugar, flour, cocoa, baking powder, baking soda and salt.
In a large bowl beat eggs, milk, vanilla and oil for 1 minute.
Add dry ingredients to the wet, ½ cup at a time, while beating on low speed. Do this slowly so the batter doesn't develop clumps.
Heat coffee until almost boiling.
Mix with liqueur and add slowly to the chocolate batter. Mixture will be thin.
Fill molds up to ¾ of it's full capacity. I put the batter in a glass measuring cup so it's easier to pour.
Bake until tester inserted in center comes out clean, about 25 minutes for mini bundt and 45 minutes for a big bundt.
Invert cake onto cooling rack. If cake resists, cool in the pan for 15 minutes before inverting.
For the glaze:
In a small bowl mix a cup of powdered sugar with 1 Tbs or more of coffee liqueur, depending on how runny you want your glaze to be.
Pour glaze on top of cakes and let it drip to the sides.
slightly adapted from Kiss My Bundt, by Christa Wilson