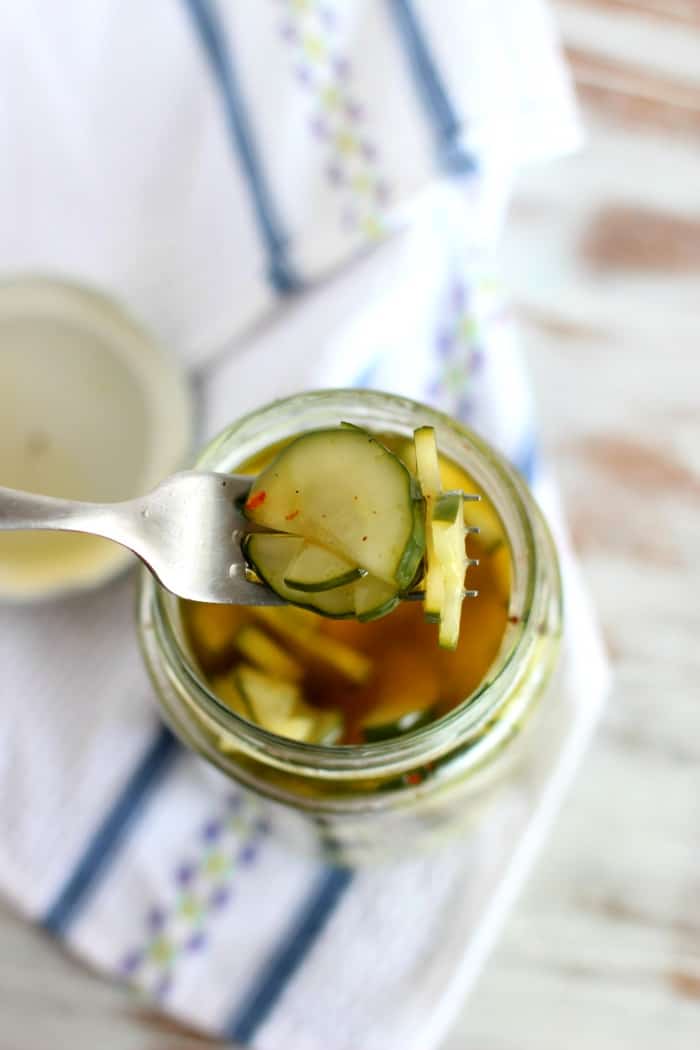 It takes almost as long to write the title, as it does to put together these ginger pickled cucumbers. Talk about quick, easy and hot. They are hot, as in fiery, not trendy.
Today's recipe for our FFWD group is about cucumbers. They are not really my thing. There are so many other vegetables to try that I never seem to get to the cucumbers.
Though there was a summer  when I was a teenager, while vacationing with my best friend, almost every night, while the barbecue was in full swing, we would prepare cucumber salad. We took the time to thinly slice cucumbers, I mean mandolin thin, by hand with a butcher's knife. We patiently cut almost see-through slices, tossed them in salt, rinsed them and ate them with olive oil and vinegar. But that's old history.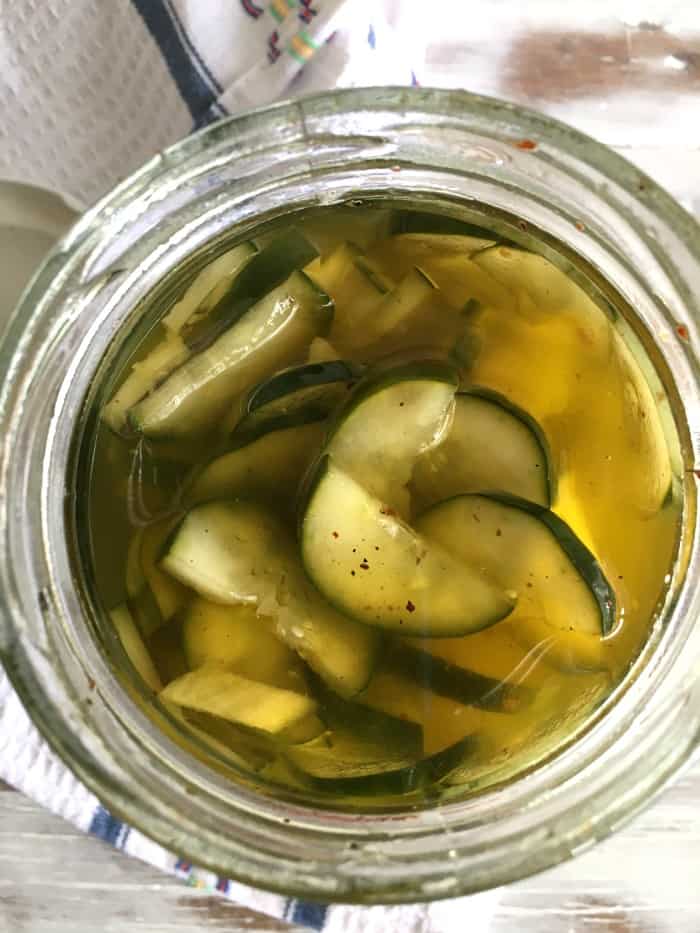 Today Dorie Greenspan, in her book Around My FrenchTable, inspires us to make the simplest mix of cucumbers (salted and rinsed), rice vinegar or white vinegar with a bit of sugar, and pepper flakes. Then a few hours stay in the fridge and you're ready to roll. The cilantro or parsley garnish is an option, but it's pretty.
I didn't have any so we're going sans green decorations today.
I liked this side dish. It's really good for a burger, beef of course but also lamb. That was my original intention, first the homemade buns, then the burger with the cheese and pickles.
But work got in the way, and I spent all day in meetings, or in my car. At least it wasn't 
raining like yesterday
. But my return home was late. I barely had time to remember it was Thursday night and I hadn't done my homework for tomorrow.
So I will keep them in the fridge, pillowed in olive oil, the way I do with pickled eggplants, while they wait for the day when the buns emerge golden from the oven and the burgers sizzle in the skillet. No barbecue for me these days, did I tell you it's winter?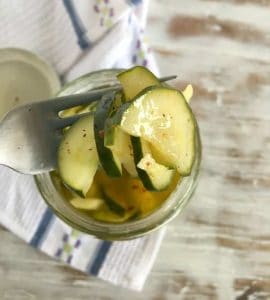 Print
Crunchy Ginger Pickled Cucumbers
Yield 2 cups aprox.
Ingredients
2 cucumbers
1 teaspoon sea salt
1 Tbs minced fresh ginger
1/2 cup white vinegar
¼ teaspoon sugar
Pinch of red pepper flakes or smoked merken
Olive oil, to cover
Instructions
Wash well the cucumbers, cut in half, each piece inhalf again and cut along the seeds. Cut each quarter into ½ inch pieces. Toss ina bowl with salt and let stand 30 minutes at room temperature.
Drain off the liquid.
Mix in the vinegar, sugar and pepper flakes. Mix well.Transfer to a jar, packing. Add olive oil until all cucumbers are covered,close tightly and store in the refrigerator.
It lasts one month at least.
Courses Condiments
barely adapted from Around My French Table, by Dorie Greenspan