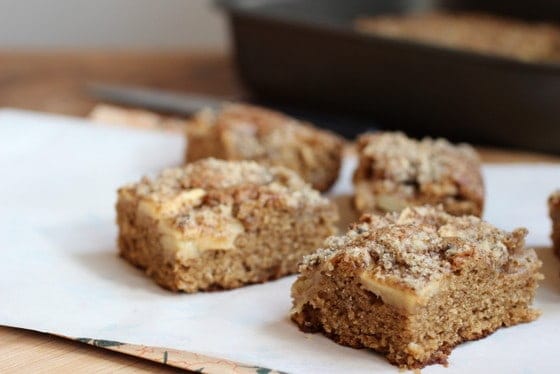 This week is getting on everybody's nerves. It has been really hot and it's barely November; so much heat is not supposed to happen until at least a month. The power went out yesterday in many parts of the city. It turns out a transformer exploded somewhere and most of the federal district was left in the dark. It came back together after three hours here and I can't give thanks enough.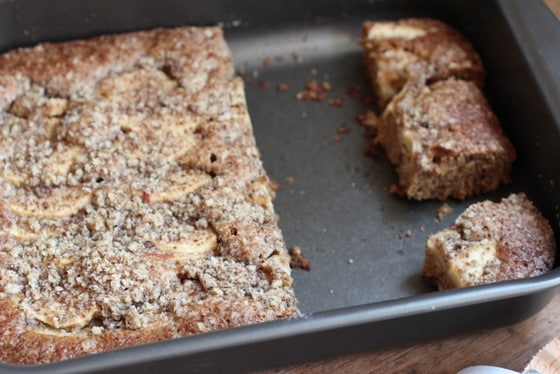 Being without electricity makes you aware of how much we depend on it. For everything.
And the night was closing in and the idea of sleeping without a/c when it´s 35ºC (95ºF) can make even the cheeriest person get very cranky. And then everything came to life again, suddenly, almost the whole house lit up, the computer and the refrigerator made that start-up sound that can be so annoying sometimes, but that sounded like the sweetest music.
And now, I'm awake at 4.30 am, having woken up not really knowing why. But I'm thankful that I can come down and write this, the house is cool and I can tell you about the apple cake that resulted from half of the buttermilk muffin batter from Tuesday.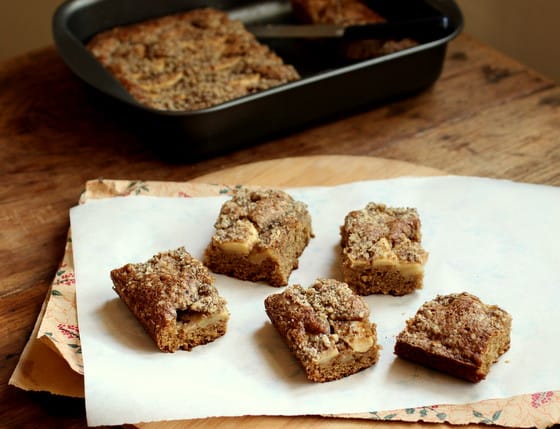 It's hard to know what to do with food sometimes. Blogging brings out my inner baker and the excess of baked goods can be difficult to deal with at times. I usually halve recipes from the go whenever possible. So
the muffins
from two days ago started as half a dozen. Not bad considering they are not my usualthing to eat. I could eat one that day and freeze the rest. As I was repeating the same mantra I usually do 'be careful with the quantities, you're halving the recipe', I didn't realize I was adding the whole amount of butter. So there was no other way but to add the other half of dry ingredients and make the whole dozen muffins.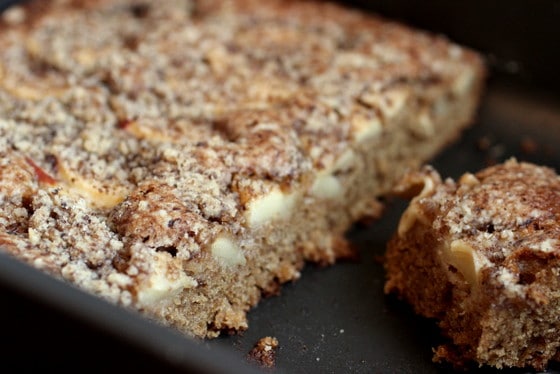 What am I supposed to do with so many muffins? It's one of the reasons why I don't make them for myself; all the recipes are just too large, and they don´t keep so well. The ideal muffin should be eaten the same day it's baked.
So half the recipe was poured into a square 8-inch (20cm) pan, an apple quickly peeled and sliced, and the crumble sprinkled on top. This buttermilk apple cake was born.Fast, easy and very delicious. In my opinion much better than the muffins, and only one red apple was needed.
It's almost like a sheet cake, perfect for a cup of coffee or a snack. And it keeps much better than it's muffin twin.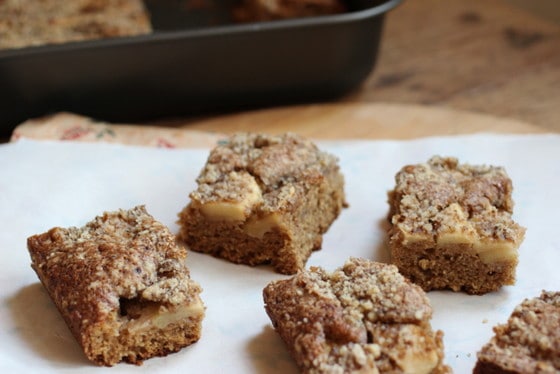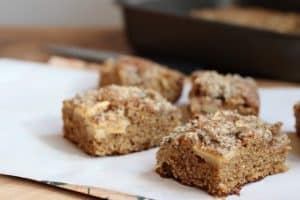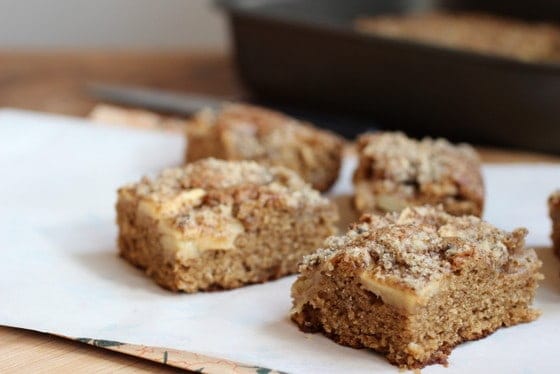 Print
BUTTERMILK APPLE CAKE
Yield 9 squares
Instructions
Preheat oven to 350º. Butter an 8-inch (20cm) square pan.
Prepare half the batter according to the muffin recipe. Spread it evenly in the pan.
Arrange apple slices in four rows, overlapping them a bit.
Sprinkle half the crumble on top and bake for 30 minutes, or until a tester inserted comes out clean.
Let cool on wire rack before cutting.