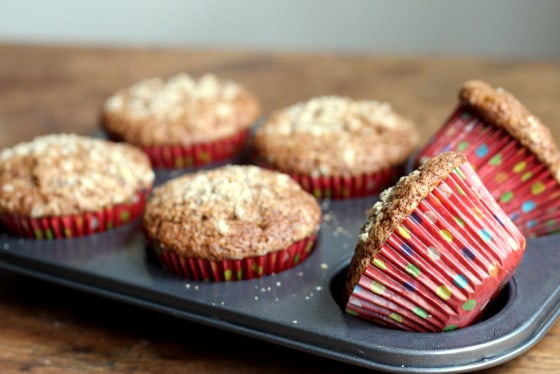 A very 
summery spring is happening around these latitudes. The heat is starting to be 
felt and it talks of very hot summers. I guess baking will not be the smart 
thing to do around christmas, but for now the oven is on and I happily spend 
hours in the kitchen.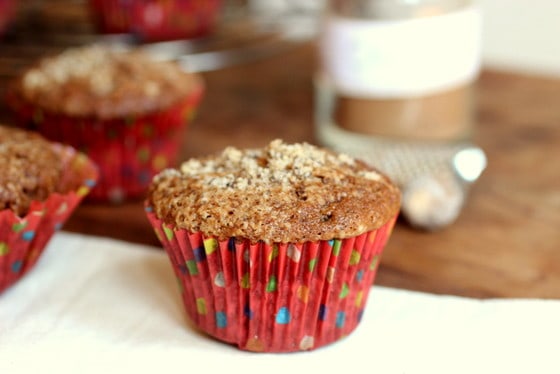 A very old fashioned style recipe that reminds me of the first time I tasted crumb cake. The one that was labeled new york crumb cake and came wrapped tightly in plastic. I remember looking forward to it when the coffee cart arrived despite it's very generic flavor, which is something that happens a lot when you're young and your mother isn't exactly the baker kind. But these muffins taste very good,  have a light faintly spicy crumb from the cinnamon and freshly grated nutmeg, and just enough sweetness to make it very easy to polish them off with the first two sips of coffee.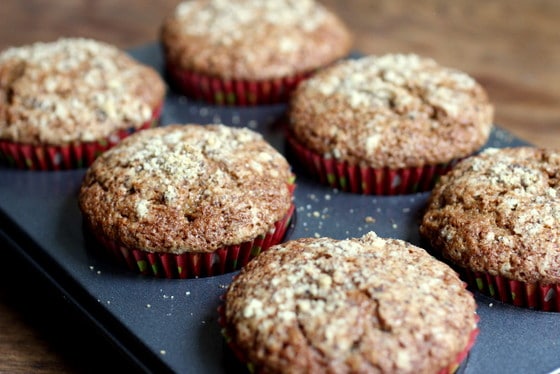 One thing I 
find hard about muffins is that I like them the first day, the first hours 
really after they are baked. After that they just start loosing a bit of their 
unique qualities with every passing hour. These were a nice surprise. They are 
very moist and stayed that way for hours. Though I cannot say what happened the 
next day since I gave them to my dad and his girlfriend and they simply ate 
them happily, oblivious to the details I wanted. So I guess they are good the 
next day too.
On the other hand I love to eat toasted muffins, so I can't complain even if I decide to freeze them. Just toast them for a few minutes and they are heaven.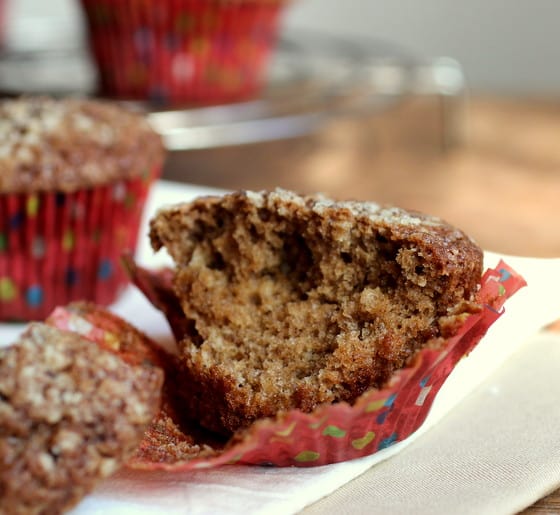 This recipe starts with a crumble made with brown sugar (I used dark), flour and butter (sorry but I ditched the shortening called for in the recipe), which I made in my food processor. Some of it is reserved to use as an actual crumb layer, and the rest is mixed with spices and wet ingredients to make your typical muffin with a crumb crust. Much like this
lemon blueberry cake
. Don't fill the paper cups too much, since it's the type of batter that spreads to the sides, giving you flat mushroom caps that spill over the sides of the muffins. And they tend to stick. So if you make them remember to fill them only two-thirds.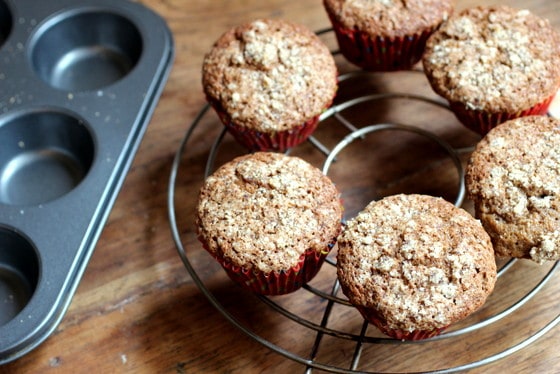 Other than 
that, they bake like any other muffin, taste great, have a spicy sweet flavor 
perfect for a cup of tea or coffee and make a quick apple cake that I will 
share with you tomorrow. The batter lends itself to a few additions like fruit or nuts, so they might just become your new favorite breakfast. 
For now, head over to Lisa's blog,
Easier Than Pie.
She's our host today and the place where you'll find the recipe.