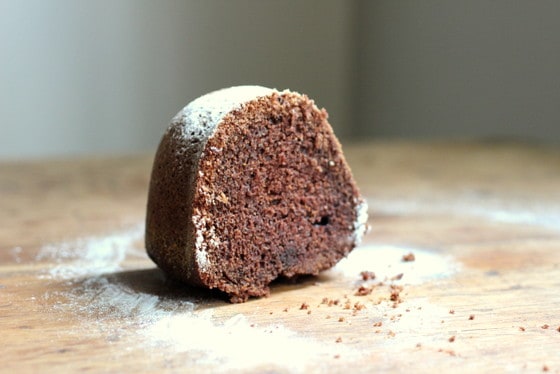 The problemwith rainy days during hot months is that you´re either dressed for the rain ordressed for the very warm day. So you either get wet or very cranky due to anoverload of clothes. I probably choose the worst of both worlds, overdressed and not a drop of water, since it stopped raining shortly after I left my house.
I know, I´m having verycomplicated issues today. So bear with me while I tell you about this bundtmarvel I baked.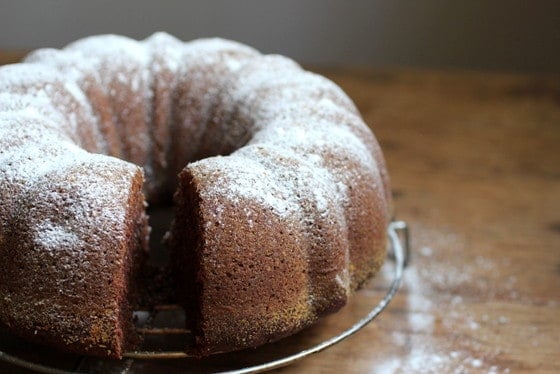 So I´mtaking full advantage of my bundt duties this month and will try to bake oneeach week.
After all, it´s holiday season and what´s a celebration without someboozy spirit, right?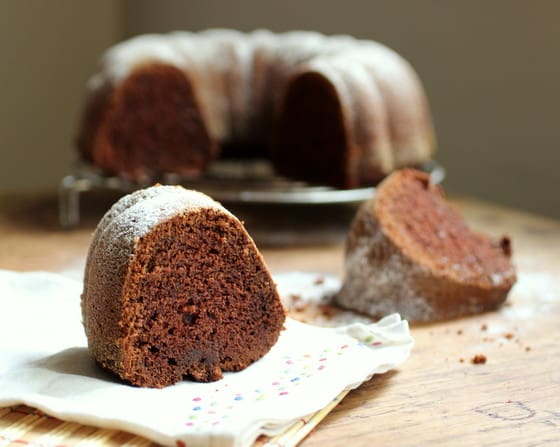 I find thatport makes a chocolate cake incredibly rich and deepens the flavor. The tangy boozyafter taste is absolutely there. It depends a lot if you eat this cake stillwarm, like me, because the port hits you immediately. As the days pass it is more of alingering flavor after the cake is gone. In my case it doesn´t last long.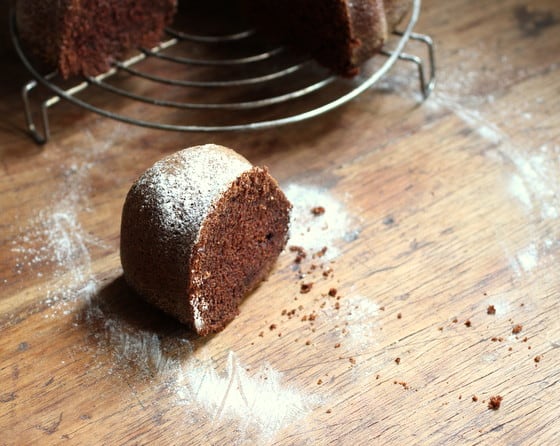 I had already made this same recipe last week. It had a tunnel of sour cream and pecans, no port. It was gorgeousand so good. But I accidentally erased the pics. Really? Yes really. But itwill get made again and I will share it because it is worth it. As a plainchocolate cake, as a chocolate port cake, and as a chocolate sour cream pecancake. This recipe is a keeper.
For now, I´ve found my go-to chocolate bundt cake that is good plain orwith so many additions and glazes.
The textureis velvety, I´m not kidding, it just melts in your mouth and the batter has awonderful shiny, silky look after the last dry ingredients are added.
And it unmoldslike a charm, which, let´s face it, is the nightmare when it comes to bundtcakes. Like hoping your luggage didn´t open while waiting to claim it.
CHOCOLATE PORT BUNDT CAKE
Makes 8 servingsIngredients
¾ cupunsweetened cocoa powder
¼ cup warmwater
½ cup Portwine
2 ¼ cupscake flour
1 ½teaspoons baking soda
½ teaspoonbaking powder
½ teaspoonsalt
6oz. (170g)unsalted butter, at room tº
1 ¾ cupssugar
3 largeeggs
½ teaspoonvanilla extract
¾ cup sourcream, at room tº
Directions
Preheatoven to 350º. Butter or spray a bundt cake pan and coat it with fine drybreadcrumbs.
In a mediumbowl, mix cocoa powder with water and port. Reserve.
In a largebowl beat butter and gradually add sugar. Beat until very creamy, about 3minutes. Add eggs, one at a time, mixing well after each addition. Beat for 1minutes after the last one is added.
Add vanillaand sour cream to chocolate mixture and mix.
Sift flour,baking soda, powder and salt. Add dry ingredients in three additions to buttermixture, alternating with chocolate mixture in two additions. Don´t worry ifthe batter looks a bit curdled at times.
Pour intoprepared pan, smooth top and bake for 60 minutes or until a tester comes outclean. Let cool a few minutes and unmold on a wire rack. Let cool completely.
Dust withpowdered sugar before serving.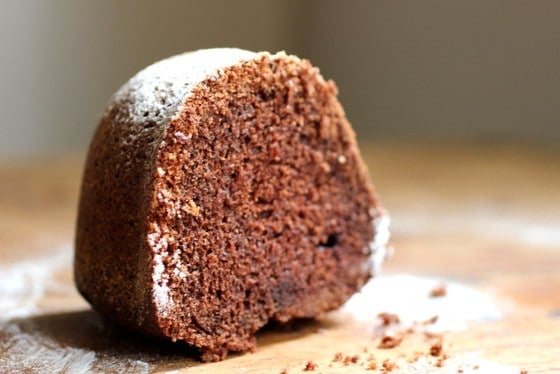 We have the most amazing list of boozy bundts for you:
Araby Spice-Limoncello Bundt Cake with Limoncello Glaze by Lora from Cake Duchess
Bailey's and Buttershots Bundt Cake by Karen from In The Kitchen With KP
Banana Pineapple Bundt Cake with Coconut Rum Glaze by Carrie from Poet In The Pantry
Chocolate Bourbon Mini Bundt by Holly from A Baker's House
Eggnog Rum Pound Cake by Dorothy from Shockingly Delicious
Madeira Pound Bundt Cake by Renee from Magnolia Days
Mint Chocolate Chip Bundt Cake with Creme de Menthe by Laura from The Spiced Life
Shirley Temple Bundt Cake by Kim Beaulieu from Cravings Of A Lunatic
Spiked Eggnog Bundt Cake with Bourbon Glaze by Kate from Food Babbles
Sweet Potato Bourbon Bundt by Jennie from The Messy Baker Blog
Long Island Iced TeaCake by Deb from Knitstamatic
Rum and Raisin Butter Bundt with Rum Honey Glaze by Stacy from Food Lust People Love
Vanilla and Bourbon Cake by Kate from DietHood
Vanilla Mini Bundt Cakes with Kahlúa by Alice from Hip Foodie Mom