I have two home remedies that work almost every time: going out for a walk and taking a shower. Whether I have a headache, am cold or too hot, very happy, need perspective, angry or whatever good or bad mood that particular day brought, doing one of those things usually works.
Water has a
soothing effect, and it changes my mood if it's not good, or expands my happy 
feelings. I know there are books written about the properties of water, so I'm 
not surprised. Another habit I have is going out for a walk. Sometimes I walk 
for an hour or more. No power walk, not at all. This is my way of connecting 
with myself. As weird as it sounds it even works when I walk amongst others, 
along crowded streets.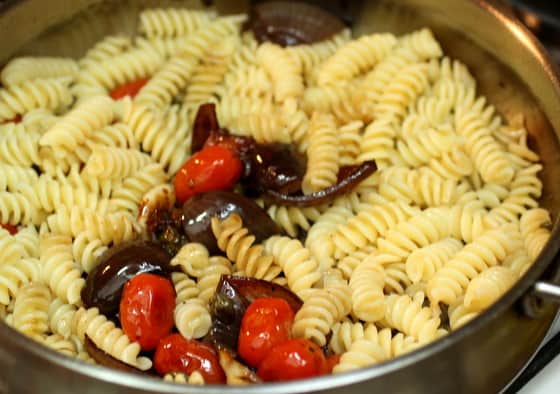 But that is not so pleasant when I have to walk on a hot, humid day doing unavoidable errands, the kind you wish didn't exist, which include anything from paying something or going to the bank, to, the worst of them all, getting things like your driver's license or passport. We should be cloned into little versions of us and let them do all the hard work.
So today was a long, sweaty day, full of no-fun-at-all errands.
So while I 
wait for the inevitable rain that will come, and soon, I put together this 
simple pasta dish. I had some vinaigrette left from this
beef and asparagus recipe
. Add to that some cherry tomatoes, capers and good parmesan and it even 
sounds like you had a plan. Which I didn't of course.
I like to char my tomatoes and garlic before adding the capers and rest of the ingredients. The capers and balsamic vinaigrette add a tangy flavor to this. It's more like a warm pasta salad than your usual hot cheesy pasta.
Print
FUSILLI WITH CAPERS, TOMATOES AND RED ONION VINAIGRETTE
Yield 2 servings
If you don't want to make the whole recipe for the vinaigrette, add a small red onion, sliced, together with the tomatoes. Add 1 or 2 Tbs balsamic vinegar and 4 Tbs oil together with the capers.
Ingredients
2 cups dry fusilli pasta
3 Tbs olive oil
1 cup cherry tomatoes
1 or 2 garlic cloves, peeled
¼ cup capers
½ cup Red Onion Vinaigrette
Parmesan cheese shavings
Parsley, chopped for garnish
For the vinaigrette:
1 medium red onion
¾ cup extra virgin olive oil
3 to 6 Tbs balsamic vinegar
2 Tbs chopped chives, plus more for sprinkling
Salt and freshly ground black pepper
Instructions
Cook pasta in salted water according to manufacturer's directions.
Meanwhile heat olive oil in large skillet. Mash peeled garlic and add to the skillet together with the cherry tomatoes. Cook on medium-high heat until charred and beginning to release their juices, about 3 to 5 minutes.
Add capers and cook 1 minutes. Add red onion vinaigrette and heat for 1 minute.
Drain pasta and transfer to skillet. Mix well with the sauce and remove from heat.
Divide evenly between two plates, top with parmesan shavings and chopped parsley and drizzle with olive oil.
For the vinaigrette:
Preheat oven to 350º.
Peel and cut onion in four pieces. Put in a bowl, add olive oil, cover with aluminum paper and bake for 1 hour, until it's soft. Let cool in the oil.
Chop onion very coarsely, add vinegar, chives and season generously with salt and pepper.