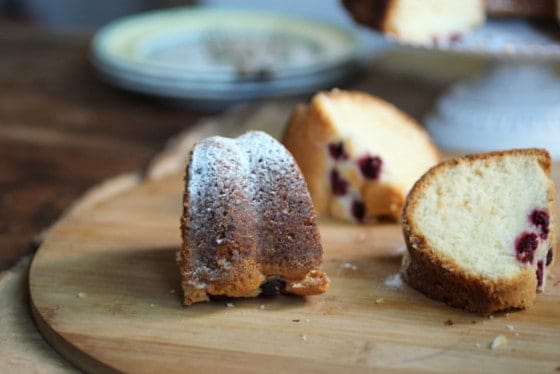 I can offer you a thought, a good one, when it comes to bundt cake recipes. If you find a recipe
that works, and unmolding perfectly well without much prayer being an exclusive
quality, stick to it and try to adjust and change it around a bit when looking
for different flavors that don't clash too much with the original. 
This is what I'm doing with this month's Bundt a Month challenge for chocolate bundt. Any chocolate, any combination.
I was sure I wanted to use white chocolate, because it pairs so well with fresh raspberries, and also it's the first day of that sweet, romantic month when you'll see an endless parade around the web of chocolate and hearts in every possible variation, with different shades of red and pink thrown into the mix.
But it's not my thing really, as much as I try I have mixed feelings trying to get into the spirit of whatever monthly celebration is taking place. As much as I like to celebrate I like to be more spontaneous about it.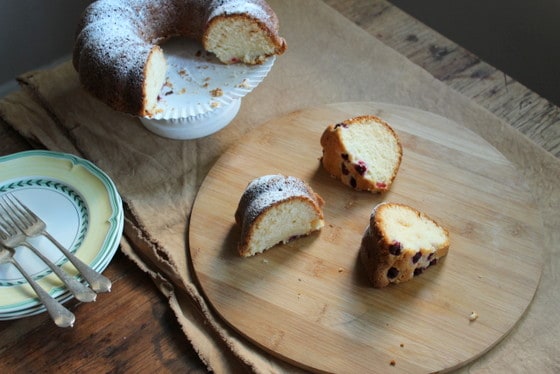 I didn't see the need to look for a completely new recipe, and save myself from the possibility of an epic failure during a time when the oven on is not a thing I look forward to. These are hot times, and not because it'll be valentine's day in a few weeks, but because the air is suffocating, courtesy of blazing summer days.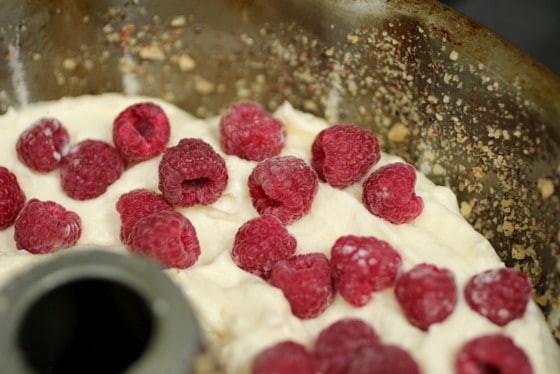 So between salads, ice cream and fresh fruit I made this sweet white chocolate cake with fresh raspberries,  the latter deciding to stay in the bottom and not move an inch from where I dropped them. That was their choice not mine.
Usually when I add a final layer to a bundt of what I think is a different density, it usually behaves very nicely and parks somewhere around the middle by the time the cake is done. Not this time, so I might have to revise my knowledge about densities.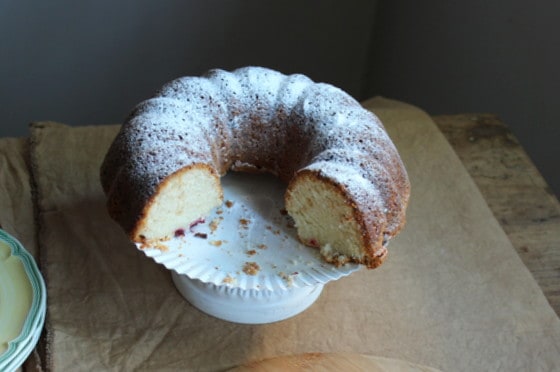 That doesn't affect the cake really, because they contrast a lot with the sweetness of it so you don't need them all over it. Though next time I will put them in the middle because they are more visually appealing. Which, of course, was my first intention, to cut and see red dots here and there.
This cake is an adaptation of the recipe I used in the cardamom bundt cake with saffron cream. The original recipe is a plain vanilla, a basic bundt cake, my favorite in the category.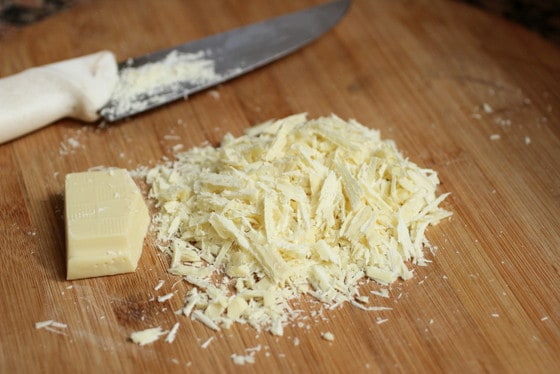 Here I added
some shaved white chocolate, cut down the amount of sugar, used buttermilk and
added the fresh raspberries. Adding the chocolate grated makes it simpler because there's no melting involved and, in my opinion, makes for a better texture.
This cake travels well and lasts 3 or 4 days easily, wrapped well.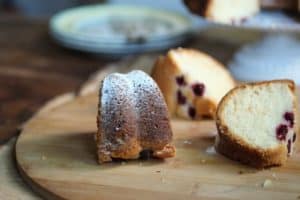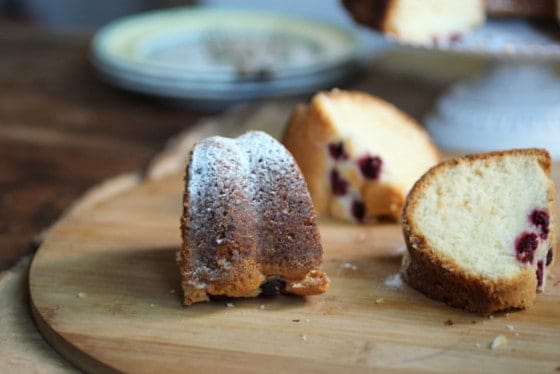 Print
White Chocolate Raspberry Bundt Cake
Yield 10 servings
If you want the raspberries to appear inside the cake, pour ¾ of the batter into the pan, add the raspberries and cover with remaining batter
Ingredients
2 ½ cups (325g) flour
2 ½ tsp baking powder
½ tsp salt
¾ cup (175g) unsalted butter
1 ½ cup sugar
3 oz. (85g) white chocolate, very finely chopped or grated (I shave it with a knife)
3 eggs, room tº
1 ¼ cup buttermilk (or whole milk with 1 Tbs lemon juice)
½ teaspoon vanilla
¾ cup fresh raspberries
Instructions
Preheat oven to 350º. Spray a bundt pan with vegetable spray and coat with fine dry breadcrumbs. Set aside.
Sift flour, baking powder and salt. Set aside
In a large bowl, beat butter until creamy. Slowly add sugar and beat 2 minutes.
Add eggs one at a time, beating well after each addition, and then beat for 2 minutes.
Beginning and ending with dry ingredients, add them in three parts alternating with milk and vanilla in two parts. With a spatula add white chocolate.
Pour batter into prepared pan, spreading evenly. Add raspberries.
Bake about 40 minutes for a big cake. Wait 5 minutes and invert onto wire rack. Cool completely.
Dust with powdered sugar and serve.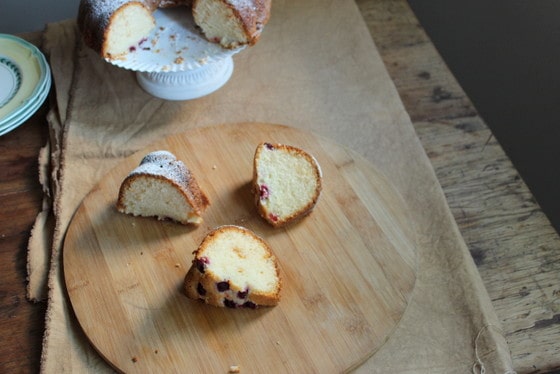 Need more inspiration for bundt cakes with chocolate? We have amazing ones for you: