Sometimes a holiday is an excuse to bake. Others to drink. Others to share your heritage.St. Patrick's might be all of them. Though I don't need an excuse for any of the above, I don't often drink stout, or beer really. But give me some booze and a baking recipe, and I will get down to business, like the brownies with whiskey and raisins I made last year. Or today's creamy fudgy devil's food stout cake.
My mother is half Irish. Her grandparents were, mainly her grandmother, or Granny, a word which was more an institution than an abbreviation. Her scones and plum pudding were legendary.
She made the latter as my parent's wedding cake, back in the days when dark fruitcake was the way to celebrate a marriage. She started months before the big day and kept the cakes wrapped, and I'm guessing drenched in brandy. The top tier, the smaller one, was saved and eaten a year later as it was traditional to do. I wonder what she would think of this cake?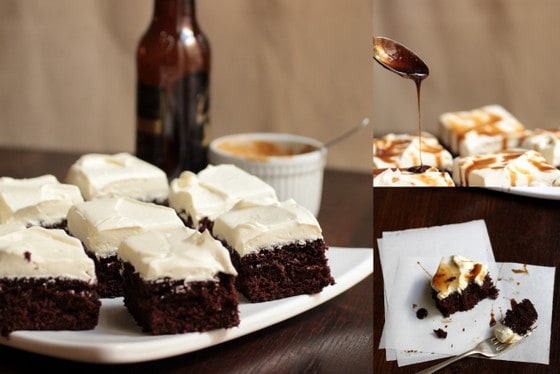 A few weeks back,
this post in Jen's site
brought flashbacks of my mother applying eyeliner whenever she stopped at a red light; that was the way she painted her eyes on her way to work.
She also perpetually drove with her window down and popped out her face at every possible moment to soak up the sun, looking like
George Hamilton's 
sister year round.
This was the late 70's, early 80's and there were no worries about the ozone layer or sunblock, we worshipped the sun and having a deep tan was a very covetted thing to aim at. It was a good thing she didn't inherit the thin, freckled Irish skin many of her relatives have. She did get the dark blue eyes, lucky her.
Though I never applied eyeliner while driving, I remember that for years, at a time when I lived in a gated community and had ten mintues of driving at almost no-speed, due to internal safety regulations, before I reached the entrance, I used to apply hand cream while I drove with my right knee. Applying hand cream as you know, implies both hands get busy in the process, so there's no free hand to steer. I'm not kidding, it can be done, just don't try it.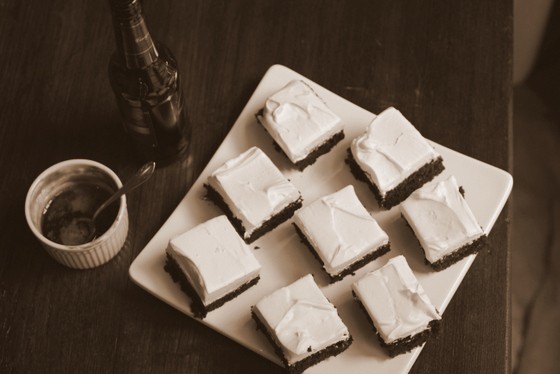 The thing is that, in the end, I'm more like my mother than I care to admit.
'What is inherited is not stolen', that's a saying we have here, that gets you off the hook, blaming it all on your parents. Ha.
Do you have the same feeling that you're becoming your mother? I do, and when I see her being exactly like her mother, mygrandmother, I worry even more. Because she didn't pass me down the gorgeous blue eyes and people skills, but those annoying details that drive me mad. I love my mom guys.
But inheritance is well fitted for this post, so let's get down to the cake, shall we?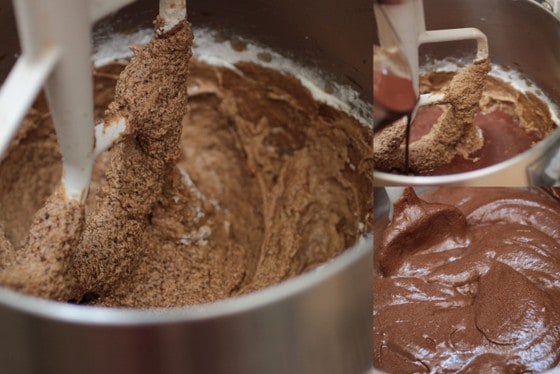 Stout, even if it's cream stout as in this case, is somewhat bitter. In a chocolate cake it lends a nice tang and unique flavor. This is a good devil's food cake recipe, from the acclaimed
Baked boys
, where I only replaced the coffee with the dark beer.It gives the final cake a bouncy and yet fudgy texture, quite interesting.  I like interesting cakes, and I like to mix dark chocolate with almost everything I can. Remember the
chocolate pepper loaf
,
chocolate potato cake
, the
chocolate port bundt cake
, the
This is another unusual but simple cake, and it can stand many frostings. It might even be the moment to use the very sweet ones. I opted for a sweetened whipped cream drizzled with a stout syrup. Since the remaining dark liquid would've ended down the drain, I boiled it with some sugar and it turned out to be the perfect ending for this Irish-inspired dessert.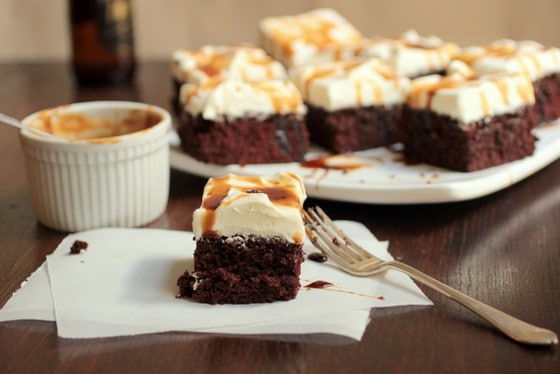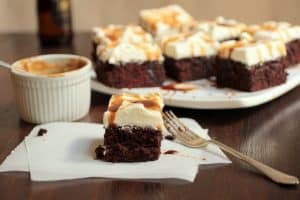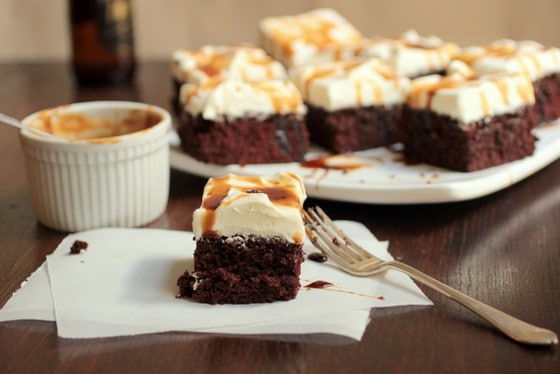 Print
Creamy Fudgy Devil's Food Stout Squares
Yield 10 servings
Ingredients
For the cake:
For the cream topping:
1 1/3 cups cream
6 Tbs powdered sugar
For the stout syrup:
2/3 cup cream stout
1/3 cup sugar
Instructions
For the cake:
Follow the recipe for the cake, substituting 2/3 cup hot cream stout for the hot coffee. 
Simply heat the beer until it almost boils.
Mix and bake according to the recipe, using a rectangular 8x12 inch (20x30 cm) cake pan, lined with aluminum foil or parchment paper.
For the cream topping:
Whip the cream with the sugar until of spreading consistency.
Using a spatula apply to cooled cake.
Drizzle with syrup and serve.
For the stout syrup:
In a small saucepan mix stout and sugar.
Boil for 3 or 4 minutes. Remove from heat. 
Let cool.
cake adapted from Baked Explorations, by Matt Lewis and Renato Poliafito