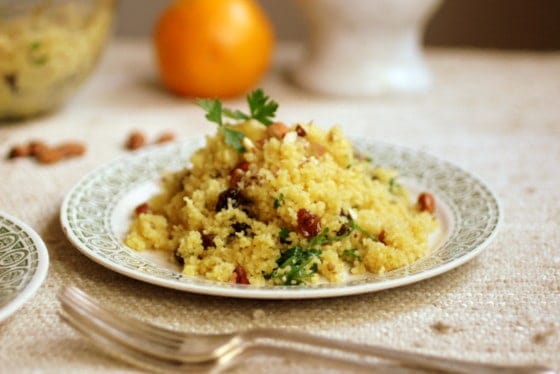 Every once 
in a while I like to contribuye a side dish to a friends' barbecue. I'm usually 
the appointed dessert and/or cocktail maker, the latter because from a group of 
ten women, me and one other friend, are the only ones who like to actually drink the cocktails. The rest just sip once or twice.
Desserts are a different story, they all contribute happily, spoon in hand.
I made this orange raisin couscous with almonds and coriander a few months ago for the first time. In an effort to transfer all my grains, nuts, seeds and flours to glass containers, I was left with a small amount of couscous that didn't fit, and looked for an easy recipe to use it. This popped up immediately. I was with my mother at the time, and we devoured it.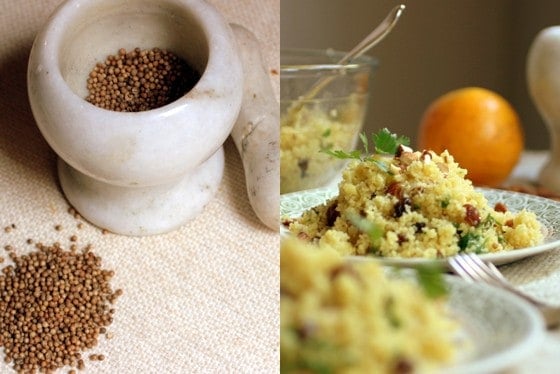 So when a 
new get-together with my friends came up, I decided to make this dish, 
not telling them about the coriander, of course. They got a healthy and flavorful side dish of couscous when they were expecting a dessert like
chocolate raspberry tart
or the
chocolate velvet ice cream with cherry sauce
.  It's always chocolate with them, chocolate or similar.
We're celebrating Easter and Passover with the
Sunday Supper
crew, and I'm contributing this easy to prepare orange raisin couscous. The talented
Carla of Chocolate Moosey
is our lovely host today, and you can find the list of amazing recipes at the end of this post. So many choices you won't know where to start.
As usual I had a hard time choosing what to make, and since I had already posted two wonderful easter breads, like the hot cross buns and the almond ginger kulich, I decided to change and do so in style.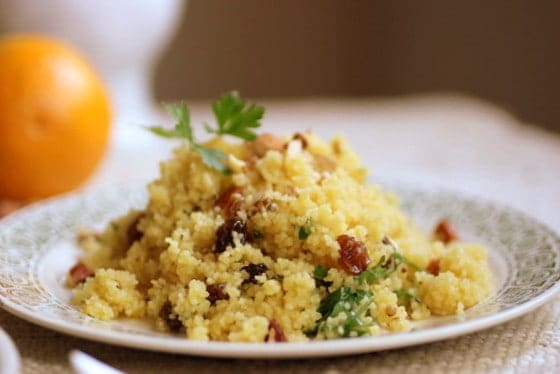 This recipe made me discover coriander as a seed, the kind that is generally used lightly toasted and crushed in a mortar. So far, I had only been using it whole in curries, where it got mixed with the coconut milk flavor and the other spicesand it was just one more ingredient.
Here is the supporting actor, and it takes the prize no doubt.
Couscous is such an easy grain to make there really is no excuse. The mix of orange and raisins gives it a slight sweetness that is balanced by the coriander and the parsley. And then you get the crunchy almonds.
A wonderful side dish, or in my case, a light lunch or dinner when I'm alone.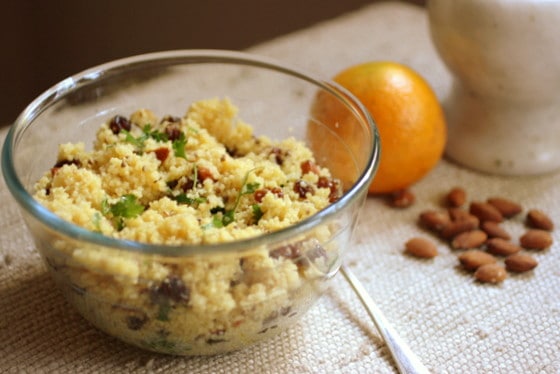 They say there are two things that should not be discussed because they get you nowhere, religion and politics, but since I'm contributing an Easter dish, I think it's a good time to talk about the newly elected Pope, Francisco I, who hails from none other than my city, Buenos Aires.
There was a big deal of emotion and people gathering on the streets following the white smoke, not a surprise since this is a country where, until 1994, a person had to be catholic in order to run for president. But there is no power without a heavy dose of antagonism, and since he's the first non-European leader of the Catholic church, I simply hope the changes will be good to third world countries, where poverty and oppression are rampant.
Orange, Raisin and Almond Couscous
Yield 4 servings
Ingredients
1 cup orange juice
¼ cup olive oil
1 cup uncooked instant couscous
1/3 cup raisins
1/3 cup chopped almonds
1/3 cup chopped fresh parsley
3 Tbs coriander seeds
Salt and freshly ground black pepper
Instructions
In a clean skillet, over low heat, very lightly toast coriander seeds. Be careful not to burn them.
Transfer to a mortar and crush with the pestle. You can also ground them in a seed or coffee bean grinder. But don't turn them into a powder.
Put couscous, olive oil, salt and pepper to taste in a medium bowl. Reserve.
In a small saucepan heat orange juice with the raisins and bring it to a boil. Immediately pour it over couscous to cover, cover the bowl and let stand 5 minutes.
Fluff with a fork, add almonds, parsley and crushed coriander seeds.
Check olive oil, salt and pepper and add more if necessary.
Serve immediately or cover and keep refrigerated.
Take out half hour before serving.
ORANGE RAISIN COUSCOUS
originally from
Let the Flames Begin
, by C.Schlesinger and J.Willoughby, via
The Best American Recipes 2003-04
, by F.McCullough and M.Stevens
Easter
Breakfast, Breads, and Buns
Appetizers and Sides
Main Dishes
Roast Leg of Lamb with Garlic and Rosemary from Small Wallet Big Appetite
Sicilian "Enchiladas" from The Cooking Actress
Dessert
Passover
Homemade Matzo from The Foodie Army Wife
Mock Gefilte Fish from Fast Food to Fresh Food
Dessert
Wine Pairing Recommendations for #SundaySupper Religious Feasts from ENOFYLZ Wine Blog