Pancakes. A lot of recipes.
Sweet, savory, and in between.
What are the chances of you finding your pancake soul mate today?
Very high.
Enjoy it.
Clockwise from top left: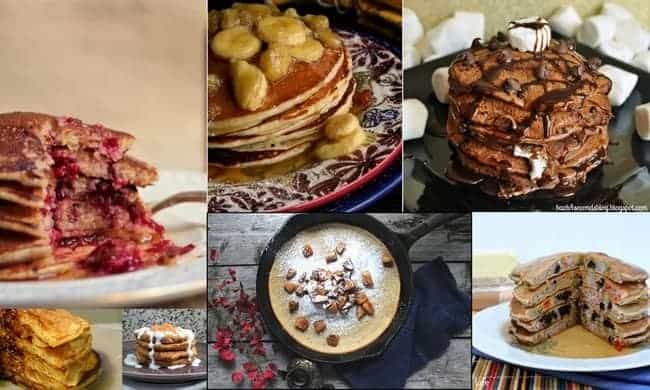 Cornmeal Berry Pancakes with Homemade Maple Syrup from Vintage Kitchen Notes
Banana Pancakes with Butter Rum Maple Syrup from Girlichef
Chocolate Marshmallow Pancakes from Back for Seconds
Oreo Banana Pancakes from Inside Brucrew Life
Dutch Baby with Fried Apples from Diethood
Carrot Cake Pancakes from Alida's KitchenPumpkin Chocolate Pancakes from Vintage Kitchen Notes
.
Gingerbread Pancakes with Cranberry Syrup from The Hungry Goddess
Caramelized Dulce de Leche Crepes from Vintage Kitchen NotesLight and Fluffy Buttermilk Pancakes from Chocolate Chocolate and MoreOrange Ricotta Pancakes from Vintage Kitchen NotesLemon Pancakes with Lemon Syrup from Jen's Favorite CookiesCaramelized Apple German Pancakes from I Heart Eating
.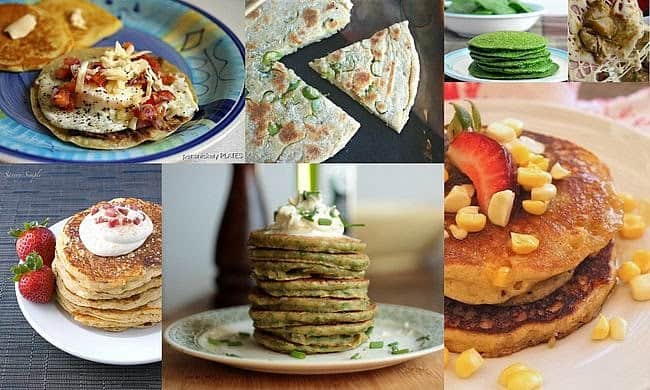 Huevos Rancheros Pancakes from Persnickety PlatesChinese Scallion Pancakes from Ricki HellerSpinach Pancakes from SpabettiesRoti Jala from GirlichefCorn Cardamom Pancakes (gf) from Cooking on the WeekendsSwiss Chard Whole Wheat Pancakes from Vintage Kitchen NotesBacon Polenta Maple Pancakes from Savory Simple
.
Lemon Ricotta Pancakes with Blueberry Sauce from Food BabblesWhole Wheat Chocolate Pancakes from Alida's Kitchen
Chocolate Chip Pancakes with Maple Butter Syrup from Juanita CocinaVanilla Pancakes with Chai Spiced Peach Compote from Healthy Slow CookingApple Pie Pancakes from Back for Seconds
.
Coconut Pineapple Pancakes (gf) from Cooking on the WeekendsGrainfree Pear Banana Baked Pancakes from Cupcakes and Kale ChipsPineapple Upside down Pancakes from Hezzi-d's Books and CooksCinnamon Pancakes with Candied Bacon from Lemons For LuluTropical Pancakes from Dizzy Busy and HungryWhole Grain Pumpkin Protein Pancakes from TexanerinVanilla Pancakes with Caramelized Bananas from I Heart EatingPerfect Pancakes from Like Mother Like Daughter
.
Spiced Chocolate Chip Pancakes with Caramel Syrup from Chocolate MooseySpeculoos Biscuit Pancakes from Busy in BrooklynWhole Wheat Maple Bacon Pancakes from The Lemon BowlLemon Coconut Whole Wheat Pancakes from Healthy Slow CookingLemon Poppy Seed Ricotta Pancakes with Blackberry Sauce from Alida's KitchenStacked Up Strawberry Shortcake Pancakes from CrumbBlueberry Buttermilk Pancakes from Mom Time OutDouble Rich Chocolate Pancakes from Spabettie
.
Savory Crepes with Prawns and Hollandaise Sauce from Masala HerbBacon Pancakes from What's Cooking Chicago?Savory Crepe Cake from Vintage Kitchen NotesZucchini Corn and Bacon Crepes from Vintage Kitchen NotesPuffy Sweet Corn Pancakes from Foodie TotsEasy Homemade Instant Pancake Mix from Back For Seconds
.
Basic Pancakes from Around My Family TablePumpkin Pie Pancakes from Cooking with BooksMake Your Own Pancake Mix from Home Cooking MemoriesCarrot Cake Pancakes with Maple Cream Drizzle from White Lights on WednesdayBananas Foster Whole Wheat Pancakes from Cooking with BooksZucchini Chocolate Chip Pancakes from Food BabblesLemon Ricotta Pancakes with Blueberry Sauce from Juanita Cocina
So, what pancake recipe are you trying soon?