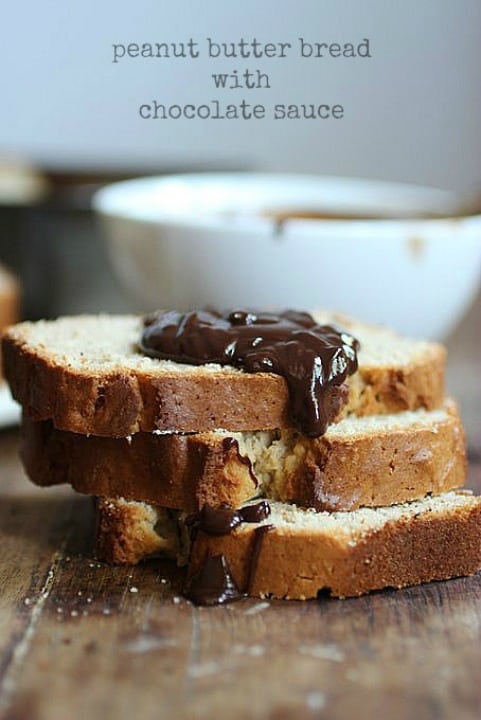 These last weeks have been hectic, with my house being sold, a lot of work, the blogs and a new course I signed up for, which is similar to an extra job (for which I'm paying, lol!).
In the midst of all this, I made my
Secret Recipe 
Club
 challenge in advance, not wanting to leave an orphan, and because I found a really great recipe for
peanut butter bread
 in Sarah's site, 
Fantastical Sharing of Recipes
, which was just the simple recipe I craved. She is also our group's leader, so it's extra nice to be roaming her blog for a recipe.
One of the parts I like the most of this group is that I always have a lot of recipes to choose from. I mean, nutella donuts, philly cheesesteak omeletes, pumpkinblondies, pumpkin snickerdoodles…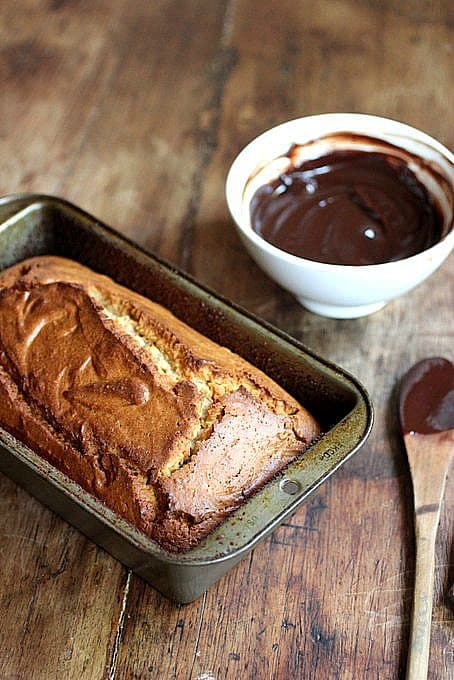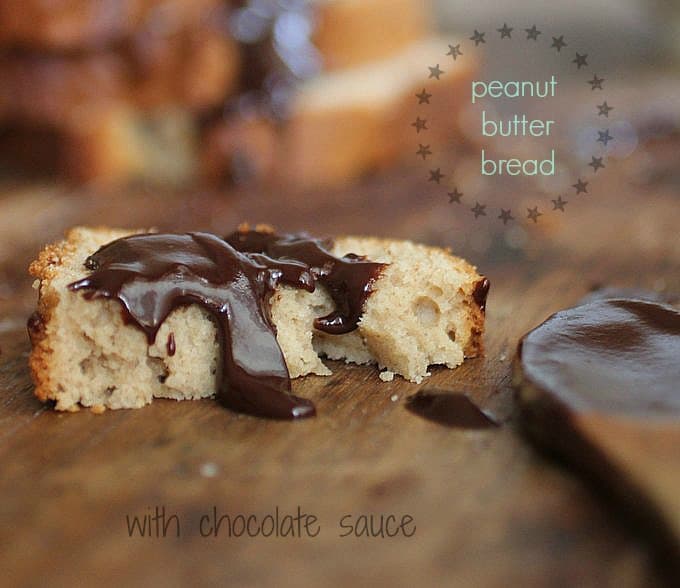 Quick breads tend to be very sweet, what I call loaf cakes because they don't have the rusticity of breads. This one is a notable compromise between a cake and bread, not too sweet, with a definite rugged texture, perfect for toast with butter or as I made it, fresh with a chocolate sauce that is in itself a fantastic recipe also. You can use it as a frosting if you let it cool down completely or pop it in the fridge for a while.
Or make sandwiches with banana slices and the chocolate sauce spread on the bread. Or eat it one slice at a time with a cup of coffee.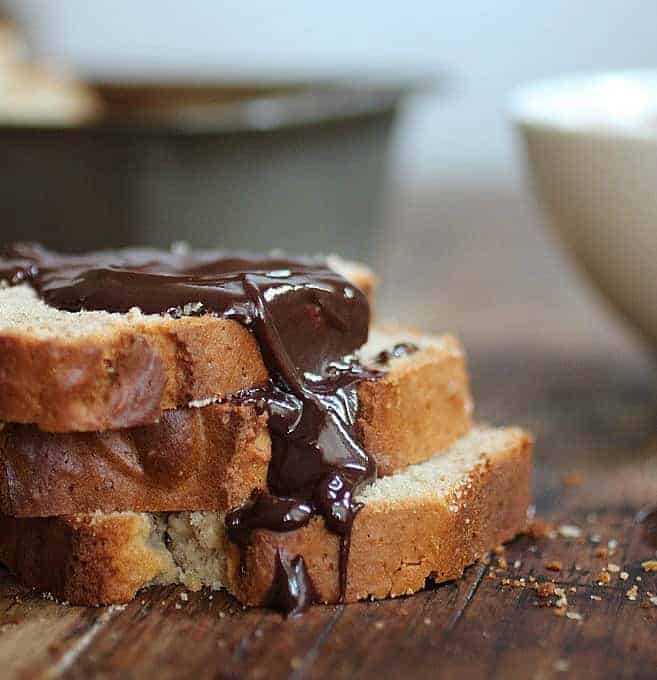 It keeps really well for a few days well wrapped in plastic. Though I wonder how it will last so long…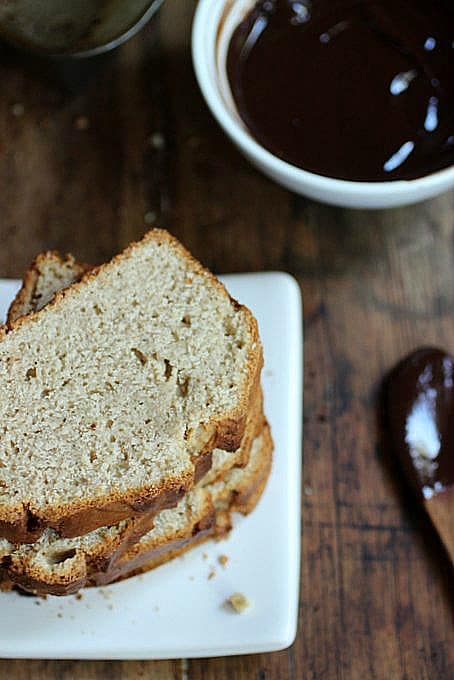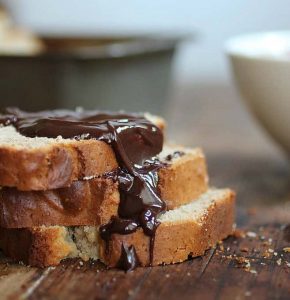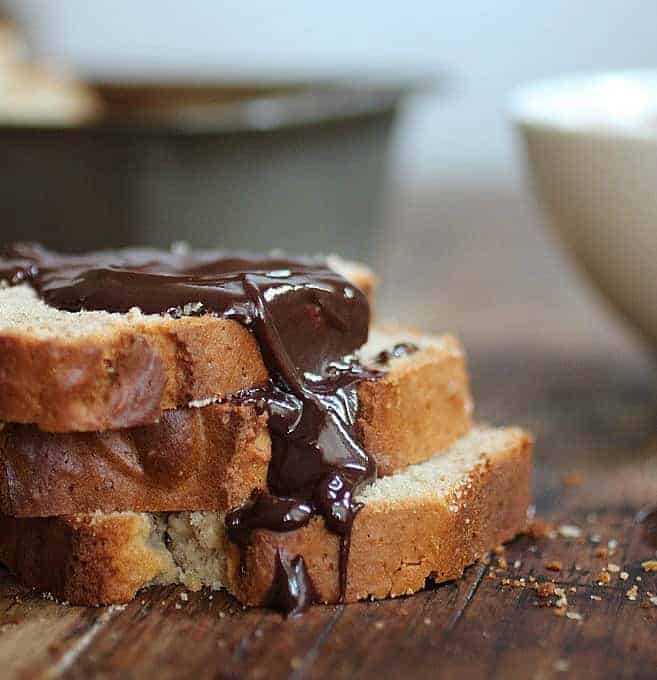 Print
peanut butter buckwheat bread with chocolate sauce
Yield 8 servings
Ingredients
For the peanut butter bread:
1 ½ cups all purpose flour
½ cup buckwheat flour
1 Tbs baking powder
½ teaspoon salt
1/3 cup butter, at room tº
½ cup sugar
¼ cup brown sugar
¾ cup peanut butter
1 egg
½ teaspoon vanilla
1 cup milk
For the chocolate sauce:
½ cup whipping cream
½ cup unsalted butter
2 Tbs light corn syrup
225g semisweet chocolate, chopped
½ teaspoon vanilla extract
Instructions
For the peanut butter bread:
Preheat oven to 350ºF. Grease a 9x5 inch loaf pan.
Beat butter until creamy, add both sugar gradually beating all the time, until the mixture is light and fluffy.
Add egg and beat for a minute. Then add peanut butter and vanilla. Mix well.
Add both flours, baking powder and salt in 3 additions alternating with milk in 2 additions.
Pour into pan and bake for about 40 minutes, or until a tester comes out dry.
Let cool on wire rack and serve with sauce.
For the chocolate sauce:
Put chocolate and vanilla in a bowl.
Heat cream, butter and corn syrup over medium heat and bring it to a simmer.
Add this hot mixture over the chocolate, wait 2 minutes and start mixing it with a whisk until it's smooth and shiny.