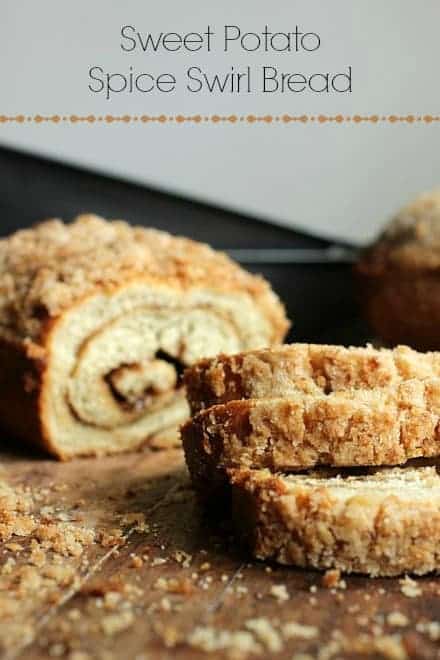 I have to confess some countries have sweet potatoes so pretty in color it makes me jealous. 
Not the nice type, but the 'I want your sweet potatoes and I'll give you mine even if it's not fair to you' kind of envy. Really. No, really, the flavor is great, sweet as it should be, but people the color! Greyish green with a hint of dubious yellow, pretty much like my skin in winter?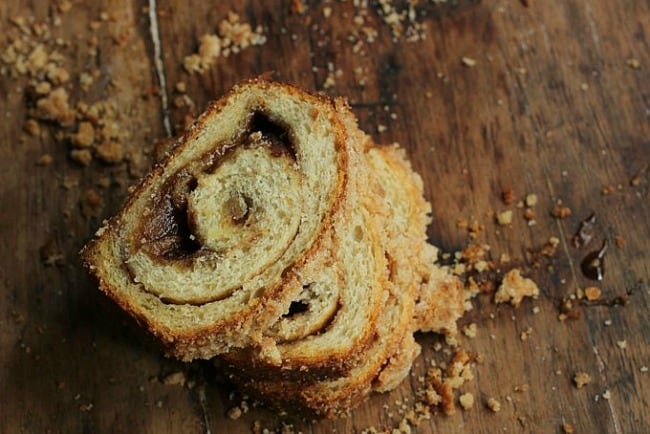 So it comes down to how to use them since the orange you all think of will never happen in my kitchen.
A bread is perfect, because it adds moisture and an undefinable flavor – a good thing sometimes – though it's fair to say that pumpkin and sweet potato don't have much flavor by themselves when it comes to sweet baking, we do have to add some kind of enhancer or tugboat that allows them to stand in the limelight. In this case it's fall spices, because the Twelve Loaves group (started by Lora of Cake Duchess and run with the help of the tireless Renee of Magnolia Days) chose that as the challenge for this month. Who can argue with spices?
They can lift up anything.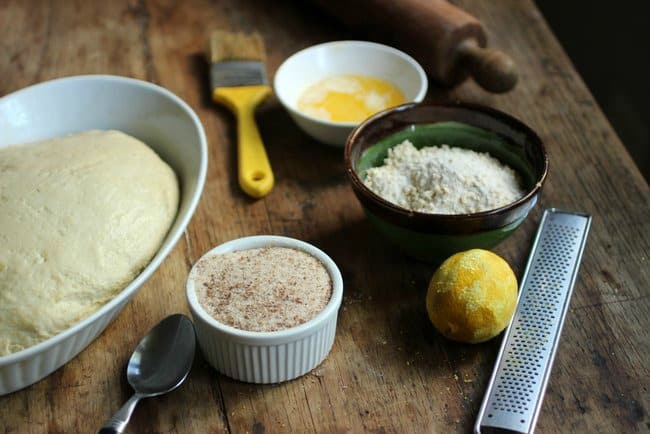 I missed last month's post, which was about root vegetables, so I'm joining both in this swirl bread with both spices and a veggie, adding it to the list of truly fantastic recipes. Check the list at the end of this post, there are crackers, doughnuts, buns, muffins…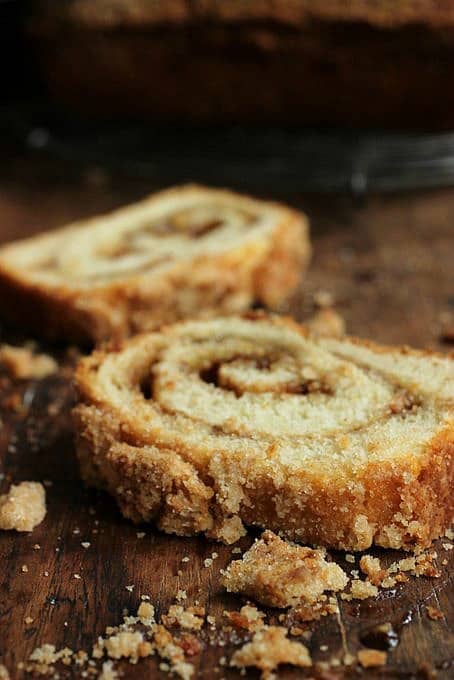 And as for the sweet potatoes, let's not forget they're more on the dry side, there's never a need to drain them like I do with pumpkin before baking with it. They completely forgot the moisture factor and, in this spice bread, they were as dry as a gulp of dust, having cooked them in the microwave. But who can argue with sweet potatoes done in less than 8 minutes? That little appliance does a great job cooking potatoes of all kinds in record time.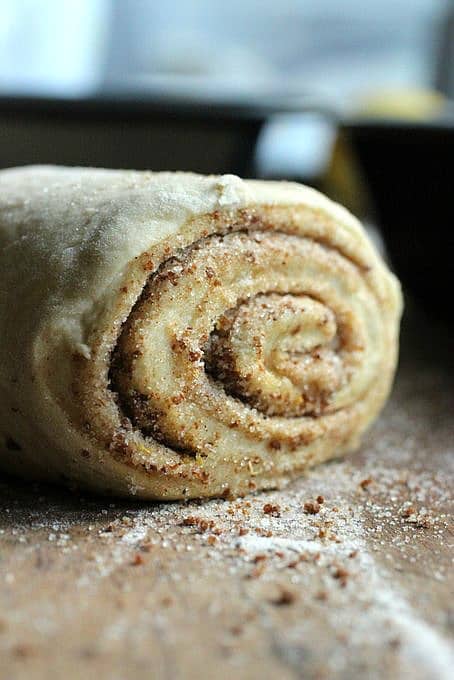 This is a cross between a cinnamon roll and a bread. Not too sweet as a whole, it does have a spicy syrup that forms while baking, and looks almost like pumpkin or apple butter – maybe a good idea for a filling? – and a streusel that will be hard to leave alone. The loaves might crack open in the top, something I absolutely love about baked bread and loaf cakes, and here it had the bonus of the caramel oozing out too. I could've eaten the streusel and caramelized edges forever. Who says I didn't, right?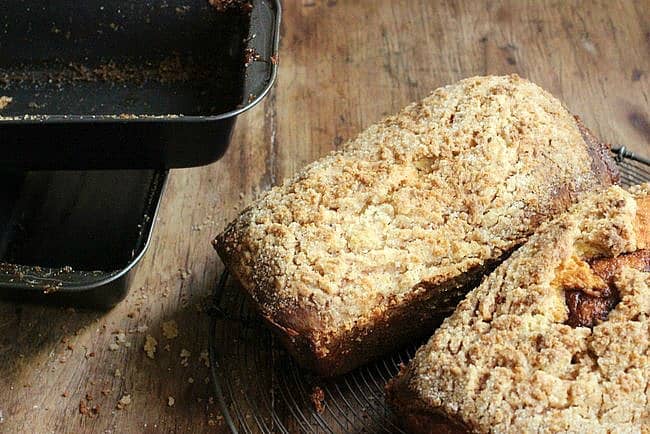 The bread turned out much better than expected because the filling is amazing. It makes super toasts too. Or maybe bread pudding the day after? It's spice bread after all, and it's all good.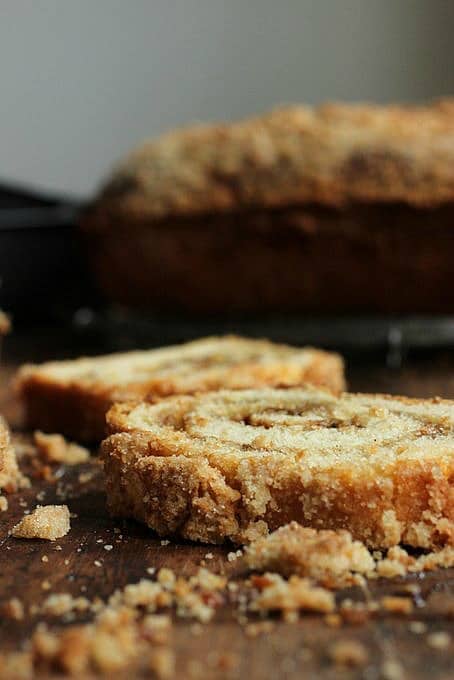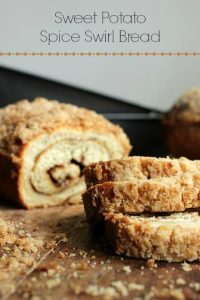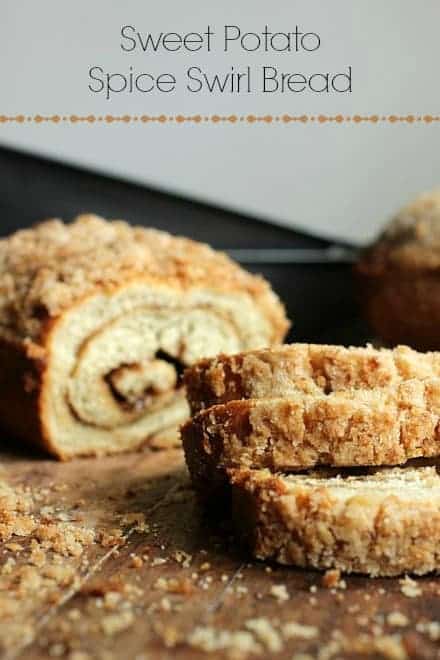 Print
Sweet Potato Spice Swirl Bread #TwelveLoaves
Yield 2 loaves
You can use orange zest if you want a sweeter bread. * To make the purée: microwave the sweet potato, skin on, for about 10 minutes and check piercing it with a fork. It should go straight through it, no resistance at all.
Ingredients
For the bread:
1 Tbs active dry yeast
Pinch of sugar
¼ cup warm water
1 cup warm buttermilk
1 cup sweet potato purée *
3 Tbs sugar
3 Tbs canola oil
1 egg
Grated zest of 1 lemon
About 4 to 4 ½ cups bread flour
For the spice streusel:
¼ cup sugar
¼ cup brown sugar
Grated zest of 1 orange or lemon
½ teaspoon cinnamon
Pinch each of ground ginger and allspice
1/3 cup all purpose flour
4 Tbs (60g) butter, cold, cut into pieces
For the spiced sugar:
1 ¼ cups light brown sugar
1 teaspoon ground cinnamon
1 teaspoon ground ginger
½ teaspoon ground allspice
3 Tbs (45g) unsalted butter, melted + additional for pans
Instructions
For the bread:
In a small bowl mix yeast, pinch of sugar and ¼ cup warm water, until foamy, about 3 minutes.
In the bowl of the electric mixer, mix sweet potato purée, buttermilk, oil, sugar, egg, zest and 2 cups flour.
With the dough attachment start mixing at medium speed until the dough start to combine.
Start adding the rest of the flour, ¼ cup at a time, until you have a springy but slightly sticky dough. It took me the 4 cups. Be careful not to add too much flour and end with a dry dough.
Transfer to an oiled bowl, cover with plastic wrap and let rise until doubled, about 1 ½ hours.
Transfer to a lightly floured board. With a rolling pin, make a rectangle about ¼ inch thick. You might need to let it rest a minute or two in between a few rolls to get it to the right thickness.
Brush evenly with melted butter and sprinkle with the spiced sugar. It might seem like a lot but the result is wonderful.Carefully start rolling from the long side, as you would any cinnamon roll, trying to get a fairly tight rope.
Brush two 9x5 inch loaf pans spray or additional melted butter, cut the dough in half and place each into one pan. Sprinkle with the streusel, dividing evenly.Carefully start rolling from the long side, as you would any cinnamon roll, trying to get a fairly tight rope.
Brush two 9x5 inch loaf pans spray or additional melted butter, cut the dough in half and place each into one pan. Sprinkle with the streusel, dividing evenly.
Sweet Potato Spice Swirl Bread
Cover with a clean kitchen towel and let rise again until puffed, about 45 minutes.
About 20 minutes before baking, preheat oven to 350ºF / 180ºC.
Bake loaves until golden and a tester inserted comes out clean, from 45 to 1 hour. If you use a smaller loaf pan (8x4 inch), it will take longer.
Let stand a few minutes after you remove them from the oven, and then invert them onto a wire rack. If you don't the caramelized rim will harden and make it impossible to remove. You'd have to pop them again into the oven for 5 minutes to loosen it up if this happens.
Keep leftover well wrapped in the freezer, already cut in slices preferably if you plan on toasting them.
For the streusel:
Mix all ingredients except butter in the food processor. Add butter and mix until it start to clump.
For the spice sugar:
Mix all ingredients in a bowl.
adapted from Bread For All Seasons, by Beth Hensperger
.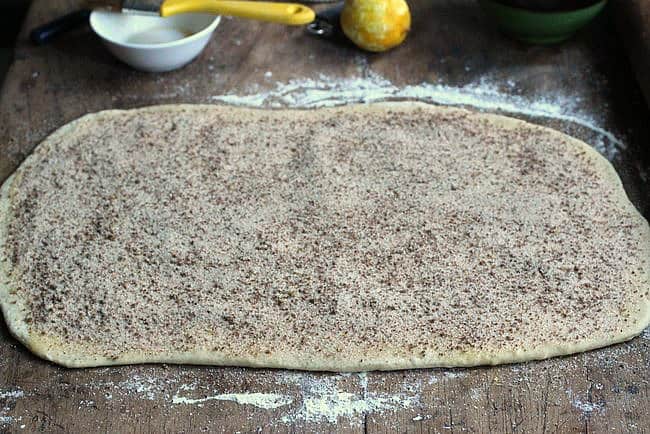 #TwelveLoaves November-Spice. October was about baking with Root Vegetables. It was quite a delicious month! Temperatures are dropping and it is the right moment to explore bread and SPICE! Share your November Spice Bread (yeast or quick bread). Let's get baking!
If you'd like to add your bread to the collection with the Linky Tool this month, here's what you need to do!
When you post your Twelve Loaves bread on your blog, make sure that you mention the Twelve Loaves challenge in your blog post; this helps us to get more members as well as share everyone's posts. Please make sure that your bread is inspired by the theme!
Please link your post to the linky tool at the bottom of my blog. It must be a bread baked to the Twelve Loaves theme.
Have your Twelve Loaves bread that you baked this November 2013, and posted on your blog by November 30, 2013.