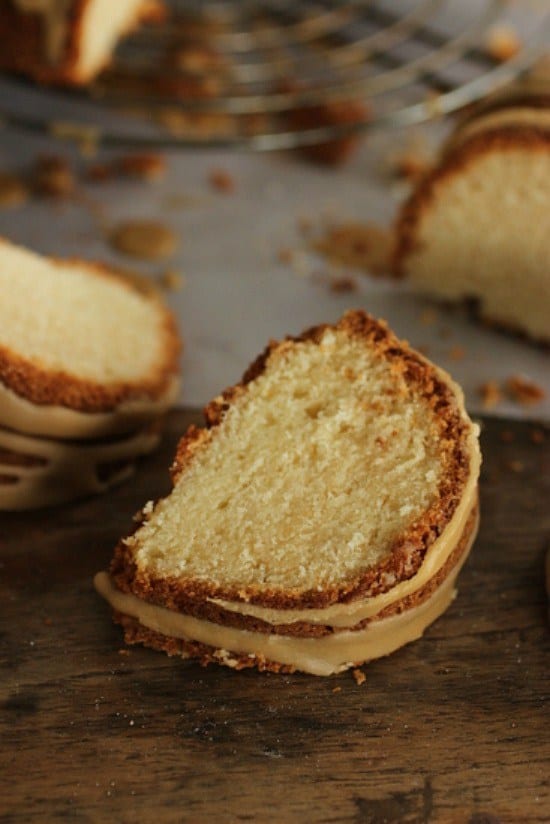 The little butter cake just got upgraded and this brown butter cake is the result. The coffee glaze is optional. Or maybe not. Maybe it pairs so well you will just have to buy the combo.
Hello friends, it's been such a long time. It's spring here, my favorite season, with our gorgeous jacarandá trees in bloom (sort of our version of DC's cherry blossoms).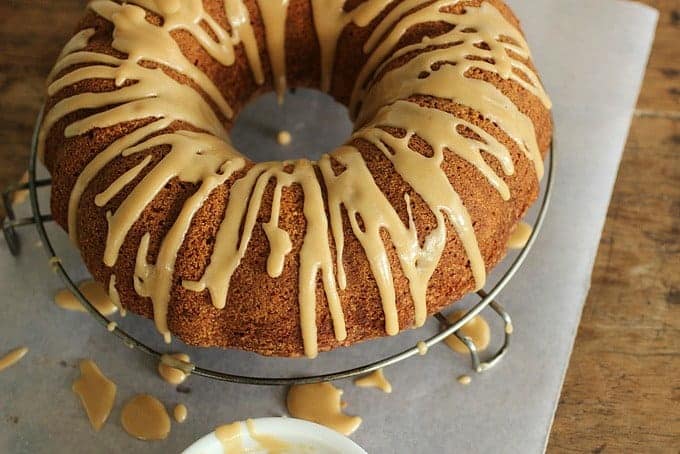 My baking has been non-stop for the past year and that clearly hasn't shown here, haha. The one exploding with recipes is my IG account, and since those are in Spanish, I thought it was about time I shared them here too. So I hope (lots of emphasis in the word hope of course) this is not a one post wonder.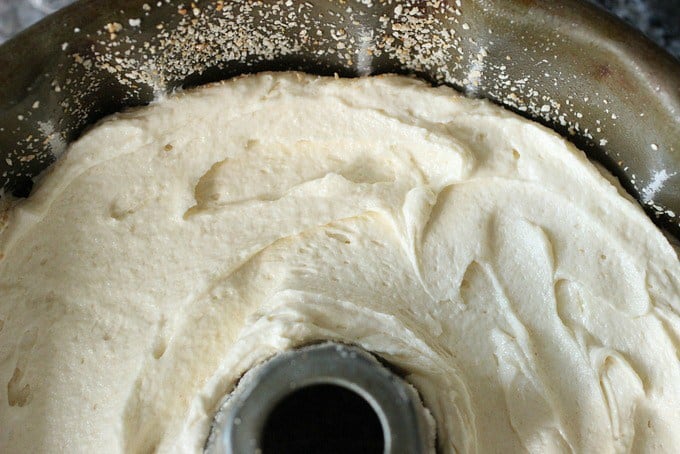 Anyway, back to the recipe, you all know by now how a change in one ingredient can do wonders to a recipe.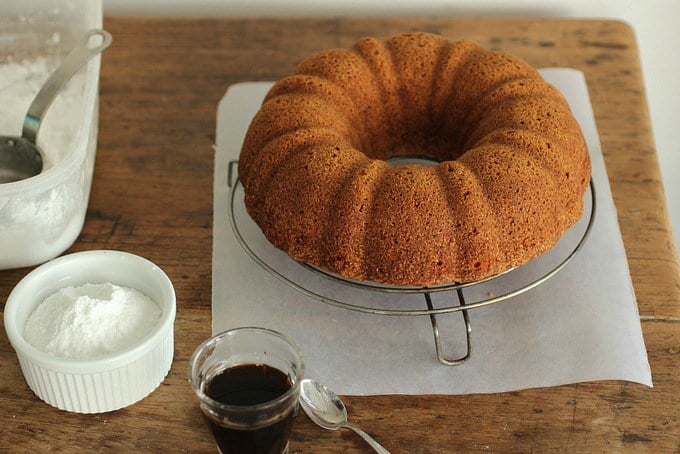 Brown butter does that. I am so in love with it, I usually brown a pound of it, put it back in the fridge and simply use it as regular butter for whatever cake I'm making next.
This brown butter cake with coffee glaze is simple, tastes beyond amazing, and can be doubled or divided in half, depending on how many you need to feed.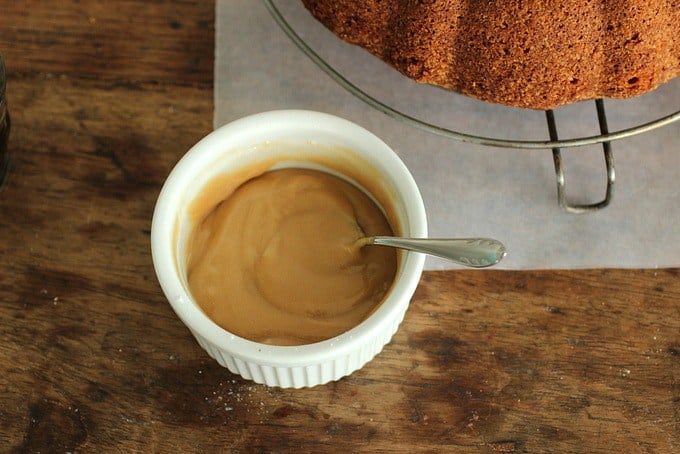 Bundt cakes are always a favorite with me. Ironically, I only have one bundt pan. One. And I love it because it's simple. Of course, you can say that I got my money's worth years ago, but guys, it's time to buy some new ones and be part of those almost whimsical bundt cakes I see everywhere.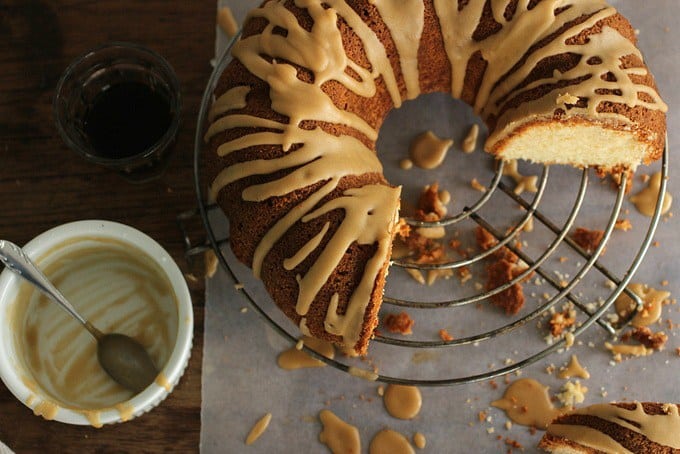 For now, let's stick to the tried and true. A brown butter cake in a simple bundt cake pan, with a wonderfully easy coffee glaze made with powdered sugar and dark espresso. The combo is amazing.
If you've never made brown butter (where have you been?!) it's really simple but you need a saucepan with tall sides since the butter foams a lot. It also makes a chirping sound while the water is evaporating and the solids are browning. Really annoying, ha. But the result is worth every second.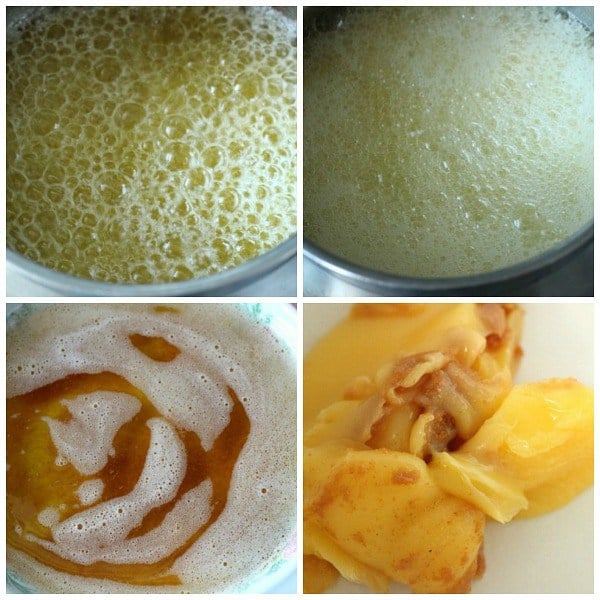 I've made this cake in 2 loaf pans a few times. It really does the job when you need to give as a gift or want to use different glazes, like chocolate, because chocolate and brown butter… duh.
And a sprinkle of powdered sugar on top does the trick too, the cake recipe by itself is that good. But the coffee glaze makes it outstanding.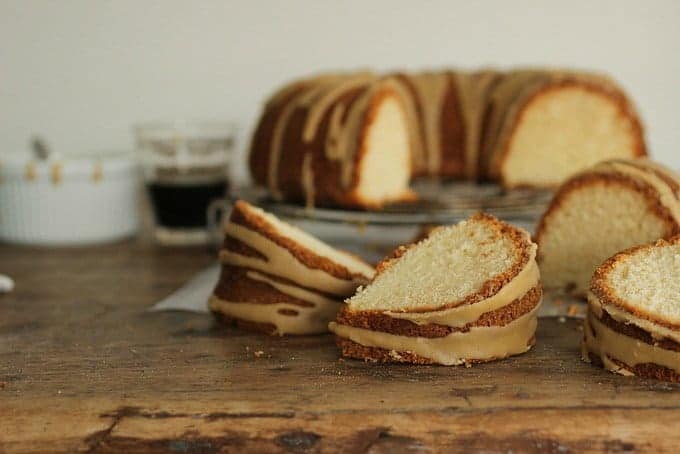 I just realized today would be my grandmother's birthday (96, she passed six years ago). Perfect cake to celebrate with the person who first introduced me into the kitchen with a simple apple crisp.
So on to the recipe, barely adapted from Baking for all Seasons, by Flo Braker, a cookbook you should have if you like baking.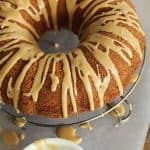 Brown Butter Cake with Coffee Glaze
Ingredients
For the cake
1

cup

225g butter, browned

3/4

cup

180ml buttermilk, at room tº

1

teaspoon

vanilla extract

2

cups

280g cake or all-purpose flour

1

teaspoon

baking powder

1/4

teaspoon

salt

1 1/2

cups

300g sugar (I use brown sometimes)

2

eggs

at room tº
For the glaze
1

cup

powdered sugar

2-3

tablespoons

strong coffee
Instructions
To make brown butter
Melt butter in a medium saucepan over medium heat.

It will bubble a lot at first and will gradually stop chirping and will foam.

Be careful as it will start browning underneath the foam. You will smell a nutty aroma. Split the foam and see that it doesn't burn. You want it amber color.

Take it out and put it in a shallow pan.

Allow to cool and refrigerate until cold. It doesn't need to solidify completely, you want it soft.
For the cake:
Sift together flour, baking powder and salt. Reserve. (I measure the ingredients and sift it directly when adding them to the butter mixture).

Preheat oven to 350ºF (180ºC). Butter or spray a large bundt cake pan. Dust with flour or fine breadcrumbs. 

In a large bowl, beat brown butter while gradually adding the sugar for 3 minutes, until light and airy.

Add eggs, one at a time, beating well after each addition.

Add the dry ingredients in 3 parts, alternating with the milk and vanilla in 2 parts. Don't overbeat as it will make the cake tough.

Put the batter in the prepared pan and bake for 40 to 50 minutes, until a tester comes out clean. Let cool for a few minutes and carefully unmold onto a metal rack. Let cool completely before glazing.
For the glaze:
Mix powdered sugar and coffee until you have a spreadable, honey-like consistency. Pour over the cold cake and let it drip down the sides.

Store wrapped in film or covered.
Recipe Notes
You need to cool down the brown butter. Take into account that extra prep time.