Pizza Rustica is one of my favorite savory pies ever. Really. Ever.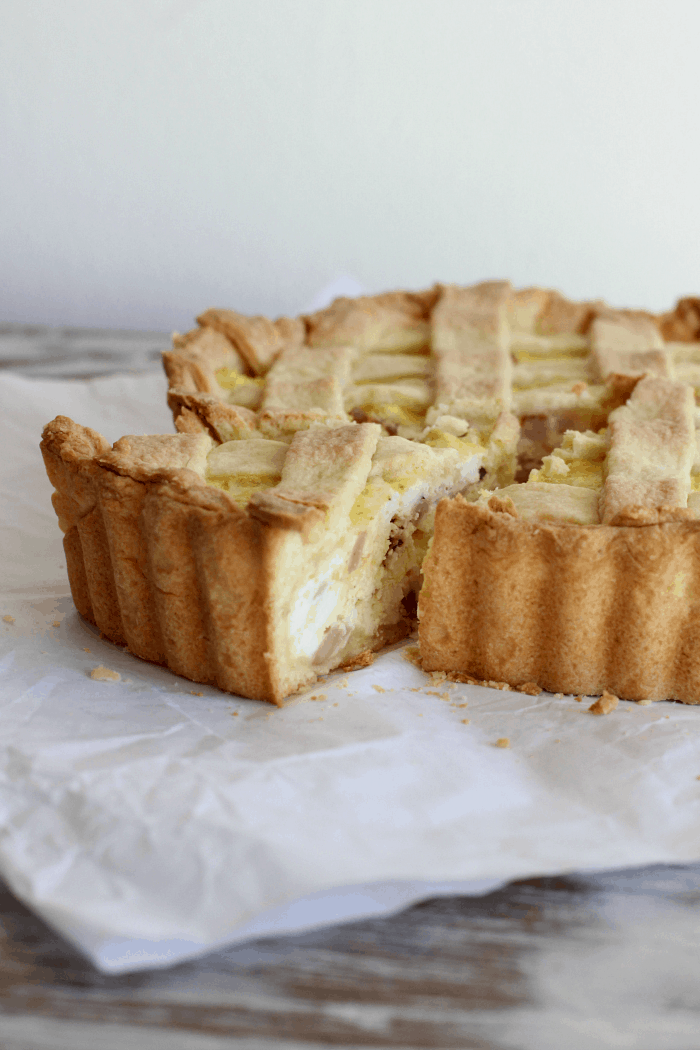 Sometimes I wonder why is it that I spend years, literally years, from the moment I bookmark a recipe to the time I actually do it.
Why? I don't know. I've had this page marked for at least ten years. I guess when it comes to food procrastination or piling up insane amounts of cookbooks and magazines, I'm your girl.
Other recipes get in the way, we all know that.
Back to the food issue here, this recipe has nothing to do with what we know as a traditional pizza.
It's really a pie. A lattice pie. A savory ricotta pie, the salty alternative to the very Italian, very much loved ricotta pie.
The filling has cheeses (ricotta, mozzarella and parmesan, all very Italian mind you), and cured meats, ham or prosciutto, salami, mortadella if you want (I do want), all bound together with eggs.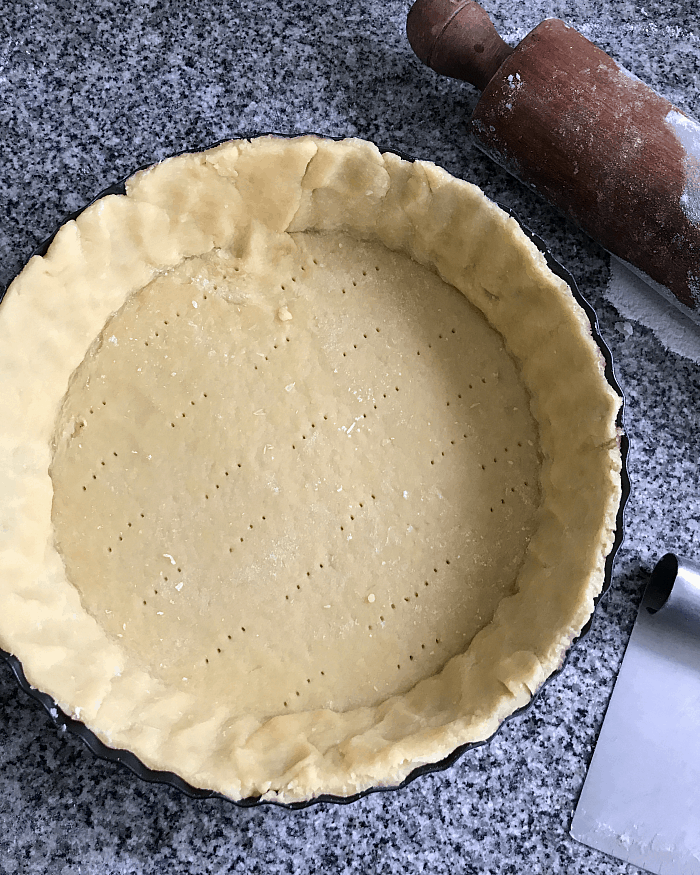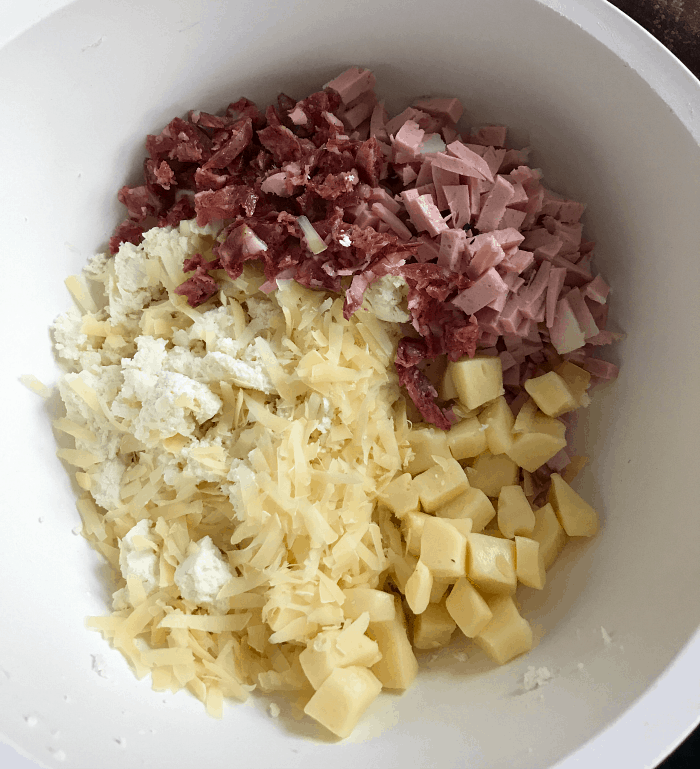 I cringe at the thought of cooking prosciutto. I feel it's supposed to be eaten raw. But it works here. As well as salami and cooked ham. Any combination (or just one type) of cold meats you like. It's your pizza rustica after all.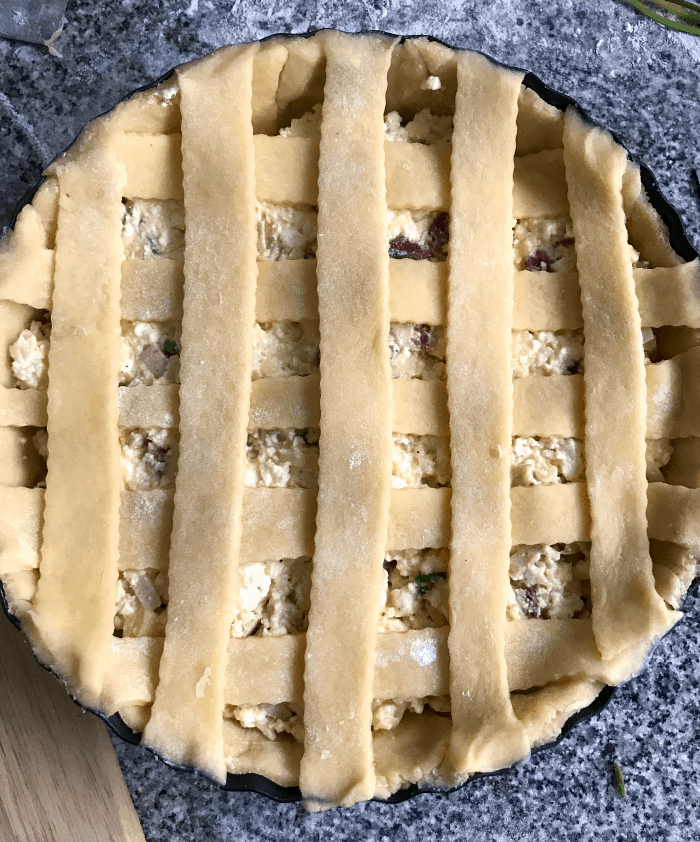 Ricotta is a favorite ingredient of mine. I sometimes make my own.
You can't go wrong using it as part of a filling in a tart.
This is an excellent combination of sweet dough and salty filling. I added extra salt to the filling, and am glad I did. Will make this pie again. With different fillings which will require, at times, a less sugary dough. Besides, I have to make up for at least ten years of not eating it.
The dough is unusual. It has sugar and also eggs, none of which I normally use in savory doughs. But it hardly surprises me, being an Italian recipe, that it has the ham+cheese+sugar combination. It's a common thing to sprinkle sugar on top of ham and cheese double crust pies or empanadas, before or after they go into the oven.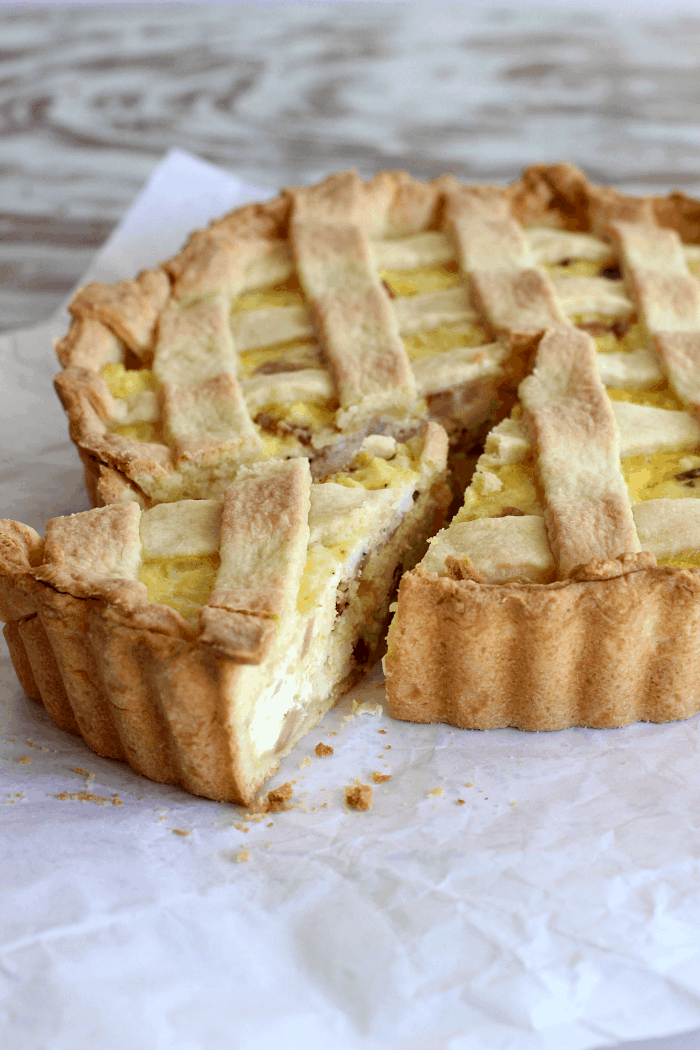 When I started rolling it I thought it felt familiar, grainy and with a water residue on top. Then it dawned on me. I'm making a savory pasta frolla! Using a similar dough to the one we use for traditional pies filled with quince paste.
What are the odds, right?
Pretty high, considering it's a widely used base dough in Italian baking. As it so happens, I make pasta frolla (with quince jam) all the time. And what I learned is that the dough is a bit messy to roll in one piece. It breaks, it sticks and it tears; but is also very forgiving. So it's wise to fit it into the pie plate in batches and to just press it back together if it tears.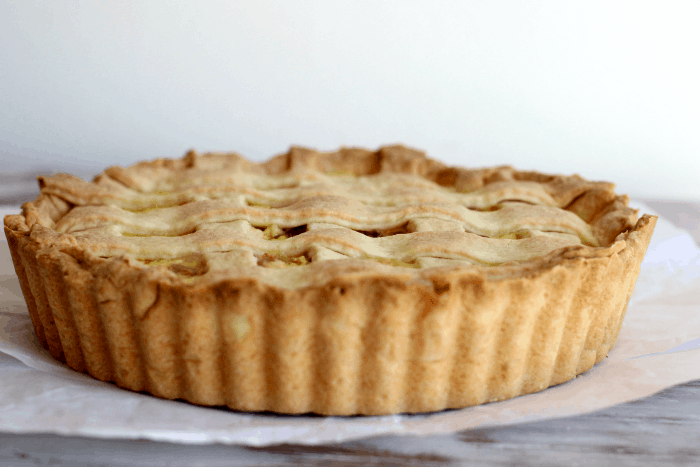 About the lattice. I usually get the feeling that the amount of dough I saved for the strips is not enough. I'm usually wrong. Lattices are also very forgiving, they don't need to be perfect; unless you're a perfectionist and I guess you just have to end up forgiving yourself.
I forgave myself ages ago for rustic finishes and decorations, jaja.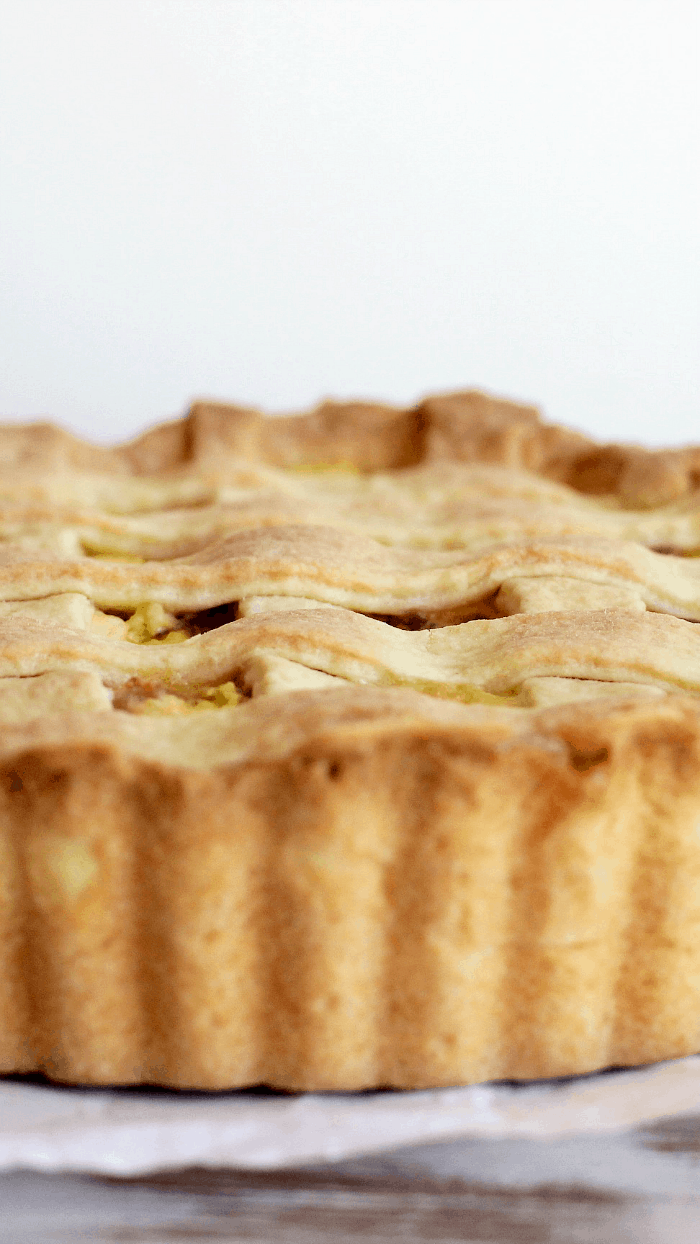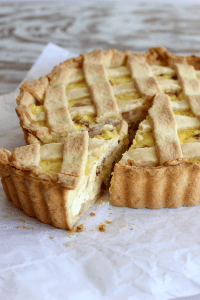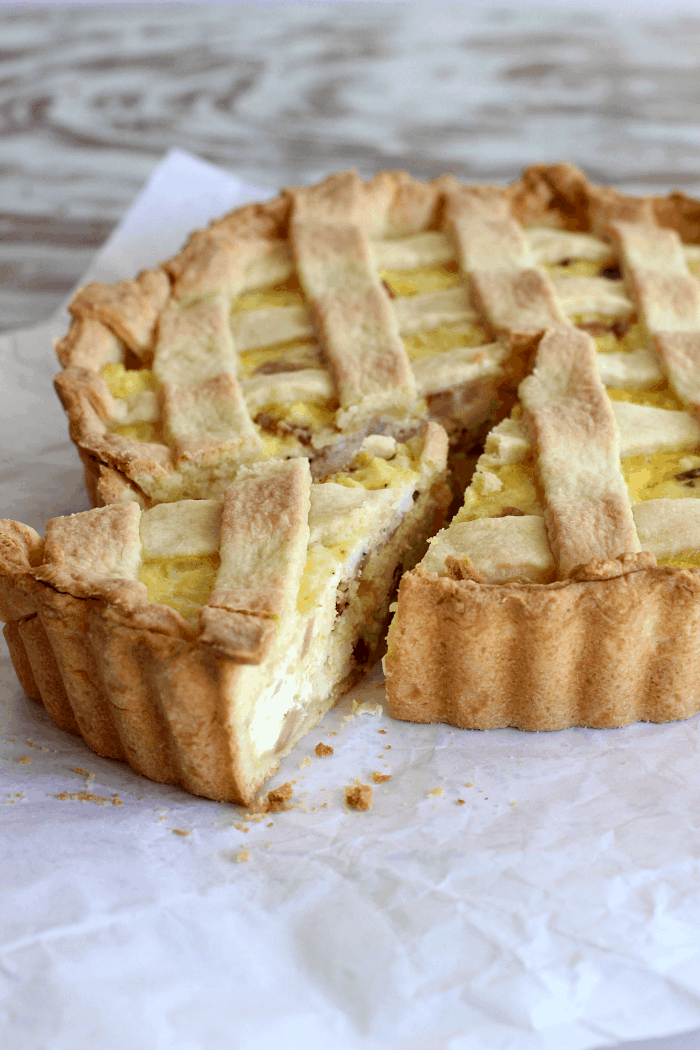 Print
Pizza rustica
Yield 8 servings
Ingredients
For the dough:
2 cups (260g) all purpose flour
Scant 1/3 cup (60g) sugar
1/2 teaspoon baking powder
1/4 teaspoon salt
1/2 cup (115g) unsalted butter, cold and diced
2 eggs
For the filling:
1 pound (450g) fresh ricotta
4 Tbs (50g) parmesan cheese, grated
1/2 cup chopped salami or pepperoni
2/3 cup chopped ham or mortadella (mix of both or other cold meats)
1 cup mozzarella, small dice
3 eggs
Salt and black pepper
1/4 cup chopped chives or green onion
Instructions
For the dough:
Process flour, sugar, salt and baking powder a few times to mix.
Add butter and pulse until the size of peas.
Add eggs and process using on/off until beginning to come together. Do not let it become a ball.
Transfer to a floured counter and gather into a ball, without working it much. The butter must be cold and not begin to melt.
Wrap in plastic and chill for at least 1 hour, or up to 2 days.
On a floured counter, roll 2/3 of the dough.
Line a 9-inch pie pan with removable bottom, being careful not to stretch the dough. Prick the bottom with a fork and chill while preparing the filling.
Preheat oven to 180ºC.
For the filling:
In a large bowl mix all ingredients together.
Check seasonings. Make sure it is tasty, even though it's raw.
To assemble:
Roll the 1/3 of dough remaining, and cut strips (I use the pizza wheel).
Pour the filling into the chilled dough.
Make a lattice criss crossing strips of dough.
Bake for about 40 minutes, until the dough is dry and colored.
Eat warm. Can be frozen well wrapped.
Adapted from Baking with Julia, by Dorie Greenspan and How to be a Domestic Goddess, by Nigella Lawson