When a title has chocolate, date and cake in it, it wins my heart immediately, like, five minutes ago.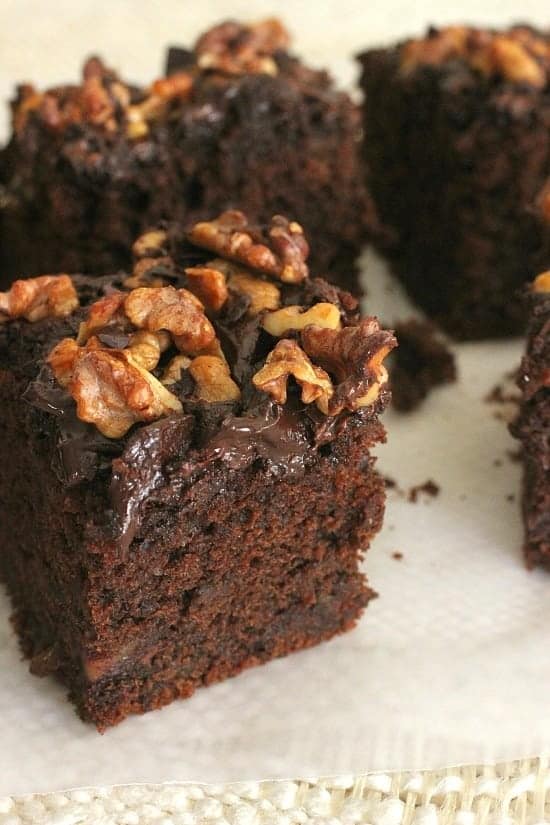 I'm so into chocolate cakes. I think it's the single most repeated recipe idea made in my kitchen. I try them all. And I mean all, weird ingredients included like chocolate potato cake, flourless chocolate white bean cake… you get the idea.
Well, this one has dates in it. It's simply amazing, soft, tender, moist, different. Let me tell you it's what you always thought a chocolate date cake should be.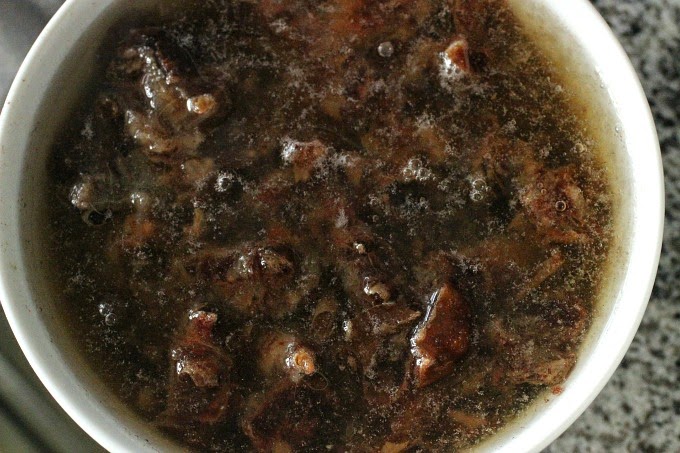 The dates are chopped, and then covered with boiling water and some baking soda. Something happens there. I kinda know it. A chemical thing. Something to do with the baking soda neutralizing something in the dates. Stuff like that. I considered studying chemistry at one point during my teenage years, but, those days are gone.
I use Medjool dates which are really big and plump, so chopping them can get tricky. They stick to the knife a lot so they appear more as chunks. Which bothers no one, let me clarify that.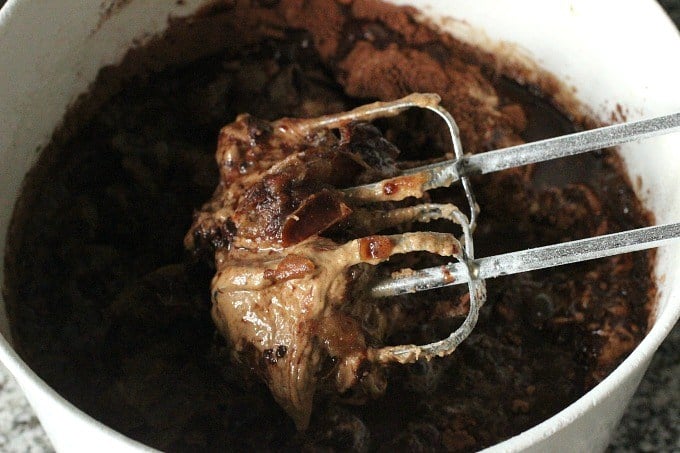 If you manage to chop them smaller, you will get a smoother crumb with a mysterious bite; no one will guess what the secret ingredient is, they will melt together and look like an insanely moist chocolate cake.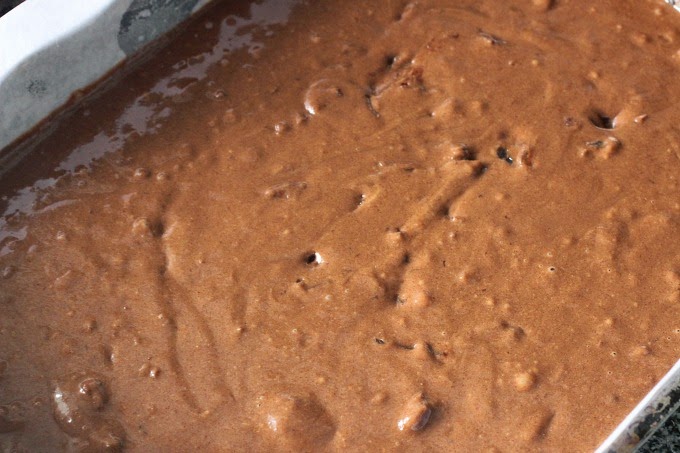 An ordinary looking square of chocolate cake with some nuts and chips on top. Oh no. Nothing ordinary about this humble piece of cake. A bit messy looking, but that's on me, not the cake.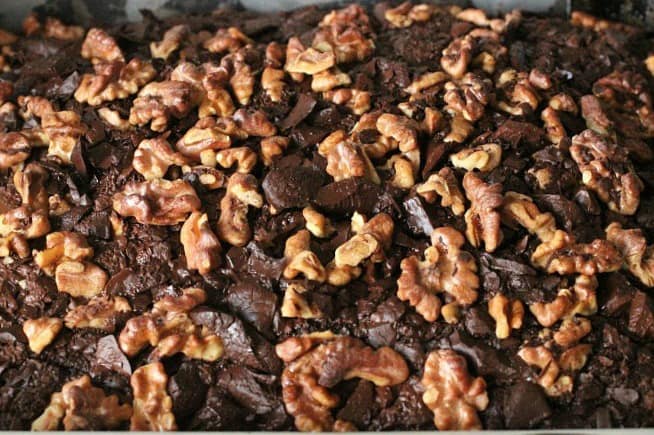 What you should know here, is that the combination of chocolate and dates is a complete synergy. So much more than the sum of its parts.I wonder if this cake could be done in the food processor? Well, there's homework for me. For now, we'll say they are irregular, delicious squares. The final mixture is a bit strange looking, and not a lick-your-spatula batter.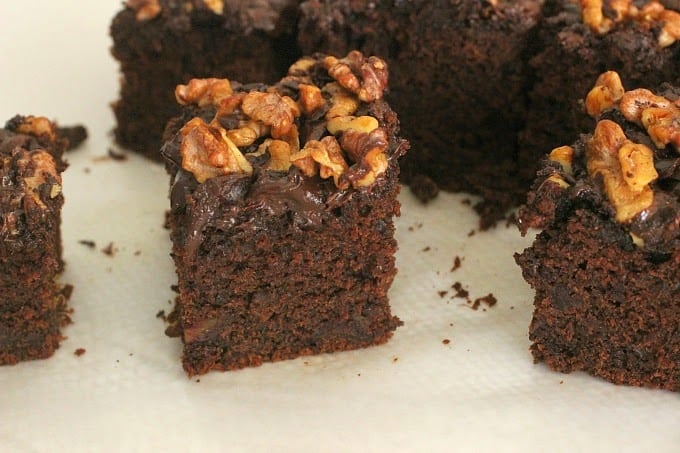 But when the oven does its magic, the rest will be history. And it tastes so much better the next day.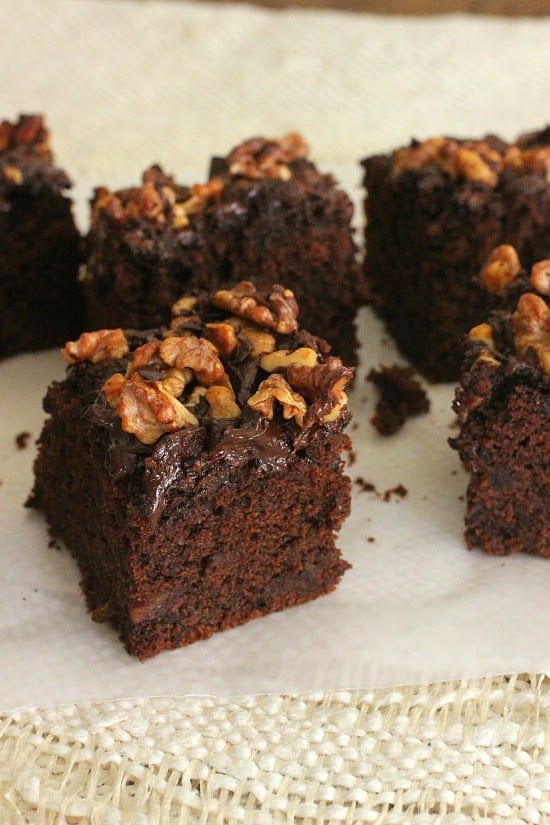 Chocolate Chip Date Cake Squares
Yield 12 servings
Ingredients
1 ½ cups water
2 cups (8 oz /225g) chopped dates
1 ¾ teaspoons baking soda
¼ pound (115g) unsalted butter
1 ¾ cups (260g) all purpose flour
4 Tbs (60g) unsweetened cocoa
½ teaspoon salt
1 cup (200g) granulated sugar
2 eggs
1 teaspoon vanilla extract
2 cups semisweet chocolate chips
1 cup walnuts
Instructions
Preheat the oven to 325ºF / 170ºC
Butter and flour a 9- by 13-inch (22×33 cm) and set aside.
Bring water to a boil. In a small bowl put dates and 1 teaspoon of the baking soda. Add boiling water and set aside until needed.
Sift flour, cocoa, remaining ¾ teaspoons baking soda, and salt over a bowl and set aside.
Combine 1 cup sugar with butter in the bowl of an electric mixer fitted with the paddle attachment and beat on medium for 2 minutes, scraping down the sides of the bowl as needed.
Beat on high for 1 minute, add the eggs, one at a time, beating well after each addition. Scrape the sides of the bowl as needed. Beat an additional 2 minutes.
Add vanilla and mix well.
Add the sifted dry mixture and beat on low until well combined.
Add the cooled date mixture and continue to beat for 30 seconds. Remove mixer and thoroughly combine with a spatula.
Pour into prepared pan, spreading evenly, including corners.
Sprinkle chocolate chips and walnuts, then the walnuts and return to the oven to bake for another 20 to 25 more minutes, until a tester inserted in center comes out clean. Remember you have the chocolate chips on top, not to confuse with uncooked batter.
Remove the cake from the oven and let cool on a rack, about 30 to 40 minutes.
Refrigerate cake at least 20 minutes before serving.
adapted from Death by Chocolate, by Marcel Desaulniers