This is the creamiest cheesecake ever! The consistency after such a long, slow bake is like no other you ever tasted.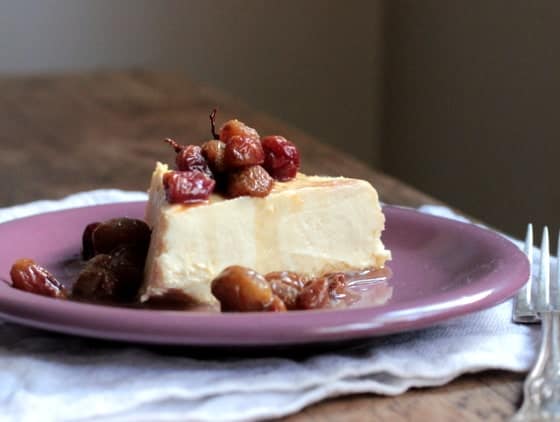 As an Amazon Associate, I earn from qualifying purchases. Please read my disclosure policy.
Some cold fronts made an appearance this week, so the long and slow idea related to baking is looking good, baby!
I had this recipe bookmarked from the minute I bought this book, and it was finally time to put it to the test.
I'm a huge cheesecake fan, baking them and eating them. So I don't take cheesecake recipes lightly. I have to try as many different ones as I can and report. And eat them just for statistical purposes.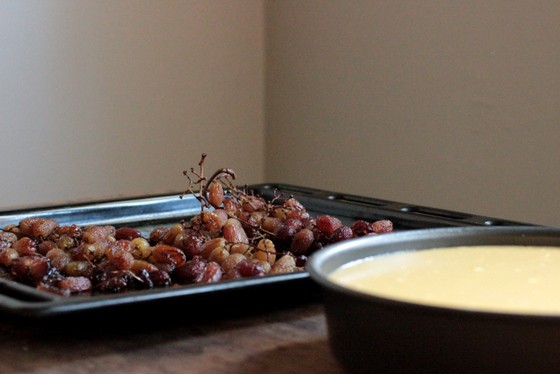 You can say I'm a cheesecake baking addict, and you would be right. You could say I'm a long and slow cooking addict, and you would be on the right track.
So this was the recipe for today.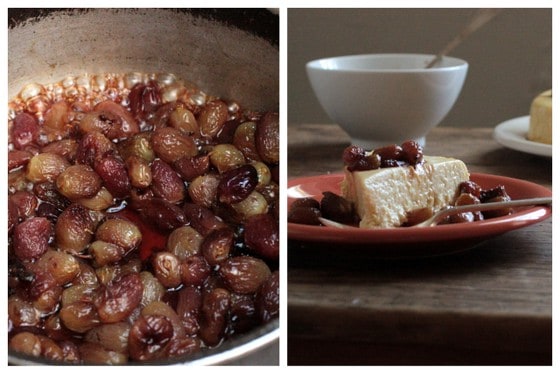 Caramelized grapes
The grapes (seedless are better) are cooked in water and wine, and let the liquid simmer away.
This brings out the natural sweetness of the grapes, which is a lot! They end up shriveled and wonderfully sweet, just like candy.
I use the same technique taught me years ago to caramelize pearl onions. It never fails.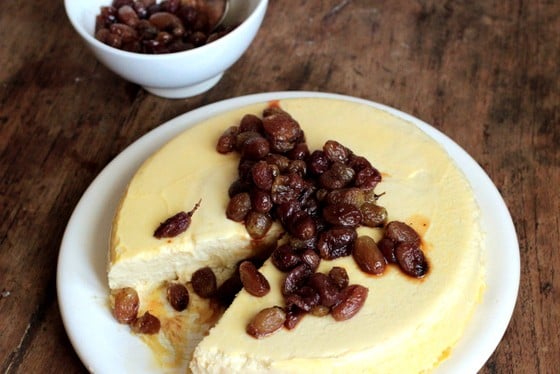 About this recipe
I have made hundreds of cheesecakes in my life. Yet this one is different.
The flavor is as good as any of my other favorites. It doesn't have any starch, a big plus in my book, and no out-of-the-ordinary ingredients.
But there is one difference that makes it worthwhile to have a cheesecake in a very low oven for 8 hours, the texture!
It's mind-blowing, like you can't imagine. Unctuous and creamy, a cross between silky panna cotta and the most expensive face cream you can buy.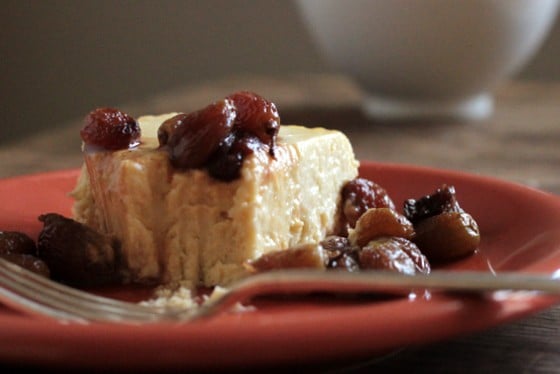 You should make this recipe, no matter how many cheesecakes you have made already.
You can refrigerate it for a few days and the texture will still be incredibly creamy. Top it with whatever you want, or leave it plain, but make it.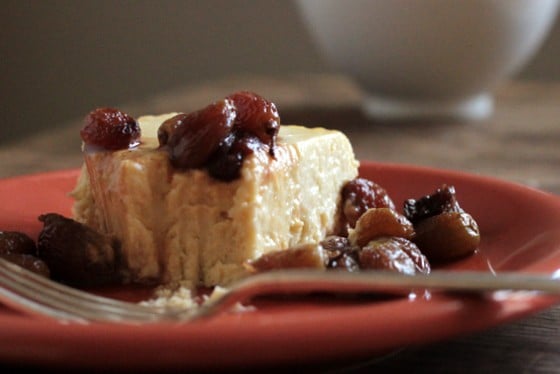 There are quite a few cheesecake recipes in this blog already, starting with the fantastic oreo cheesecake to the brown sugar cheesecake, a ricotta cheesecake version, my favorite baked traditional cheesecake chocolate crust, and the complete Guide to No-Bake Cheesecake.
Let me know in the comments below if you made this recipe and loved it and if you had issues so we can troubleshoot together. I love to hear what you think, always. Thanks for being here. It's much appreciated.
You might also consider subscribing to our FREE email series to Boost your Home Baking Skills! And our regular newsletter.
And let's connect via Facebook, Instagram, and Pinterest.
Print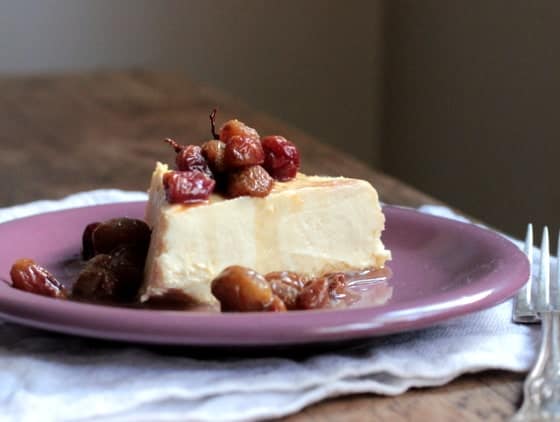 8-Hour Cheesecake (gluten free)
The creamiest cheesecake ever!
Total Time:

16 hours 30 minutes

Yield:

8 servings
For the cheesecake:
2

pounds

(910g) of cream cheese, at room temperature

1

cup

granulated sugar

2 tablespoons

vanilla extract or paste

1 tablespoon

cognac

1 tablespoon

dark rum, such as Myer's

5

eggs, at room temperature
For the roasted grapes:
1

pound

seedless grapes

¼

cup

sweet white wine
Instructions
For the cheesecake:
Preheat the oven to 200ºF / 95ºC.
Butter or spray a 8 inch round cake pan with 2 or 3 inch sides, and a non-stick surface. Or butter the pan and line the bottom with wax paper. The cake won't rise at all, but the batter will fill just below the 2-inch mark.
Put the cake pan in a larger baking tray that will hold 1-inch of water.
In a large bowl beat cream cheese with an electric mixer for 1 or 2 minutes, until very smooth. There should be no lumps at all.
Gradually add the sugar, vanilla, rum and cognac and continue beating until perfectly smooth.
Add the eggs, one at a time, beating until each one is completely mixed before adding the next one.
Pour the mixture into the prepared pan.
Put the baking tray in the oven and, slowly, add very hot tap water up to 1-inch.
Bake for 8 hours. My oven has a 3 hour timer, so I had to check twice and set it again. Halfway through the baking the batter will start to appear a bit firmer, just barely.
After the 8 hours of baking, turn the oven off and carefully transfer the cake pan to a wire rack.
It will still be jiggly, like a flan. Let the cake stand there, untouched, until it cools completely.
Unmold onto the serving plate carefully, it is very soft.
Remember that you won't be able to move the cheesecake after you unmold it, so it will stay where it lands.
Cover with the roasted grapes and serve.
Or refrigerate for 4 hours or up to 3 days and serve. The texture will be firmer but still incredibly creamy. You can also freeze it, let it thaw in the fridge.
For the roasted grapes:
Preheat the oven to 350ºF / 180ºC.
Arrange grapes in a baking tray and roast for about an hour, until they are shriveled and sticky.
I left the clusters whole, but it's easier to separate the grapes before baking than
after. Your choice.
Put the roasted grapes in a saucepan with the wine, and cook over medium heat for 5 minutes, until syrupy.
Notes
The flavoring of the cognac and rum in this cheesecake can be omitted. I would use some almond extract in addition to the vanilla.
This cheesecake doesn't rise or crack, it bakes like a custard.
Author:

Paula Montenegro

Prep Time:

30 minutes

Cooling + refrigeration time:

8 hours

Cook Time:

8 hours

Category:

Desserts

Method:

Slow baking

Cuisine:

American
Keywords: 8-hour cheesecake
Recipe from Cakes, by Maida Heatter