This almond ginger kulich is a traditional easter bread.
My first trip to the US was to NYC when I was 6 years old. One day after we arrived, my younger brother and myself got very sick, the flu or something, and basically cut the trip short, stayed in the hotel room until we could board a plane and be shipped back.
I remember a white hairy carpet, a TV on that I didn't understand, a doctor that came and swabbed us with something that
smelled ugly and a quick trip to toys-r-us where my mom bought me a teddy bear with a gingham dress.
I don't know what kind of trip she was expecting to have with 5 and 6 year olds but it never happened. This was during the 70's and traveling was a big deal back then.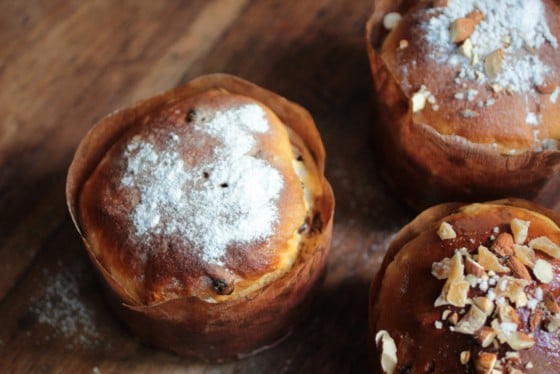 My second trip was a whole different story. I was 9 or 10 and went with my grandmother, the one I mention in the apple crisp and the
cornmeal berry pancakes
posts.
We travelled by bus from LA to Modesto (CA), where we stayed at a friend's house and where I made chocolate chip cookies for the first time, following the recipe from the back of the package.
The highlight of that trip was that I spent Easter at their place, something I was not used to celebrating. Let's just say my mom was not much of a homemaker, enough that she put together celebrations for christmas and birthdays.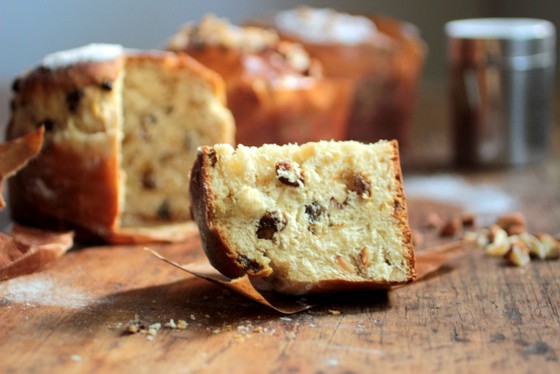 So, when a big deal was made about easter, complete with wonderful food and an easter egg hunt, I couldn't believe my luck. Our friend's house was big and had a backyard that went down to a creek, full of flowers and some trees.
I didn't understand why they were giving me a basket or what I was supposed to do with it. I mean, I could fill it with chocolate eggs, bunnies and candy and keep them to myself? All I had to do was find them in the backyard? It was a kid's dream easter.
FYI: that was the time when growing up meant playing outside. I wonder what 10 year olds do these days for easter?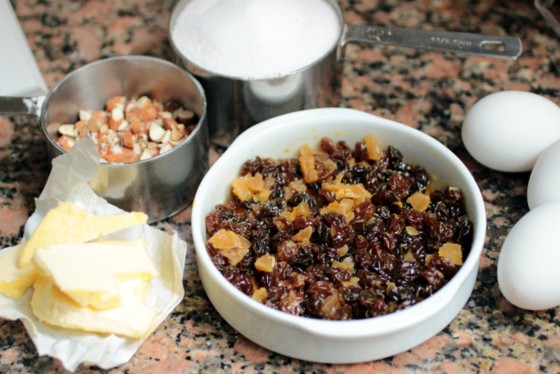 Anyway, we're celebrating with the Twelve Loaves group, and I choose an Easter bread. This group, started by Lora of
Cake Duchess
, shares the common passion of baking bread at home and sharing it. We bake every month, usually with a theme and would love you to join us. The details are at the end of this post, together with the list of fantastic breads that we baked.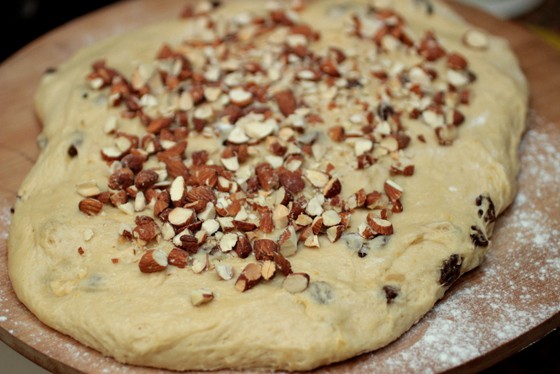 A kulich is an easter bread of Russian origin and pretty similar to a panettone in texture. Or similar to an under-enriched brioche, not so much butter and eggs, but very soft and adaptable to different flavorings. This is a good bread to use up those odds and ends from packets of dried fruits and nuts. Instead of a brandy use orange liqueur or even a flavored vodka.
This almond and ginger kulich is best eaten as soon as it cools. It dries out in a day or two, so if you're not eating it right away, freeze it and reheat it on another occasion. Or make some
bread pudding
with leftovers, or even french toast.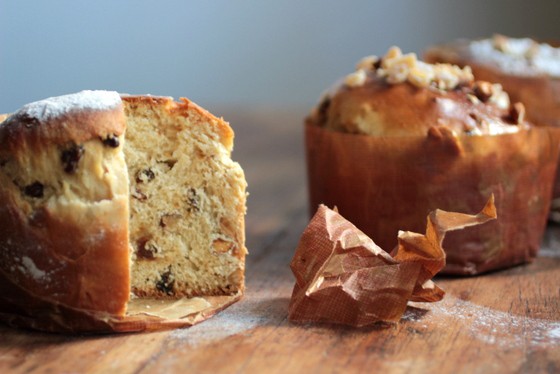 Print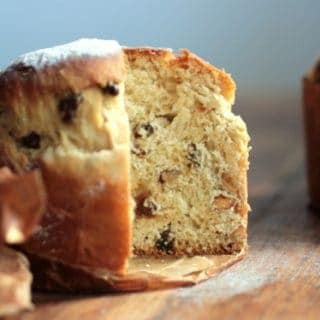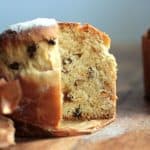 Almond ginger kulich (an Easter bread)
Yield:

3

medium breads

1

x
---
Description
I make this bread with half bread flour and half pastry flour, but you can substitute the whole amount for all purpose flour.You can use coffee cans as molds. I used three panettone paper molds, 5×3 inch, but could've easily use only two. Depends on how tall you want your kulich. 
---
Scale
Ingredients
½ cup

raisins

¼ cup

chopped crystallized ginger
Zest of

1

orange (about

2 teaspoon

s)

¼ cup

brandy or cognac
For the sponge:
1

Tbs active dry yeast

¼ cup

warm water (tepid)

½ cup

warm milk (about 100º)

1 cup

bread flour
For the dough:
3

eggs

2 teaspoon

s salt

1 teaspoon

vanilla extract

½ cup

sugar

1 cup

bread flour

1 ½

to

2

cups pastry flour + extra if needed

4

Tbs unsalted butter (at room tº)

½ cup

chopped (toasted almonds)

1

Tbs unsalted butter (melted, for brushing the finished loaves)
Powdered sugar (for sprinkling)
Extra chopped almonds and/or crystallized ginger 
---
Instructions
In a small bowl combine raisins, ginger, zest and brandy.
Let soak while preparing the rest of the bread.
For the sponge:
In the bowl of a stand mixer, or a large bowl if making by hand, mix water and yeast. Let stand a few minutes until foamy and add milk and flour. 
Mix well with a wooden spoon, cover with plastic wrap and let stand until bubbly, about 1 hour.
For the dough:
To the sponge, add the eggs, vanilla, sugar, 1 cup bread flour and salt. 
Mix with a wooden spoon until incorporated and attach to the mixer. With the dough hook, mixing on medium speed, add 1 cup pastry flour and butter in four or five pieces and soaked fruit with any brandy that remains. 
Knead until the flour is incorporated, and continue adding the rest of the pastry flour, half cup at a time. With a spatula, clean the sides of the bowl and knead for five minutes.
The dough will will pool on the bottom and never completely become a ball, but it should attempt to do so when adding the last part of the flour. You can add some more flour, a few tablespoons at a time if the dough it too wet after five minutes. 
Beat for 4 or 5 more minutes, transfer to a greased bowl, cover with plastic wrap and let rise until doubled, about 1 ½ to 2 hours. It can take longer, depending on the tº.
Transfer to a lightly floured surface. Pat it into a rectangle, sprinkle the chopped almonds and for into a loose ball with the aid of a dough scraper. Knead a few times to distribute the almonds, some will fall, put them back in. 
Have ready two or three coffee cans or panettone paper molds, or any other round mold (it can be a cake mold too) that is 5 inches in diameter and at least 3 inches tall. Spray or grease them.
Divide the dough in two or three equal pieces, loosely form a ball and put them inside the molds. The dough will be sticky so work quickly with the aid of a dough scraper.
Cover with a clean kitchen towel and let rise in a warm place until doubled, about 45 minutes to 1 hour.
About 20 minutes before baking, turn the oven to 350º F.
Bake kulich for 35 to 40 minutes, until a tester inserted in center comes out clean and the top is golden brown. If browning too quickly cover with aluminum foil and continue baking.
Transfer to a wire rack, brush with melted butter and sprinkle with powdered sugar or almonds.
If not eating right away, freeze them, up to 3 months, well wrapped in plastic and foil, without the butter and sugar. When you're going to eat them, let them thaw in their wrappings, and reheat for 5 minutes before decorating.
---
adapted from Bread for all Seasons, by Beth Hensperger
Look at what our very talented #TwelveLoaves bakers have created this March!
---