Warm and gooey, these almond rolls have raspberries in the filling and are made with a graham cracker dough. Insanely good!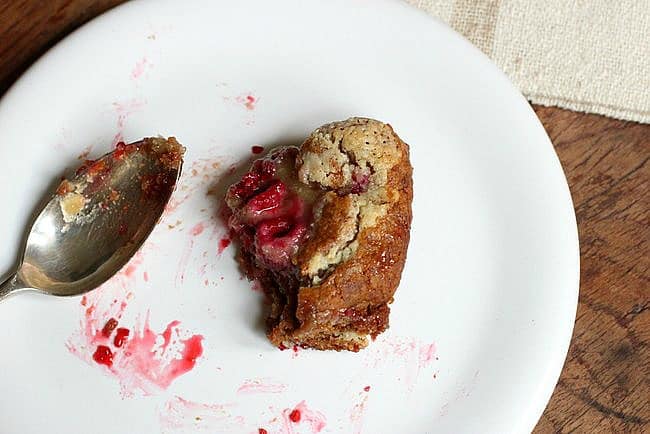 I had to wait a bit before posting this recipe lest you think I have a slight marked obsession with the graham cracker dough and almond cream, which I tend to find useful in fruit pies and bars to a degree where yes, I would be sent to a group to talk about my issues.
On the other hand, this very adapted idea of a cinnamon roll turned out to be so darn good, that if I took a batch to said help group, they would devour them and send me home to bake another round while they discussed their issues alone.
That's how good they turned out to be. Did I mention I ate the first one warm?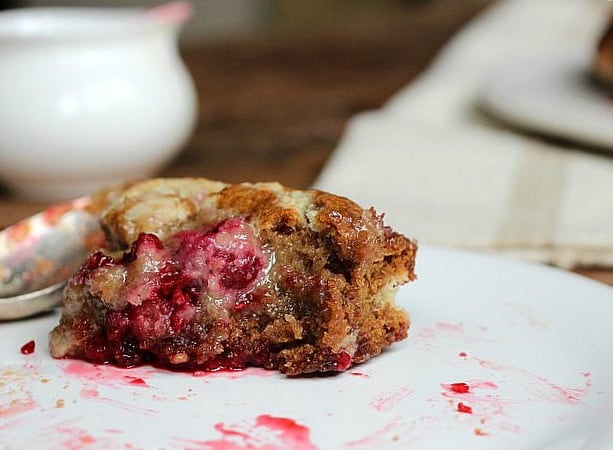 This is obviously the result of leftover this and that, and my last frozen raspberries.
It could've been any other berry, but now that they are made I strongly suggest those bumpy red berries because they are sweet and tart, adding a nice touch of color, very festive rolls.
Did I mention that there's caramel under the rolls? Or that the green and red season will be here before you blink twice?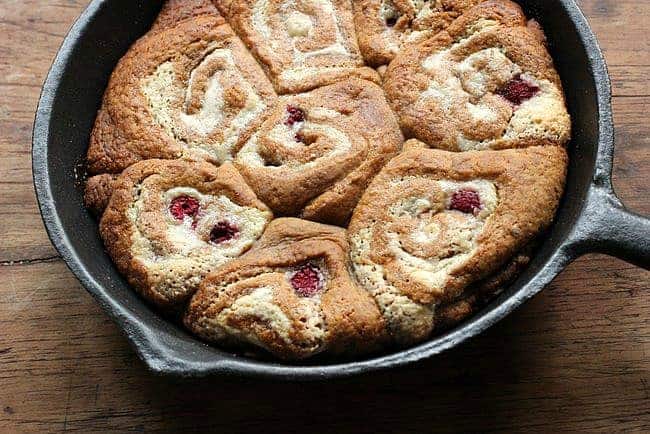 Though I encourage you not to wait that long to make these.
The graham cracker dough makes all the difference, you know that it has a caramel and cinnamon flavor that is unbeatable, proof enough is all the uses for store-bought graham crackers, starting with eating them straight from the box, so it will not be the same if you use regular white roll dough.
It will be nice, but not mind-blowing. And these are exactly that. Mind-freaking-blowing.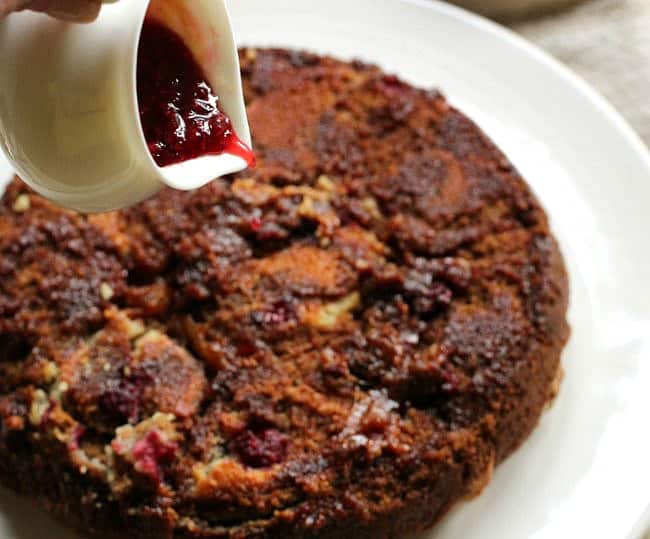 And that raspberry sauce on top?
Just the leftover raspberries with water cooked until they softened, which you can totally skip, but they add more tartness and a ruby red sparkle, which is always visually nice.
And what about baking them in a cast-iron skillet with caramel on the bottom? Well, it's been a compulsion lately to try to make everything in my new skillet, and I succeeded with many recipes, the peanut butter blondies, leftover pasta frittata, and even blue cheese burgers.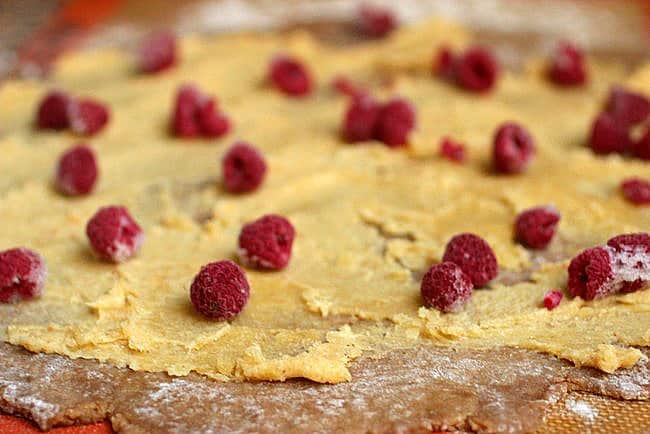 These rolls kinda found their way into it and became sort of an upside-down cake when served. Which is fine with me, since they bake differently than in a pan, the edges crisper than the middle, which stays gooey and somewhat jiggly, a scant step after what you might call raw dough, the same way I sometimes eat pizza.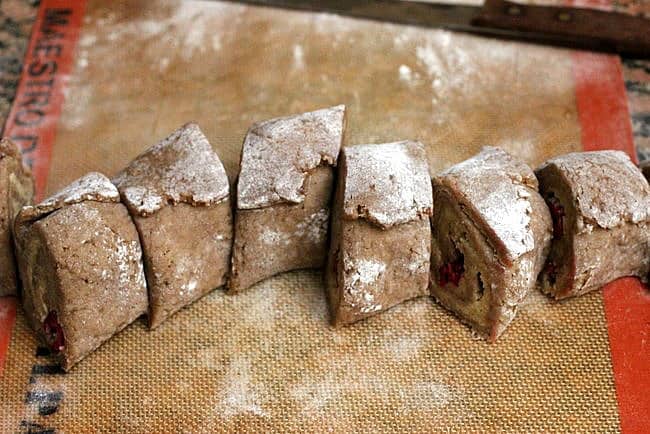 Bake it in your regular roll pan. Either way, the flavor is awesome. And it's on you if you add a scoop of ice cream while still warm…
In case you're wondering what to make with the graham cracker dough and almond cream that remains after making this recipe here are some suggestions: pear tart, fresh fig pie, salted caramel millionaire's bars, white chocolate cheesecake, filled danish braid, lemon frangipane bundt cake...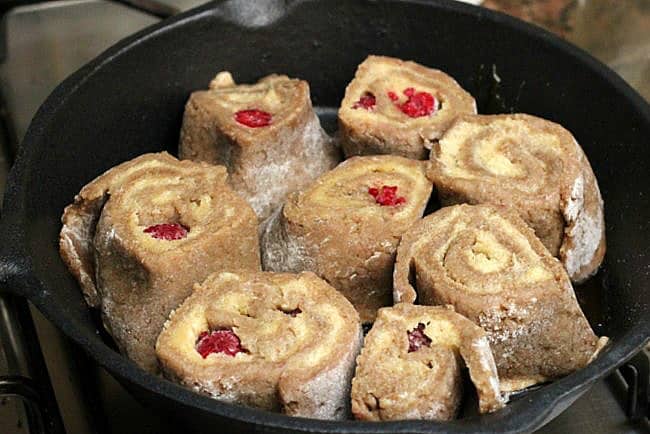 Or make another batch of these, ha!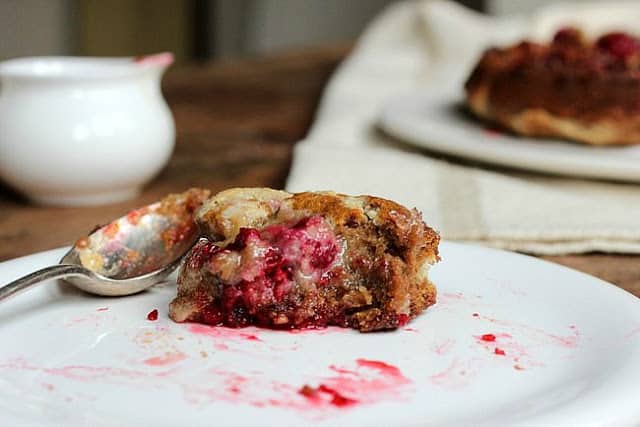 Print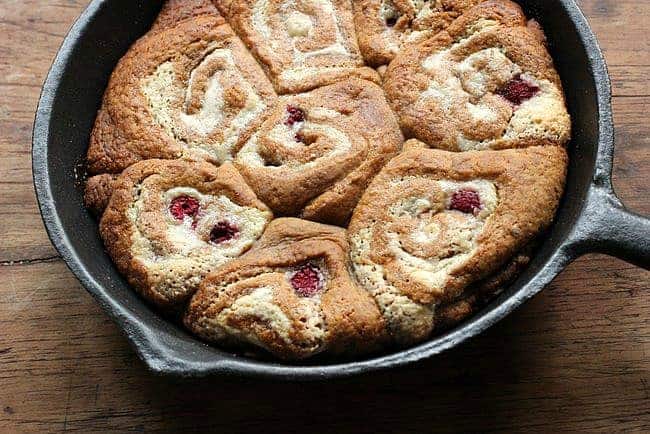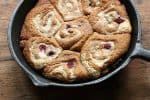 Graham Cracker Almond Skillet Rolls
Author:

Paula Montenegro

Prep Time:

90

Cook Time:

40

Total Time:

2 hours 10 minutes

Yield:

8

servings

1

x

Category:

Bakery

Method:

Baking

Cuisine:

American
---
Description
Warm and gooey almond rolls with a layer of caramel and raspberries.
---
---
Instructions
Preheat oven to 350º.
Heat an 8-inch cast iron skillet or baking pan with the sugar over low heat until it melts and caramelizes. Remove from heat and reserve.
Roll dough on a lightly floured surface about ⅓ inch thick.
With the back of a spoon or a spatula, spread the almond cream evenly on top. Scatter raspberries and carefully roll into a log.
Cut into 8 rolls and arrange in the skillet, one in the middle and rest surrounding it.
Bake for 30 to 40 minutes, until puffy and golden. The middle should be jiggly but not runny.
Let cool for a few minutes and then, very carefully, invert onto serving platter. Be careful while doing this since the skillet is very heavy and the serving plates are usually fragile.
Alternatively, eat them directly from the pan.
If you have some extra raspberries, heat them over low with a few tablespoons water until they begin to soften. Pour them over the rolls.
---
Keywords: graham cracker rolls, almond raspberry rolls