The best whole wheat dough is filled with brie cheese and caramelized fruit. The flavors are amazing and there's no fussing with shaping the pie dough!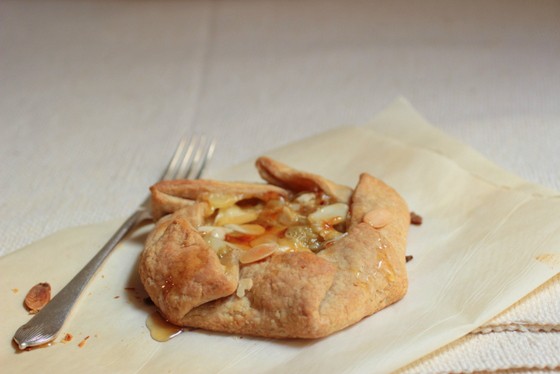 I had a
different recipe in mind for today's
springtime sunday supper
, but let's just 
say the most amazing caramelized grapes got in the way. Three days after I made 
and ate every little crumb of this brie and grape whole wheat galette I'm still thinking 
about it. Every component is good on its own and as is many times the case,
the sum of its parts is a two digit result. Or three.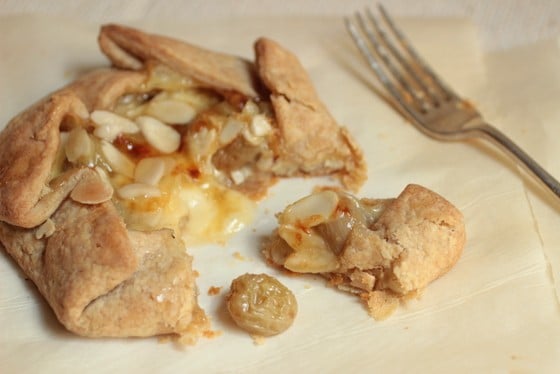 Since
fall is starting here
, I wanted my recipe to be kind of a compromise between spring in the north and my real life here. A galette, with its free form, that in my mind is perfect for spring and eating outside those first days when the weather is warmer, and then the grapes, which paint the start of autumn with the wine grape harvest or
vendimia
, taking place in early March.
My favorite way or caramelizing pearl onions was taught to me by my
favorite teacher
 when she made boeuf bourguignon, and it involves butter, white wine, and water.
After buying too many seedless grapes because I just became infatuated with roasting them, as I did for this
whole wheat focaccia
, I decided to try my hand at caramelizing them. It works
so
well. The sweet white wine and grapes are meant to be together. Well, of course, it's wine and grapes after all.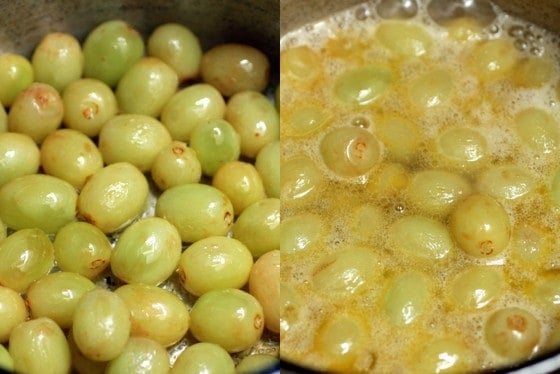 Since this galette, I've also made a chicken quesadilla with grapes and gruyere and ate them with a pork tenderloin. Both wonderful.
If you usually make your pie dough and want to try a recipe with some whole wheat in it, look no further. 
This is flaky, great tasting which is no surprise since there is butter and cream cheese in it, and malleable.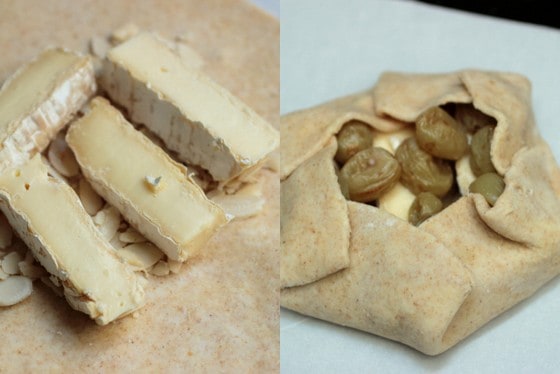 The food processor makes it easy to prepare, but you can make it by hand of course. I make all doughs in the food processor, and even
a chocolate cake
, so if you ask me I would suggest you trade your pocket camera or microwave for a food processor. Not that you asked, I know.
I love brie a lot. A lot. So if I have it in the fridge, I will always use it, especially with fruit. But you can also use goat cheese. The almonds and the honey just round out this wonderful rustic galette. And you can make one large galette and slice it like a pizza. You would get more filling and less crust.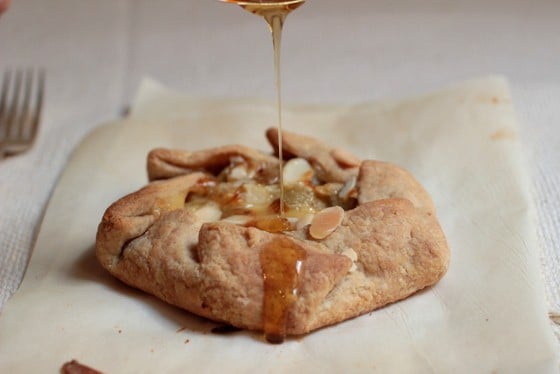 But it won't look as pretty if you have guests as individual caramelized grapes and brie galettes do. And the crust is so incredibly good, I don't mind having a lot of it on my plate.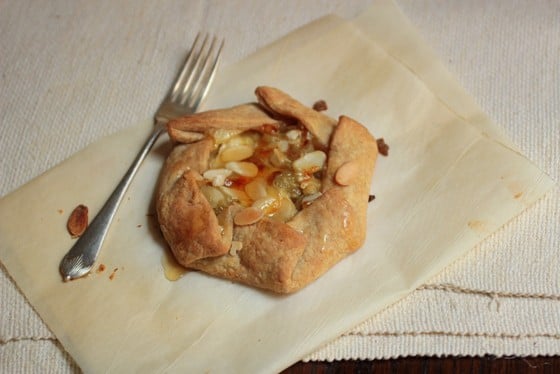 Print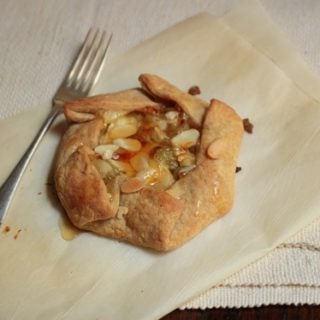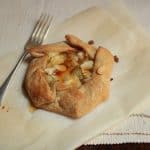 Caramelized Grapes and Brie Whole Wheat Galette
---
Author:

Paula Montenegro

Prep Time:

90

Cook Time:

45

Total Time:

2 hours 15 minutes

Yield:

4

individual galettes

1

x
Scale
Ingredients
For the galette:
1

recipe whole wheat dough (recipe below)

8

Tbs sliced almonds

13 oz

360g brie cheese

½

recipe caramelized grapes (recipe below)

4

Tbs honey
For the grapes:

2 cup

s seedless grapes

1

Tbs butter

3/4 cup

sweet white wine (such as late harvest)

1/2 cup

water
For the whole wheat dough:
5 oz

140g unsalted butter, cold and cut into pieces

4 oz

110g cream cheese, cold and cut into pieces

4

Tbs ice water

2 ½ teaspoon

s apple cider vinegar

1 cup

+ 1 ½ Tbs (160g all purpose flour)

½ cup

85g whole wheat flour

¾ teaspoon

salt

1/8 teaspoon

baking powder
---
Instructions
For the grapes:
Melt butter in a medium saucepan over medium heat. When it foams add grapes and cook for 1 minute.
Add the white wine, lower the heat, and cook, uncovered for about 35 to 45 minutes, or until the wine is almost evaporated. It will depend on how low your heat it. It needs to be done slowly, so the grapes have time to caramelize in their own sugars.
Add the water and cook over very low heat until it evaporates. Check the grapes, if you still want them to be softer or more caramelized, add ¼ cup more wine and ¼ cup more water and cook them some more. Let cool.
If you're going to keep them for a few days, put them in the fridge.
For the whole wheat dough:
For the ice water, put a few ice cubes in a glass and fill with cold tap water. Reserve.
In the bowl of the food processor, with the steel blade, mix both flours, salt and baking powder.
Scatter butter and cream cheese on top. Pulse a few times until the butter/cheese is the size of peas.
In a glass or small bowl mix 4 Tbs water with the vinegar. Add to the mixture in the processor and, using on/off turns, process until the dough begins to come together. If it's still too dry, add 1 more Tbs ice water.
Dump the whole mixture into the work counter, and gather together into a flattened ball. Touch the dough as little as possible and don't knead it. But make sure the ingredients are combined.
Wrap in plastic and refrigerate for 1 hour.
For the galette:
Preheat oven to 350º. Line a baking tray with parchment paper.
To roll the dough, you can either divide it in four pieces and roll each individually, or roll one large disk and cut rounds with a very big cutter. If using the cutter the edges will be even, and if you roll each disk individually you will have uneven edges. Both are fine.
If the dough becomes too soft, return it to the fridge for 15 minutes before continuing to roll. Or work with one dough piece at a time while keeping the others refrigerated if rolling individually.
On a lightly floured surface, place the four dough rounds.
Scatter 1 Tbs almonds in the middle of each.
Cut the brie into four equal pieces, then cut each of those pieces in 3 or 4 slices.
Arrange the slices on top of the almonds, and top with ¼ cup of caramelized grapes each.
Lift the sides of the dough to wrap half the filling, leaving the center exposed
Transfer to the parchment lined baking tray.
Bake for about 15 to 20 minutes, then sprinkle with the rest of the almonds, 1 tbs per each galette.
Bake for 15 to 20 minutes longer, until the dough is golden and dryLet cool on a wire rack a few minutes.
Transfer to plates, drizzle with honey and serve.
---
Category:

Pies

Method:

Baking

Cuisine:

International
Keywords: brie and grapes, brie gallete, whole wheat galette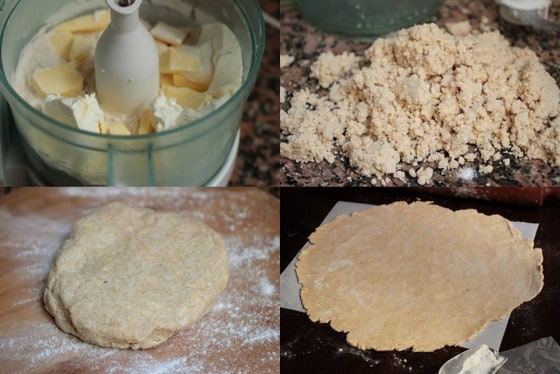 ---