I'm seriously in love with these caramelized white chocolate almond cookies.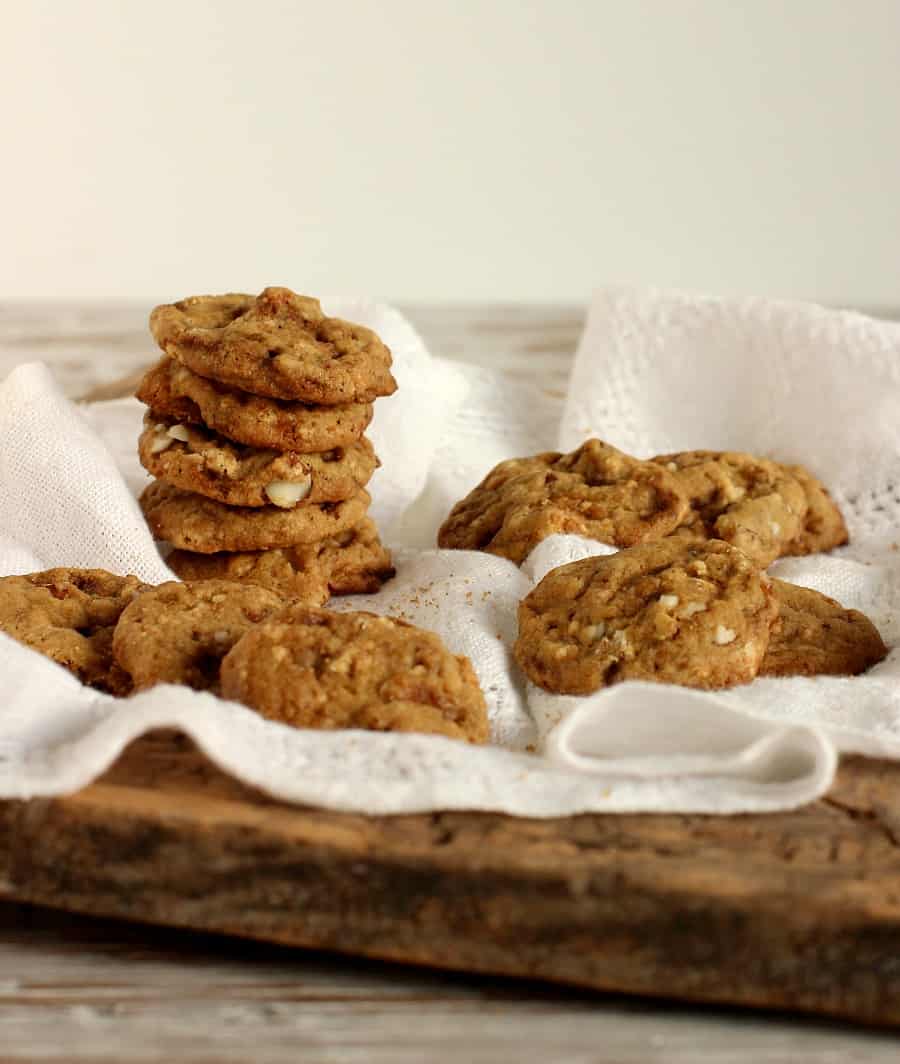 And with good reason. They're awesome!
I know cookie baking at this time of the year is a must. And a stress?
We all probably tried the chocolate chip or molasses ginger cookie recipe number 392095485 with this or that tweak. And yet, I'm constantly amazed by simple recipes, full of flavor, the right texture, a one-bowl situation – this last one ranks way up there, not just for cookie recipes, but for cakes too.
The caramelized white chocolate almond cookie we have here today embraces all that.
White chocolate used to be the underdog in my kitchen. I even baked with milk chocolate more than white (which is not chocolate, I know, blah blah, and don't care, haha).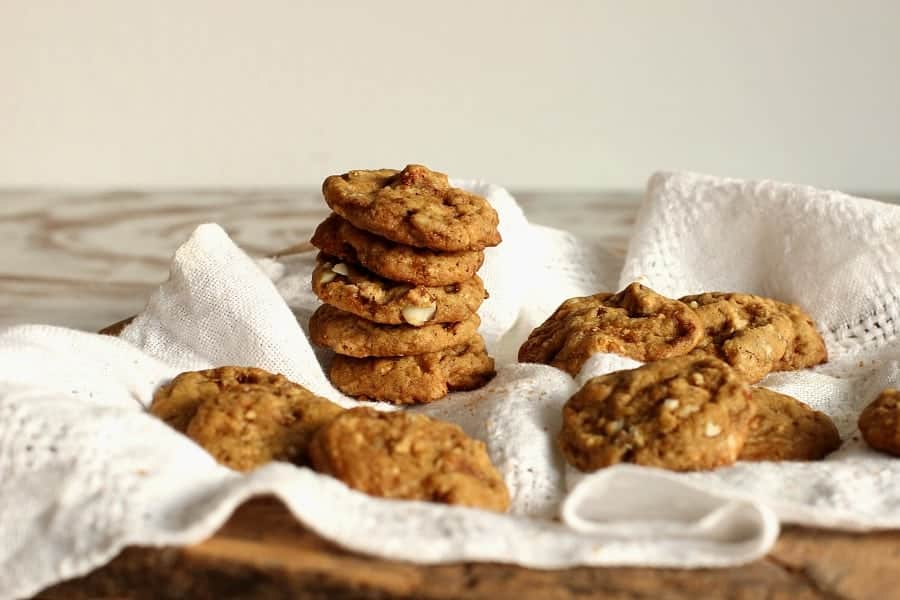 But sometimes even I get tired of dark chocolate, the horror, I know. Not often, but you know, change is good they say. The fact that I buy on impulse can play a role too. I found myself with over two pounds of white chocolate… Though I try to pretend it's an isolated purchase, it never is. I buy a lot of stuff on impulse, mainly ingredients. Like there's a war coming but I have to keep blogging. Ridiculous.
Anyway, a few great white chocolate recipes and I was hooked.
White chocolate pairs well with a lot of other ingredients, like berries, coffee, coconut, dulce de leche (my favorite, beyond good!).
And almonds. Hence these easy, fabulous caramelized white chocolate almond cookies. I use both sliced and chopped toasted almonds. I find that the crunch sliced almonds give is hard to match. It is different from chopped almonds. It shatters. It's sooo good.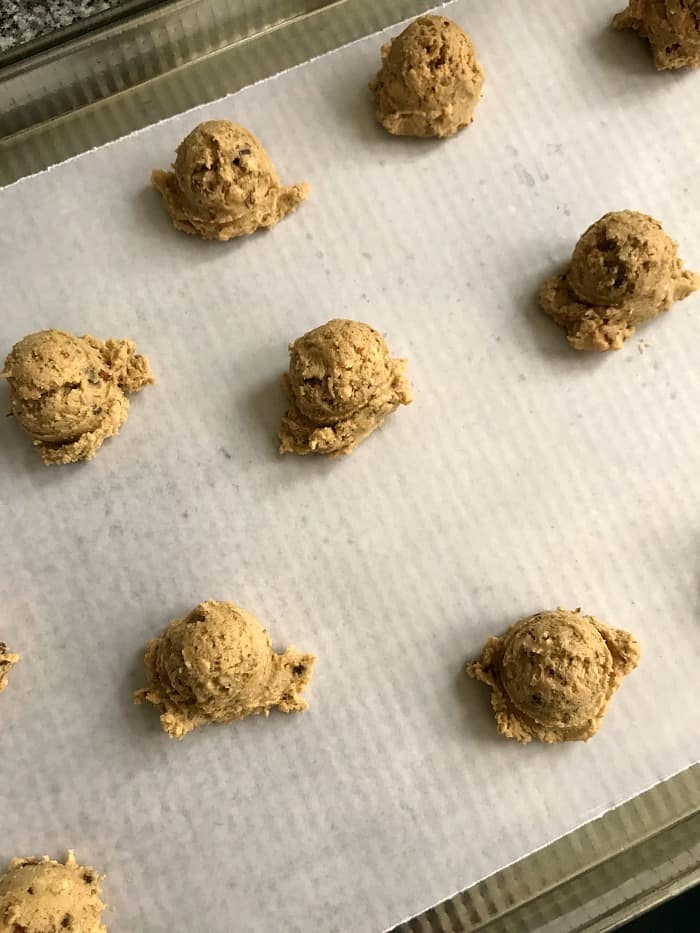 Another interesting ingredient I use is chopped caramelized white chocolate. If you never tried this wonder invented by Valrhona, you should at some point. It's a one-way journey. For me at least. I made the salted caramelized white chocolate custards the first time (you can see the process here), and I was completely hooked.
For these cookies I let it harden again and chop it. You can now buy it from Valrhona, it's called Dulcey, or you can add some white and butterscotch chips, they work really well.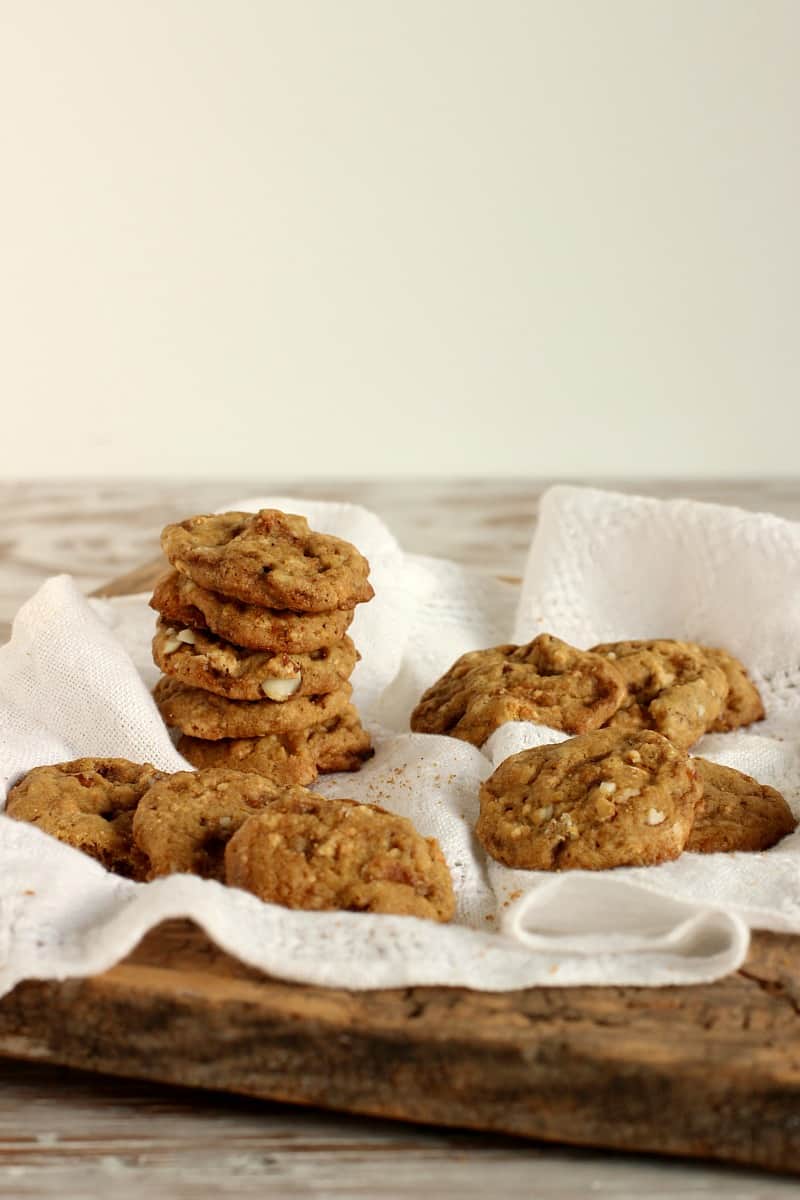 These caramelized white chocolate almond cookies are amazing. Simple, tasty, and a crowd pleaser.
Perfect holiday cookies.
Print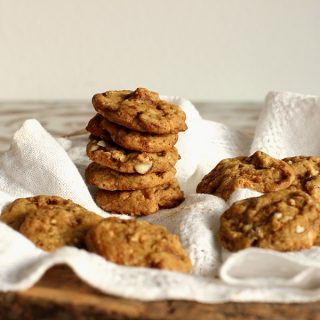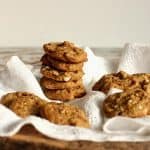 Prep Time:

70 minutes

Cook Time:

15 minutes

Total Time:

85 minutes

Yield:

30

medium cookies

1

x
---
Description
Don't be put off by the caramelizing of the white chocolate. It is worth it! But use a mix of white and butterscotch chips and they will be just as good. 
---
Scale
Ingredients
1/2 cup

110g unsalted butter, at room tº

3/4 cup

150g dark brown sugar

1/4 cup

50g white sugar

1

egg (at room tº)

1 teaspoon

pure vanilla paste or extract

1 1/2 cup

s 200g all-purpose flour

1/2 teaspoon

baking soda

1/2 teaspoon

baking powder

1/2 teaspoon

salt

1/2 cup

sliced almonds (lightly toasted)

1/4 cup

chopped almonds (lightly toasted)

3/4 cup

150g chopped caramelized white chocolate, or a mix of white and butterscotch chips
---
Instructions
Preheat oven to 350ºF / 180ºC.
Line baking sheets with parchment paper.
Beat butter with both sugars until creamy.
Add egg and vanilla and mix well.
Add dry ingredients (flour, baking powder, soda, and salt) and mix until a few dry spots remain.
Add white chocolate and almonds and mix until no dry spots remain.
Drop large teaspoons on the prepared sheets, spacing them an inch or so.
Bake for 12 to 15 minutes, until edges are firm and cookies are golden.
Let cool completely on wire rack.
Keep in tins or cookie jars.
For caramelized white chocolate:
Preheat the oven to 300ºF /140ºC.
In a shallow glass pan, spread the chopped white chocolate. Don't overlap them too much. It's better to make small batches.
Bake for about 30-40 minutes, stirring it every 5-10 minutes. It won't melt immediately, and, depending on the brand, might never be silky, but lumpy. For this recipe that is fine.
Once it's as dark as you like, let it cool and chop it.
---
---