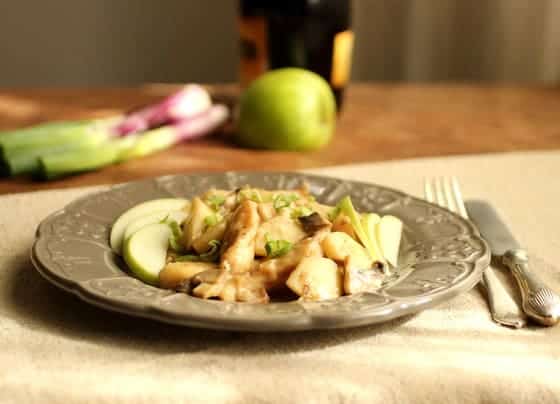 This is the type of dish that you'd probably get taught the first day in a french cuisine 101 course. It has that kind of feeling.
The name a la Normande has me riding a horse, full armor, across the french countryside. Arriving at the castle, a pot, or cauldron of this would be a nice meal to have waiting. I'm pretty certain I lived in the Middle Ages in another life. Almost sure of it.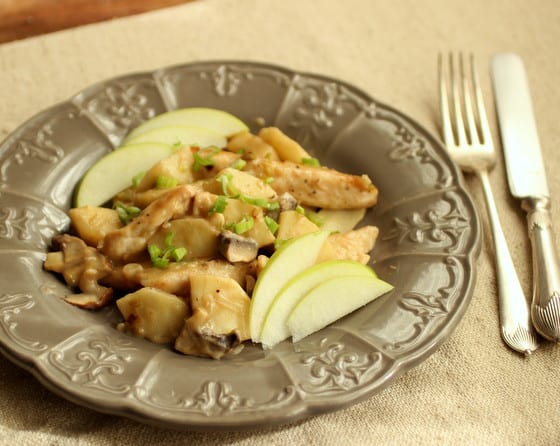 The recipe is very simple, even with the dredging in flour, a step needed to get a thicker sauce in the end. A walnut sized ball, equal parts butter and flour, called
beurre manie
, will do the trick also. Very french.
It calls for chicken breasts, and that's definitely easier to work with. But I would've preferred thighs, because, well, I always prefer the thighs. Much more flavorful.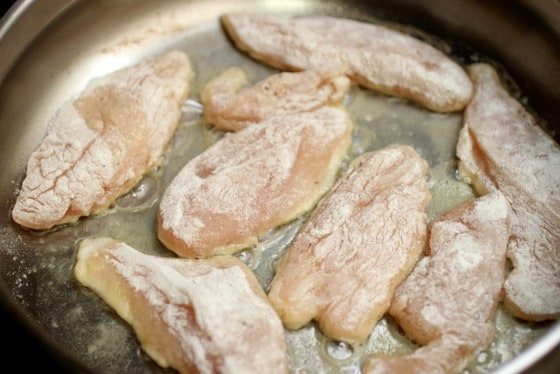 But on with our recipe here, after dredging the meat in flour with salt and pepper, it is slowly fried in some butter and oil. It begins to brown and some onions, apples and mushrooms are added. Then some stock and calvados, which is a wonderful apple brandy. I especially like it in baking, in apple cakes or bread puddings with apple. But I had run out of it, and getting another bottle meant going to a winery, and that was not happening today.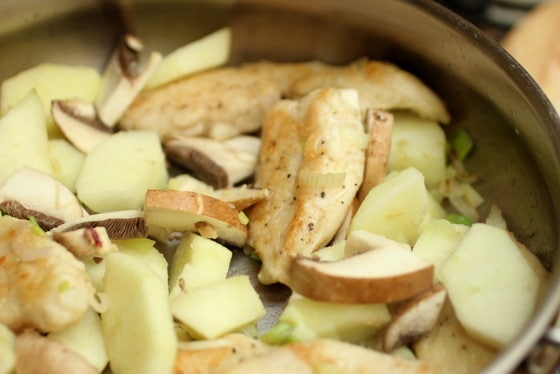 Well, I used green onion because that's what I had, and I had already gone to the supermarket so that was that. And the calvados was replaced by brandy. Which is wonderful with apples. A glug of cream at the end and voila, a good, hearty, yet kinda fancy dish on the plate.
I personally think it needed a bit of an extra kick. Chicken thighs and an herb would've made it more interesting. And more apples. At least double or triple, which is not much since it called for only one apple. I added a lot of pepper to it.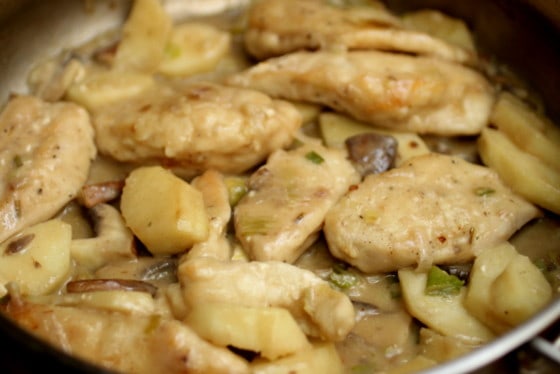 The book also suggests using pork, and I definitely think it would be good, and also adding some sage.
All in all, a good, solid recipe. It comes together fast and the ingredients are usually found everyday in most kitchens.
And the recipe can be found here.
---