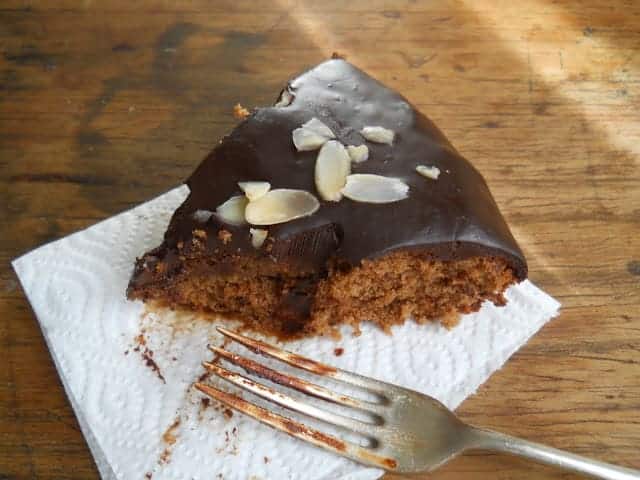 In time, everything makes sense, one way or the other.
Because it leads us to a better place, it teaches us something, it introduces
us to certain persons, makes us stronger…bla,bla,bla.
But sometimes that perspective is almost immediately
felt. That´s what happened to me a few weeks after I started this blog. That
was a bit over six months ago, and it became a major thing in my everyday life
right away. The reasons are many, having an excuse to bake and cook and spend
hours debating between recipes at the top of course, but also because I was
absolutely certain that food would be a passion forever. What I also realized
back then, was the immediate bond that can be created with people you don´t
know, that might live thousands of km away, but with whom you still feel
friendly, at home, in sync, whatever way you choose to describe it.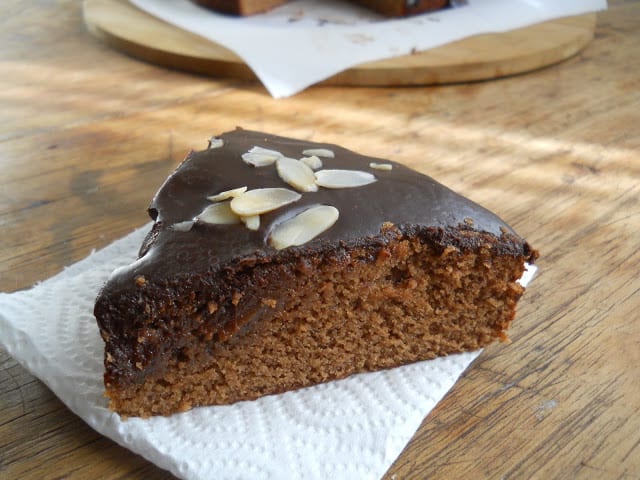 One of those blogging friends is David, from Cocoa & Lavender. His blog is well written, with beautiful photography and a
definite genuine feel to it. Not surprisingly, he is a musician, and I think
his sensibility to all things wonderful comes through in his posts. One comment
led to another and then a few emails and suddenly I was given a gift. A
cookbook with all of his mother´s recipes, compiled by him, cooked, baked and
photographed and put together with an enormous amount of love and admiration. A
gift that came from the heart. I´ve been reading it extensively ever since and
wanting to thank him in the best way I know, which is baking one of his
treasured recipes. The fact that it was his birthday a few days ago makes the
timing even better.
I choose a cake because what´s a celebration without
cake, right?
This is a very simple, deep flavored and surprising
recipe. The surprise came from the tiny amount of butter used. Just one fat tablespoon.
Unbelievable. It made me question every chocolate recipe. Just kidding, but
really, one tablespoon? Reminded me of this
dark chocolate mousse
, which also surprised me with it´s lack of sugar.
I changed the icing and used a simple ganache on top instead
of the frosting suggested. I like my dark chocolate on almost every cake, and
this one felt like the perfect canvas. I think next time I would also include an extra something in the batter, maybe nuts or some liqueur…
Thank you David for such a wonderful `virtual´
friendship.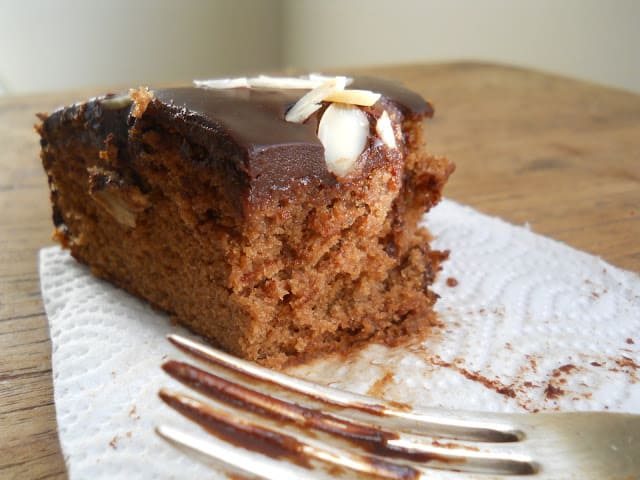 Print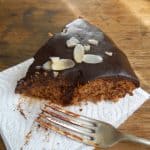 Chocolate Glazed Fudge Cake
Yield:

8

servings

1

x
---
Scale
Ingredients
1

heaping Tbs unsalted butter (room tº)

1 cup

+ 3 Tbs sugar (divided)

2 oz

. unsweetened chocolate

2

eggs (separated)

½ cup

+ 2 Tbs milk (divided)

1 cup

flour

1 ¼ teaspoon

s baking powder

1 teaspoon

vanilla extract
For the ganache:
½ cup

cream

½ cup

semisweet chocolate 

1

Tbs corn syrup
---
Instructions
Preheat oven to 350ºF / 180ºC. Butter an 8 inch (24cm) round cake pan.
In a small saucepan combine chocolate, 3 Tbs sugar and 2 Tbs milk.
Cook over low heat just until chocolate starts to melt. Remove from heat and stir until well combined. Reserve.
Beat butter with remaining 1 cup sugar.
Add egg yolks and beat until well incorporated.
Add chocolate mixture and mix. Sift flour and baking powder over cake mixture, add milk and beat until combined, do not over mix.
In a separate bowl, beat egg whites until peaks form.
Incorporate into chocolate mixture with a spatula until no streaks of white remain.
Pour into prepared pan and bake for 30 to 40 minutes until puffed and the mixture barely jiggles when shaken.
Let cool on wire rack and unmold onto serving plate.
Pour ganache over entire cake and let set. Cut into portions and serve.
For the ganache:
Put cream, semisweet chocolate and corn syrup in a saucepan.
Cook over very low heat until chocolate begins to melt.
Remove from heat, mix until thoroughly combined and let cool down until it thickens a bit.
---
from From Mom's Kitchen, by David Scott Allen
---