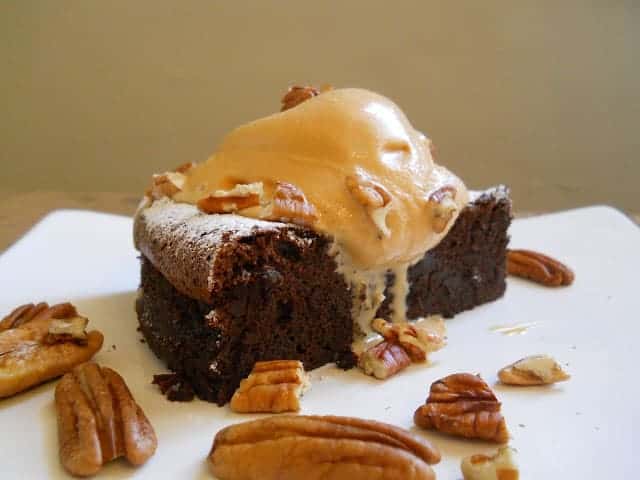 Which came first, the chicken or the egg?
Dave Lebovitz
or
Nigella
? Ice cream + cake? Or cake + ice cream? This dessert isn't one
or the other, it's both generating perfect synergy together, so I don't know which is the proper blogging etiquette for this.
Both recipes are extraordinary on their own and both bakers are extraordinary on their own. And together, well, you decide. I can't make this decision on my own. Man, I am having a tough day...
Let's start at the beginning. After I made ice cream without churning (not to be confused with no-churn ice cream), due to my lack of a transformer or let's face it, procrastination to buy one on my part, I finally went and bought one. And as it usually goes, I couldn't decide what ice cream to churn first. The answer came naturally when I reached for this
precious book
. So caramel it was. So good
it's fair to say I'm posting this using the last two scoops left. Before that, it was eaten alone and in the great company of this hot fudge. I could've stopped there.
But suddenly, I decided it was time to bake my favorite flourless chocolate cake ever (up until today, of course, we never know what tomorrow brings), that I hadn't made in years, literally.
This is a cake that will take you places. By that I mean it can pretty much become an obsession that you will, if you're very nice, transfer to those around you. They will thank you.
Unless those around you don't like deeply chocolate, light textured, flourless cakes. In which case I don't think you should be keeping them so close really. And I don't need to tell you that it's the perfect cake to have with some whipped cream and fresh raspberries. You know that.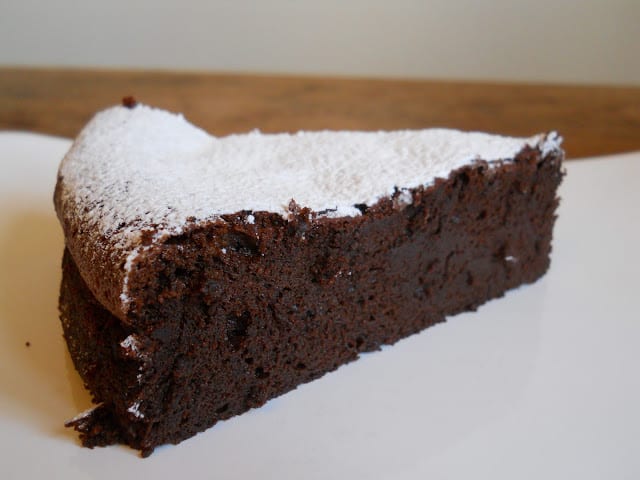 Seriously here, it's Sunday so there should be real dessert food. It's a day of no-work after all, and indulgent relaxation. Clearly, a chocolate and caramel day.
It started as a picture of a chocolate cake, which found itself with a scoop of caramel ice cream on top, then a few toasted pecans, then another scoop of sweetness and finally a confrontation with a spoon; suddenly it was just a messy plate with ice cream melting into sweet poodles. So good. You should try it. Trust me.
Print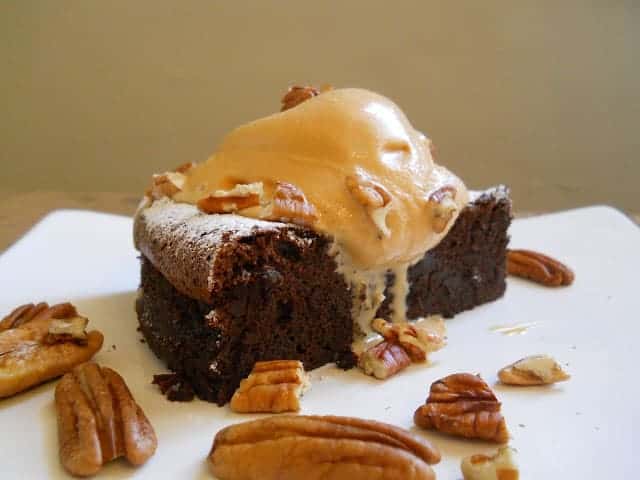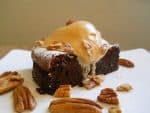 Chocolate Mousse Cake + Caramel Ice Cream
---
Description
For the cake, if you use a spring form pan, wrap a large piece of foil on the outside covering bottom and sides before baking in the water bath.
---
For the cake:
11 oz

. 310g bittersweet chocolate (I use Callebaut 70%)

2 oz

. 60g milk chocolate

¾ cup

unsalted butter

8

large eggs (separated)
Scant

½ cup

(

95g

light brown sugar)

⅓ cup

65g sugar

1

Tbs vanilla extract
Pinch of salt
For the ice cream:
1 ½ cups

sugar

1 teaspoon

vanilla bean paste

2 cups

heavy cream

1 ½ cups

half and half

¼ teaspoon

salt

6

egg yolks
---
Instructions
For the cake:
Line 9-inch (24cm) spring form pan or silicone mold with parchment paper. I use silicone.
Melt chocolates and butter on a double boiler and let it cool.
In a large bowl (I use the stand mixer) put egg yolks. In another large bowl put egg whites.
Beat yolks with both sugars until very thick and pale, as creamy as mayonnaise, about 5 minutes. Stir in vanilla, salt and melted chocolate. Don't over mix.
Beat whites (I use the electric hand mixer) to soft peaks, and add a fourth to chocolate. Fold gently and then repeat with the rest of the whites in two more additions. Don't leave white streaks but be careful not to over mix it.
Pour into prepared pan, place pan in a roasting pan, and fill with boiling or very hot tap water. I put the roasting pan in the oven first and then add the water with a pitcher or kettle.
Bake for 45 to 50 minutes. The middle should be moist, but the top should look dry and cooked.
Let it cool completely on a wire rack.
Unmold carefully peeling the parchment paper. Dust with confectioners' sugar.
For the ice cream:
Sprinkle an even layer of the sugar into a heavy medium size saucepan (at least 2 quarts).
Heat the sugar until it begins to liquefy around the edges. As the sugar melts, occasionally give it a gently stir with a wood or heat resistant spatula to prevent it from burning in any one spot.
Once the sugar has begun to darken, it will cook very quickly. When the edges begin to bubble and the amber colored sugar has begun to smoke, remove from the heat and quickly pour in the heavy cream, stirring to dissolve the caramel. The mixture will steam considerably and possibly bubble furiously up. Careful with your hands.
Whisk the half and half and the salt into the caramel cream. Lightly whisk together the egg yolks in a bowl and gradually add the caramel cream, whisking constantly as you pour in the hot liquid. The mixture may look slightly curdled now, but it will smooth out later.
Strain the caramel ice cream base into a container and chill thoroughly. Freeze in an ice cream maker according to manufacturer's directions.
---