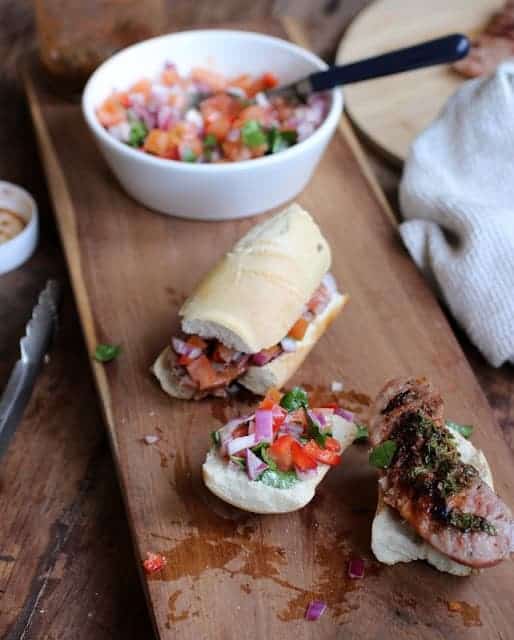 Street food is messy and flavorful and that's the best part about it, don't you agree? These chorizo, chimichurri and salsa sandwiches fit right into that description.
Let's focus on that, because eating food on the street that is messy but not rich with layers of flavor just doesn't cut it. Today we're
having all sorts of what is known around the world as street food, the kind the locals favor and has been eaten forever.
This chorizo sandwich, 
choripan
 (
pan
 means bread in Spanish) is the most representative street food here, a national passion, the bite before the meat at almost every barbecue at home or at a friend's house too.
We really do love our chorizo sandwiches with chimichurri and/or salsa 
criolla
, which means creole, our signature quick fresh garnish to go with barbecued meats.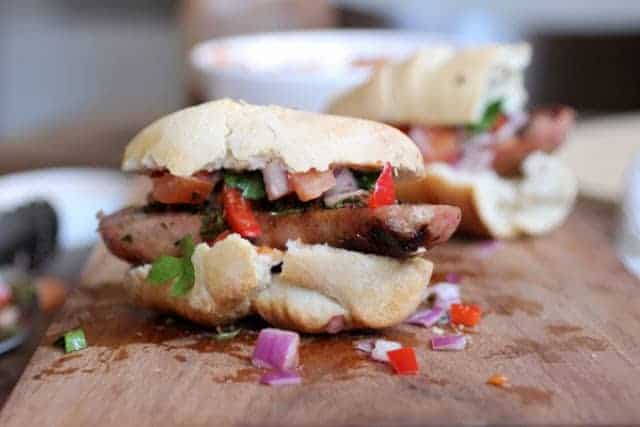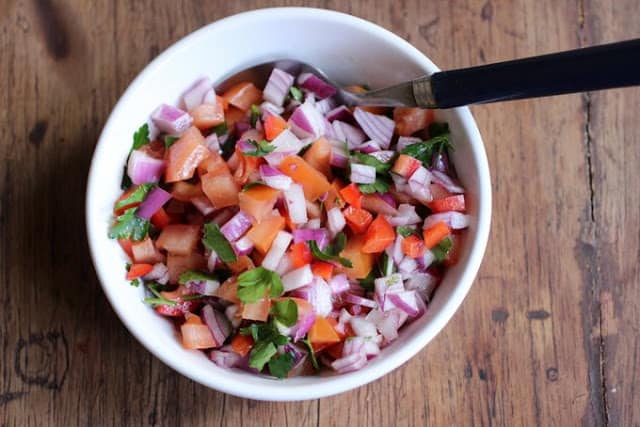 This type of food around the world is mind blowing, and though I want to explore other cultures, their mix of spices, flatbreads and sandwiches, I decided to stick to what I know, otherwise how would I know I'm giving you the real deal? So it was either this, or 
socca
 which we eat with pizza, and I had made that already, or 
meat empanadas
, which I have already made too, though I should probably repeat them again with better pictures, it's one of my first posts here and it feels like it happened in another lifetime.
I have a crush on Eat Street, the TV show about food trucks, with their distinctive take on various ethnic cuisines, the way they pile one good ingredient on top of the other. For me it's the essence of street food.
Though the reality is probably different, and we know it always is, a food truck has that popular feeling and laid back feeling that mirrors the kind of food they serve. Every time I watch it
I want to be driving one. Then I remember I already was in the gastronomy business and laugh out loud; the grass is always greener on the other side.
This sandwich is pretty much what you see though. Crusty bread, charred chorizo, vinegary chimichurri and fresh colorful salsa. The sausages vary depending who makes it of course, but the main difference is the percentages of pork and veal they use. I like about 30% of pork. All the flavor and a bit easier to eat, especially as an appetizer when you still have a meal afterwards.
As you can see, I'm pretty much bringing summer inside, using my newly found steak iron to grill this chorizos. These, unlike the mozzarella naan bread, do make a lot of smoke, but it's so worth it.
Print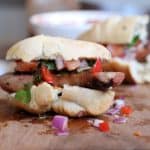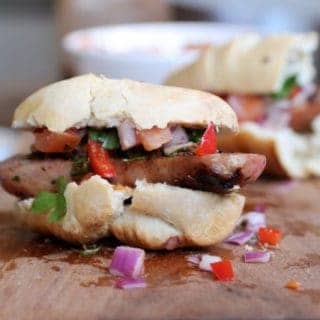 Chorizo, chimichurri and salsa sandwiches
---
Description
You can use slider buns and add half a chorizo per sandwich, or big buns and use it whole. I suggest crusty french bread, not soft buns.
---
Scale
Ingredients
For the sandwiches:
6

chorizos

6

french bread buns
Salsa criolla (recipe below)
Chimichurri ( see recipe here)
For the salsa:
½

large red onion (diced)

1

large tomato (seeded and diced)

¼

red pepper (deveined, seeded and finely diced)

½ cup

fresh parsley (loosely packed)
---
Instructions
For the sandwiches:
Grill the chorizos in the grill, either outside or inside. I sometimes use a small electric oven. If they start to sputter, prick them a few times with a fork to release the fat.
If using the stove grill or oven, it should take at least 20 minutes at a medium heat. Let it cook thoroughly, you don't want raw chorizo. Open it, butterfly style, and sear it for a few minutes. You can also leave them whole, but I like it to be charred as much as possible, that's why I butterfly it.
I like to warm the bread, either by popping them a few minutes in the oven or on the grill, but it's not really necessary if you like the bread and it's very fresh.
Open the bread in two, add some salsa, put half or the whole butterflied chorizo on top (depending on the size of the bread), some chimichurri and more salsa.
Top with the remaining bread.
For the salsa criolla:
Put the diced onion, tomato and red pepper in a bowl.
Add vinegar, salt, olive oil and black pepper to taste.
Add chopped parsley. Mix well.
---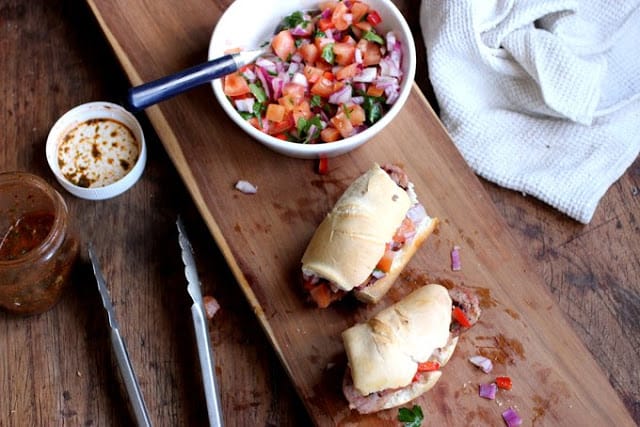 Here's what the rest of the group made today!
Bread on the Boulevard
Hand-Held Savory Eats
To-Go Containers
Sweets on the Streets
Grab a Thermos