Sometimes you have to work with what you've got and there is little room for mistakes.
In theory, there is always margin for clumsiness when it comes to my recipes, but not being one who likes to post about a failed poached egg on toast, today's recipe for creamy mushrooms and eggs for our french Fridays with Dorie group was a bit of a challenge.
And if an egg on toast is considered a challenge, given that I didn't even make the bread, or brioche in this case, there is a second when I talk myself out of having a food blog.
Two days ago it was Labor Day here, the well deserved holiday for everyone who works (and who doesn't one way or the other), the one sure day in the year when you can cross any avenue with your eyes closed and get away with it because the streets are deserted, the lone coffee shop opened with hardly anyone inside, you get the picture. If you forgot to buy something important, a first necessity item like coffee or ice cream you might inhale and make yourself a cup of tea or pass up dessert because you will have to walk the walk to get some. There are no newspapers delivered, that is the first clue.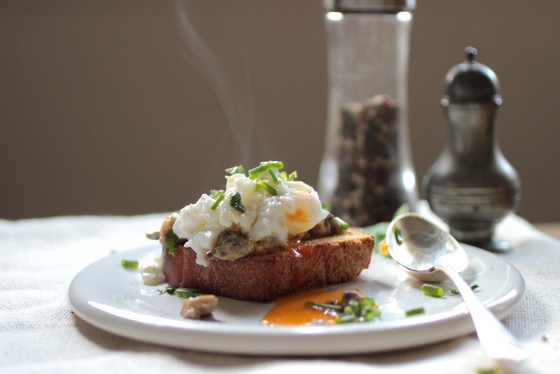 So, waking up to a dreary, grey, almost rainy, colder than the last week, still semi dark at 7.30am day without realizing there will be nothing opened, I go into the kitchen and decide it is a good day for baking and catching up with groups'
recipes.
So I set up to make the most wonderfully fragrant and tasty upside down cake I've made since this
caramelized apple beauty
, that I need to post next Tuesday. All went smoothly, used pears and pecans as I had planned, it unmolded perfectly, took what I consider nice pictures, and crossed the item off my list.Onto my next recipe, which was going to be my lunch. It made me very happy, thinking about toasted brioche, topped with creamy mushrooms and spring onions and finally a poached egg sprinkled with mint and chives. A recipe everyone was raving about.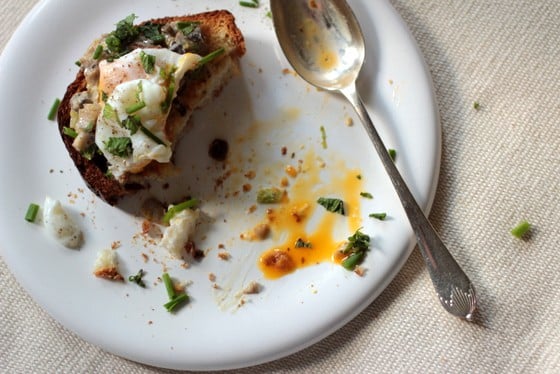 I cooked spring onions and chestnut mushrooms in olive oil and butter, added cream, salt and pepper to make a creamy topping to be sandwiched between the brioche toast and the perfectly poached egg.
We seem to be talking a lot about the poached egg, aren't we?
There was only one left. One lonely egg and no experience poaching eggs on my side. At all. It dawned on me I had never poached an egg in my life. The horror. And the chances of buying more within walking distance were slim, very slim. Labor day, remember?
But when you have more than twenty years of baking, cooking, throwing dinner parties, hoarding recipes under your belt, you don't give the poached egg another thought. You let the water boil with vinegar, adjust the heat so that it is not bubbling furiously (like
she taught me on tv
), make it swirl and gently lower the egg you had dutifully cracked open in a separate cup.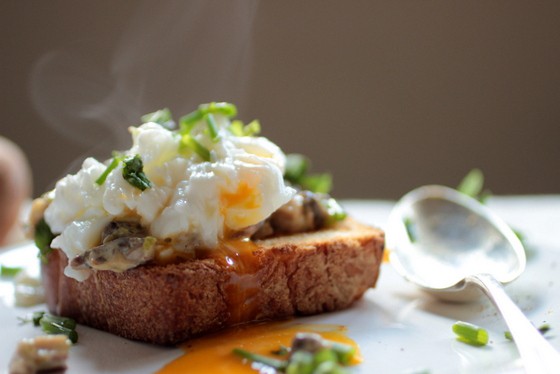 It turns out the egg has a mind of it's own and refuses to do his job correctly, the white at odds with the yolk, not enveloping it at all. Just strands of white swimming with no direction and a yolk that needs to be runny in order for this post to make any sense. So suddenly it's all about not letting it cook too much. How should I know? It's my first poached egg.
For the record, I took it out after two minutes. I'd rather err on the runny side. The recipe said three. Will update that info after I spend the next days poaching eggs until I get it right.
This should've been my new cooking adventure for last Sunday's post, not something as simple as
homemade vanilla marshmallows
.
And I thought, all that chat about eggs being a first year exam in culinary school because they're not as easy as they look, it's just nonsense. Serves me right.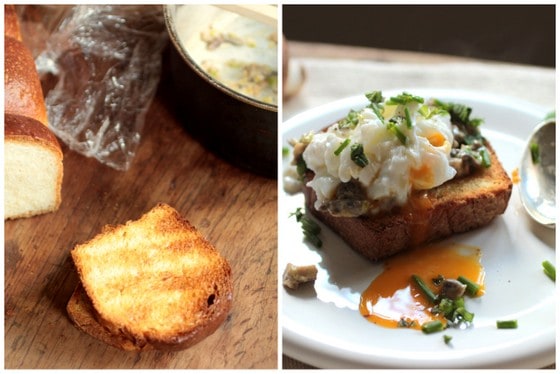 This is a very adaptable recipe.
A toast (brioche in my case), a creamy mushroom onion base (I used chestnut mushrooms and spring onions, but you can use white or red onion or shallots), a poached egg and a sprinkle of herbs (mint and chives for me, but the recipe used rosemary too). A drizzle of olive oil, which might be exchanged for a few drops of truffle oil, something I realized after I had cleaned the plate, and a lot of freshly ground black pepper, just because I like it. By the way, the fresh mint is a great idea, very refreshing in the middle of all that creaminess.
Find the recipe in Liz' blog, and find out what the rest of the group did with this recipe.
---