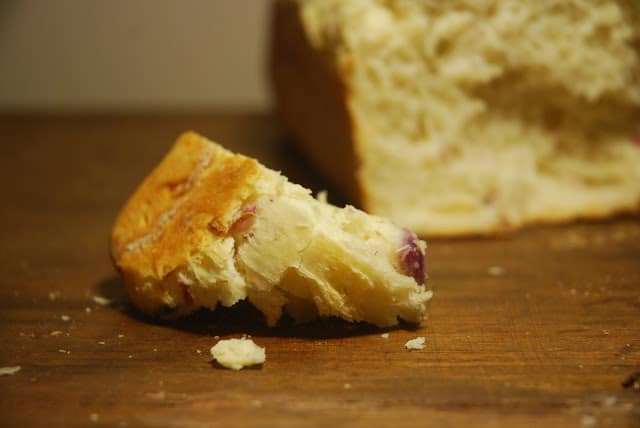 I don't think I ever made a bread dough that looked as pretty as this one. The little flecks of green and bits of purple. Don't you agree? I'm sure you do.
Looking for ways to use some fresh dill I came upon this gorgeous recipe. I own many bread books so it's fair for me to say that most dill recipes involve seeds and rye flour. A good rye bread is a treasure, but, without denying that, it's also fair to say that there are very few recipes with fresh dill. I´m not talking here of throwing a bunch of chopped dill into any white or rye dough; that would constitute a dill bread but can pretty much be made with any herb lying around.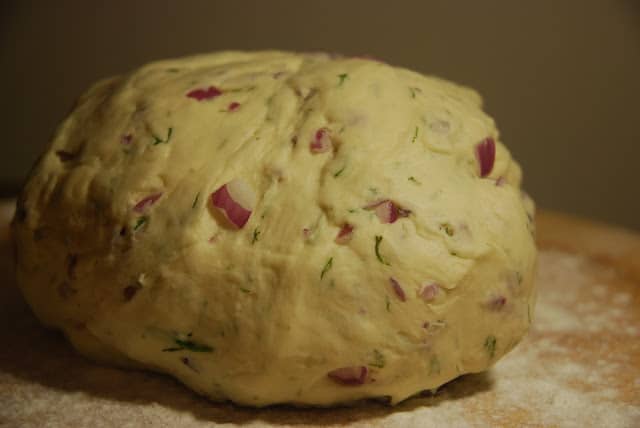 I wanted something more specific. So finally I arrived at a book that I used only once. Why? Because the pictures were so pretty and it was so, how shall I put it… commercial-looking that I thought the recipes would be a letdown. I was absolutely wrong, thank whoever.
The dough involves sour cream, so you know it will be moist and tender, and chopped onion. Red onion happened because it was all I had. Suddenly I had this beautiful dough ready to puff and whispering about great bread to come. There was no way this would be a flop. Isn´t it great when you just know you found a knock-out recipe? Well, in this case I just knew.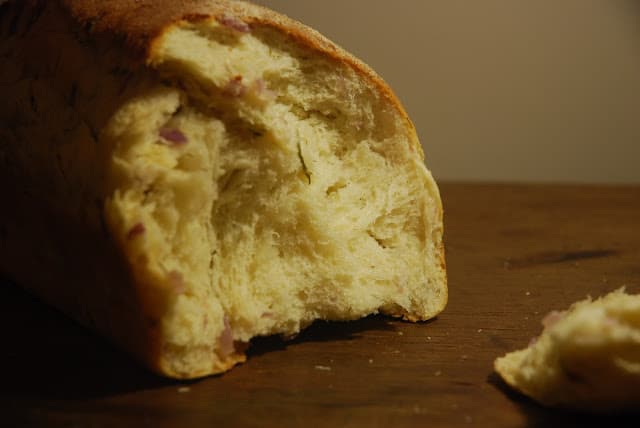 It turned out that I was having a purple moment, or day maybe. Without realizing, I had cooked all purple food, this risotto and the beet soup which I ate with this bread. I wonder what that means. Nothing, I know. But it is kind of a magical color isn't it? Imagine a magician's hat with stars, I bet you thought of purple.
I wouldn´t go as far as to call this bread magical, but boy, was it good.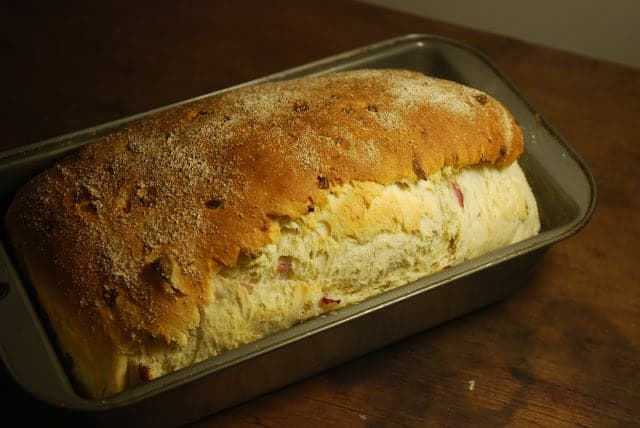 Print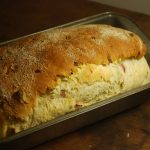 Dill and Red Onion Bread
Yield:

1

loaf

1

x
---
Scale
Ingredients
2 teaspoon

s instant yeast
Scant

1/3 cup

(100ml water)

3 ¾

to

4

cups 500g bread or all-purpose flour

1 teaspoon

salt

2

Tbs chopped fresh dill

2/3 cup

150g sour cream, at room tº

1

medium red onion (chopped)

2

Tbs 30g unsalted butter, at room tº

1

egg (lightly beaten)
---
Instructions
Put flour in bowl of stand mixer or large bowl if mixing by hand.
Make a well in the center and add the water, yeast, dill, sour cream, onion, butter and egg.
Start mixing with wooden spoon or dough hook and immediately add the salt.
Mix on low speed until the dough comes together, about 2 minutes, then continue beating on medium speed for another 8 minutes, until the dough is smooth and elastic. If making by hand, turn the sticky dough onto a floured surface and knead for 10 minutes, until smooth and elastic.
Put dough in a clean bowl, cover with a clean towel and let rise until doubled in volume, about 1 ½ hours.
Butter and coat the bottom of a loaf pan with cornmeal.
---
barely adapted from Bread, by Eric Treuille and Ursula Ferrigno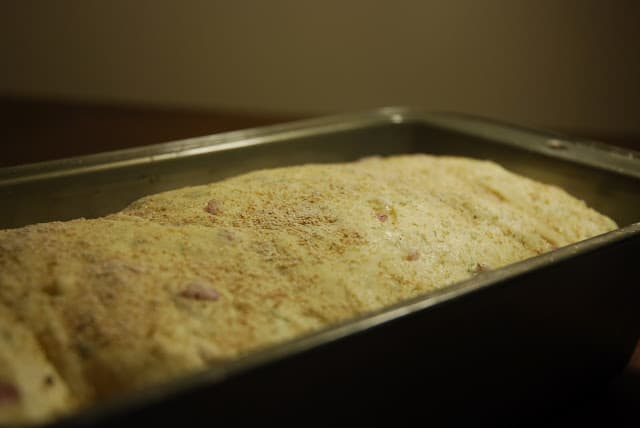 Punch down the dough and transfer it to a floured surface. Form into loaf and put in the pan. Cover and let rise until doubled, about 1 ½ hours.
Preheat the oven to 350ºF / 180ºC about 20 minutes before baking.
Bake bread for about 45 minutes, until golden. Check bottom for doneness (it should sound hollow). Unmold onto wire rack and let cool.
Cut when completely cool.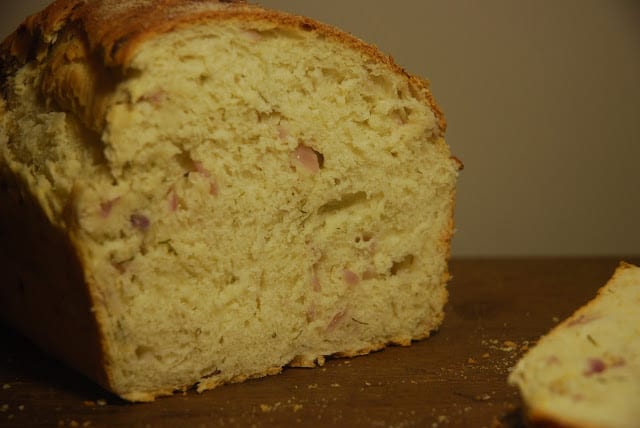 ---