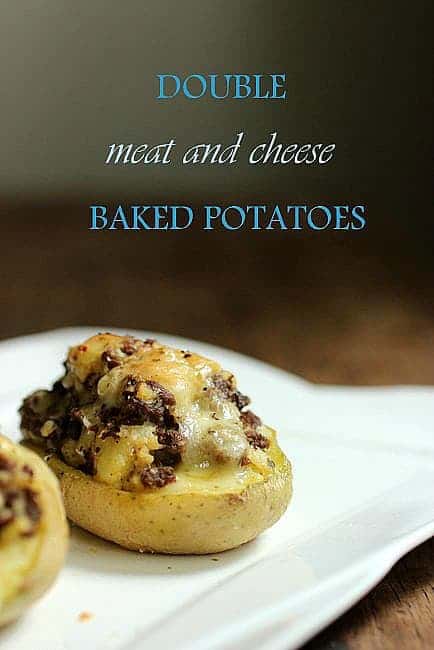 It's that time of the month again, when we snoop around another food blog, pick out something to make – tweaking it sometimes – and post it. It's another round of the 
Secret Recipe Club
, and my designated blog was Sarah's
Curious Cuisiniere
, another blogging friend from before, making me a happy camper.
In between new work schedules and the blogs, my life is hectic but I feel more energized than ever. Who knew I would thrive on having to make lists to keep track of my day? But it is what it is and I'm getting more organized by the minute – I'm knocking on wood mind you.
These last weeks I'm all for recipes that are either simple or pile a lot of flavors, like the pumpkin cheesecake where I kinda put together a lot of components to get into the Halloween season as much as I could in one single post. That's called organization, a rather new concept for me, ha.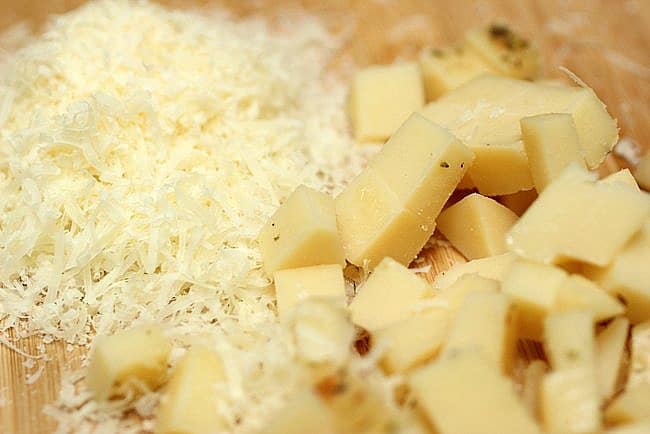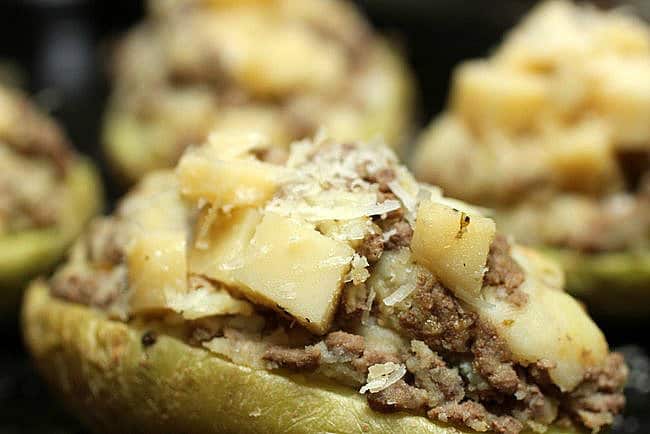 Double baked or loaded potatoes are popular for a simple reason, they're awesome! They usually have cheese and are crispy all around with a soft center. How can you not love that? I added some ground beef that I had cooked with spices, oregano, pepper and paprika and was planning on using with pasta and tomato sauce. Or maybe some brown rice and grated cheese. That's the kind of food I eat.
Or make a simple shepherd's pie. Which incidentally could've been the title of these double baked potatoes. After all , the ground beef is there together with the mashed potatoes.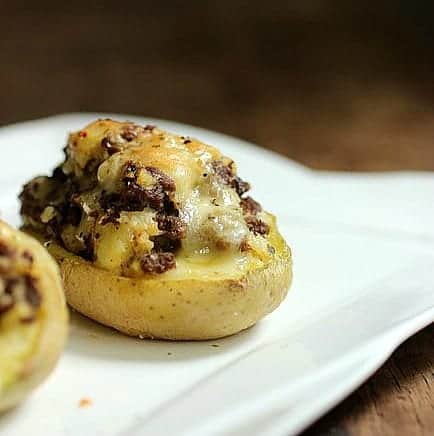 But let's not forget about the cheese, a perfect ingredient if there was one. I had a hunk of provolone in the fridge, that had been there forever. Meat and provolone, they go together like jack and jill. We have it as an appetizer here, grilled on the bbq with some oregano while the meat is grilling. It melts and gets crunchy in some spots, all greasy and so ridiculously good.
So into the mashed potatoes it went together with some grated parmesan.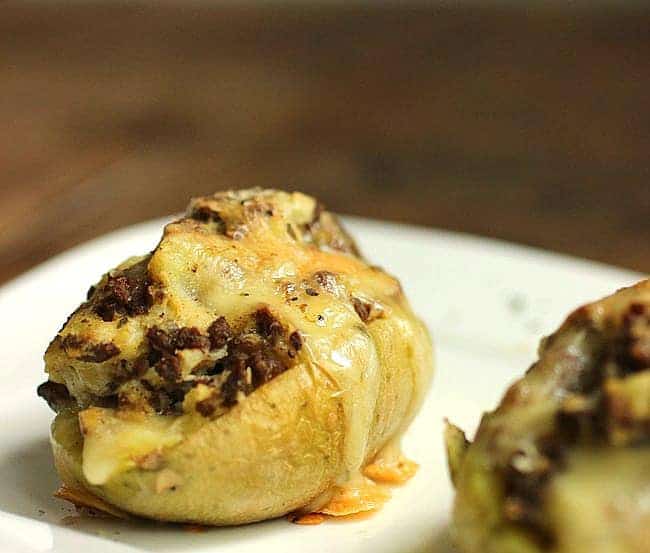 We had national elections here yesterday, and as they're mandatory is a quiet day usually when you vote and then get together for a sunday lunch or coffee. Or at least that's what I did. These potatoes were part of that meal. Perfect.
Print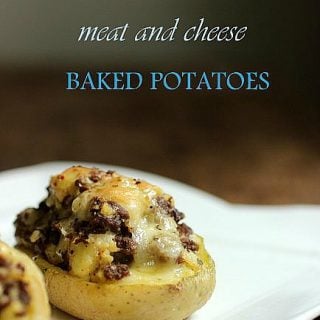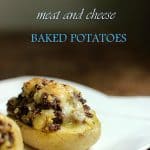 Double Baked Meat and Cheese Potatoes #SRC
---
Description
You can substitute the beef for chopped ham or crispy bacon.
---
Scale
Ingredients
2

medium potatoes (scrubbed)

2

Tbs milk

1/3 cup

  grated parmesan cheese

1/3 cup

  cubed provolone cheese

½ cup

  cooked ground beef
Salt
Freshly ground black pepper

½ teaspoon

  dried oregano
Pinch hot paprika
---
Instructions
Preheat the oven to 350ºF.
Microwave potatoes with skins until tender when pierced with a fork. Mine took around 10
minutes. Cut in half, scoop out pulp leaving a ¼ inch border and transfer to a bowl.
Mix in milk, parmesan, half of provolone and beef and blend very well.
Add salt, pepper and seasonings. Taste and adjust.
Mound potatoes with this mixture, pressing so you get all in the four skins. Dot with the remaining provolone cubes, pressing lightly to adhere.
Bake for about 10 minutes, until cheese is melted and golden.
Serve immediately.
---
adapted from Curious Cuisiniere
---