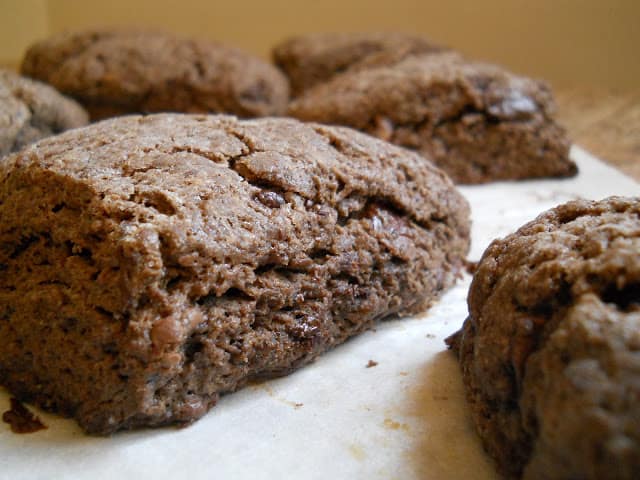 The rain is giving way to some pretty interesting baking recipes. These scones are proof.
I grew up eating scones. The scones, the ones that came from Ireland with my maternal great, or was it great-great, grandmother. The recipe that very few were able to make as she did. Or so they said. By the time I was interested in baking only one person deserved such title, and though I stood elbow to elbow while my aunt made the scones, I still couldn't duplicate them.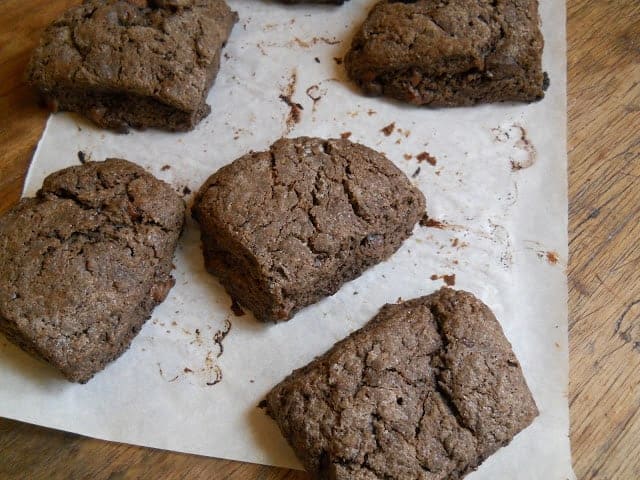 So what's a girl to do? Find her own scone recipe that will eventually become the scone.Tough luck to label something that way today. Don't even get me started on the ridiculous idea that there can be one scone I could settle for and be happy. Never mind happy, I can't even be contented with just one.
Because more than eating them I simply love baking scones. On rainy days like today they beg to be made and eaten right out of the oven. Is there another way to eat them? I don't think so. Always warm. That's the best way whether they're sweet or savoury.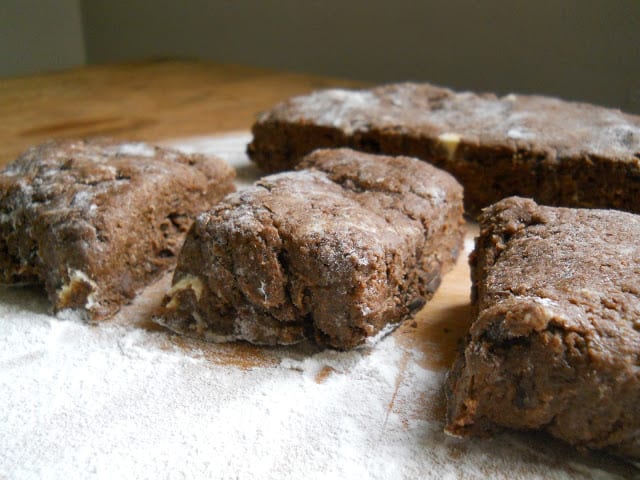 They greatly benefit from using chocolate chunks. No chips here. Or better yet, take a block of chocolate, a good kitchen knife and make your own chunks. There will be little shavings and some powdered chocolate along the way, and that's a big difference in the final texture and flavor. Because you'll probably use a good chocolate to begin with. And it will melt in a way chips will never do. Trust me, it's a very different scone.
Tea time is a very big deal in this country. Kids and grown-ups, we all enjoy the ritual that is having tea (or coffee, or chocolate milk, your choice). Especially during the weekends. Even during the summer, when you leave the beach at sunset, salty and
hungry.
Late afternoon is the perfect moment to stop and enjoy some tea or coffee or a submarine (hot milk with a bar of chocolate that you put inside and stir until it melts and you get chocolate milk).
Pastries (croissants and danish) are the traditional fare, but scones are very popular.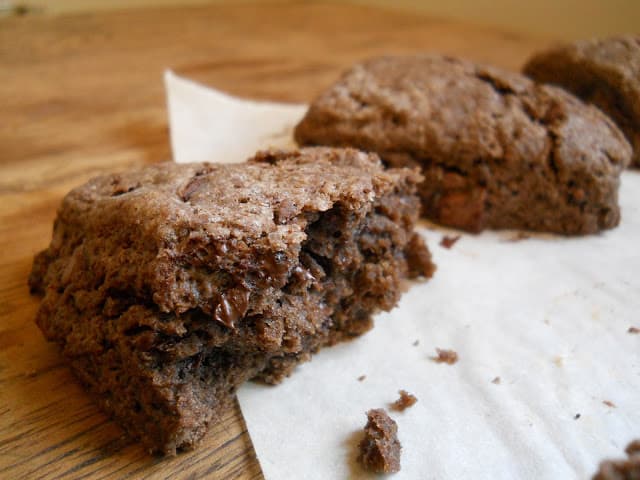 As the days continue to be bleak, wintery, foggy and basically annoying, I need to find ways to cheer us all up. A batch of these chocolaty delights and you're pretty much happy for the whole afternoon. Better than chocolate cake. A great sweet and moist chocolate scone.
Print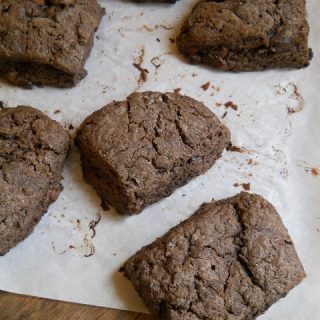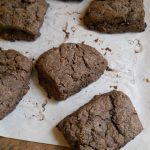 DOUBLE CHOCOLATE SCONES
Yield:

12

scones

1

x
---
---
Scale
Ingredients
4 cup

s +

2

Tbs unsifted all-purpose flour

½ cup

+

2

Tbs unsweetened cocoa powder

5 teaspoon

s baking powder

1 teaspoon

salt

¾ cup

superfine sugar

12

Tbs 180g unsalted butter, very cold, cut into chunks

4

large eggs

1 cup

heavy cream

1 teaspoon

pure vanilla extract

1 cup

bittersweet chocolate chunks

1 cup

milk chocolate chunks
---
Instructions
Preheat oven to 400º. Line large baking sheet with parchment paper.
In a food processor with the steel blade attached, put flour, cocoa, baking powder, salt and sugar.
Pulse a few times to combine.
Scatter cold butter on top of the cocoa mixture and pulse a few times, until the butter is the size of peas. Don't over process the butter. Transfer the mixture to a bowl.
In a small bowl lightly beat eggs to blend. Add cream and vanilla.
Combine and pour over the dry ingredients.
Add the chunks of chocolate.
With a fork stir to form a dough without overworking it too much. If necessary use your floured hands to give it a few turns so that it comes together.
Transfer to a lightly floured surface.
You can cut it with a kitchen knife or a scraper in triangles or squares.
Transfer to baking pans spacing them 3 inches apart, and bake for 20 to 30 minutes.
The times vary depending the size of your scones. They should have risen and be dry to the touch.
---
barely adapted from Baking By Flavor, by Lisa Yockelson