This is one of my favorite desserts ever! Layers of homemade puff pastry (that is made partly in the food processor) with gooey dulce de leche, and topped with meringue. Sweet and dreamy.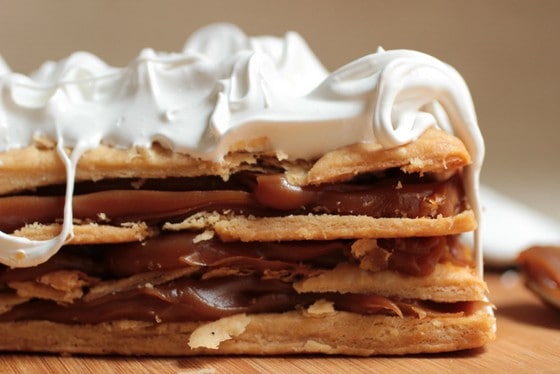 If I were to meet all of you readers and friends, face to face, this dulce de leche mille feuille (thousand layers) is the dessert I would make especially for you. Layers of butter puff pastry with dulce de leche and meringue. A combination that everyone should try at least once in their lifetime. And since, as I told you yesterday, there is a birthday going on, I baked this over the top dessert just for you. To thank you for being here, reading this blog.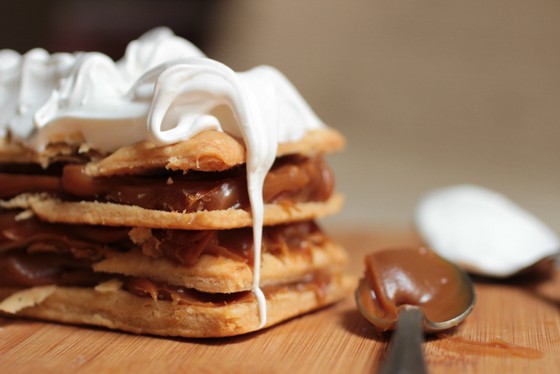 Because what originally was a collateral effect of starting a food blog is now the main reason for keeping it going. I'm talking about all of you who stop by and read or comment or are in the least interested about what goes on throughout these pages.
Whatever the reasons that made me hit publish a year ago, my virtual friendships are what I value most now. They come in all shapes and sizes, some are deeper, or intense, some are occasional, there are funny ones, unusual ones, some are fleeting, but they all have meaning.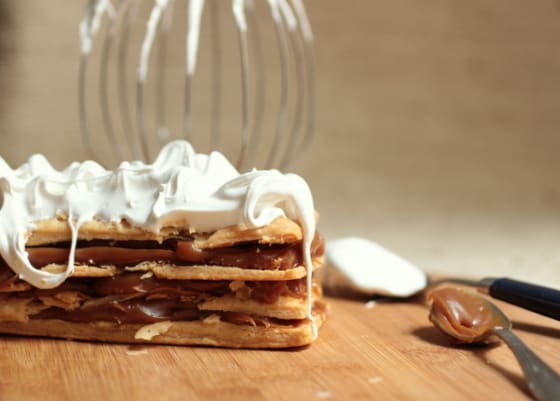 When I decided to start this url, I thought my food obsessions would be taken care of, I would cook whenever and whatever I wanted, take a picture, post and wait for others to visit. Ha. That was meant to be a very sarcastic ha.
f you're a fellow blogger you're rolling your eyes, and if you're just a foodie reader you're probably not understanding this paragraph really. As we all know firsthand, having a food url takes time and effort. Now that I have time to spare, compared to my last three years, I have yet to find it really, the extra time. Because naturally, I've dived into this social media thing, which I was happily oblivious to before, and I'm getting more demanding with myself by the minute. This is not exactly the texture I wanted, this will not photograph well, I don't know what the hell to write about, bla, bla, bla.
So we get to a sort of a chicken or egg question, do I blog because of the readers I have or do I have readers because of what I blog? My love for sharing food is not the only reason I blog anymore.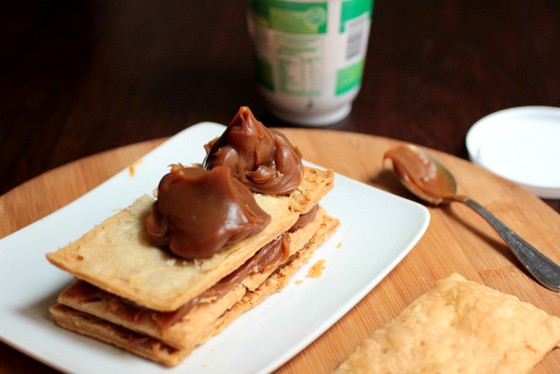 My personal achievement during this year is that I feel part of the food blogging community.
Well of course I am, I have a blog and I post. But that's an objective situation if you google my name or my blog, I do appear at some point. What I feel is an inner accomplishment, a sense that I have something, a voice, an idea, a story, a recipe, that others are willing to loose a couple of minutes over. It's not a label, it's a feeling.
After a year I feel I'm not in the first three steps of the ladder, I moved on and there are others taking those first steps, and so it will go on. And I love it. This food blogging world is a big part of my life now.
I may try to look for other grand explanations, but it's simple really, it makes me happy and I have fun.
And since I'm going around in circles explaining again and again how much I love and value every single one of you, I will tell you one last time that I DO, in capital bold, and then move on to the recipe. There's no better way to show my appreciation for someone than with food.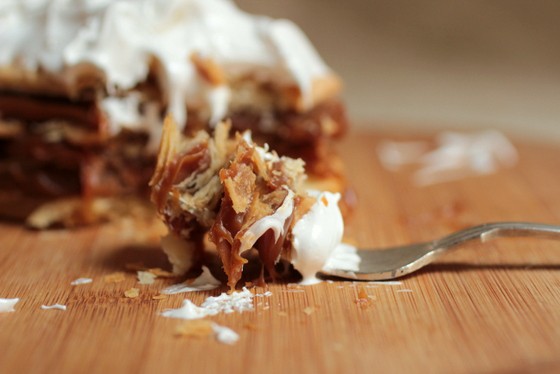 And this dulce de leche mille feuille extravaganza (layers of homemade puff pastry filled with gooey dulce de leche), fits the bill perfectly.
You start with a quick puff pastry that is life altering. A food processor, butter, flour and you're on your way to flaky goodness to fill with sweet or savory. Have you ever made puff pastry? If you haven't there's no easier way to try your hand at it than this one. If you have, like me, made it many times, there's a big possibility it scarred you forever and can't, no matter how much you try, use store-bought. Maybe you can settle if you find a very good bakery that makes an all-butter one, but really, nothing beats making your own if you're into that kind of stuff of course. This quick puff pastry will become a favorite.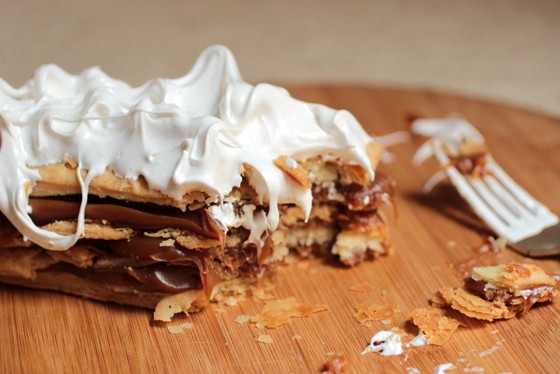 f you're not the make-eveything-you-can-from-scratch kind of person, please go and buy the best you find in the supermarket and make this.
I believe dulce de leche is widely available now. And there's always condensed milk. So you have no excuse. You might want to thicken it a bit like I did for the dulce de leche ghosts, because homemade milk jam can be a bit runny sometimes.
But that's not a bad thing either. If you're making it for your family you might not care that it runs a bit down the sides. It has it's charm that way too.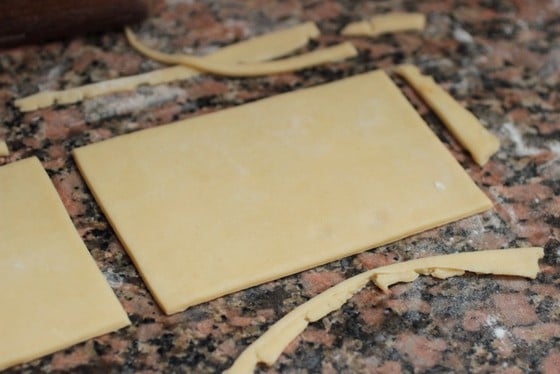 And, if the pictures haven't convinced you yet, this is a very messy dessert in the best possible way. If you take the time to pipe the dulce de leche between layers and make a stiffer meringue that will stand up in tall gorgeous peaks, it will look a million times neater than mine, obviously.
But the second you plow with your fork through it's layers it shatters gloriously. And it's a good thing, it means the puff pastry is how it's supposed to be.
I really, really, really hope you make it sometime. It's that good.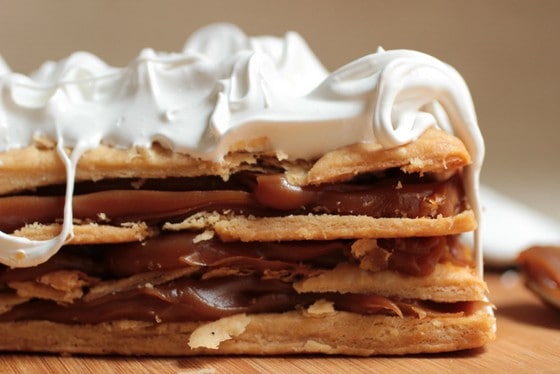 Print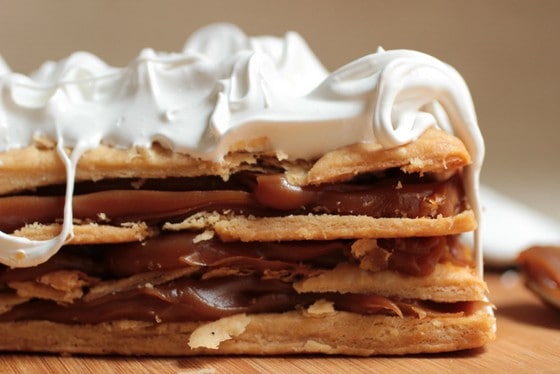 Dulce de Leche Mille Feuille - with quick puff pastry
A great dessert made of layers of puff pastry with dulce de leche, and topped with meringue.
Total Time:

2 hours 10 minutes

Yield:

4

servings

1

x
For the puff pastry:
2 ⅓

cup

(330g) all purpose flour

½

cup

(60g) cake flour

1 ¼ teaspoons

salt

1

pound

(454g) cold unsalted butter, cut into small cubes

½

cup

ice water
To assemble:
Instructions
For the puff pastry:
For ice water, fill half a glass with ice cubes and add cold water. Reserve.
Put flours and salt in the bowl of the food processor fitter with the steel blade. Pulse a few times to mix. Scatter butter on top of flour, and using on/off button, pulse until butte is the size of lima beans, no smaller than peas. Add almost all of the ice water and process, in the lowest setting, for 5 seconds. If it´s too dry add the rest of the water and process for about 10 more seconds, until the dough comes together in a shaggy, rough-looking dough. Don´t over process.
Dump out the dough onto a generously floured work surface and pat it into about an 8-inch (20cm) square. Using a rolling pin, roll out the dough into a rectangle, about 15 to 18 inches. Flour the dough and rolling pin as needed to prevent sticking, but brush the excess flour from the dough when making the turns.
Make the first turn: with the aid of a dough scraper, lift one third of the dough from the top, and flip it down onto the middle third. Do the same starting from the bottom with the remaining third of dough. Turn the dough clockwise, so that the short side is parallel to the working surface and the long side with the opening is on your right side. Repeat the rolling into a rectangle, the folding in three and turn to the right another three times. A total of four times.
Refrigerate for 1 hour and no more than 2.
Repeat two times the rolling the dough, folding it in 3 like a business letter and turning it to your right. The total will be six turns.
Now your dough is finished but needs to be refrigerated for at least 1 hour before using it.
You can refrigerate it, wrapped in film for 2 days or frozen for up to 1 month.
Roll puff pastry according to the recipe, into 6 rectangles.
Put them in a baking tray and freeze them for 30 minutes to 1 hour.
Preheat the oven to 350ºF / 180ºC.
Bake the frozen rectangles for about 30 minutes, or until puffed and golden. Let cool on a wire rack.
To assemble:
Carefully split each rectangle of pastry in two. Do this by inserting the tip of a knife into the middle of the puffed rectangle, and very slowly circle the whole pastry. If it breaks don't worry, you can always patch it together when you assemble the mille feuille.
Alternate layers of pastry with dulce de leche. I usually use 3 whole rectangles (6 halves) for each finished dessert.
Top with meringue.
Can be refrigerated for 2 days.
Notes
The dessert in the picture is about 3x6 inches. It can feed 2 for dessert because it's very sweet. But that can vary according to personal taste, many can eat this portion by themselves.
To make dulce de leche from condensed milk, here's a good link. To thicken store bought dulce de leche go to this post.
If you have leftover meringue, put it in a piping bag and freeze it. It can be used later to make meringue sticks to decorate cakes or eat by themselves.
Author:

Paula Montenegro

Prep Time:

30 minutes

Resting time:

60 minutes

Cook Time:

40 minutes

Category:

Desserts

Method:

Baking

Cuisine:

International
Keywords: dulce de leche puff pastry dessert