.
.
.
These are the famous Ottolenghi's eggplants with yogurt and pomegranate seeds that grace the cover of his first book.
.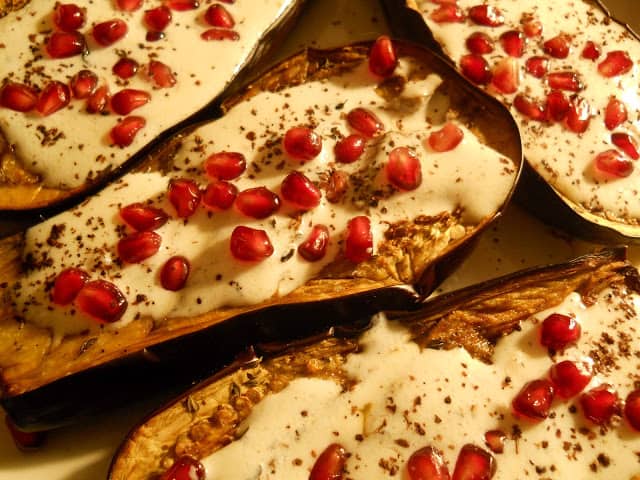 Friends are a huge part of my life, something that becomes more obvious as time goes by. I have friends I went to kindergarten and elementary school with; other I met through college or mutual friends. Now, I have discovered I can be friends with someone I have never met in person but feel I have common ground with because of this site.
And then there are my extended friends. I spent the last week or so with some of them. I was in
Washington DC
, taking care of family business, and ended up being the recipient of huge hospitality and care. These extended sets of friends are a part of my life by way of my brother F. They were his good friends. Now we became, in different ways and degrees, friends with each other. We are scattered all over the world but have a bond that will always be there.
My amazing brother died six years ago of lung cancer. He didn't smoke. It was much unexpected of course since he was 39 years old. Though it was quick, we had time to say goodbye, which makes a huge difference. I came to know his extended DC family like he used to call them, a lot during those few months. And found an incredible bunch of human beings. Now we share common grief that somehow transcends our opinions about each other. It's enough for me that my brother considered them great friends, and for them, it's enough that I'm his sister.
This was a trip meant for closure. And I succeeded. Amazingly, it took me more than five years to be able to come back to this city I used to visit once or twice a year. That was last May, but I went home feeling little comfort.
This trip was a completely different story. I enjoyed the city, the warm weather, my extended friends, the places that are so familiar by now. I finally was able to smile again while taking the metro, going to
Eastern Market
, to the used bookstore my brother used to take me to.
I finally had closure. And found gratitude along the way. Gratitude for being able to share thirty-seven years with him. I also came to realize my own power of finding a way of honoring what he taught me about living. When someone young, energetic, with so much to add to this world goes away, it's unacceptable. Literally. So, in my case, coming to terms with the death of someone of such capital importance in my life, resulted in a more forgiving and humble way of relating. And I´m grateful for that understanding, even though it came to me as a result of a lot of grief.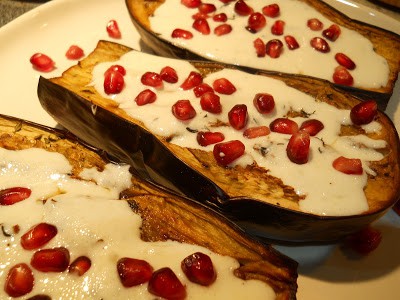 On a brighter note, I bought a lovely (I love that word, especially since I try to pronounce it with a British accent) book, that turned out was a favorite with my hosts. They even had it on their Ipads, a gadget I have just discovered and am totally in love with!. I know I'm slow in the technological dept; big news there, right?
So we made a great dish. This recipe is easy, colorful and so incredibly delicious. For vegetarians and eggplant lovers like me (not the veggie part as is well documented in many posts), this is something you'll make many times over. It's a perfect mixture of creaminess with bursting seeds in every bite.
The pomegranate seeds are visually stunning, but they don't add much flavor to the final dish. So don't worry if you don't find any; though you should if you're serving this to friends since they will oohh and aahh when they first see it! We added a little sumac (instead of the za'atar) to the finished plate.
We had intended to make a quinoa salad from the same book, but turned out all we had from the list of ingredients was the quinoa… So we improvised and added some sliced Persian cucumber, baked lentils, thin green beans, cherry tomatoes, olive oil, pepper and lemon juice. It was fresh and crunchy.
Print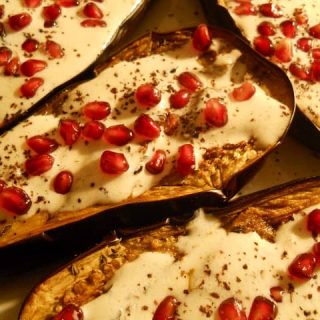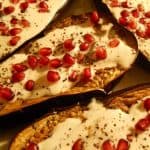 Eggplant with yogurt sauce and pomegranate
---
Scale
Ingredients
For the eggplants:
2

large and long eggplants

1/3 cup

olive oil

1 ½ teaspoon

s lemon thyme leaves
Maldon sea salt and black pepper

1

pomegranate

1 teaspoon

za'atar
For the sauce:
9

Tbs buttermilk

½ cup

Greek yogurt

1 ½

Tbs olive oil

1

small garlic clove, crushed
Pinch of salt
---
Instructions
For the eggplants:
Preheat the oven to 400ºF / 200ºC.
Cut the eggplants in half lengthwise, cutting straight through the green stalk (or not, like I did).
Using a small sharp knife to make three or four parallel incisions in the cut side of each eggplant half, without cutting through to the skin. Repeat at a 45-degree angle to get a diamond-shaped pattern.
Place the eggplant halves, cut-side up, on a baking sheet lined with parchment paper.
Brush them with olive oil (we used less than the specified amount).
Sprinkle with the lemon thyme leaves and some salt and pepper.
Roast for 35 to 40 minutes, at which point the flesh should be soft, flavorful and nicely browned.
Remove from the oven and allow to cool down completely. (We assembled the dish while still warm).
While the eggplants are in the oven, cut the pomegranate into two horizontally.
Hold one half over a bowl, with the cut side against your palm, and use the back of a wooden spoon or a rolling pin over to gently knock on the pomegranate skin.
Continue knocking with increasing power until the seeds start coming out naturally and falling through your fingers into the bowl. Once all are there, sift through the seeds to remove any bits of white skin or membrane. (Or directly buy a packet of pomegranate seeds! So much easier).
For the sauce:
Whisk together all of the ingredients in a bowl.
Taste for seasoning, then keep cold until needed. (We made it after putting the eggplants in the oven, so the garlic would have time to  infuse its flavor).
To serve, spoon plenty of buttermilk sauce over the eggplant halves without covering the stalks.
Sprinkle the za'atar and plenty of pomegranate seeds on top and garnish with lemon thyme and a drizzle of olive oil.
---
from the amazing
Plenty
, by Yotam Ottolenghi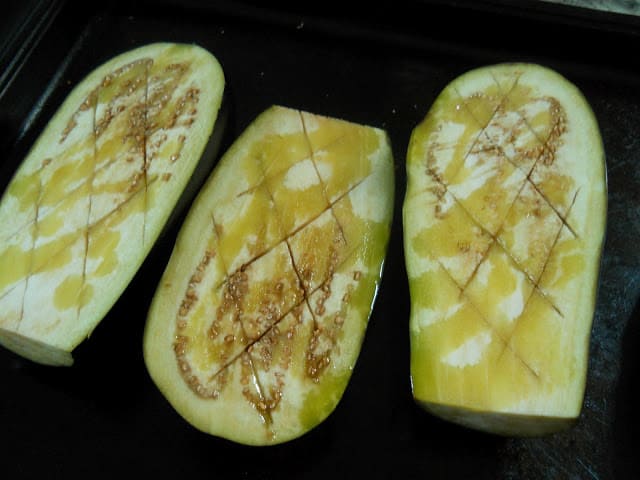 ---