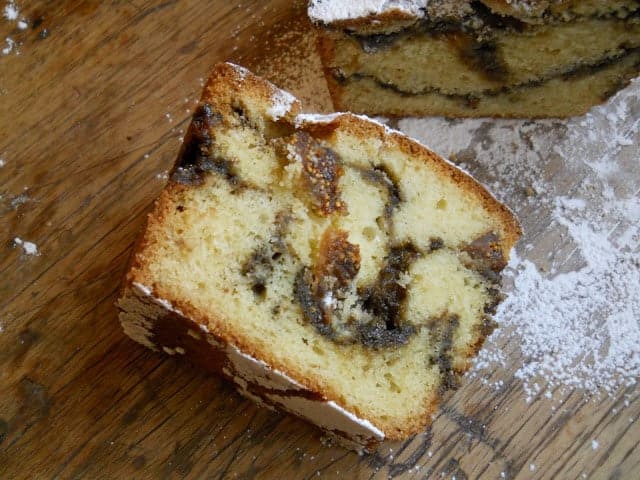 The combination of figs and apricots makes this one of my favorite coffee cakes ever.
I finally slept almost ten hours last Saturday. I had
been going to bed after midnight, somewhere between 1 and 2 am, and waking up
no more than five hours later. It went on for almost a week. You'd think that a
couple of sleep deprived days would be enough, but they kept on happening. The
thing is that I
can
sleep late if I
want, but my brain and body weren't very collaborative. Until this weekend when
out of the blue I finally had my beauty sleep. Being sleep deprived for no reason
makes me cranky and gives me headaches. Well, even if I do have a reason the
results are still the same.
Anyway, I made this wonderful coffee cake yesterday, after I woke up all perky and rested. Studded with figs, apricots and a
wonderful streusel inside. Is there a good coffee cake that doesn't include sour cream? It's like the necessary ingredient, the one that makes it dense, moist and incredibly rich.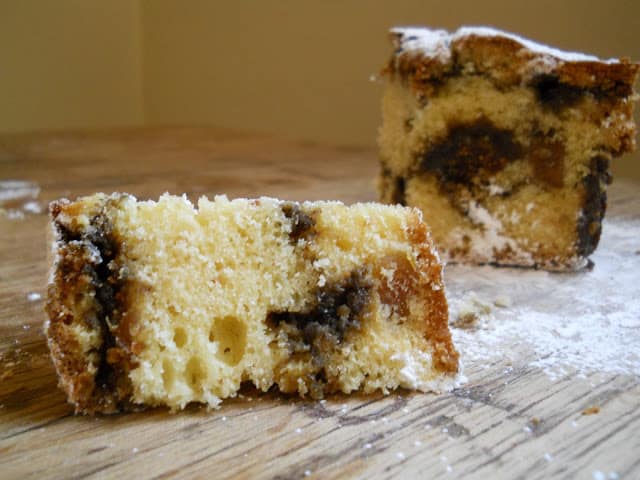 I have a
favorite coffee cake recipe
, one that I found in a book by
Maida Heatter
, that my friend Susan over at
A Cake Bakes in Brooklyn
posted a while ago. So instead of posting about it again I'm linking it, and giving you another great recipe, this time with figs and a slightly different streusel mixture. So now you have two coffee cakes in one post. Lucky you.
I like that the crumbly sugar mixture goes inside the cake, all of it.
There's no final sprinkling on top. The layers inside tend to blur while the cake bakes and when you slice it it's like a roller coaster. There are no defined layers. I like that, you get a different variation in each slice, maybe a lot of apricots and figs and maybe more of the streusel.
It bakes into a slightly tall cake, with what appears to be a leathery and shiny top. It's really unassuming in aspect and fantastic in flavor. Perfect with coffee. But then, I guess there's a reason why it's called coffee cake. Fig and apricot coffee cake.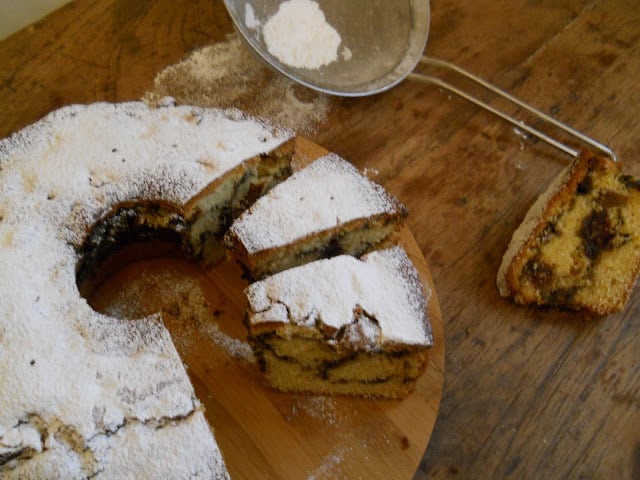 Print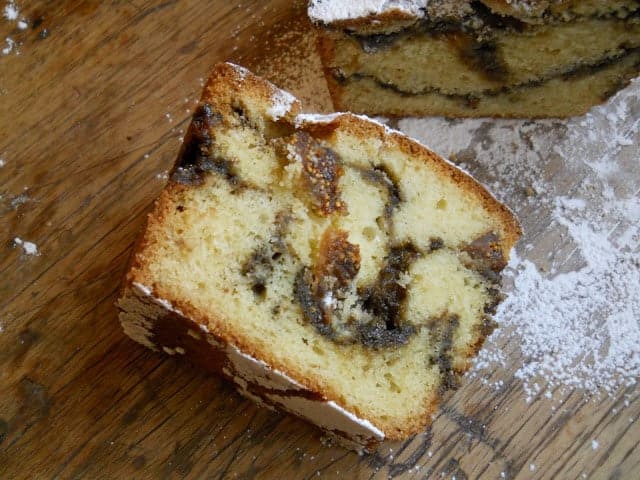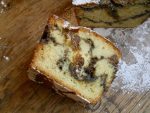 FIG AND APRICOT COFFEE CAKE
---
Description
This batter is dense and has dried fruit and streusel that weighs it down. So be sure it's fully baked before taking it out of the oven. To easily spread the batter use the following trick: dip the back of a spoon in cold water and spread the cake batter with it. Use the wet spoon as many times as you need.
---
For the streusel mixture:
1 cup

200g firmly packed light brown sugar

4

Tbs 60g butter, softened

¼ cup

35g all purpose flour

1 tsp

ground cinnamon
For the coffee cake:
1 cup

dried apricots

1 cup

dried figs

3 cups

420g all purpose flour

1 ½ teaspoons

baking powder

¾ teaspoon

baking soda ¼ teaspoon salt

¾ cup

170g butter, softened

1 ¼ cups

granulated sugar

4

eggs

1 teaspoon

vanilla extract

1 cup

sour cream
Confectioners' sugar (for sprinkling)
---
Instructions
Preheat oven to 350ºF / 180ºC
Grease and flour, or grease and line the bottom with parchment paper, of a 10-inch (24cm) tube pan.
For the streusel mixture:
Combine all ingredients in a small bowl and mix with a fork or hands until crumbly; set aside.
Chop apricots and figs and set aside.
For the coffee cake:
In a large bowl sift flour, baking powder, baking soda and salt.
With a stand mixer or an electric handheld mixer, beat butter until fluffy.
Gradually add sugar and beat well.
Add eggs one at a time and beat for 3 minutes after the last one.
Add vanilla. Mixture might look curdled.
Add flour mixture in three additions alternating with sour cream in two additions.
Fold in apricots and figs.Spoon ⅓ of mixture into prepared pan.
Sprinkle half of streusel mixture over.
Spoon ⅓ of batter on top of streusel, then the rest of streusel and finally the rest ⅓ of batter.
Bake for 55 to 60 minutes, or until a cake inserted in center comes out clean.
Remove pan to wire rack. Let cool for 20 minutes, invert onto wire rack and let cool completely.
Sprinkle with powdered sugar and serve.
---
---