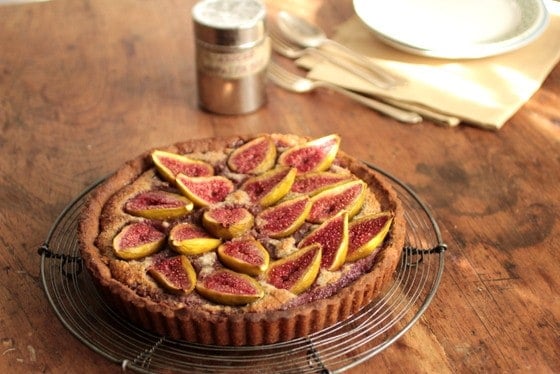 This fresh fig and walnut pie is a dessert made for my mom.
For the scant year and a half that I've had this blog, it's my third time celebrating mother's day and it will be four before the year is over. Since it's always celebrated in the spring, no matter what part of the equator you live on, we take our moms out to party in september, or october, I'm not quite sure now.
I made her a
dark chocolate mousse
last year and a fresh fig and walnut pie today. Why? She's crazy mad about figs which makes this pie the perfect gift for her.
She's more mad about figs than me. Dried, fresh, in syrup, whatever way, she likes them.
.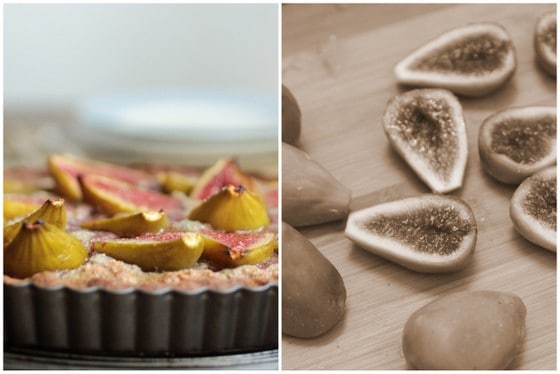 We're having a celebration with the Sunday Supper group, hosted by my friend Heather of Hezzi-D's Books and Cooks, and we made many fantastic recipes for you to share with whomever raised you and helped you be the person you are today.
My mom worked with me for two years at the Café I once had. There were times where it's very fair to say she worked more than me. We were both equally exhausted.
But like only a mother can, she never lost her temper with me the way I did with her. Actually, I lost my temper with most persons at some point, a very unpleasant streak of the gastronomy business.
 .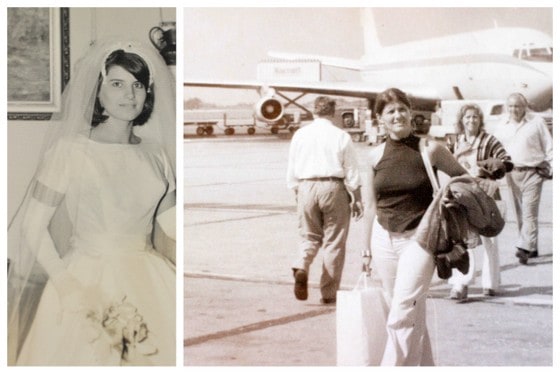 1964 (her wedding) – mid 70´s, arriving from NYC, she thought no one had come to pick her up
I taught Carola how to bake a few things.
That's her name, and she hates that I call her that instead of mom, which I do on purpose of course, and now it's become a personal joke between us, especially since there was a customer who went to the cafe almost every day and had a chocolate colored labrador named like her, and they would sit outside and you would hear 'Carola, sit!' 'Carola, come here!' 'Let´s go Carola', making the other customers look at her puzzled and then laugh.
Everyone loved her, she was the heart of the shop during it's last year.
.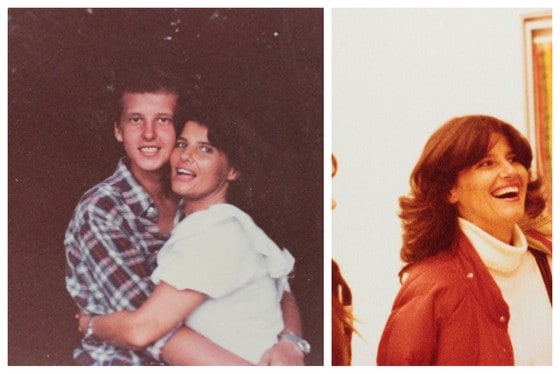 1982/84 With my older brother (he was very sick then). We were living in Palo Alto, California.
The water took away some old pictures, but happily not many, so I'm sharing some of my mom through the decades, so that you know who I'm celebrating today and I get them to a safe place, in case I loose them one day. Life is full of surprises people.
She got married at 19, gasp!, and by the time she was 24 had her three kids, the last two (me and my younger brother) with 11 months difference, so, if you're not into math, it means there is a month when we're the same age, or it also means she got pregnant again when I was less than two months old… gasp again!
I got my nose from her. And that frown in the second picture.
.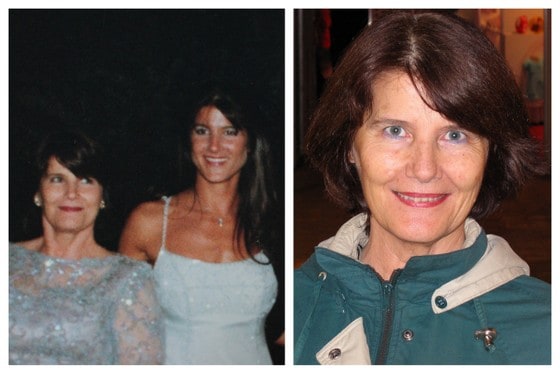 The most recent ones I could find: 1999 (my wedding) and 2005 helping me at a textile exhibition
So much has gone by in her life between the other pictures and these two. But these were happy times.
She's 62 in the one on the right, and can still get away with almost no makeup. My sweet mother.
About the fig and walnut pie that is our concern here, I have two favorite ways to use fresh figs in a pie or tart, and though the classic tart with vanilla bean pastry cream and sweet tart dough will always have a big place in my heart, this version with walnut cream, an adaptation from the almond frangipane, and a graham cracker dough is currently gathering votes and positioning itself right up there.
.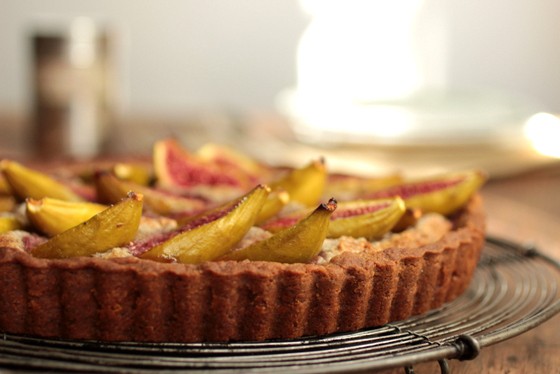 After making graham crackers for the first time, I now keep the dough frozen at all times. Or as cookies in a tin. The flavor is one to beat. It's the perfect one for cheesecakes and also for this fresh fig and walnut pie.
So the dough is pre-baked, then a thick layer of walnut cream is added, and finally the majestic green and red figs are artfully (you can laugh if you want) placed atop before going into the oven and emerging with a not so vibrant color, but with that unmistakable smoky flavor of baked figs, the cookie crunchiness of the graham cracker dough and the creamy walnuts. Oh, and a good pouring of honey on top to make it shiny.
This is good pie people.
.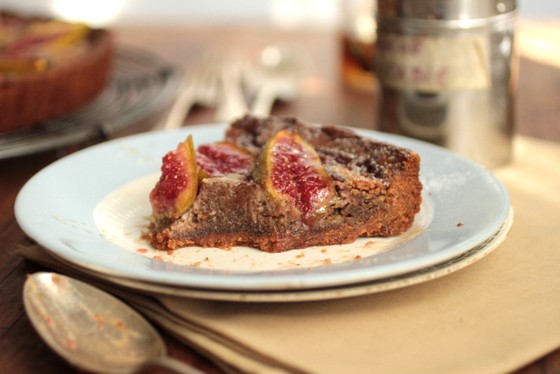 Print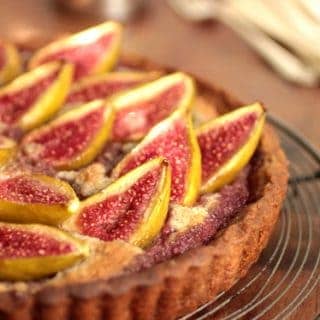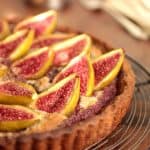 Fresh fig and walnut pie
Yield:

8

1

x
Category:

Dessert
---
Scale
Ingredients
For the crust:
For the walnut cream:
1 ½ cup

s walnut paste (at room tº, see recipe)

4 oz

115g unsalted butter, softened

1

egg

1

egg yolk

4 teaspoon

s flour
For the assembly:
9

or

10

fresh figs

2

Tbs sugar

2

or

3

Tbs honey
---
Instructions
For the crust:
On a lightly floured surface, roll graham cracker dough about ¼ inch or less, to fit a 9-inch round pie plate. The dough might not roll in one neat piece like regular dough does; don't worry, just do it in pieces and patch it in the mold. Refrigerate for 30 minutes.
Preheat oven to 350º about 15 minutes before baking.
Cover cold pie dough with a piece of aluminum foil, fill it with some kind of weight, I used lentils but you can use beans or ceramic marbles.
Bake for 15 or 20 minutes, carefully lift the aluminum foil with the weight, and bake for another 10 minutes or so, until the dough is dry and lightly colored. Let cool on wire rack. Keep the oven on.
For the walnut cream:
In a bowl with a sturdy hand mixer or an electric one, mix walnut paste with butter.
Add egg and egg yolk and then flour. Mix well but just to blend all ingredients completely.
For the assembly:
Wash, dry and cut figs in half.
Pur walnut cream evenly over pie dough, and arrange the half pieces of figs on top.Sprinkle with the sugar and bake for about 30 minutes, until figs are beginning to soften and walnut cream is puffy.
Let cool on wire rack, unmold onto serving plate and drizzle with honey before serving.
---
  .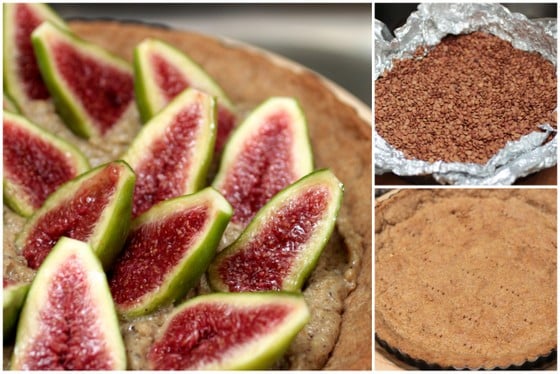 .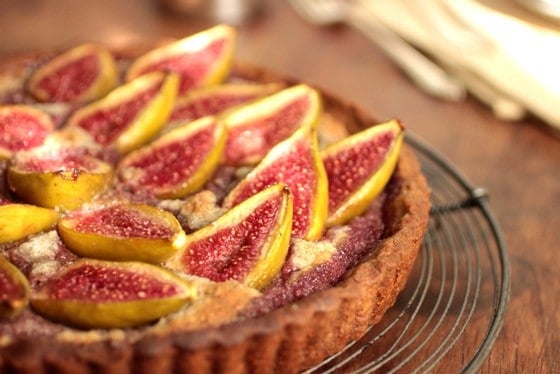 Make sure you take a look at what the rest of the group is sharing today:
Mother's Day Brunch:
Mother's Day Entrees:
Mother's Day Sides:
Mother's Day Desserts and Drinks:
Don't forget to join the #SundaySupper conversation on Twitter today to celebrate Mother's Day!
We'll tweet throughout the day and share our delicious recipes. Our weekly chat starts at 7:00 pm EST. Follow the
#SundaySupper hashtag, and remember to include it in your tweets to join
in the chat.
---