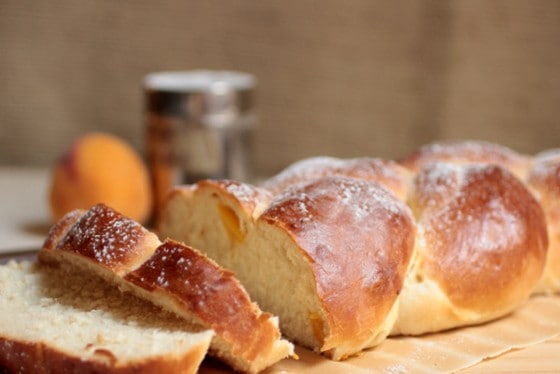 One day, after years of almost forgetting about this recipe, I decided to bake challah, the first bread recipe I ever mastered. I had a peach left in my fridge, and the season was coming to an end. I thought how great it would be to bite into the bread and find some soft, but not jammy, peach stumbles. That's how this peach challah came to be.
The recipe I use yields a lot of challah. So I divided it in two and also made the cinnamon sugar challah that day. And it turns out I'm using both for the Twelve Loaves group, because, after all, we're dedicated to baking bread and sharing it with you, and challah is always welcome.
The group was created by my friend
Lora of Cake Duchess
, and this month the talented
Renee of Magnolia Days
and myself are hosting this event. And you know what? After the recipe you'll find a lot of fantastic bread recipes with some sort of stone fruit. Lucky you.
This recipe is the first real bread I ever mastered, more than fifteen years ago. From the first bread book I ever bought, one I use to this day and find invaluable. For years I kneaded it by hand. Now, I find my kitchen aid mixer invaluable too, ha.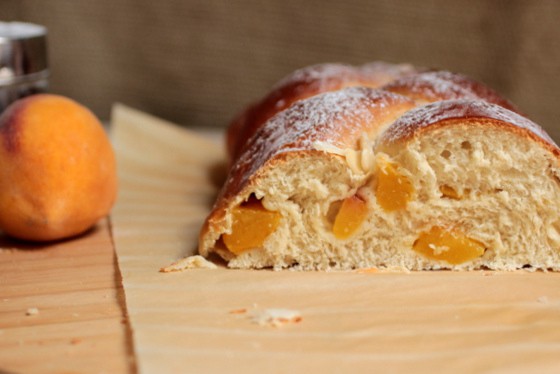 Aren't you happy stone fruit is in season? The golden peaches and nectarines, plump deep purple plums, glorious cherries. Are these last stone fruit or berries? Both? Yeah, I'd like to think both. It suits me better. But sadly for me, it's winter here. No fresh stone fruit in the market.
BUT, I do have frozen cherries, berries and canned peaches in vanilla bean syrup. I'll be cheating all winter, making my kitchen
believe the day outside is warm.
In any case, I took advantage of stone fruit last summer, and besides canning white and yellow peaches, made the plum hazelnut yogurt cake (sugar-free), an amazing peach blackberry brown betty, caramelized fruit with brown sugar ice cream, the best peach chutney ever, a caramelized mango tropical bundt cake.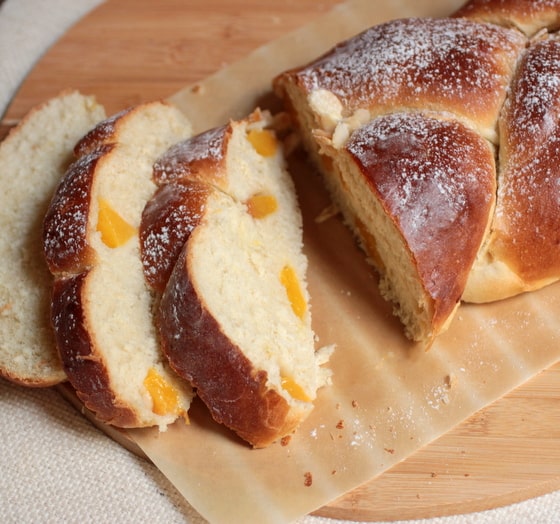 But back to our peach challah here. The dough is the same I used in the gruyere challah and the cinnamon sugar challah, as I already told you. There's no end really to what this dough can take as flavouring. Which is fine with me. I feel about it pretty much the same way I do about cheesecake, I love it, have my basic recipe and can spend days trying out new flavours.
So what I did here was simply stuff the bread pieces with fresh chunks of yellow peaches. Then I closed the dough, pinching the seams and braided it. Free form, as usual. A thicker braid here, a thinner one there.
The dusting of powdered sugar at the end was a slip. I just sprinkled without realizing it was a bread, and a challah specifically, which is usually shiny and smooth. But well, I'm a one trick pony with finishes, and powdered sugar usually does the trick. What did I think I had made? A cake? Anyway, no big deal.
The bread is awesome, sugar or no sugar. My only regret is not adding enough peach chunks inside. There's room there for at least another peach. Your call if you make it.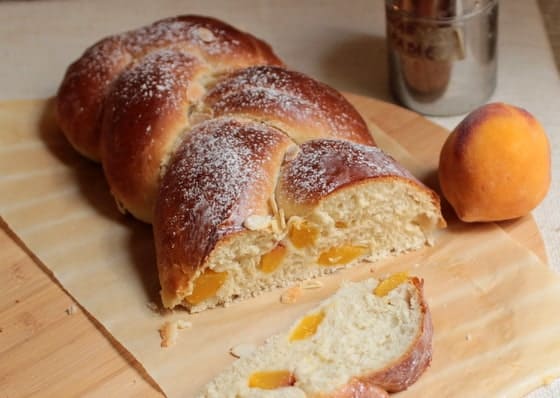 Print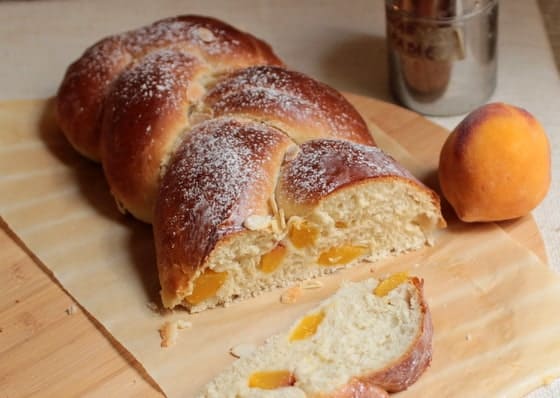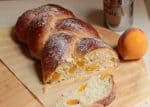 Fresh Peach Challah
Yield:

2

medium braids

1

x
---
Scale
Ingredients
7 ½

to

8

cups all purpose flour

2 ½ cups

warm water

2

Tbs active dry yeast

⅓ cup

+

1

Tbs sugar

3

large eggs (room tº)

½ cup

vegetable oil

2 teaspoons

salt

2

fresh peaches (peeled and cut into chunks)
---
Instructions
In a large bowl or in the work bowl of a stand mixer, place 6 cups of the flour.
Make a well in the center with your hand and pour ½ cup of the water and sprinkle yeast and 1 Tbs of sugar over the water. Stir the water gently to dissolve the yeast (some of the flour will be incorporated) and let stand 10 minutes.
Add the remaining sugar, remaining water, eggs, oil and salt and mix with a wooden spoon or the paddle attachment until a shaggy mass is formed. This dough comes together quickly.
If using stand mixer knead for 6 or 7 minutes, adding additional flour 1 Tbs at a time if needed to form a smooth and springy but not dry dough.
If kneading by hand turn the dough onto a floured surface and knead for 6 to 8 minutes adding additional flour 1 Tbs at a time if needed to form a smooth and springy but not dry dough.
Place the dough in a greased deep container. Turn over to coat with oil, cover with film and let rise in a warm, draft free area until doubled, about 2 to 2 ½ hours. Don't let rise more than doubled.
Gently deflate dough down, cover again and let rise until almost doubled, about 1 hour.
Gently deflate dough. Turn onto a lightly floured work surface and divide in 2 equal portions. Divide each into three pieces. Roll each piece into three rectangles. You´ll have six rectangles. Scatter the peach chunks evenly between all six dough pieces.
Bring together both long ends of a rectangle, enveloping the peaches. Pinch well at the seams and at the ends. Repeat with the rest of the doughs.
Arrange three ropes side by side, pinch together at one end, and then carefully braid. Don't worry if it's uneven. Then pinch together the ends, tucking them under. Repeat with the other three ropes. Transfer the braids to a greased parchment paper that will fit the baking tray. (You can use two papers and baking trays, or keep one braided bread in the refrigerator while you let the other rise. When ready to bake the first one, take the second piece of dough out, and let rise. Bake one at a time).
Transfer the parchment paper carefully to the baking tray.
Cover loosely with some foil or parchment paper and let rise until it´s spongy but not quite doubled, about 45 minutes.
(You can brush an egg wash over the dough, made with an egg yolk and a Tbs of milk, if you want a shiny surface).
Preheat oven to 350ºF / 180ºC about 20 minutes before baking.
Bake for 40 to 45 minutes, until the top is golden and bottom sounds hollow when tapped.
Let cool on wire rack before slicing.
---
adapted form The Bread Bible, by Beth Hensperger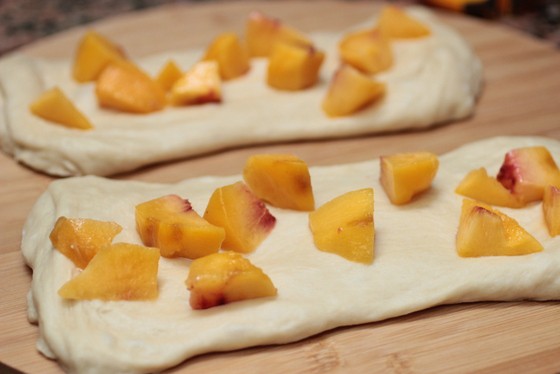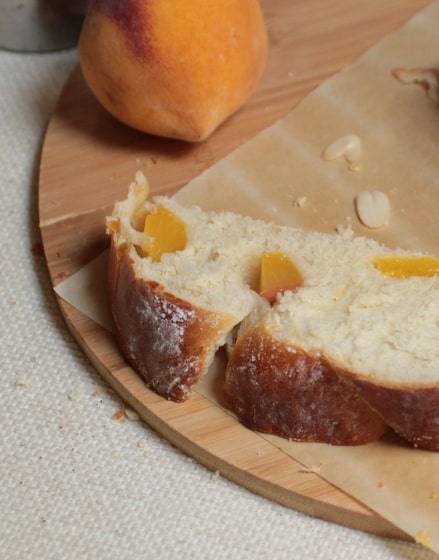 Here's what all the bakers made to share today:
---