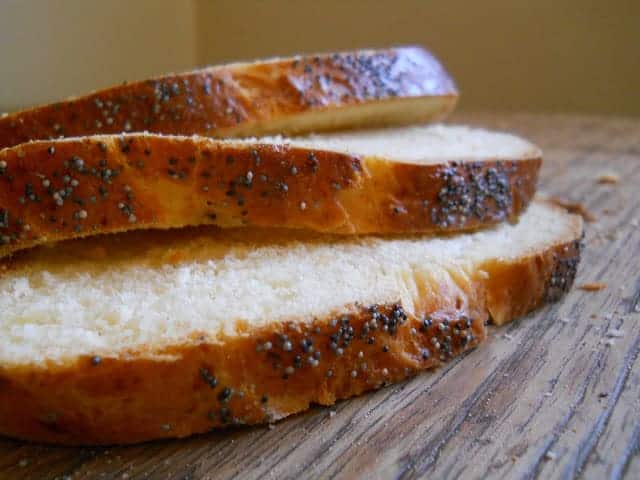 Baking bread can really be a pain if conditions are not good. Right now, I'm having perfect weather for it. Cool, dry days that are still a bit short and invite me into the kitchen.
I have been investigating a few bread with grains and alternative flours. Most are what I would call healthy.
This is not one of them, ha. This is the traditional challah with a twist that includes some grated cheese. Piquant, holed gruyere cheese that is kneaded into the dough.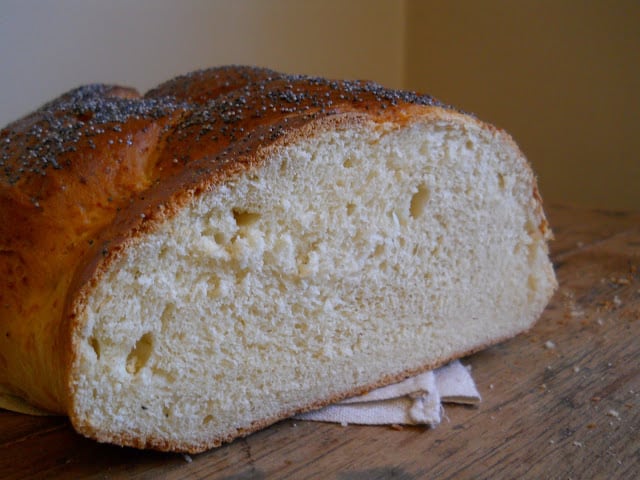 I've made this challah, plain, many times. It's one of the first breads I ever made, back in the time when I didn't have a stand mixer. It's not hard at all to knead by hand, but it takes a bit of muscle work. Since it had been a while, I didn't even read the braiding instructions completely and ended up making just one 3-strand braid.
Let me tell you that this whole recipe makes for one humongous bread. It's big going into the oven, and since it raises a lot, you will have a ridiculously big bread coming out. Not bad at all, depending on what you want.
But I'm just warning you in case you're like me and never read things with the attention required. Nasty habit I know.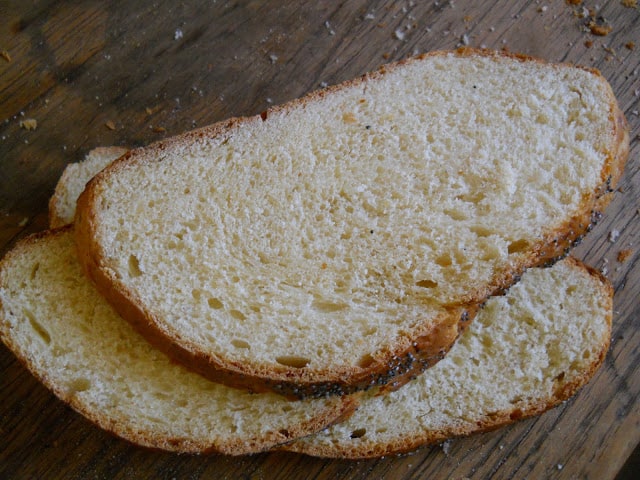 I took half of it over to a friend's house where I was invited to a barbecue. I cut it into thick slices and we grilled it alongside chorizo, blood sausage, flank steak and chicken legs. It was really good, with a nice crumb and faint cheese flavor.
I'll be making some grilled ham and cheese sandwiches with slices of this tomorrow. I think it'll be just the bread for that.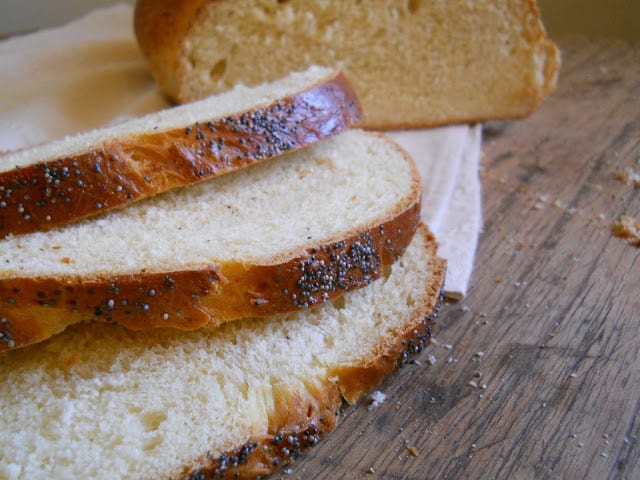 Print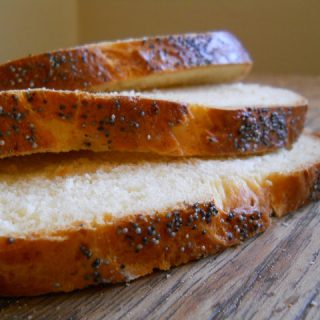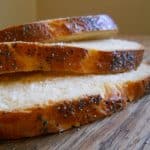 GRUYERE CHALLAH
Yield:

2

medium braids

1

x
---
Description
There are step-by-step pictures of challah making over at Savoring Italy.
---
Scale
Ingredients
7 ½

to

8

cups all purpose flour

2 ½ cup

s warm water

2

Tbs active dry yeast

1/3 cup

+

1

Tbs sugar

3

large eggs (room tº)

½ cup

vegetable oil

2 teaspoon

s salt

2 cup

s Gruyere cheese (grated)
Egg Glaze:
mix

1

egg yolk with 1 or

2

Tbs milk

2

Tbs poppy seeds
---
Instructions
In a large bowl or in the work bowl of a stand mixer, place 6 cups of the flour. Make a well in the center with your hand and pour ½ cup of the water and sprinkle yeast and 1 Tbs of sugar over the water. Stir the water gently to dissolve the yeast (some of the flour will be incorporated) and let stand 10 minutes.
Add the remaining sugar, remaining water, eggs, oil and salt and mix with a wooden spoon or the paddle attachment until a shaggy mass is formed. This dough comes together quickly.  
If using stand mixer knead for 4 or 5 minutes, adding additional flour 1 Tbs at a time if needed to form a smooth and springy but not dry dough. Add the cheese and mix for 1 or 2 more until well incorporated.
If kneading by hand turn the dough onto a floured surface and knead for 6 to 8 minutes adding additional flour 1 Tbs at a time if needed to form a smooth and springy but not dry dough. Add the cheese and mix for 1 or 2 more until well incorporated.
Place the dough on a deep greased container. Turn over to coat with oil, cover with film and let rise in a warm, draft free area until doubled, about 2 to 2 ½ hours. Don't let rise more than doubled.
Gently deflate dough down, cover again and let rise until almost doubled, about 1 hour.
Gently deflate dough. Turn onto a lightly floured work surface and divide in 6 equal portions.
Knead each piece into a rope, of equal size and shape, coating lightly with flour to ensure a better shape when baking.
Make 2 three-strand braids and put on a cornmeal or semolina dusted parchment paper.
Cover loosely and let rise 30 to 40 minutes.
Preheat oven 20 minutes before baking. When ready to go into the oven, brush bread with the egg glaze and sprinkle with poppy seeds.
Bake for 40 to 45 minutes, until very golden and bottom sounds hollow when tapped with your fingers.
Let cool on wire rack before slicing.
---
---