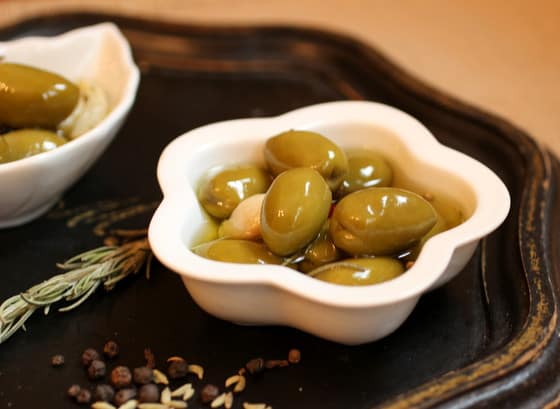 We're making Herbed Olives with our FFWD group. 
In moments where enough time is always eluding us, elaborate gatherings are not easy to put together and there's always something pressing, marinating is a wonderful technique for the food enthusiast. If you sterilize jars properly, you can even
have gifts at a moment's notice.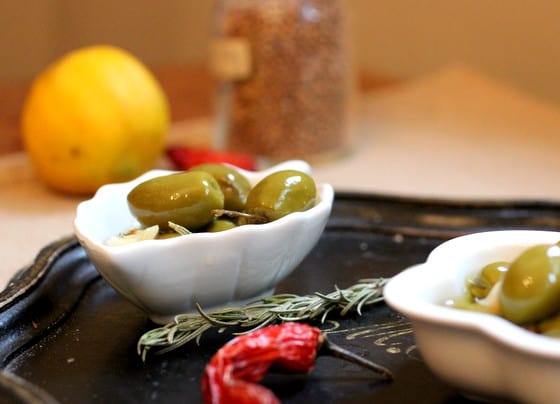 These olives take little time to prepare provided you have the ingredients ready. Olive oil is barely heated in a pan and spices, herbs and citrus peel is added, heated until fragrant and then poured onto olives that are waiting patiently in a bowl or jar.
The spices include black peppercorns, coriander, fennel seeds and red chili. The herbs are rosemary, bay leaves and thyme. The citrus are lemon and orange peels. And garlic of course. All very conventional, known to go well together and, in my case, already in my regular pantry, ingredients.
Dorie
suggests serving them after eight hours marinating, though I think they are better after days of waiting. The flavors meld together and get so much deeper.
And the oil itself might even be better than the olives.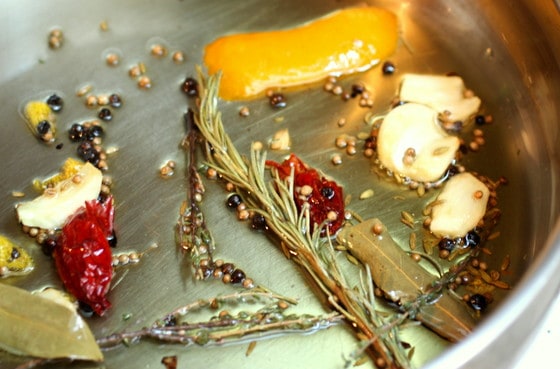 I love this kind of easy appetizer. It can get quite impressive if you add some good warm bread, fresh mozzarella, some sliced salami or thinly sliced prosciutto and a nice red wine. Or white or whatever you like to drink. This is the thing with mediterranean flavors, they are a crowd pleaser and easily available.
I really like olives, really, a lot. So I'm keeping some in my fridge. Just in case I have company.
Like yesterday, my father dropped by to pick up some things and left with marinated olives. Was he happy.
You can find the original recipe here.
---