My fourth, and last but not least, guest post, comes all the way from Vancouver, so it's fair to say it traveled across the world, north to south to get here.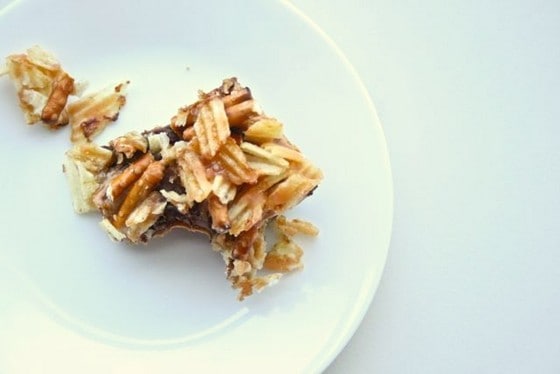 Nancy, from Gotta Get Baked, makes my top 10 list of favorite food bloggers, any day.
She's not only a talented baker, which is what brought us together in the first place and there's enough proof in her chocolate gingerbread eggnog cake or a towering coconut raspberry cake , but a smooth storyteller, with hilarious anecdotes and friendly sarcasm, just my kind of girl.
And she made us junk food magic bars! How can I not love her? I only wish guest post came with samples.
Beware, these bars are addictive, as anything worth its brown butter is.
And here our food minds intertwine, because I have an unopened packet of pretzels, that I bought months ago while thinking how great it would be to make magic bars with a pretzel base. A little salty with all the sweet.
Well it turns out Nancy's first response to my cry for help was to answer she'd happily guest post and she said she knew exactly what she wanted to make, but never told me what it was. And a few weeks later these bars appear, and way better than the ones I had envisioned. They have potato chips also. How about that? Leave it to Nancy to layer decadence many times over.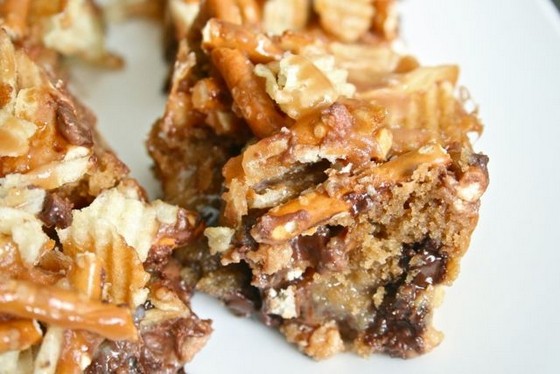 Hello, all you fabulous readers of Vintage Kitchen Notes!
I'm Nancy of Gotta Get Baked and I'm incredibly honored to be guest posting for the lovely Paula today. I blog from my little corner of the world in Vancouver, B.C., Canada, pretty far from Buenos Aires.
I had the privilege of meeting Paula through our Sunday Supper family back in the summer of 2012 and I count myself extremely lucky for having done so. This lady is amazing.
She's sweet, kind, thoughtful, hilarious, and genuine. I come back to Paula's blog again and again not only because she makes the most delicious food but more importantly, for the written content of her posts.
She continually has something interesting, thought-provoking, and timely to say, often prompting me to laugh out loud or nod along in agreement with her wisdom.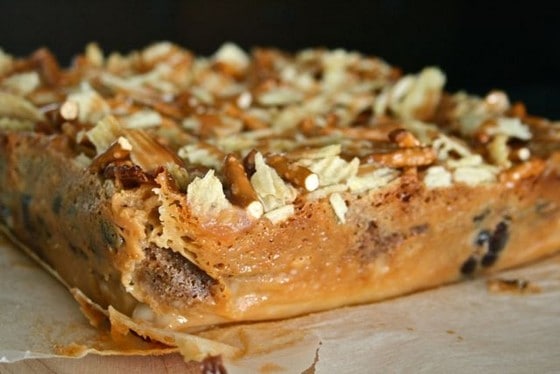 Paula has been dealing with terrifying torrential rain and flooding in Buenos Aires.
Sadly, many people have lost their lives, been injured, and have seen their homes and property destroyed by this force of nature.
Thankfully, Paula emerged unharmed and is in the process of cleaning up her home. I wish I lived closer to her and could physically help in whatever way she needed, be it rolling up my sleeves and cleaning alongside her, cooking meals so that she wouldn't have to, or just giving her hugs and a shoulder to lean on.
I tried thinking of something crazy and over the top for this post because Paula is fearless. She takes chances. For all you long time readers, you know that she ran a cafe that she recently sold and that she has her own line of beautiful handmade textiles. Entrepreneurs are special (I say that because my husband is the same way - he's very business-minded and is always starting up new and exciting projects).
I wish I had some of that feisty spirit but for now, I'm only fearless in the kitchen. I bring you Junk Food Magic Bars because what can be more comforting than delicious food that you know is bad for you?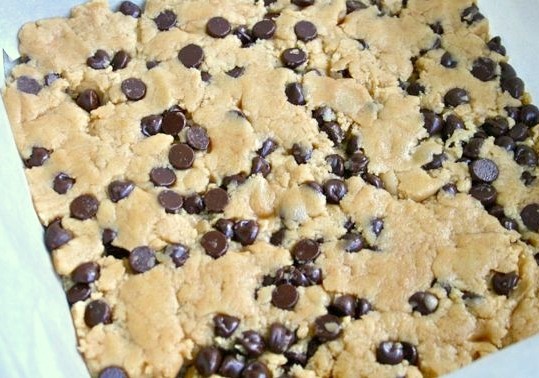 I started with a base of brown butter chocolate chip cookie, adapted from the fabulous Kayle of The Cooking Actress. Kayle is a huge fan of browned butter and I constantly drool over her recipes employing this magical ingredient. I mention this because it was my first time browning butter and I'm completely smitten.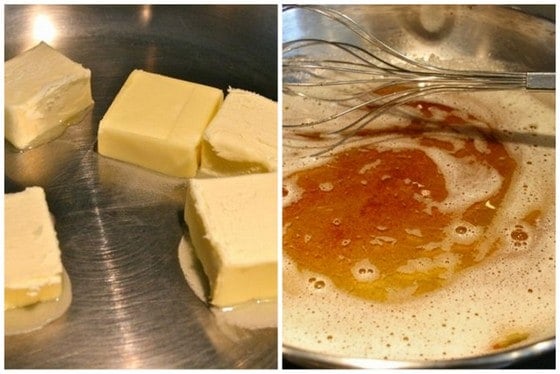 I baked the cookie base for 10 minutes, pulled the pan out of the oven, and then poured a can of condensed milk over top. I then spread Toffifee candies over the condensed milk. For those of you who don't know what Toffifee is, it's a small bite-sized caramel candy from Germany. It has an outer layer of nougat, middle layers of caramel and chocolate with a hazelnut tucked inside. In other words, they're freaking delicious.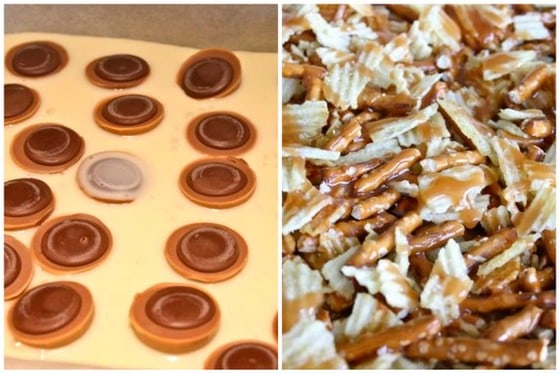 I baked that for ten minutes then pulled the pan out of the oven again. I topped the whole shebang with crushed pretzels and wavy potato chips, then drizzled it with homemade caramel. I then baked it for 20 minutes more.
Crazy? Perhaps. Delicious? Oh yes!
Ok, now that I've typed all this out, it looks like a ton of work. It really isn't. Even if it were, it's worth the trouble, trust!
The cookie base and the cooked condensed milk are sweet and gooey. Then you get the chewy nougat of the Toffifee and the addictive, salty crunch of potato chips and pretzels. One bite of this has everything you could want in a trashy, junky snack. I think it's best enjoyed the day of baking as I found that the chips and pretzels softened a bit the next day. Did that stop me from
eating it? Heck no.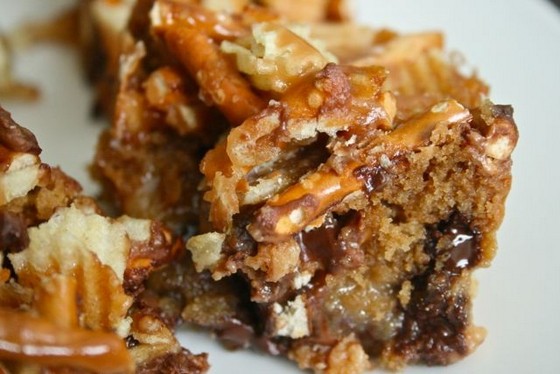 A huge thanks to my friend Paula for having me here today. I can't wait to meet you in person one day. For now, let's enjoy cookies loaded with crazy calorific toppings.
This is for you, my dear friend Paula. I hope you enjoy it!
Print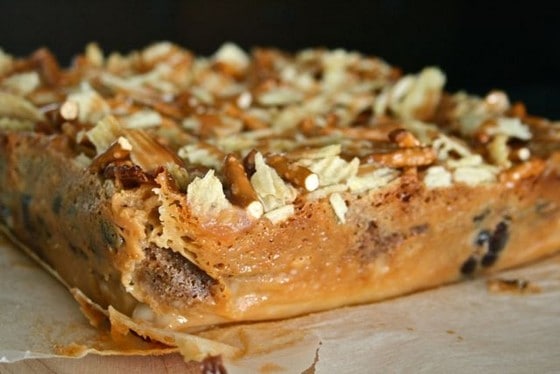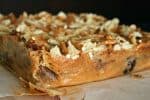 Junk Food Magic Bars
Author:

Nancy Gotta Get Baked

Prep Time:

20

Cook Time:

30

Total Time:

50 minutes

Yield:

12

bars

1

x

Category:

Desserts

Method:

Baking

Cuisine:

American
---
Description
Sweet and delicious, this is a loaded magic bar recipe that you will love!
---
For the brown butter chocolate chip cookie base:
½ cup

unsalted butter (browned)

½ cup

light brown sugar (packed)

¼ cup

granulated sugar

2 teaspoon

vanilla extract

1

egg

1 ½ cups

all purpose flour

½ teaspoon

baking soda

½ teaspoon

salt

1 cup

semi-sweet chocolate chips
For the toppings:
½

can condensed milk (I used a full can which I think is too much. Next time, I would only use

½

can and I recommend you do the same)
Toffifee or any other chocolatey/caramelly candy you want wavy regular potato chips (I used Ruffles because they're thick 'n sturdy)
pretzels
caramel (you can make it or use storebought)
sea salt for sprinkling over top (optional)
For the caramel:
2 cups

granulated sugar

½ cup

water

1 ½ tablespoon

light corn syrup

⅔ cup

whipping cream

2 tablespoon

unsalted butter (room temp)
---
Instructions
For the brown butter chocolate chip cookie base:
Preheat your oven to 350 degrees F.
Line a square baking pan with parchment paper, cutting the paper long enough so that it sticks out over the side. This will allow you to pull the bar easily out of the pan. Set it aside.
To brown the butter, cut it into pieces and melt it in a small saucepan or pan over medium heat.
Whisk constantly - the butter will start to foam and you'll see little brown bits form at the bottom of the pan. As soon as the bits turn amber, remove it from the heat (I made the mistake of keeping it on the heat and the butter burned *smacks hand on forehead*).
Immediately pour the browned butter into a bowl and let it cool.
Once the butter is cool, add in the sugars, vanilla and egg. Whisk to combine.
Mix the flour, baking soda and salt into the wet ingredients. The dough will be very thick. Add in the chocolate chips. Press the cookie dough into the parchment paper lined pan.
Bake in the oven for 10 minutes. Remove the pan and pour in the condensed milk. Top with your candy of choice. Place back in the oven and bake for 10 minutes.
For the topping:
Remove the pan from the oven and add the pretzels and potato chips. I didn't put any measurements for these items because you should use as much as you want.
Drizzle liberally with caramel. Place back in the oven and bake for 20 minutes.
Watch to make sure the topping doesn't burn (I didn't have any trouble but I can see it happening if your oven is very hot). If the topping is starting to look a bit dark, cover with tin foil and continue baking.
Remove from the oven and allow to cool completely. Sprinkle the top with sea salt if you want (I did because I really love the sweet and salty contrast).
I started cutting into it way too early (about two hours after it came out of the oven) and it hadn't fully set yet, meaning I mangled the inside of the bar. I'd say wait at least four hours.
For the caramel:
Place the sugar, water and corn syrup in a medium heavy-bottom saucepan. Stir to combine.
Turn the heat up to medium-high. Heat, without stirring, until the caramel turns a deep amber. This will take anywhere from 10 to 20 minutes (I must've had my heat on lower than I thought because it took me about 20 minutes).
As the sugar caramelizes, use a wet pastry brush to wide down the sides of the pan so that any spatters don't burn.
As soon as the sugar is a dark, deep, golden amber color, turn the heat down and slowly add the cream and butter. The caramel will sputter like crazy so be careful as you're stirring.
Stir to calm the caramel down and make sure all the lumps are dissolved. Take the pan off the heat and allow to cool.
---
Notes
This recipe makes a lot of caramel, approximately 1 ½ cups. You likely won't use all of it for this recipe. I suppose you could cut the ingredients by half and make less, but who ever complains about having too much caramel?
Keywords: junk food magic bars
base slightly adapted from The Cooking Actress
caramel from Baking from my Home to Yours, by Dorie Greenspan
---