Quiche is a fancy tart, with a buttery crust and a rich creamy filling. Mushrooms and leeks make this recipe an extraordinary one, full of flavor and a wonderful dish to have frozen at all times!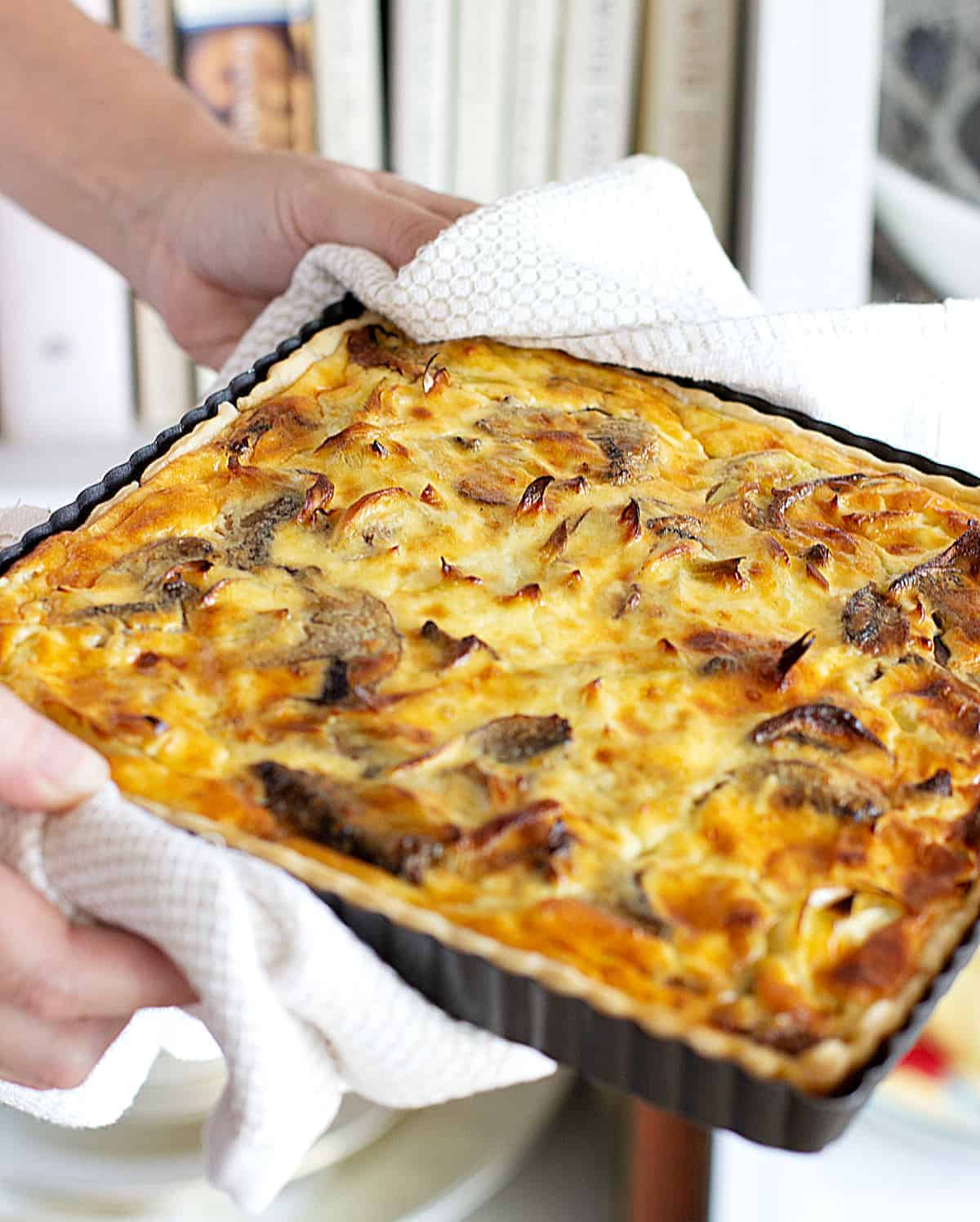 Originally published in 2012, it has been updated with images, text, and recipe to serve you better.
I'm very used to making quiche, or thin tarts, and this mushroom leek version is one of my favorites. Who doesn't like mushrooms and homemade pastry, right?
I added leeks to the mix.
Why? Because they really go perfectly together. As far as flavors that pair well, these two get the job done, and really well.
The thing about quiche is pretty much like frittata or risotto: it's the perfect way to clean your fridge of odds and ends. Vegetables and cheeses, deli meats, anything and everything can go into a quiche.

Vintage Kitchen Tip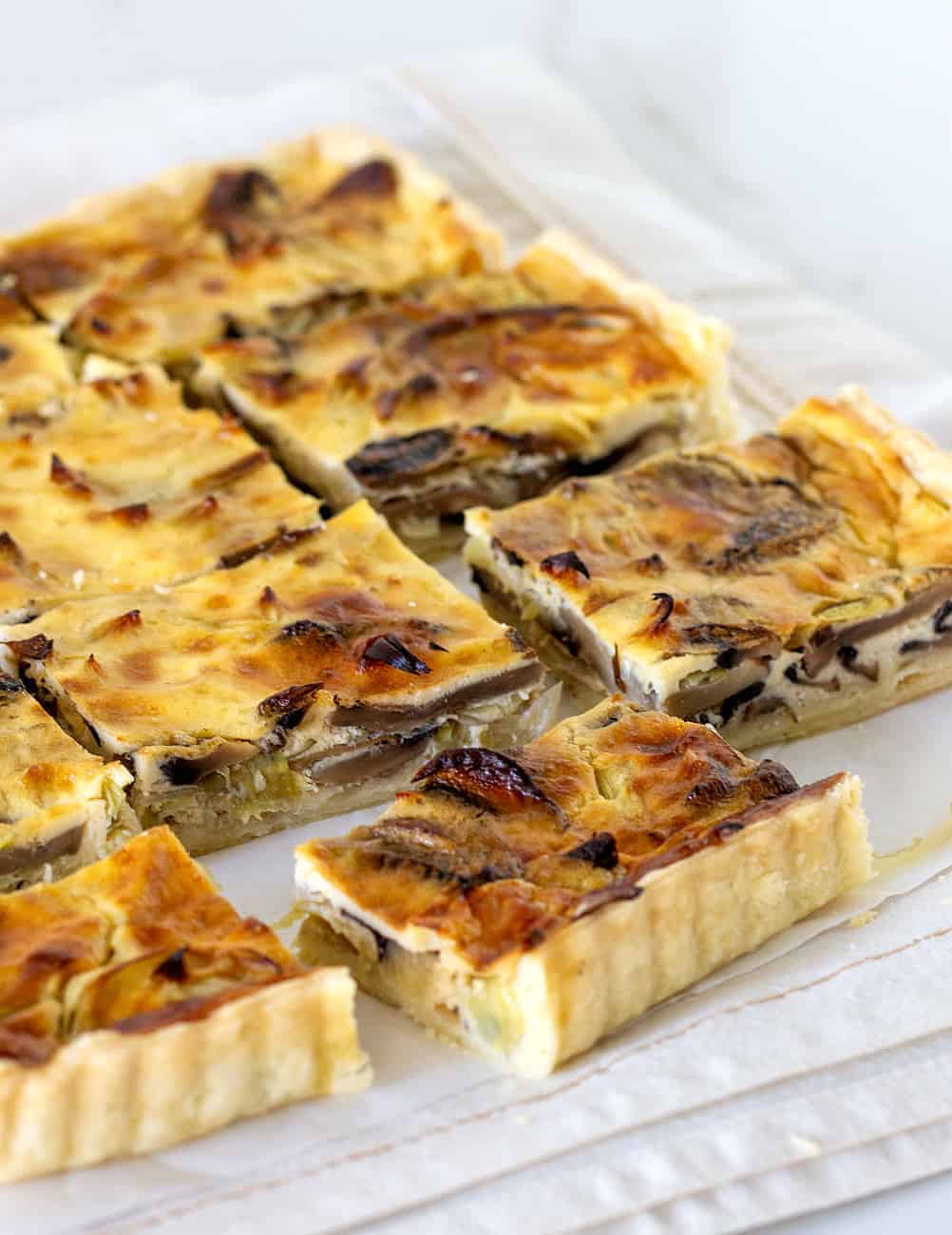 What is quiche?
Quiche is a French word for tart, which is different from a pie in its height mostly. It has 3 main components: crust, binding cream, and add-ins.
The crust
An all-butter quiche pastry is best and homemade is highly recommended. The French pate sablée is the most common one.
My go-to quiche dough has only four ingredients, flour, salt, butter, and ice water (image below).
I know it as Shortcrust Pastry (or Pie Crust) and there's a whole post devoted to it.
The binding cream
This is essentially the glue that makes it all come together.
Traditional recipes for this part have lots of cream and many times include grated cheese.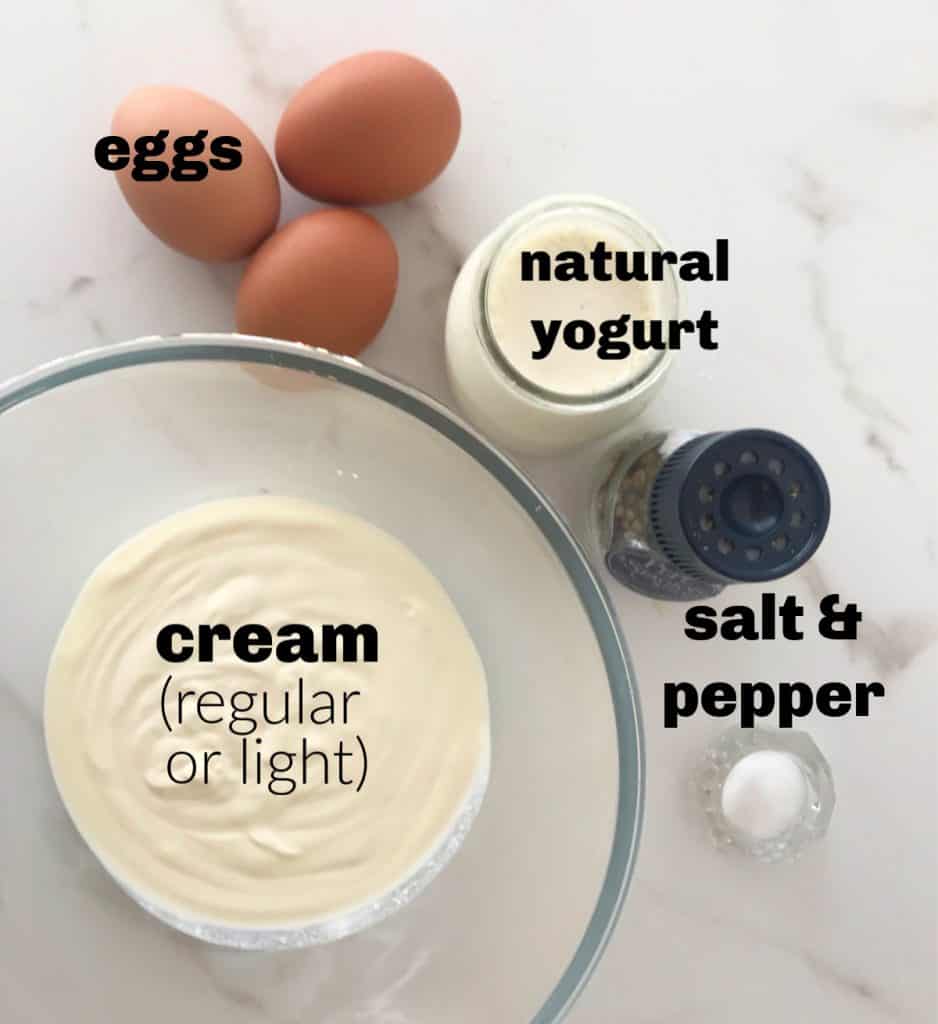 I have streamlined it and now have the best recipe which involves natural yogurt. Only 5 ingredients including salt and pepper (image above).
And no cheese. I use it in the add-ins if it's part of the filling - which in this mushroom leek quiche is not.
The binding cream is added after the add-ins (image below).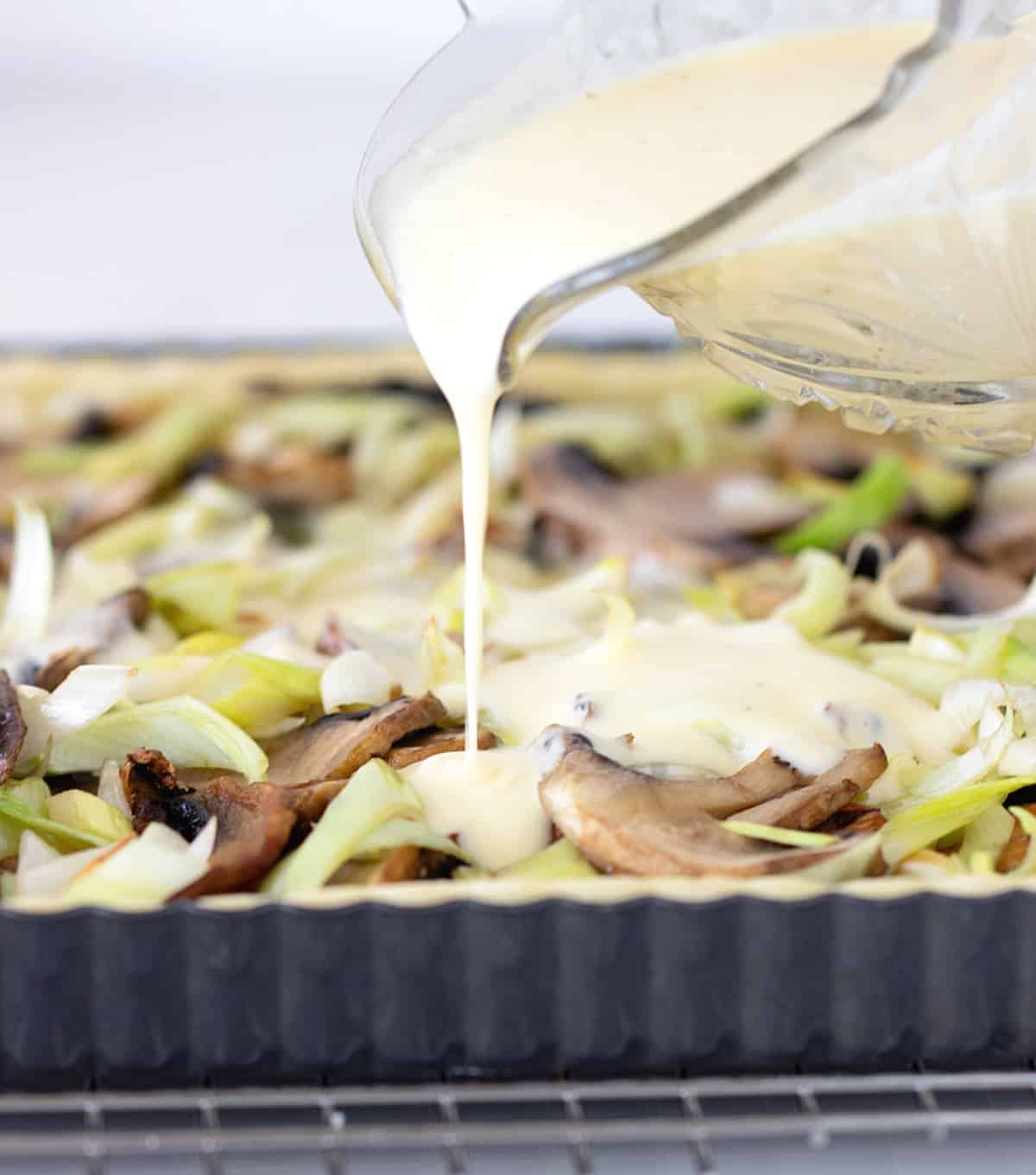 The add-ins
The filling is simple and I never follow quantities. But for the sake of this recipe, I did, of course.
I use mushrooms and leeks because they are awesome together. But you can use green onions or shallots and the results will also be great.
How to cook the vegetables
In the oven: my favorite way and how I cooked them for this recipe (image above). Drizzled with some olive oil in a baking pan until they are softened but still crunchy. This is important because they will continue cooking in the oven once the quiche is assembled.
On the stove: I just melt butter and some olive oil, and throw in coarsely chopped leeks, add salt and pepper, cook for a minute or so, then add chopped mushrooms, turn on the heat to high, and it's done when the mushrooms are brown and no liquid remains.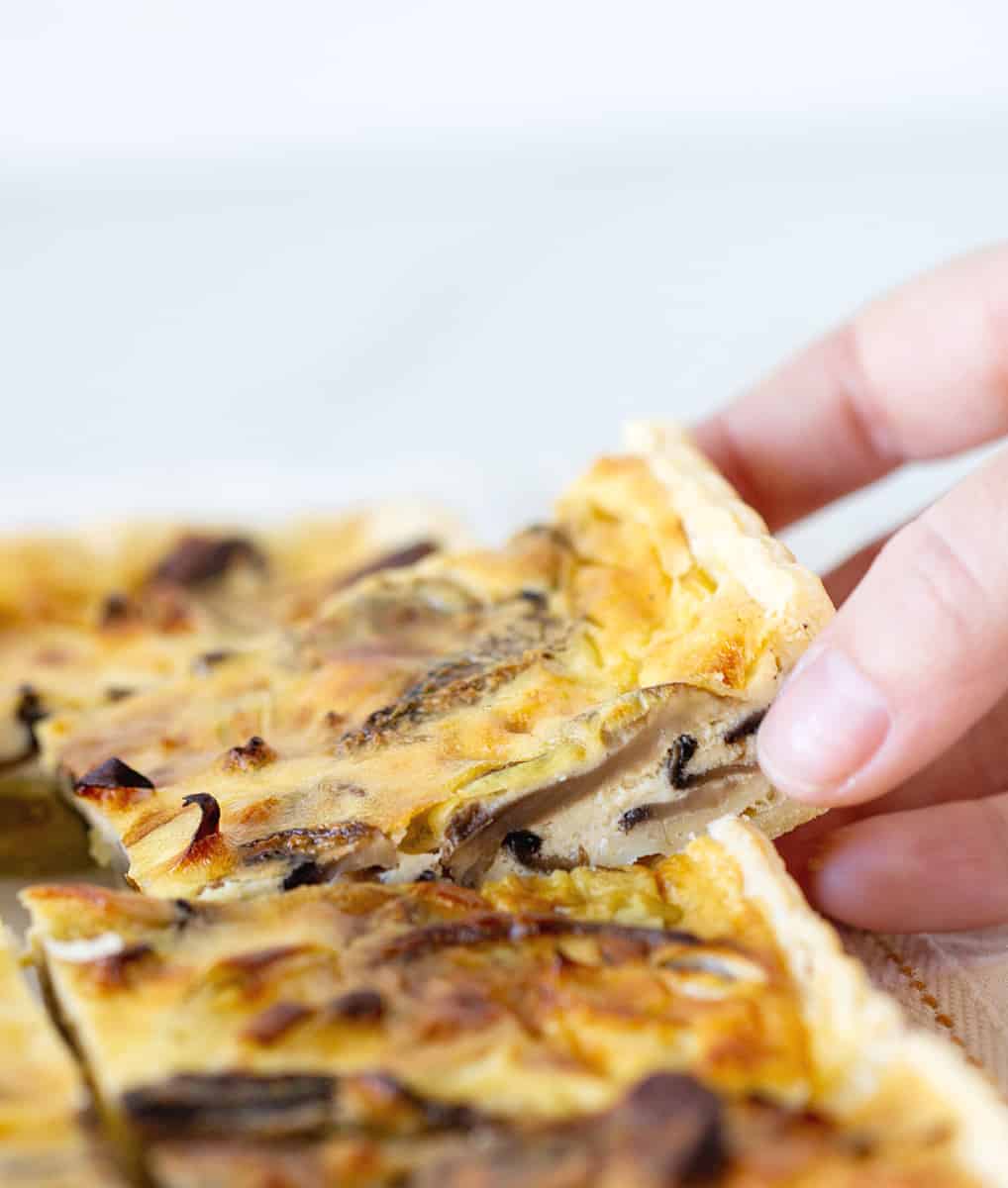 It is very important not to use watery ingredients when making quiche, as the result will be soggy. And soggy is no good. Nobody likes a soggy tart.
Quiche is the perfect thing for a lunch together with a salad, for a picnic, for a buffet table and, if you make them bite-size, it's the ultimate appetizer to eat while you mingle holding a cocktail in your other hand.
So this is one of my favorite foods for New Year's eve parties. Because it is amazing at room temperature as finger food!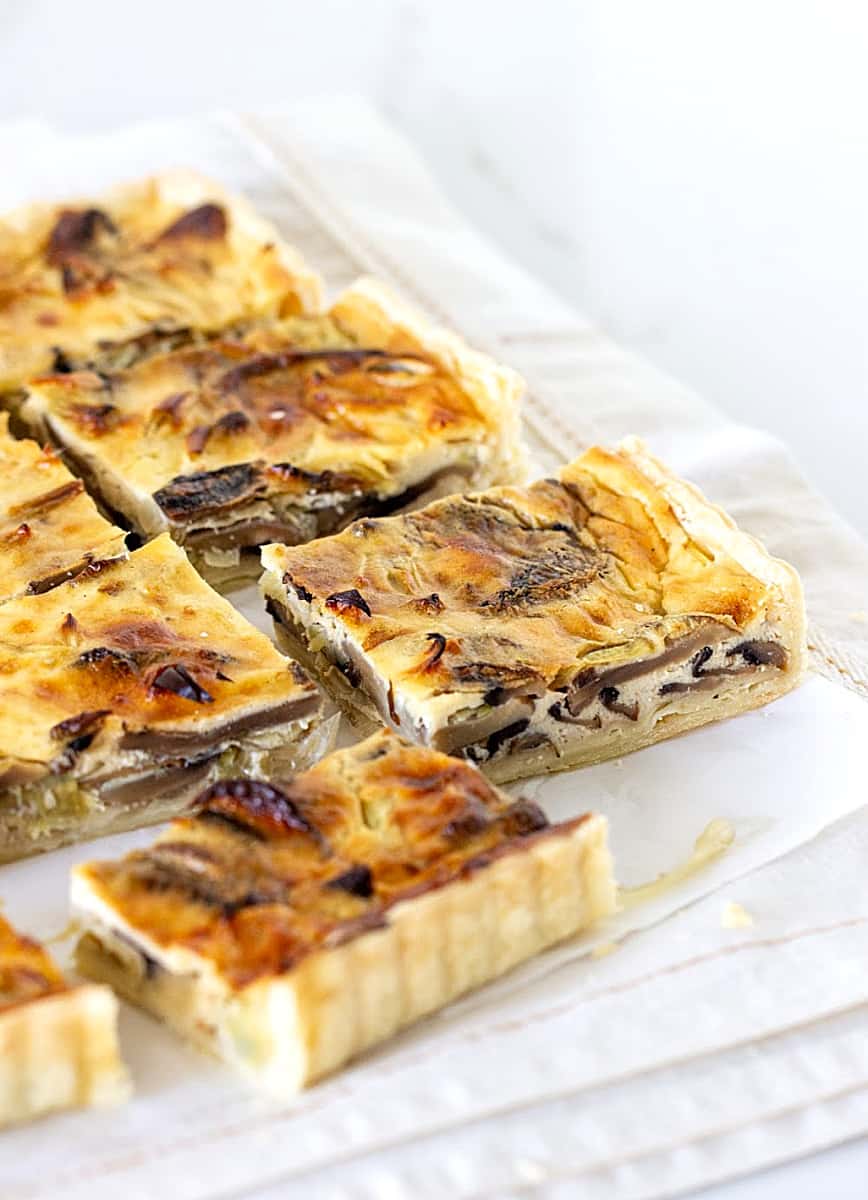 ---
Related recipes you might like:
---
Let me know in the comments below if you made this recipe and loved it, and if you had issues, so we can troubleshoot together. I love to hear what you think, always. Thanks for being here, it's much appreciated.
You might also consider subscribing to our FREE email series to Boost your Home Baking Skills! And our regular newsletter.
And let's connect via Facebook, Instagram, and Pinterest.
Print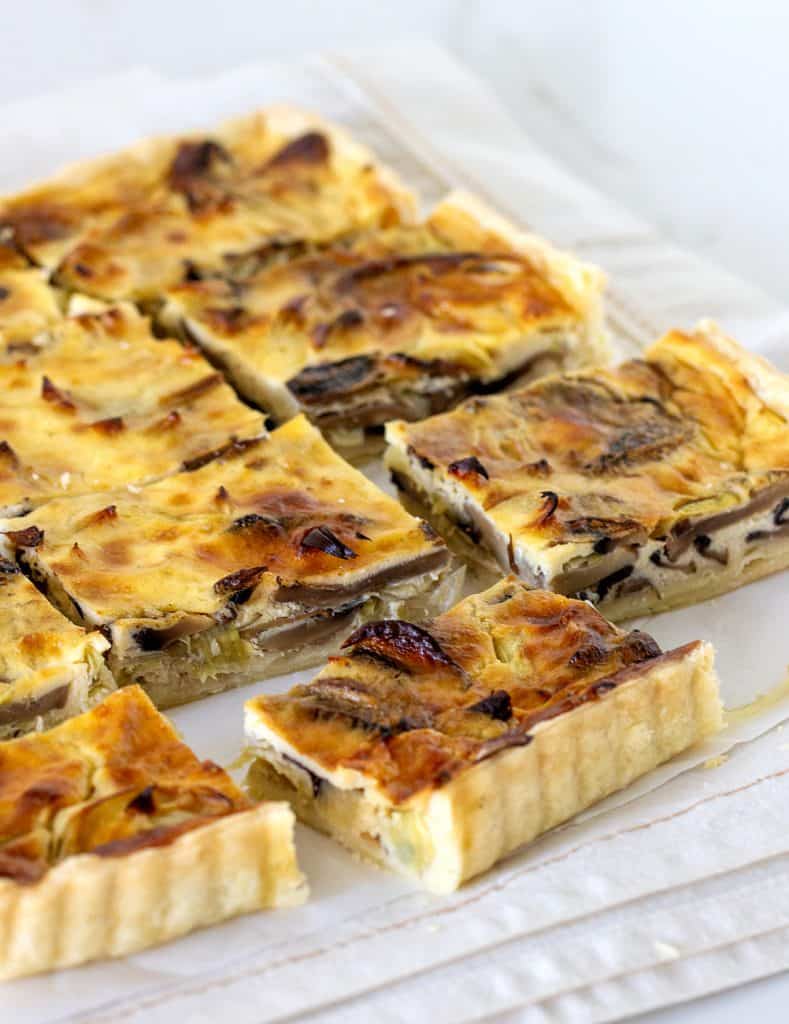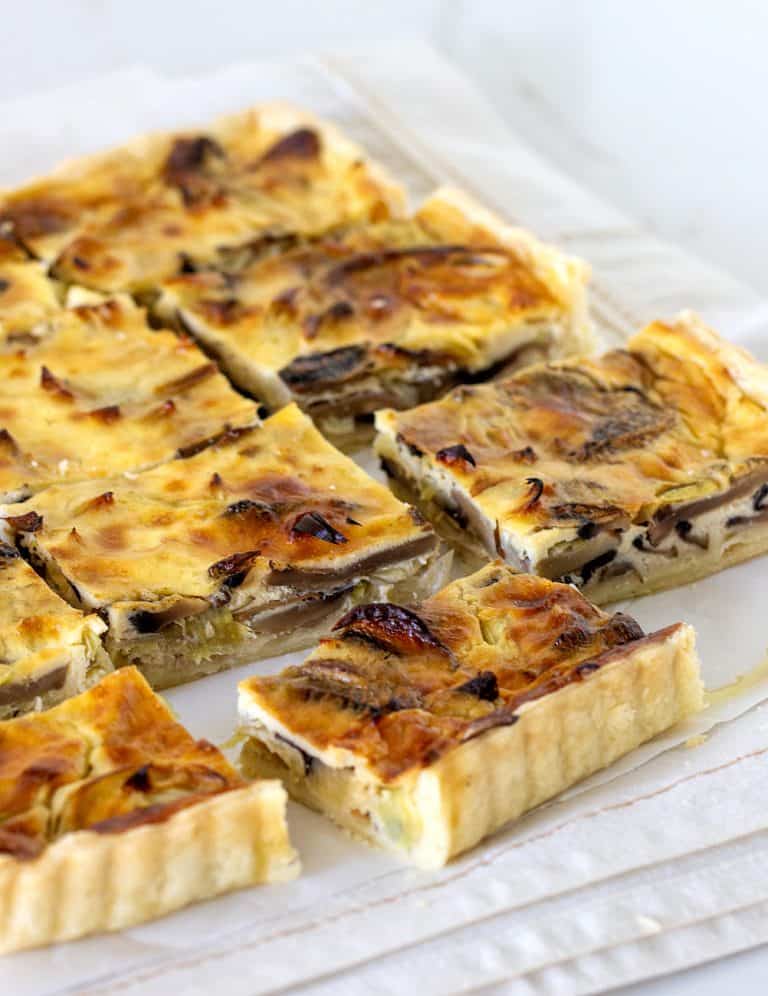 Mushroom Leek Quiche
Quiche is a fancy tart, with a buttery crust and a rich creamy filling. Mushrooms and leeks make this recipe an extraordinary one, full of flavor and a wonderful dish to have frozen at all times!
The filling in this recipe is for a 9-inch square or round pan with removable bottom. But you might have leftover pie crust.
Total Time:

1 hour 5 minutes

Yield:

8

servings

1

x
This recipe is for 9-inch square or round pan with removable bottom
1 recipe for Shortcrust Pastry (or Pie Crust) Or use a commercial pie crust, all-butter is better.
For the filling:
14oz

(

400g

) portobello or white cap mushrooms, sliced

2

large leeks, white and light green parts only (about

2 cups

sliced)
Salt and black pepper
For the binding cream:
¾ cup

(

190g

) natural yogurt (or Greek)

¾ cup

(

190g

) whipping cream

3

eggs, room temperature
Salt and pepper, to taste
Instructions
For the crust:
Make shortcrust pastry according to the recipe in the post linked above.
Blind bake (pre-baking) according to instructions in the link above, and reserve. Leave the oven on.
For the filling:
Preheat the oven to 350°F /180°C.
Wash, dry, and thinly slice leeks. Clean and slice whole mushrooms.
Put them in a lightly oiled baking pan and bake for about 15 minutes, until beginning to soften. You do not want to completely bake them at this point.
For the binding cream:
In a large bowl mix cream and yogurt until combined with a wire whisk or spoon. No need to use an electric mixer.
Add eggs and mix until well combined but without beating. We don't want to beat the eggs much, only combine them well.
Add salt and pepper and mix. I suggest you taste it and adjust seasonings. It should be somewhat salty. Remember the mushrooms and leeks are cooked without salt.
To assemble the quiche:
I recommend filling the quiche dough near the oven.
Scatter the mushrooms and leeks at the bottom.
Slowly add the cream covering the whole surface. Don't overflow the walls of the quiche, but they will fill completely.
Bake for 35-40 minutes, until puffed and golden.
Let cool on a wire rack for a few minutes and eat.
Or eat at room temperature.
Notes
Make-ahead: let cool completely on a wire rack after taking the quiche out of the oven. Wrap in plastic and refrigerate for 2-3 days. Or freeze, well wrapped, for a month.
Serving: choose to serve it hot, straight from the oven or at room t° as finger food. It travels well for picnics and is amazing as part of a brunch table.
Author:

Paula Montenegro

Prep Time:

30

Cook Time:

35

Category:

Pies & Tarts

Method:

Baking

Cuisine:

International
Keywords: mushroom quiche