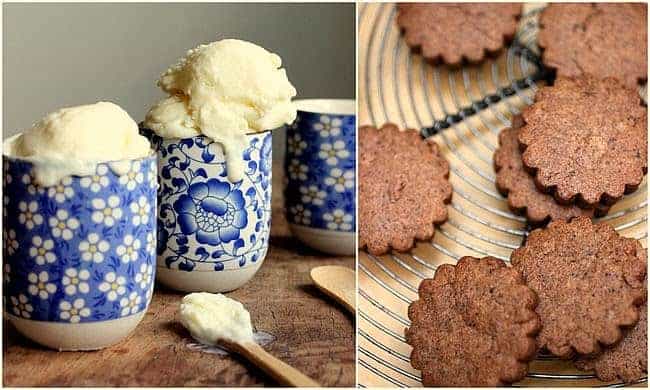 As promised here is the vanilla limoncello ice cream, so creamy I had to add it to the title. Did you shiver just a little? Is the idea of ice cream not appealing anymore now that spiced apples and pears invade your thoughts? Let me disagree here, and tell you that ice cream should be eaten year round, but lest we begin a gracious argument over food, I made chocolate cookies especially for you, with an ingredient that I'm afraid will never leave my kitchen again: brown butter.
That pound cake with figs ruined regular looking butter for me; I'm serious, you should've seen me brown a pound of it, and let it solidify again to use like regular butter, in everything.
I didn't add it to the ice cream by a hair. Just kidding.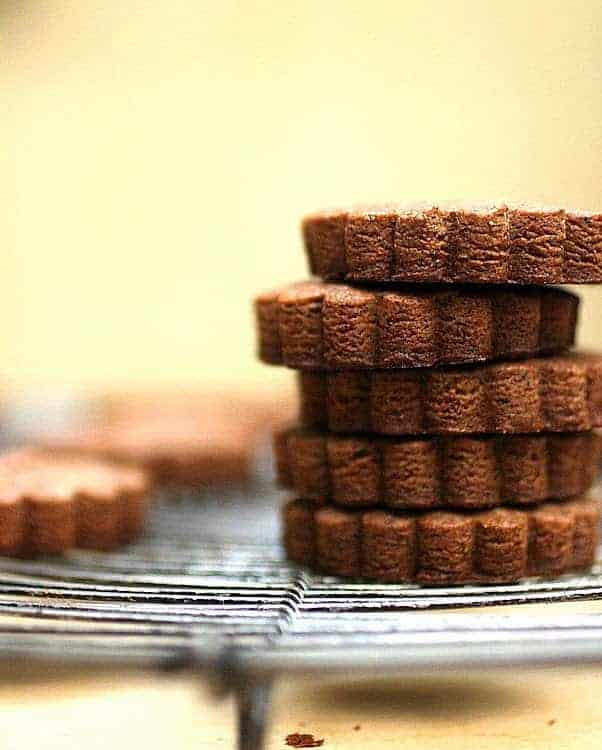 This
no-egg ice cream was long overdue since reading that
this guy
praised
the chocolate one, a comment weighing more than a melon necklace in
my kitchen since I consider his ice cream recipes to be one of the best. I had
Jenni's book
in my hand a year and a half ago, while in DC, but put it down and bought
another one
instead, or should we say many others, because I never come back
with less than five or six new cookbooks, except for the time when I brought
home a dozen, and that was just in my carry-on. Well, cookbook issues aside,
this is a splendid ice cream indeed, just like the title of the book promises.
Oh, and I finally bought it last week.
.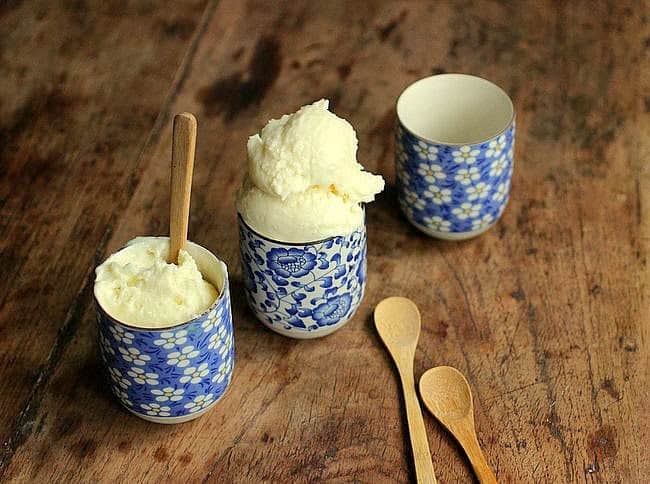 I was torn between the salted caramel recipe and using the vanilla limoncello and creating an ice cream that would remind me of
sgroppino
, the coolest way I know to drink vodka and eat ice cream at the same time, and hands down, one of the easiest ways to get me wasted.
In this case I failed to achieve that – it needs way more vodka, no vanilla and probably a few tries with a recipe, but rest assured that this coming summer, if there's a lemon it will be made into sgroppino ice cream – but I got a lemon variation so subtle and sweet, it's a good thing the booze is not pronounced, because I tend to grab a spoon every day and eat some. It's no surprise it's more lemons and cream than limoncello, because as I told you in my last post, the vanilla bean mellowed the liquor out, a characteristic that comes through in the final ice cream.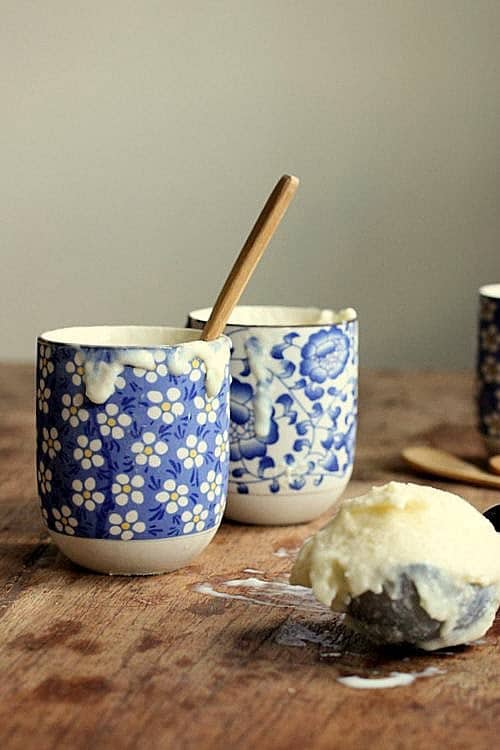 Growing up my favorite ice cream was the lemon chocolate 'pine tree', which meant a water-based lemon ice cream drowned in melted chocolate, so when it hardened it resembled a pine tree. Just like this one. It was the ultimate way to eat ice cream back then.
The cookies are a chocolate tart dough made into cookies, similar to shortbread, crunchy and chocolaty, with a hard to point aftertaste of smoky vanilla-flavored chocolate. Use it for tarts, it's sensational. It was my first idea, because
it is
, after all, a chocolate tart dough, but then I just wanted to try it as is, to see if the brown butter was worth it. What?
Crazy, I know. When is brown butter not worth it?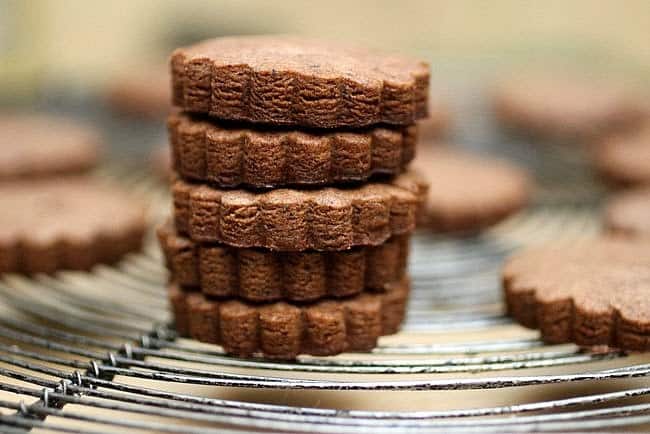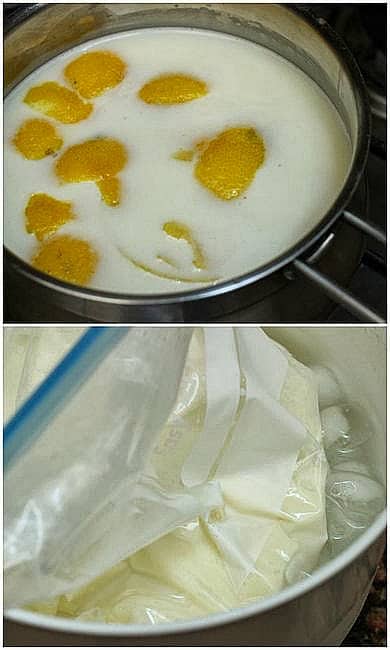 Print
---
Description
This dough is very crumbly, much like scone dough, but it should come together. When rolling it and cutting the cookies, do so in batches if necessary.
---
½ cup

unsalted butter (browned and refrigerated until solid again)

½ cup

+

1

Tbs confectioners' sugar

1

large egg yolk

¾ teaspoon

vanilla extract

1 ¼ cup

all purpose flour

2 tablespoons

to ¼ cup unsweetened cocoa powder (depending on how bitter you like it)
---
Instructions
In the bowl of a food processor, blend butter pieces, sugar, egg yolk and vanilla until just mixed.
Add flour and cocoa and blend until it starts to come together. Don't over mix.
Form into a disk, transfer to a plastic bag, and chill for at least 1 hour or up to 3 days.
Preheat oven to 350ºF
On a lightly floured surface, roll dough to ¼ inch thick and cut with a cookie cutter of your choice.
Transfer to a baking pan and bake for 15 minutes, until dry. Cool completely on wire rack and store in an airtight container.
---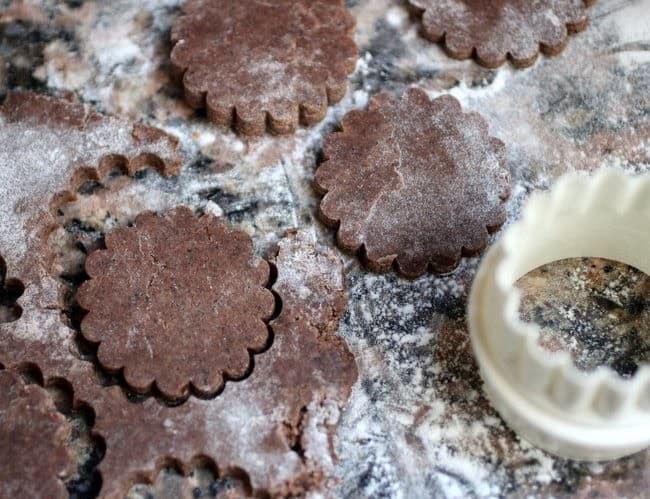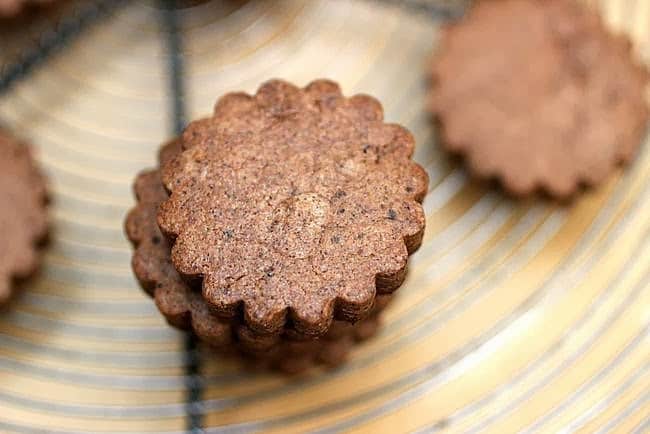 .
---