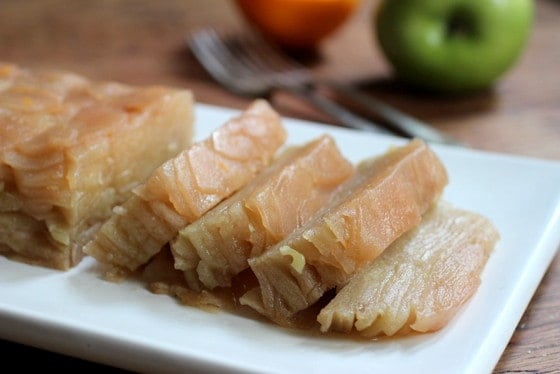 I started
out to make this recipe, long and slow apples, with little interest really, as the title is no eye
catcher. But it was our recipe for today's FFWD group, so that's what I was making.
As I read the recipe and started to set out the ingredients, it dawned on my that it was the apple 'loaf' I ate many times in the past, courtesy of one of my father's ex wives (yes, one of them, there are a few...).
This is an interesting recipe, where very few ingredients bake a long time transforming themselves into
something that you don't expect. Just apples, butter and sugar basically, forgotten in a low heat oven and turning into a silky, caramelized dessert. And I really mean forgotten because it's best to leave it overnight, and I really mean low oven, as in 100ºC /220ºF.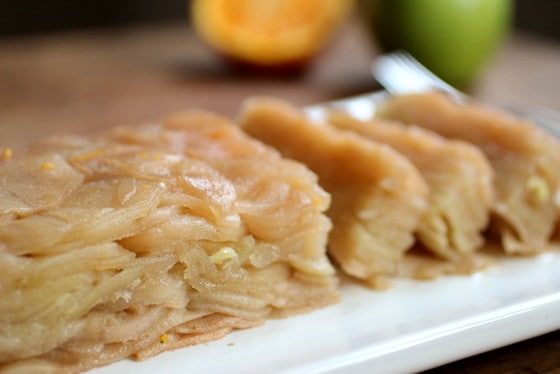 Long and slow apples is not a fitting title for a recipe that even
this guy
considers genius. You might mistakenly turn the page, not even tempted by a photograph because
there is none. I definitely need to have a serious talk with
Dorie
about this.
You start with apples, cut them very thin, mandoline thin, and then stack them up in a buttered mold, alternating layers of fruit with brushes of melted butter and sprinklings of sugar and a flavoring like a zest or cinnamon. Cover the whole thing and forget about it in the oven.
I used a loaf pan and baked it for like 7 hours, until I got a golden color and the apples were absolutely tender when pierced with a knife.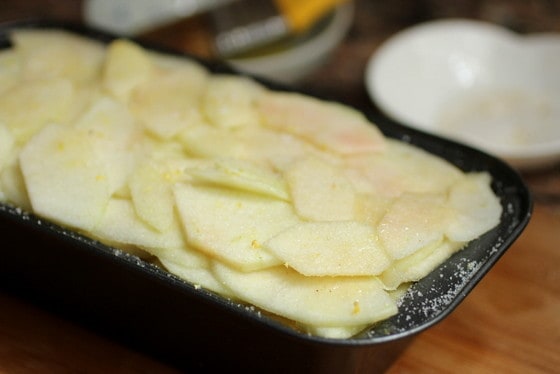 It's a bit
like packing a suitcase, you start with a base and then fill the nooks and
crannies with those irregular little pieces of apples until it looks like not
another single thin slice fits in, yet a little pressure down makes room for a
few more. The first time you might realize you needed more sugar between layers
or a different spice, so next time you get a bit better at it.
And, just like packing, after a few times you can perfectly fit all your slices and the amount of sugar is perfect, the result is amazing and you do it in no time.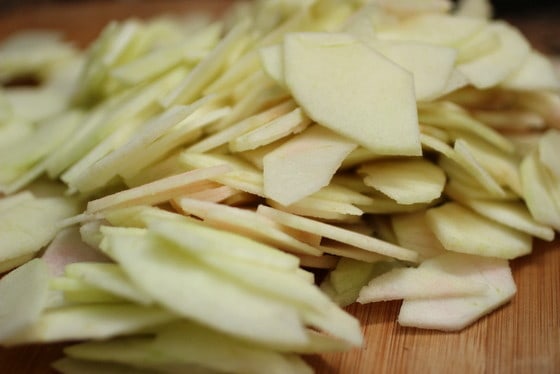 I have
eaten this dessert many times in the past and was even given the recipe at some
point, though I will hardly ever know where it is now. What I do remember is
that it involved orange juice too, that was poured through the sides before
popping it into the oven, and the final color was a much deeper caramel brown. It was richer in every way. So I need to try it and let you know.
You can find the recipe here. And the rest of the group's attempts at it here.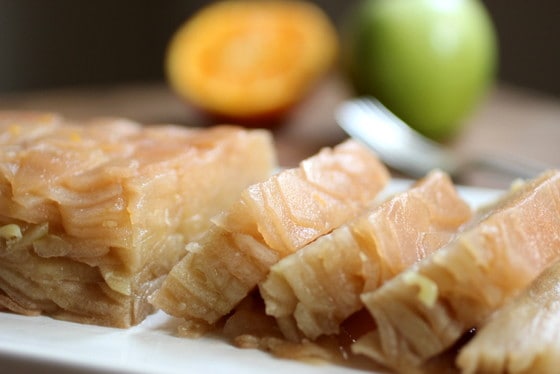 ---