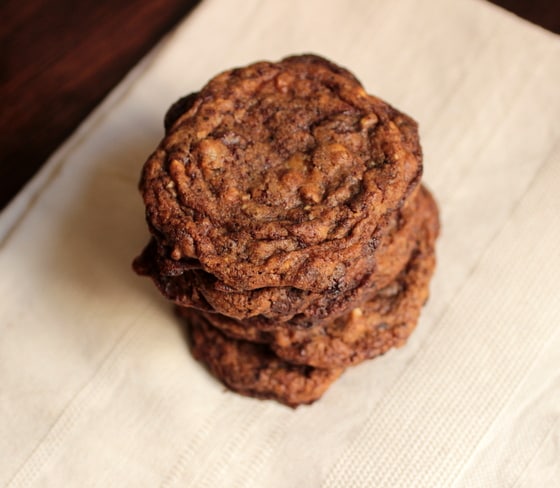 These are one of the best tasting cookies I have come across.
Which is not something I'm able to say frequently, since cookie baking is not my thing at all, as I told you when I made the peanut butter cookies.  When I post a cookie recipe, or talk wonders about a recipe, it's a rare occasion, like the 
chocolate whoppers
or
spicy ginger cookies
. The latter were my brother's favorites, and since today is his birthday, I dedicate these cookies to him.
Man, was I pleasantly surprised with this one. So far, the
finnish pulla
and these cookies make the
whole book
worth it. And the tourte milanese (p.423) that we haven't yet made with the group, but I did, many times, and it's amazing.
As you can guess, today's recipe for the
Tuesdays with Dorie
group is mocha chocolate apricot cookies. The apricots are optional, but I decided they are one of the best parts of this recipe.
.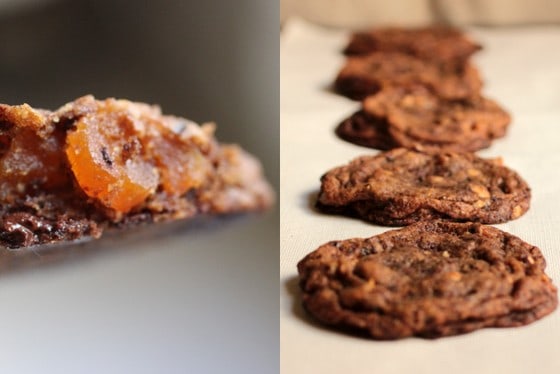 I took a shortcut with the mixing method, and went the regular chocolate-chip-cookie-way of mixing everything together in one bowl with a spatula. Really, I didn't even use the handheld electric mixer because it broke a week ago.
And I wasn't about to use the kitchen aid for a batch of cookies. Because it's a pain to wash and sometimes I just don't want to.
The mixing method described in the book, that calls for beating the batter for 5 minutes total, just didn't seem like a good idea to me. I don't want fluffy cookies, or ones that rise too much.
Besides, it called for chilling the dough several hours before baking them. It turns out that wasn't going to happen either. I made half the recipe and immediately baked half of it.  The other half I made a cilinder, wrapped it in plastic and froze it, to bake some other time.
.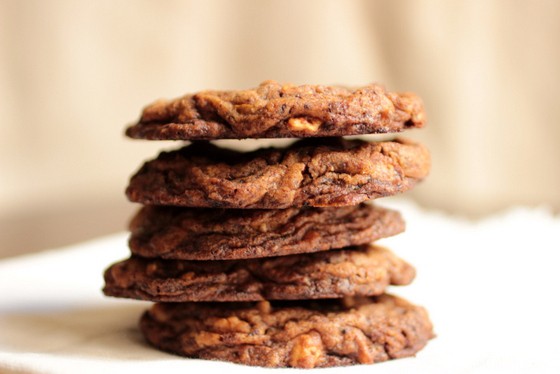 So I went ahead and made a batch of cookies in no time. I 
softened the butter in the microwave, added the sugars, eggs, vanilla, and then 
the flour with coffee powder (I used 1 1/2 tbs of instant coffee).
Finally it was time for the extras, the best part of a cookie. I choose white chocolate, dark chocolate, apricots and hazelnuts. Together with the coffee flavor, it's a surprisingly good combination.
Or not so surprising, since coffee and white chocolate are a good combination, as seen in these
coffee white chocolate blondies
. They, in turn, go great with dark chocolate, which happens to be perfect with apricots and hazelnuts. So by transitivity they all go well together. That's what I told myself. And it turned out I was right.
.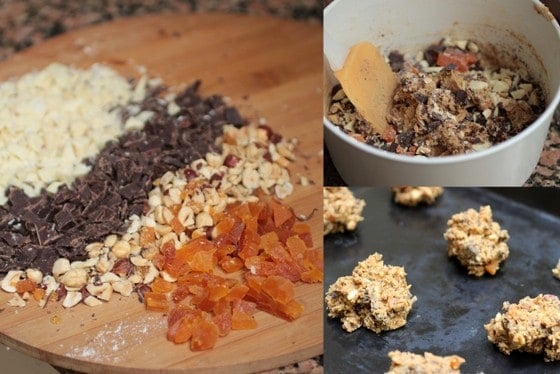 I'm a lover of apricots with chocolate, but I know not everyone is.
But it turns out that all of my testers agree with how good these cookies are, apricots and all.  Half of them went to my neighbour, toghether with the 
remaining pieces of the
creamy chocolate stout squares
, and she called the next 
day raving about them. She wants me to start selling them. I told her I can give her the recipe.
The other half I took on Saturday to my father's house, where we were having a barbecue with his girlfriend, her daughter, a friend of the girlfriend and friends of the daughter. Lots of people. They dissapeared before I could lay them on the table. I think someone even stole some for breakfast the next day. A total hit with everyone. Apricots and all.
.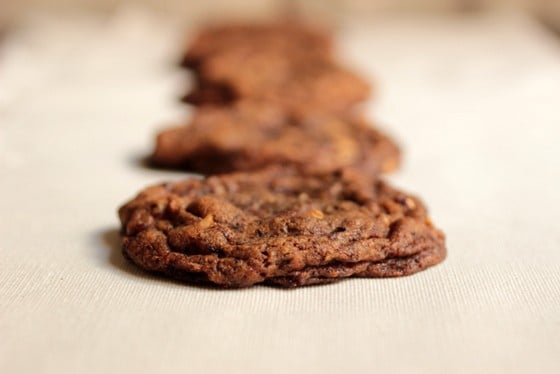 Even with me, not a die hard cookie lover, they are an absolute hit.  From now on, my mocha chocolate chip cookie of choice.
Our host today is
Peggy of Galettista
, so hop over to her blog and get hold of this wonderful recipe. You won't be disappointed.
---