It's guest post time. It's Momofuku Blueberries and cream cookies time. Due to an unsolicited huge storm, and consequent flooding that hit this city two weeks ago, I had a few friends rescue me and sent me amazing guest posts to share with you.
Food bloggers are the best group of people ever.
EVER.
Water sucks, let me continue with that, it really does. It goes from one extreme, like you can't exist without it, to being monstrously damaging. A part of my house was buried under 50cm (20 inches) of water. Not exactly transparent Evian water either.
Clean, bag, throw away, shower, eat, sleep, stare at the ceiling. That was pretty much the routine. After ten days a more normal day to day living is emerging, which included a trip to an open market this past weekend. I almost feel normal again. And I baked brownies this morning...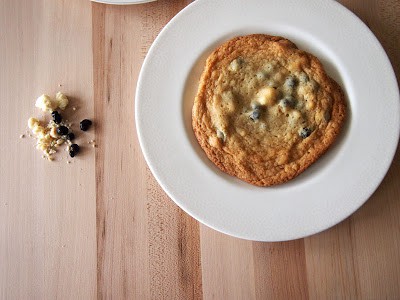 Today I'm starting my two weeks of guest posting with Laura from Pies and Plots. I don't remember how I met her, and it was not long ago, but she's a sweet and talented person, and the most enthusiastic blogger. And she made momofuku cream cookies for us! How great is that?
First I want to thank Paula for allowing me to guest post.  I have become a huge fan of both Paula and her blog.  She makes
amazing and very impressive treats and is so kind.  Paula's even been mentoring me for Sunday Supper!  When she said she needed a few guest posts while dealing with the ramifications of a terrible storm, I was more than happy to help her out.  And I
hope things are back to normal for her very soon.
Are you a morning person or a night owl?  I have a theory that we're all one or the other.  Our preference can change, but it's awfully difficult to enjoy both being up early and staying up late.  Unless you're one of those people that only needs four hours of sleep a night, in which case, please share your secret.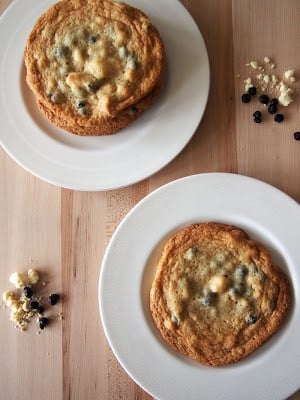 Currently, I consider myself more of a morning person.  That's not to say I get up super early.  Rather, eight in the morning is just right for me.  I love waking up to the sun gently peaking in the window, greeting me, letting me know the day ahead is destined to be a good one.
That moment when I first open my eyes is perfection, as the aches and pains my body feels day in and day out and the stressors and tasks for the day still haven't reentered my waking mind.  I love catching up on the morning news or maybe finishing a scripted drama I was too tired for the previous night.
Sitting and enjoying breakfast with my family couldn't be any better either.  No rushing, just enjoying.
I used to be a night owl.  Going to school meant getting up way earlier than my body was okay with.  It made the mornings a drag, something to be dreaded.  Rushing around the house to get out the door on time also meant no relaxing, no enjoying, no delicious breakfast.
This left me with nights, as I struggled to stay away, sometimes literally holding my eyes open.  The weekends were when I'd stay up late, perhaps chatting with my dad, finishing a book, or watching late night TV.  It made me feel adult and cool.
I still stay up until about midnight, but most of the time I have become quite tired by then and my zest to stay awake vanishes for the comfort of bed and sleep.
I've become an old lady before my time, my late night partying days already behind me, not that they were ever very present.  The moon and stars are always one of my favorite parts of night.  They are just as magical as the sun and make nighttime special in its own right.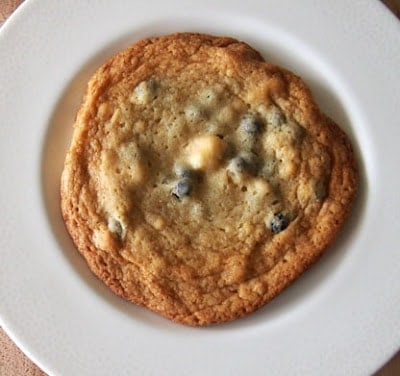 Whether you are a morning person or a night owl, these Momofuku Blueberries and Cream cookies are for you.  If you haven't been to my blog, you should know I'm basically obsessed with Momofuku Milk Bar.  Their baked goods always impress and are some of the tastiest things I've ever eaten in my life.  I own the cookbook and love putting it to good use.
Since it's spring (at least according to the calendar, even if not the weather), I was inspired to make these cookies.  Giant chewy cookies with firm edges and soft, slightly underbaked centers with the perfect amount of grittiness to remind you of cookie dough.
These have Milk Crumbs in them, highly addictive nuggets of deliciousness coated in sweet white chocolate.
The cookies only use half the crumb recipe, but make the whole thing.  Your tummy will thank you.  The addition of dried blueberries adds a burst of bright flavor and sweet-tart goodness.  I love dried blueberries, and found mine at Trader Joe's.  They also make a great snack.  Together the chewy and crunchy textures and sweet and tart flavors make these cookies a treat you'll reach for again and again.  Plus, the recipe was inspired by blueberry muffins so that means us morning people can eat them for breakfast.  Of course, they'll also be a great late night treat for the night owls out there.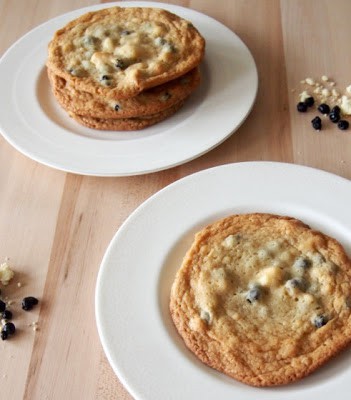 Print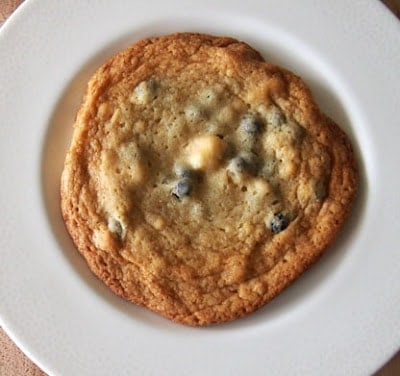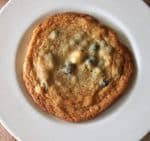 MOMOFUKU BLUEBERRIES AND CREAM COOKIES
---
Scale
Ingredients
For the cookies:
2

sticks unsalted butter (room temperature)

¾ cup

granulated sugar

2/3 cup

packed light brown sugar

2 tablespoons

light corn syrup

2

large eggs

2 cups

bread flour

½ teaspoon

baking powder

¼ teaspoon

baking soda

½ teaspoon

kosher salt

½

recipe Milk Crumbs (below (I used

1 cup

))

¾ cup

dried blueberries
For the Milk Crumbs:
¾ cup

milk powder (divided)

¼ cup

all-purpose flour

2 tablespoons

cornstarch

2 tablespoons

granulated sugar

½ teaspoon

kosher salt

½

stick unsalted butter (melted)

4 ounces

white chocolate (melted)
---
Instructions
Make the crumbs:
Preheat the oven to 250 degrees F.  Line a baking sheet with parchment.
In a medium bowl, stir together ½ cup milk powder, flour, cornstarch, sugar, and salt.  Stir in butter until clumps of various sizes form. 
Spread into an even layer on the baking sheet and bake for 20 minutes.   The ones around the edges will be very light brown but they will still be very soft to the touch.  Cool completely.
Place the crumbs in a medium bowl and stir in the additional ¼ cup milk powder. 
Pour the melted white chocolate over the crumbs and stir until they are pretty evenly coated. 
Stir them every 5 minutes until they are cool. 
Refrigerate or freeze in an air tight container for up to 1 month.
Make the cookies:
Line a baking sheet with parchment. 
In the bowl of a stand mixer fitted with the paddle attachment, cream butter, sugars, and corn syrup on medium-high for 2-3 minutes.  Scrape down the bowl, add the eggs, and beat for an additional 7-8 minutes.
Scrape down the bowl, turn the mixer to low and add the flour.  Mix until just incorporated, less than 1 minute. 
Scrape down the bowl.  Continuing to mix on low, add the milk crumbs, mixing for less than 30 seconds, followed by the blueberries, mixing for less than 30 seconds.  Stir the dough once by hand to make sure there are no ingredients lurking in the bottom of the bowl.
Using a large cookie scoop or a 1/3 cup, scoop the cookies onto the tray.  Press the top of the cookie down slightly.  Cover the tray with plastic wrap and refrigerate for at least 1 hour and up to 1 week.  Cookies must be chilled in order to bake properly.
When ready to bake, preheat oven to 350 degrees F. 
Line additional baking sheets with parchment and place cookies as far apart as possible, as they will spread.  I stick to 4 cookies per pan.  
Bake cookies for 15-18 minutes, rotating halfway through if necessary.  
They will be light golden brown around the edges, but still pale and soft in the middle.  Cool completely on pans.  
May be stored in an airtight container at room temperature for up to 5 days, or frozen, wrapped in parchment and foil and placed in a zipper bag for up to 3 months. 
Thaw at room temperature for about an hour or in the microwave for 15-30 seconds.
---
---