Do you see the polka dots? Not really huh? They're supposed to be there, fat, round and dark. It's the idea behind the name.
Really can't have that name if you don't see the dots. Maybe you thought it was a marbled cheesecake. But no, this is a most interesting recipe from that great baker I talk about whenever I get the chance. So this will be about the cheesecake only.
You see, it worked the other times I made this cheesecake with chocolate polka dots, as was intended in the original recipe.
Perfect dots throughout the cake. I guess I got carried away and used too much hazelnut spread or too little. I'll tell you next time I make this.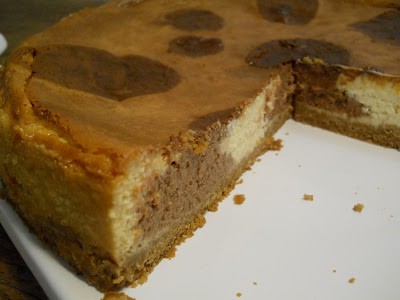 Though I won't even know if next time I'll be able to produce impeccable dots, so let's just go with this cheesecake and enjoy it's creaminess and fantastic flavor of Nutella, which is so addictive on it's own I try not to taste it when making this kind of desserts. Just the tiniest amount on the tip of a spoon that finds it´s way into my mouth and boom!.. I can eat half the jar before I realize my palate is coarse and my teeth ache from so much sweetness.
Anyway, we have a recipe to talk about. The cheesecake is actually great on it's own, plain, no polka dots of any color. But you
surely have a million of those, next to the gazillion brownie ideas. So polka dots will make some people go oohhh and others just think you did a great job marbling a vanilla chocolate cake. Either way they will love the flavor and polish off their plates. This is good stuff.
You'll need a piping bag, which appears to be a bit of a hassle, but if I did it so can you. I don't have the patience for piping details, but this is nothing like that. You just have to keep in mind that the nutella mixture is a bit runny. So be careful and once you start adding the dark batter to the white one in the hope that they will become polka dots, don't stop. Undivided attention until all your dots are in place. Man, I wish my dots were perfect so you would not be dismissing this recipe after reading piping bag.
If you want to take a look at a perfect Polka Dot Cheesecake pic go to
this site
. I just hope you come back to mine after that… and if you manage a cheesecake with such perfect dots, please send a picture!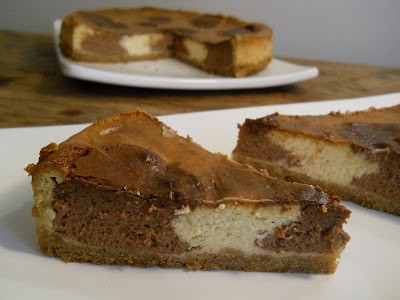 Print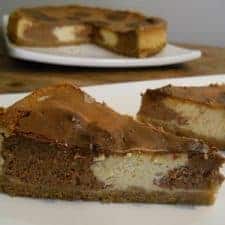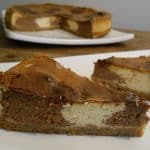 POLKA DOT CHEESECAKE
Yield:

8

servings

1

x
---
Description
You can see this cheesecake recipe on how to prepare pan and unmold the cake. The size of the tip comes from the book, just be sure you use a wide, plain tip. The amount and size of dots is up to your personal taste.
---
Scale
Ingredients
For cookie base:
5.5 oz

155g plain vanilla cookies or graham crackers

3 oz

80g unsalted butter, melted
For filling:
6 oz

. 170g Nutella (hazelnut spread)

2

lbs. 900g cream cheese, at room tº

1 teaspoon

vanilla extract

½ teaspoon

almond extract

1 ¾ cup

sugar

4

large eggs
---
Instructions
For cookie base:
Line bottom of 9-inch spring form pan with foil, tuck foil underneath pan bottom, assemble pan, then pull foil around side of pan. This makes it a snap to unmold.
Put cookies in a food processor fitted with the steel blade and process until they become a powder, about 1 or 2 minutes.
Add butter and mix to combine.
Put mixture in prepared pan and press firmly onto bottom.
Refrigerate while making filling.
For the filling:
Preheat the oven to 350º F / 180º C
In a large bowl of an electric mixer, beat the cheese until it is completely smooth. Scrape the sides and bottom of the bowl a few times with a rubber spatula.
Beat in the vanilla and almond extracts and the sugar. Beat well and add the eggs, one at a time. Do not beat any more than necessary to mix.
Place about 2 cups (1/3 of batter) in a medium bowl and add the Nutella. Beat until smooth.
Pour the remaining white batter into the prepared pan.
Fit a large piping bag with a plain tip (Maida suggests #6). Twist the end of the bad where the tip is inserted and put the whole thing inside a small jar.
Fill the piping bag with the nutella mixture, lift the bag and go stand in front of the cheesecake pan, which should be at a comfortable height.
Starting in the center, insert the tip about ½ inch into the batter and carefully squeeze enough dark batter to form a round ball. Repeat this squeezing out smaller balls around the rim.
If you have nutella mixture left over, add a bit to each of the rounds.
Bake for 45 minutes; turn the oven to 320ºF / 160ºC and bake for another 45 minutes. Without opening the door, leave the cheesecake in the oven for at least another hour.
Transfer to wire rack and let cool completely. Wrap in film and refrigerate for 4 hours or overnight.
To unmold, run a knife along the sides of the spring form, lift the sides of the pan and then lift the foil and, holding it in one hand, carefully unwrap it from the bottom of the cake and transfer it to the serving plate.
To cut, dip a knife in very hot water before making each cut (shake off water but don't dry the blade). Make the first cut through the middle of one of the dots so they show in the slice.
---
adapted from
Cakes
, by Maida Heatter
---