Who can argue with crisp basmati rice, nuts, dried fruits and spices? Who can argue with persian jeweled rice?
Color is the first thing that comes to mind when I think of Middle Eastern food – that vision of mounds of different spices, and the jewel tones of saffron and pistachios. I guess you could say I used all of them. The result is a sensationally good plate of rice. A recipe I'll be making over and over, adding this or changing that.
The theme for Sunday Supper today is, of course, food from the Middle East, and our host is Amanda from Maroc Mama, a talented blogger who recently relocated to Morocco. Remember the moroccan carrot chickpea salad? She knows about this cuisine and is steering the ship today towards that part of the world.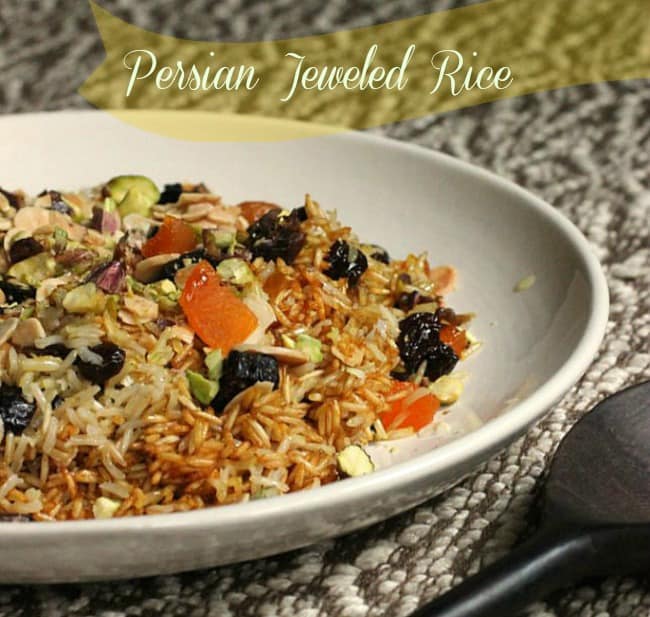 It's fair to say this is my first time making Persian rice, so it's probably not exactly traditional. But since it won't be the last – it has saffron, cardamom, figs, pistachios… almost too good to be true – in time I hope to find an ingredient or two that were missing today. And maybe add some pomegranate seeds on top, to add sparkle to the jeweled part of the title.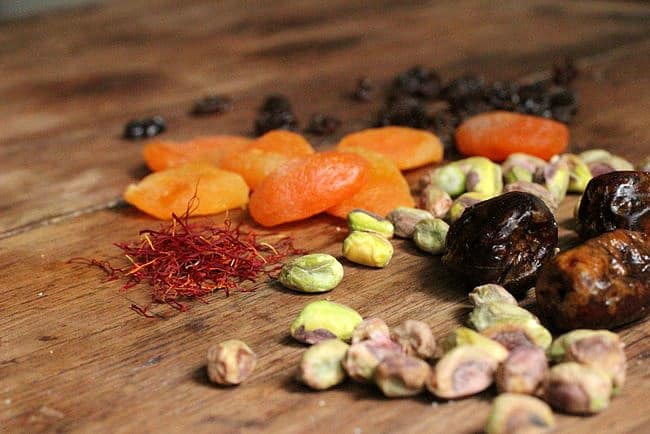 This recipe was quite revealing.
For starters, I'm in serious danger, from now on, of eating this all the time; it has a crispy bottom after all, similar to the socarrat in the paella, a quality that takes rice to another universe.
Then, I realized that dried fruits and nuts are one of my favorite food groups, both for savory and sweet. Give me a recipe with any one of them and I'm really, really a happy person in the kitchen.
And last, I can eat huge quantities of rice, something I know since I was a kid, when I would answer that I could live on chicken and rice, whatever way they were cooked.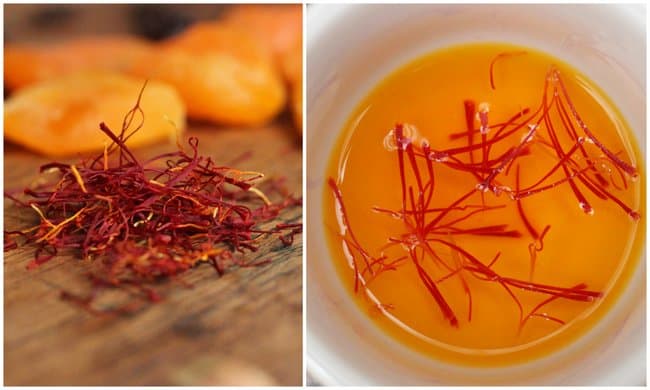 It's 1am, I just returned from the theater and am finishing this post. All the time thinking about the Persian jeweled rice and it's intricate flavors, the mix of textures, temperatures and scents. Worth every ingredient and, though the recipe will get nipped and tucked in time, deserving a stellar place in my collection.
Print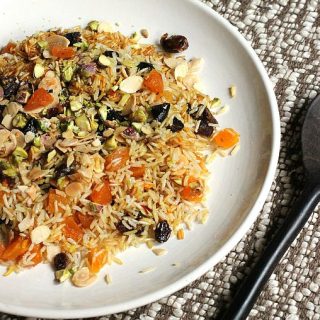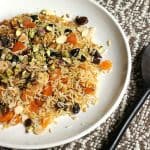 Persian jeweled rice
Yield:

3

servings

1

x
---
Description
If you use white Basmati rice, the parboiling will take less time, between 5 and 10 minutes.
---
Scale
Ingredients
1 cup

whole wheat Basmati rice

6

Tbs unsalted butter (divided)

1

large onion (chopped)
Large pinch saffron threads (crumbled and soaked in ¼ cup hot water)
Large pinch ground cinnamon
Large pinch ground allspice

7

or

8

cardamom pods

½ teaspoon

  cumin seeds
Large pinch ground black pepper

¼ cup

  chopped dried apricots

¼ cup

currants

¼ cup

chopped dried black figs

1/3 cup

slivered ( toasted almonds)

1/3 cup

coarsely chopped pistachios
---
Instructions
Ground the cardamom pods with the cumin seeds in a nut/coffee grinder or a mortar.
Rinse the rice a few times under cold water. Cook in salted water for about 15 minutes, until al dente (more than half done).
Heat 2 tablespoons of the butter in a skillet big enough to accommodate the rice, and add the onion. Salt lightly and cook for a few minutes over medium heat until lightly colored.
Add a tablespoon of the saffron water and all of the spices. Cook for 1 minute and transfer to a plate or small bowl.
In the same skillet, melt the remaining butter, add half the rice and lower the heat. Without touching the rice at all, let cook until the bottom starts sizzling and the rice begins to turn brown.
Add the apricots and currants on top, cover with the rest of the rice, drizzle the saffron water and cover the skillet.
Turn the heat to the lowest setting and cook for about 30 minutes, until the rice is soft.
Turn off the heat and let rest for 10 minutes.
Transfer to the serving plate, and sprinkle with the figs, almonds and pistachios.
Serve immediately.
---
PERSIAN JEWELED RICE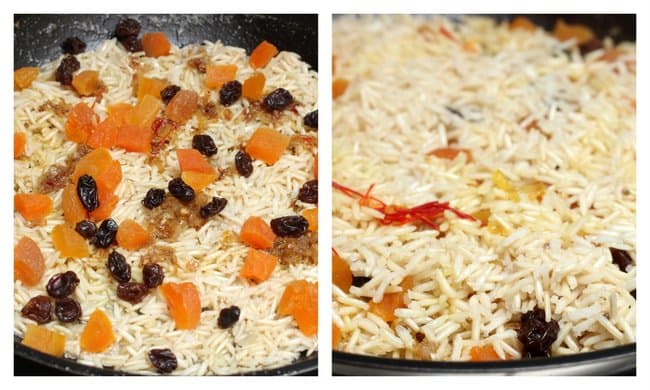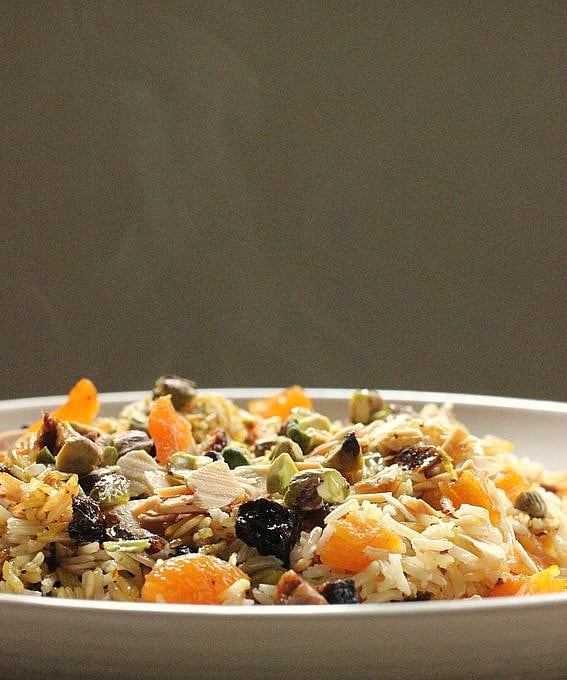 The list of middle eastern recipes today will not dissapoint:
Mezze {Appetizers}
Salata {Salads and Sides}
Main
Halwa {Desserts}
---