.
.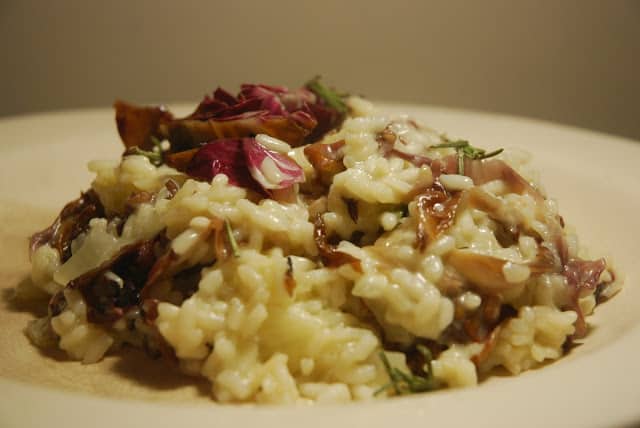 .
Radicchio risotto, especially with provolone cheese, has become one of my favorite versions of the
classic Italian dish
.
It rained for four straight days, making for many cranky, irritable situations, you know, the ones that result from humidity, traffic jams and soaking clothes.
The kitchen always can make up for it and today was no exception. I had gone walking under the thin rain to the store and bought what I needed, that is strawberries, but also came back with other things, radicchio amongst them.
I had to learn to eat radicchio since sour is not really my thing.
I found that the sour taste, when mixed with the right ingredients, is extraordinary. My favorite is in a salad with arugula, parmesan, and balsamic vinegar. Together they are the perfect balance of peppery, sour, sharp and sweet.
.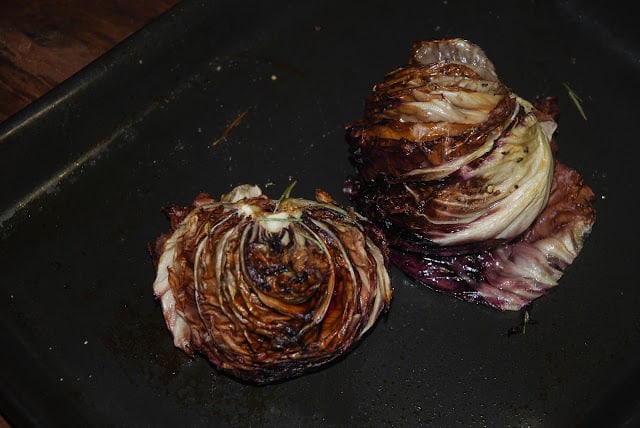 I used to make a risotto that involved radicchio in a balsamic reduction. It is really good but I've been making that for years, so a change was needed. I bumped into this recipe looking for a beet one, and it really was ideal, since I'm having a roast-everything-I-can moment.
Risotto is a genius idea; the way simple rice becomes creamy, tasty and a full meal. I pretty much think anything can be added to it. And then you have the bonus of
risotto cakes
. I confess that I try to make extra to have an excuse to make them. I simply grab a handful of cold risotto, shape them like burgers, coat them in flour (you can add spices to the flour if you want) and cook them in a little olive oil. They slowly turn golden and crispy like the bottom of a paella. The perfect quick lunch.
.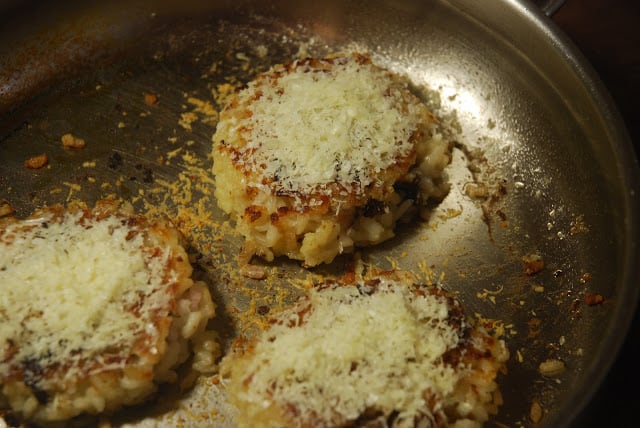 The rice I like to use is vialonne nano, which can be hard to find and is usually more expensive than the others. Today It was carnaroli because that's all I had and it worked perfectly.
I used red onion, which I think adds great color to any dish, and is sweeter. I loved the sharp sourness of the chopped radicchio which came through even though it was roasted. And the provolone cheese, with its salty taste and firm consistency, was a great combination. Another great recipe for my files.
.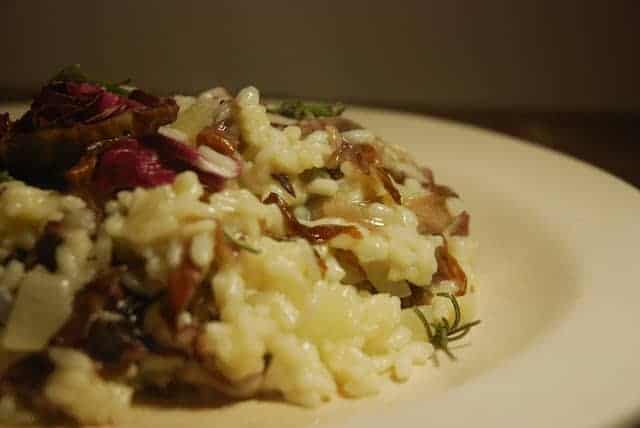 It turned out that, without realizing it, I had made all purple/red food, since I had prepared beet soup, bread with red onion and a red wine cake. Probably to get my mind off the grey day outside.
.
Print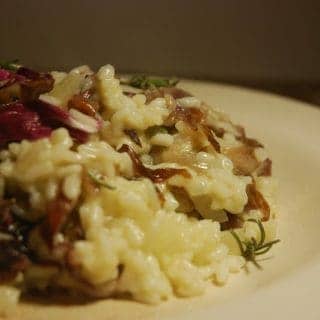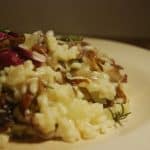 ROASTED RADICCHIO RISOTTO
Yield:

4

servings

1

x
---
Scale
Ingredients
For the roasted radicchio:
2

Tbs olive oil

1 teaspoon

fresh rosemary leaves

¼ teaspoon

salt
Pinch fresh ground pepper

1

medium head radicchio
For the risotto:
1

Tbs unsalted butter

1

Tbs olive oil

1

red onion (chopped)

1 cup

carnaroli rice

½ cup

white wine
About

6 cup

s chicken stock

½ cup

Provolone cheese (grated)
Roasted radicchio  (see above)
Salt and freshly ground pepper
---
Instructions
For the radicchio:
Place the oil, rosemary, salt and pepper in a bowl and mix together. Cut the radicchio in half, add to the mixture and gently toss to coat. Cover and let marinate at room temperature 1 hour.
Preheat the oven to 425º F / 210º C.
Place the radicchio in a baking pan and pour the marinade on top. Roast until the edges are crisp and just beginning to look burnt, about 15 to 20 minutes. Let cool and cut into thin strips.
For the risotto:
Have stock simmering very slowly.
In a large skillet or saucepan, over medium heat, melt butter and oil. Add onion and cook for a few minutes until starting to soften. Do not let it brown. Add rice and stir constantly until well coated. Do not let it brown. Add wine and stir until evaporated, about 1 minute.
Add chicken stock, 1 cup at a time, stirring with each addition, until all the liquid has been absorbed, about 18 to 20 minutes.
Add the provolone, radicchio and pepper. Check for seasoning, adding salt and more pepper if necessary.
Serve immediately sprinkled with rosemary sprigs.
---
adapted from The Figs Table, by Todd English and Sally Sampson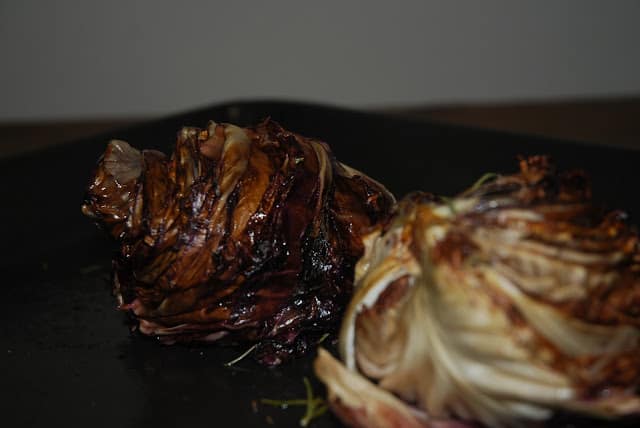 ---